Can you think of anything more romantic than a wedding proposal on the picturesque Capri seascape? Not much surely. SERGIO SORRENTINO captured these utterly delightful images of Roselyn & Antonio's proposal and subsequent engagement session in and around Capri and also out on the water.
Working with Monica from AMALFI SOIREE, Antonio had very clear ideas on how to ask the big question. He met Roselyn four years earlier on a dating app, asking her what dishes she liked cooking just when she was about to delete her account at the end of her first and disappointing day online. Perfect timing! Since then, many dishes have been cooked together, and love has always been the secret ingredient. "I want her to feel confident and beautiful. Take her breath away and show her that she makes me the happiest man in the world," he wrote to Monica talking about what he had in mind.
With a common passion for fashion and flowers, the inspiration for this special day couldn't not to be a floral dress by DOLCE & GABBANA, a gift from Antonio for Roselyn's birthday. The colour palette was derived from a painting by one of their favourite painters, Emily Jeffords. It was a delicate sunset of rosy shades and accompanied by a refined and spring-like blue, and by a warm and comfortable alabaster, which added a sense of protection and a touch of luxury.
Antonio knew that Roselyn was a huge fan of the fine art style of photography and he pretended to gift her a couples photo session for their memories in Capri.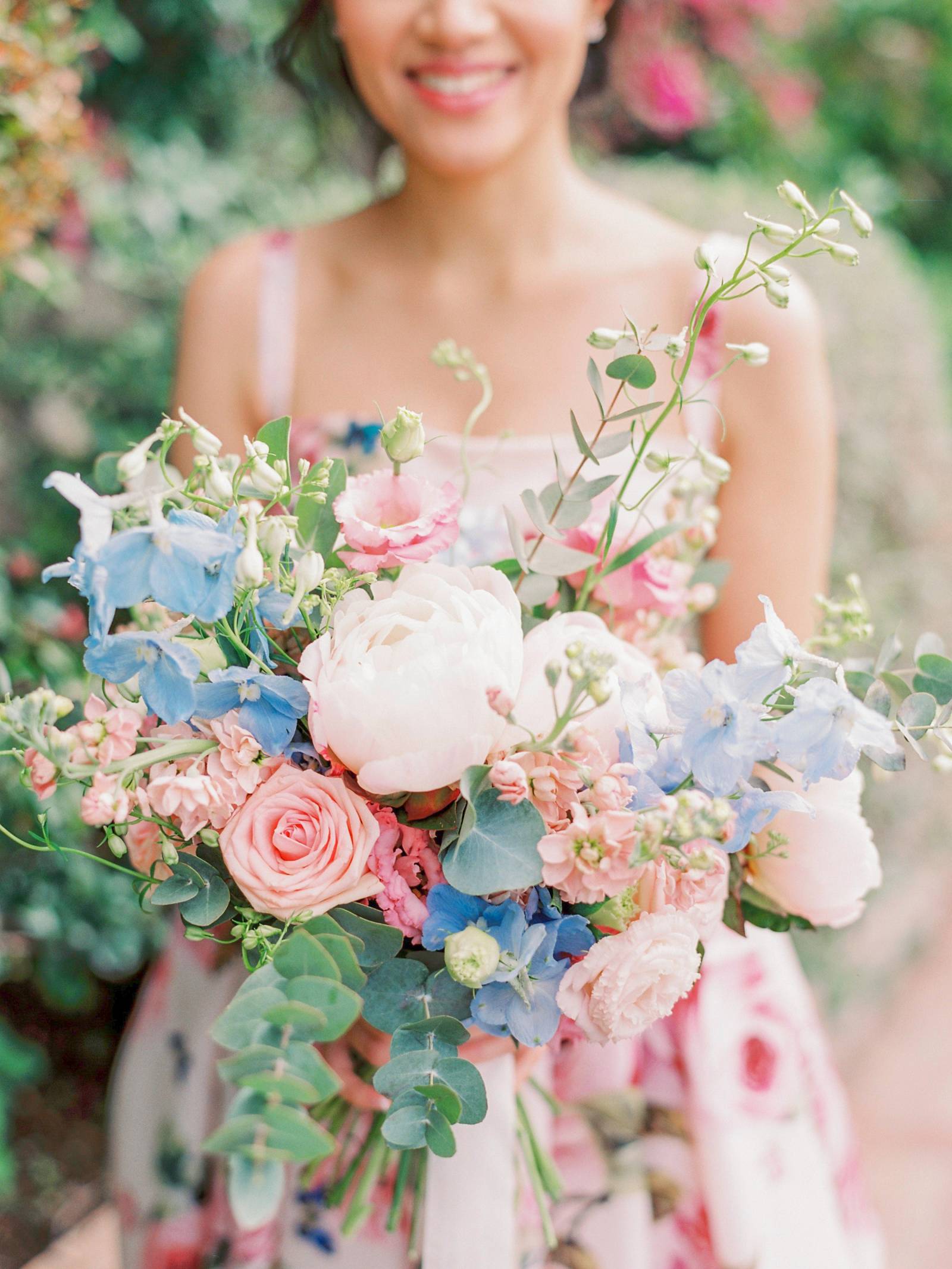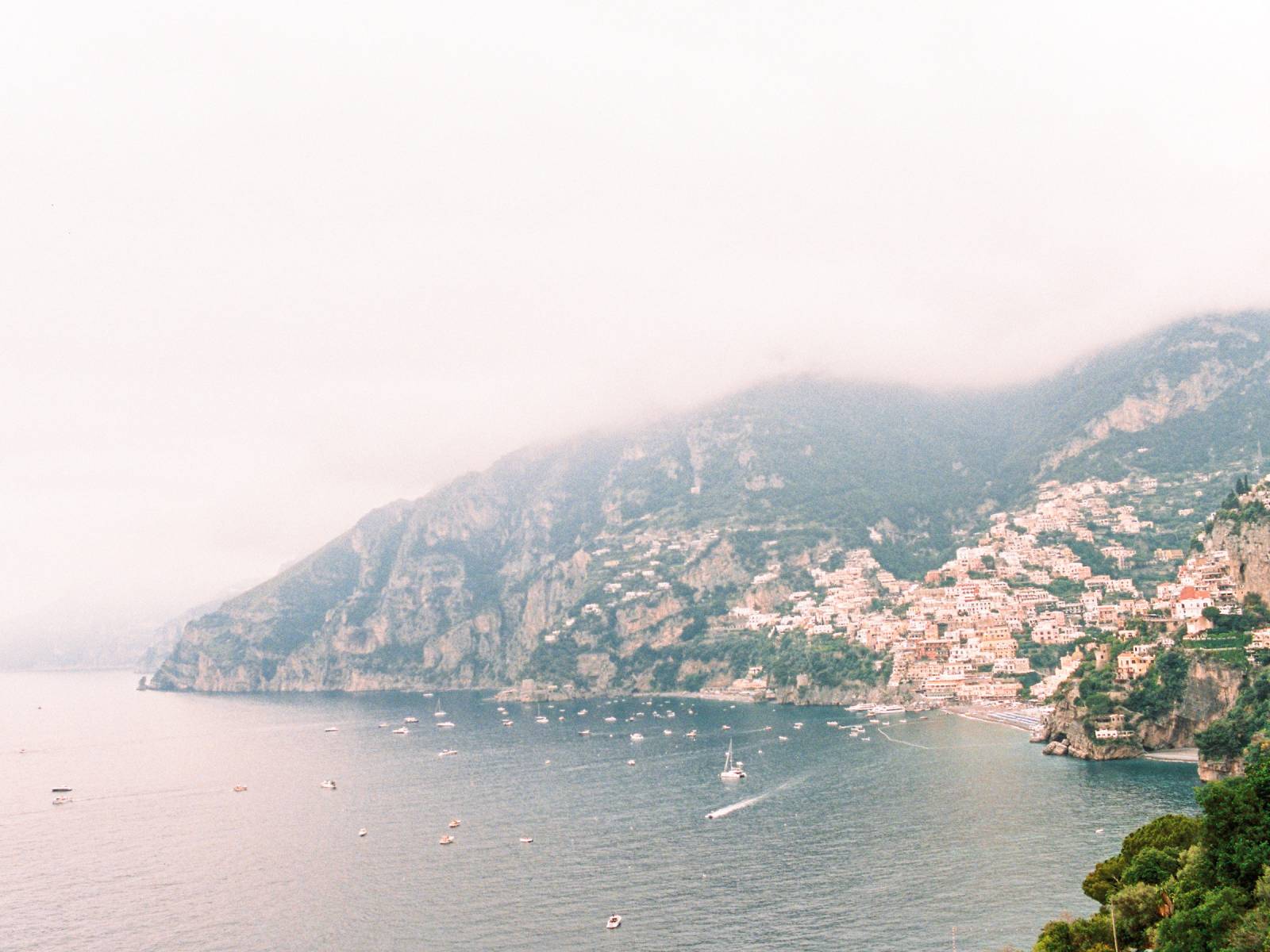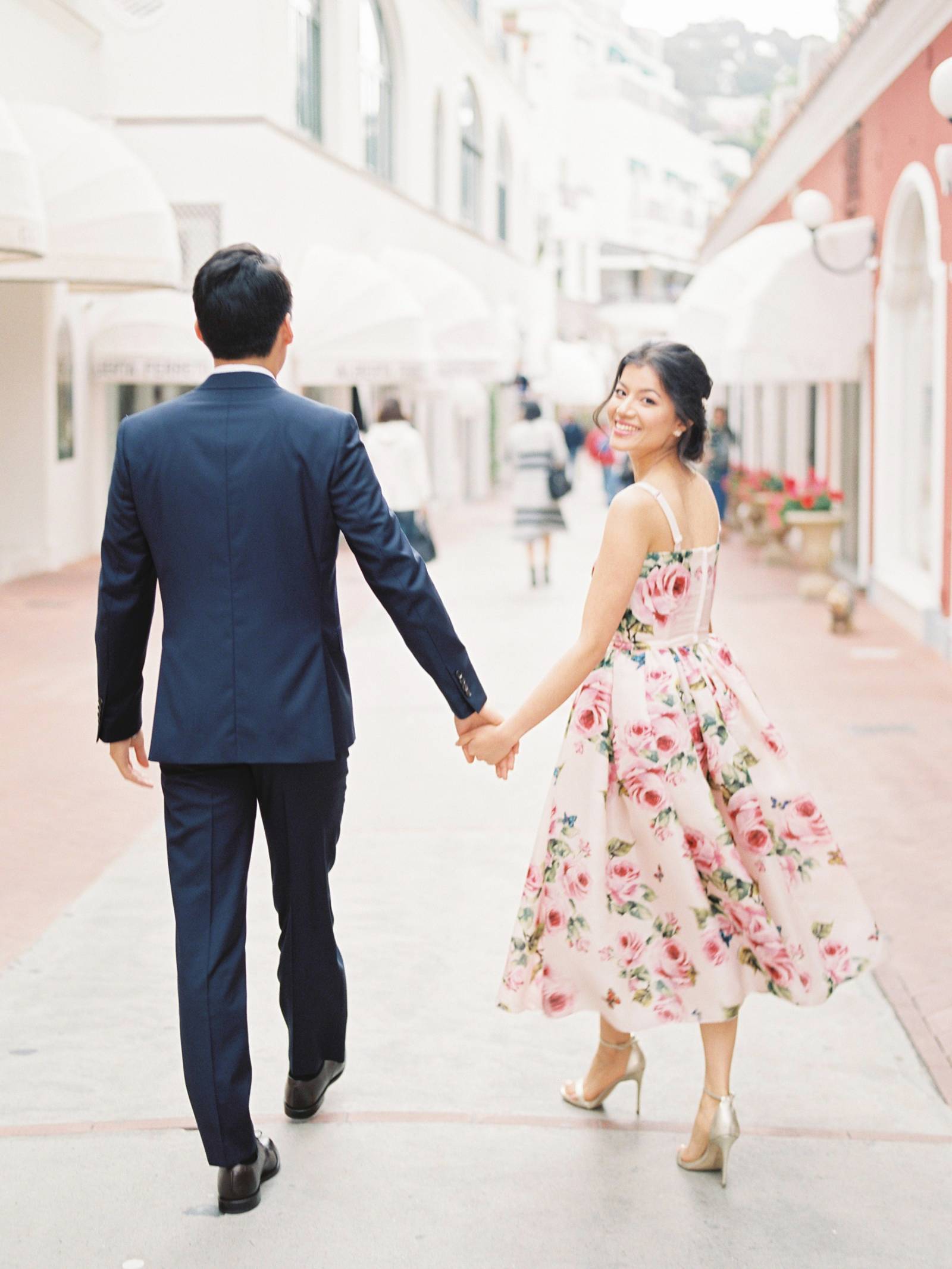 Monica tells us, "On the day of the session we met the couple at Villa San Felice, a nice Capri-style hotel surrounded by greenery, a stone's throw from the famous "Piazzetta", in the heart of the island. Whilst a delightful bouquet of garden roses, peonies, delphinium and lisianthus created by CAPRI OLTRE IL GIARDINO was delivered, BEAUTY LIVELY translated the natural and cured mood in a light and bright make-up, and in a sophisticated and carefree hairstyle. A messy up-do chignon was embellished with a headpiece by LINDSAY MARIE DESIGN with Swarovski stones, Preciosa pearls and small hand-glazed roses, coordinated with the earrings.
Antonio and Roselyn walked hand-in-hand in the streets of a town that was asleep and not yet invaded by the tourists, admiring its authentic face and savouring its Dolce Vita atmosphere. Step by step, accompanied by the unobtrusive eye of SERGIO SORRENTINO, the couple arrived at the still closed gates of the Gardens of Augustus, having the pleasure of being the first to cross the threshold on a warm day at the end of May.
An enchanted garden of bougainvillea and geraniums was the background to their modern fairytale, on the marine notes of the Mediterranean sea that, not far away, played with the Faraglioni rocks, stunning view in which to get lost and to find yourselves.
Framed by so much beauty and immersed in a surreal silence broken only by the calls of the seagulls, Antonio knelt in front of Roselyn, pulling out the box with a David Yurman Capri Pave Engagement Ring. A speech had been prepared in advance, but the emotion divested it of so many frills, suggesting to Antonio moving and meaningful words. It was a truly touching and joyful moment!
The surprises weren't ending for Roselyn. After enjoying a break in the famous Piazzetta, tasting delicious Italian breakfast, the couple reached the characteristic beach of Marina Piccolawhere Raffaele from Capri Blue Boat was waiting for it. Following an idea by Amalfi Soirée, a typical "gozzo" had been transformed by Capri Oltre Il Giardino into a gorgeous floating garden, ready to set sail towards the sunset.
A corner for the aperitif had been set up on the boat with candles, crystal glasses, bowls of crunchy snacks and other unique elements, like the hand-dyed silk runner in madder rose by Lancaster and Cornish. Passing under the iconic rocks of the island, Antonio and Roselyn toasted with Italian Prosecco, exchanging a lucky kiss. Finally, as the sunset over the sea with the Vesuvius in the distance in a triumph of pastel colours, and the boat tour around Capri ended, Sergio took the last film roll, capturing intimate moments in beautiful, timeless images.
"I still cannot believe it happened. It feels like I'm dreaming and I don't want anyone to wake me up. The man of my dreams asked me to marry him in the most impressive way possible. But I love him so much that I would have said yes even if he had asked me at home " Roselyn commented.