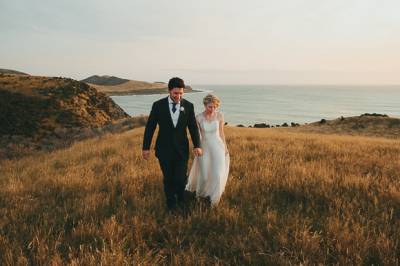 I've showcased the beautiful landscapes of New Zealand's South Island several times on the blog, but it's not often that the beauty of Wellington makes an appearance. Tim Kelly has captured Ellie & Miles amongst some stunningly rugged surroundings. Miles' attempts to propose to Ellie were thwarted many times… several romantic dinners and walks where the intended outcome was a proposal, ended up with them running into friends. So in the end it was on the couch where he knew they wouldn't be interrupted! However he used the ring Ellie's Dad – who had passed away when she was five – had used to propose to her Mum, so it had extra special meaning and was also reassurance that her Mum approved!
Ellie and Miles wedding also serves to prove that sometimes your wedding turns out very different to how you originally planned it… and you just have to roll with the punches. Continue to read below to find out more about their story.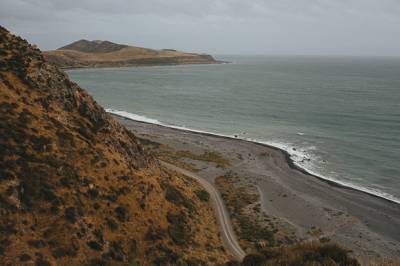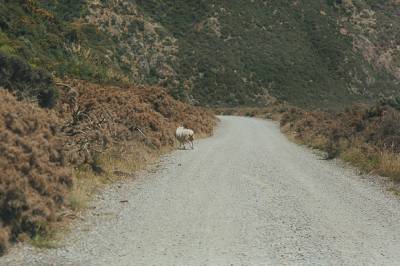 Tell us about finding your wedding dress: I had been to a bridal shop and had tried on loads of dresses but couldn't really find anything that I felt was my dress. I was talking to my friend, another bride, about this and she told me I had to go and see Sally Eagle. The rest was history - and my dress was perfect!
Describe your wedding flowers: My flowers were beautiful bouquets from Flowers Manuela. They were loose and natural and smelled amazing. I had been given my grandmother's wedding pearls as my "something old" and these were woven through my bouquet, and I had a photo of my dad fastened to the base of the bouquet. Having these additions helped me feel that my dad and grandmother were near, even though they couldn't physically be there.
Favourite detail of the day: The photoshoot - Tim and Nadine are amazing to work with, and you really do forget they are there sometimes, which means you can relax and really be yourself during the photos. We had such a good time with them, and we think the results speak for themselves!
What advise would you give out to a couple planning their wedding? Go with it! Things will go wrong, but they will go right again. Just take a deep breath and relax.
Anything other details that help tell the story of your day: The final wedding looked very very different to the one we had originally planned. We thought we would like a barbeque wedding on a beach, and booked venues accordingly - but every possible thing that could go wrong, went wrong. The first caterer pulled out as he decided he did not have capacity, then the venue was painted (from cream to lavender!), then the second caterer pulled out as his business was being sold, and then the Wellington earthquakes saw the church being closed indefinitely so that earthquake strengthening could be performed!
It was at that point that we threw all the plans out the window and began again at Pencarrow Lodge in Eastbourne - and we still can't believe our luck, even managing to secure the same wedding date 5 months out from the day. The Lodge was absolutely perfect - it is a beautiful and comfortable venue, with breathtaking panoramic views of the Wellington Harbour. Jane and Mike are absolutely amazing - and the food was divine!! The wedding was so much better than we could ever have imagined, and having the original plans fall over was the best thing that could have happened to us.