Old world meets a garden wedding editorial with an intimate french chapel. Captured by Southern California wedding photographer XO & FETTI PHOTOGRAPHY this shoot was inspired by stunning architecture, elegant details, and whimsical florals. Korina from Southern California wedding planner SERENE EVENTS AND DESIGN channeled the beauty of garden romance and the passion behind creating special moments in every unique love story.
Featuring a striking gown by CLAIRE PETTIBONE, romantic blooms by THE LITTLE FLEUR CO., and mouth watering cocktails by JUCY BARTENDING with the lush background of THE MARQUESS, couples are invited to take inspiration from a spring garden and old-world European details.
"THE MARQUESS has an intimate french chapel on property. This charming ceremony spot was the perfect backdrop for a dreamy couple. We wanted the florals to appear part of the chapel and Zeyda from THE LITTLE FLEUR CO. did just that. The whimsical vines flowed out onto the ground and grew up the sides of the sanctuary. It framed the large wooden doors flawlessly. The Tuscan, wooden chairs surrounded the chapel as the bride and groom exchanged endearing smiles.
I knew I wanted to do something special for the escort table. Our scent is closely linked to our memory and can take us immediately back to a specific time in our lives. I was reminded of the unique moments in my life and how a certain perfume can take me back to my first dance or scented coloured markers can take me back to grade school, so the idea of reed diffusers entered my mind. I wanted to create something memorable for guests and also visually engaging. While white lilies and spring moss fill the air, guests are led to their individual reed diffuser which leads them to their table. Guests are able to take their diffuser home and enjoy the fresh wedding scent as memories fill their head.
The stunning dress by CLAIRE PETTIBONE is a flawless addition to the old world wedding. With touches of green, the lace transcends down the sleeves and train, giving our bride the most elegant and whimsical look. I absolutely love how the splashes of green remind us of the green gardens and blooming stems.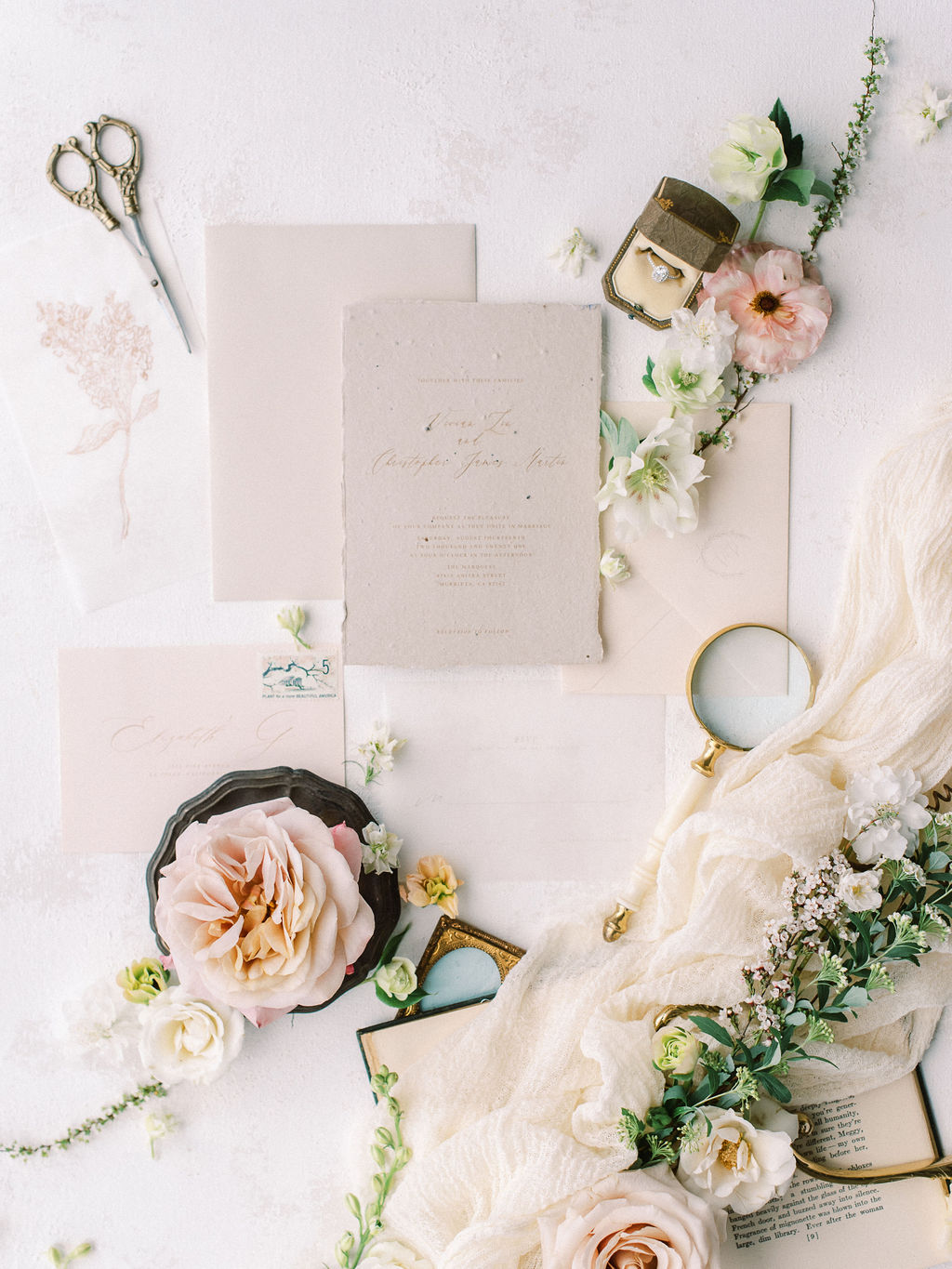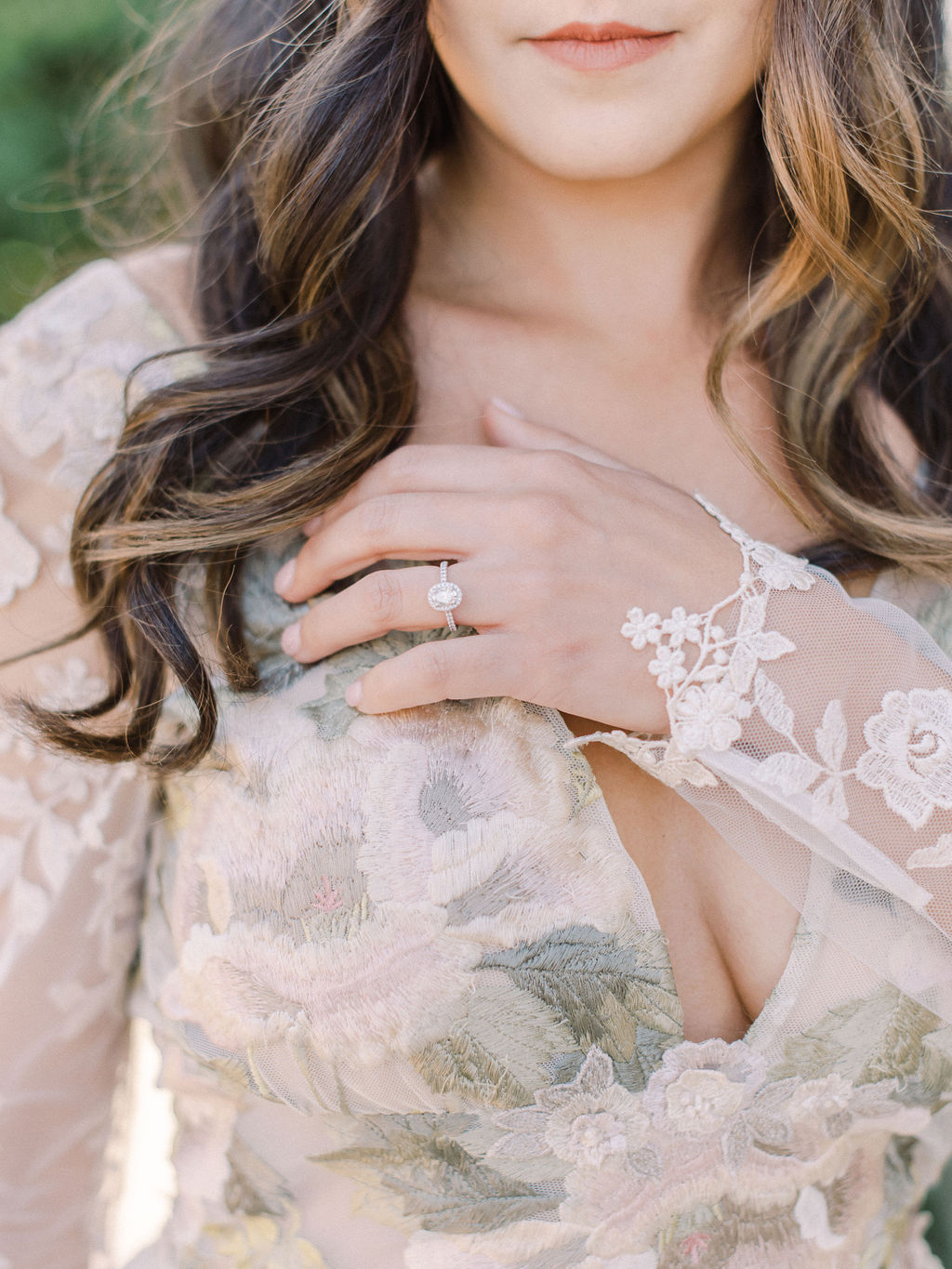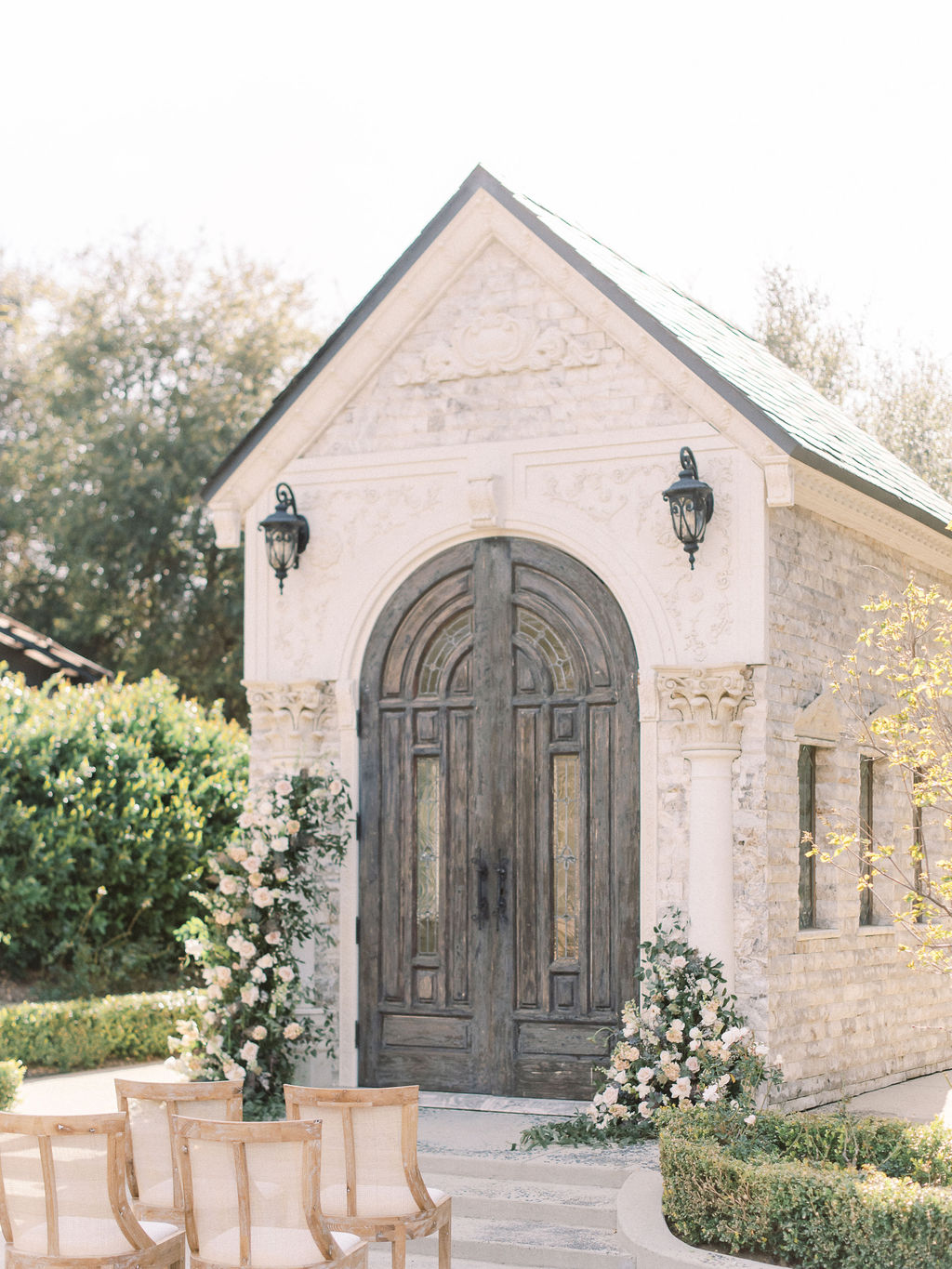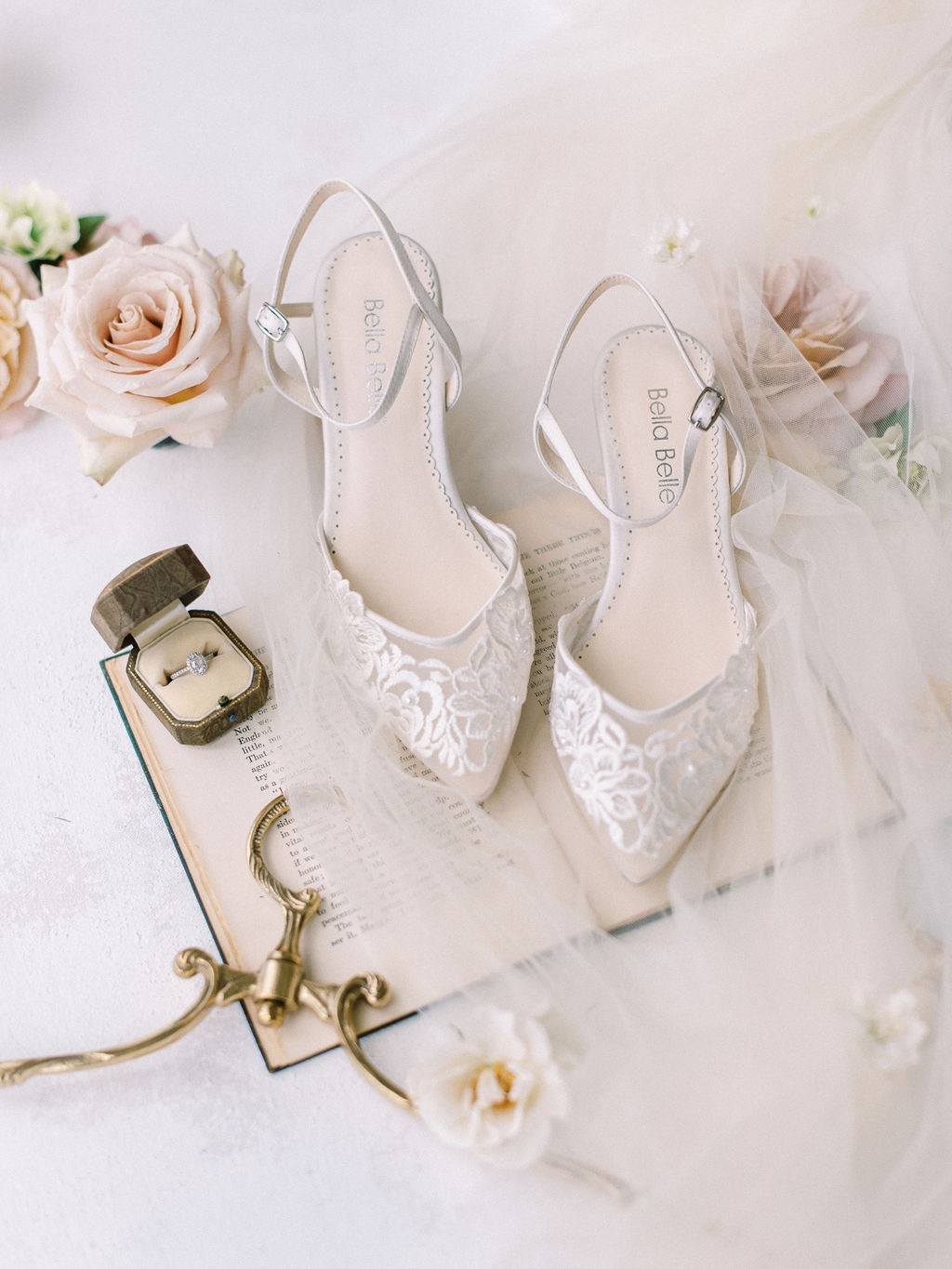 JUCY BARTENDING poured customised, craft cocktails as the bride and groom swooned over each other. The bar was surrounded by abundant greenery and the warmth of the sunshine. Included on the menu was a fresh pear and rosemary cocktail, a lemon and earl gray port wine and a pineapple and coconut rum blend.
When it came to the guest table, we wanted the garden to follow them. I was inspired by my time in Paris when I visited the Palace of Versailles. There is a quiet & charming cafe in the gardens surrounded by the historic grounds. It is one of my favourite spots and I think back to it often. Blooming branches took the center stage as classic gold taper candles lit the area. Elegance was brought to the table as a chandelier hovered above. I wanted to incorporate textures with LA TAVOLA'S fine linen. The pink velvet napkins complemented the intricate cream linen.
A big thank you to Southern California wedding planner SERENE EVENTS AND DESIGN for sharing this beautiful inspiration with us. Korina is the owner and lead planner and designer of Serene Events and Design. Planning events and getting people together has always been a passion of hers. She knew from a young age she wanted to plan events, so she gained experience with two incredible wedding planners. After she received her bachelors in visual and performing arts, she continued her education by getting a certificate of event planning and design. You can see more of her portfolio here.
Southern California wedding photographer XO & FETTI PHOTOGRAPHY is a valued member of our vendor guide. Owner Vanessa documents love for the wildly romantic, believers in magic, soulmates and true love. "Combining fine art styles with a documentary approach, we are dedicated to expertly capturing the unforgettable moments of your unique fairytale. XO & FETTI believes in building relaxed, comfortable photography sessions for every client so that each shot is authentic and natural. We do this by valuing the individuality of our clients, getting to know both their personalities and their story before the camera ever steps into the picture." Head over to their portfolio to see more of their work.