It took mere seconds for me to start plotting how to take up residence in the cosy refurnished farmhouse of SEEDS & STONE potter Meghan Gould after walking through the door late last year on a visit to Maui with ASHLEY KELEMEN - who captured our time there so beautifully in these images. With the welcoming aroma of freshly baked bread seeping from every rustic corner it was all I could do not curl up on the nearest (worn to perfection) leather couch with a coffee and gorge myself on said bread - accompanied of course by home-made lilikoi curd. With stupendous views overlooking the beaches of both North and West Maui, Meghan's pottery studio and home is on a beautiful plot of land shared with other creatives. Surrounded by luscious tropical flora, and a resident pup who moves from cottage to cottage visiting whomever is home (or perhaps whomever has the home made bread ready!), it the ideal inspiring environment in which to create her wares. Inspired by the natural world around her - from the ocean and it's many shades to the texture of rusty metal and the lines of feathers.
Read on for an interview with Meghan and to find out more about her business...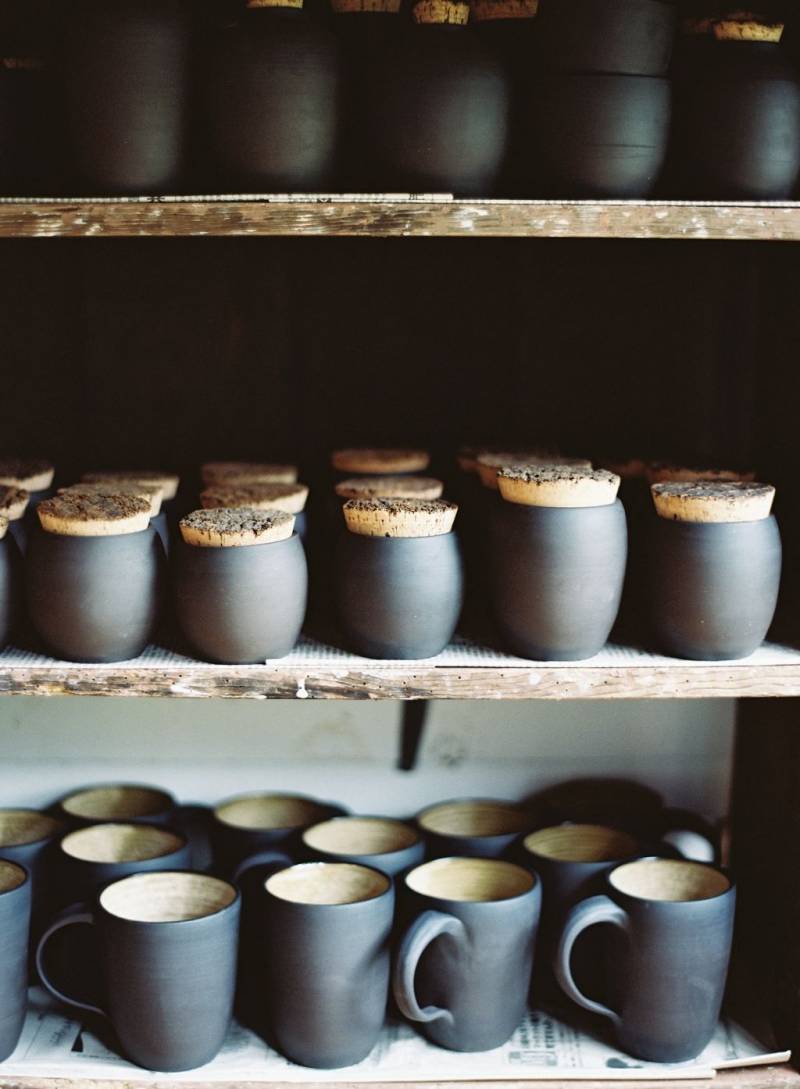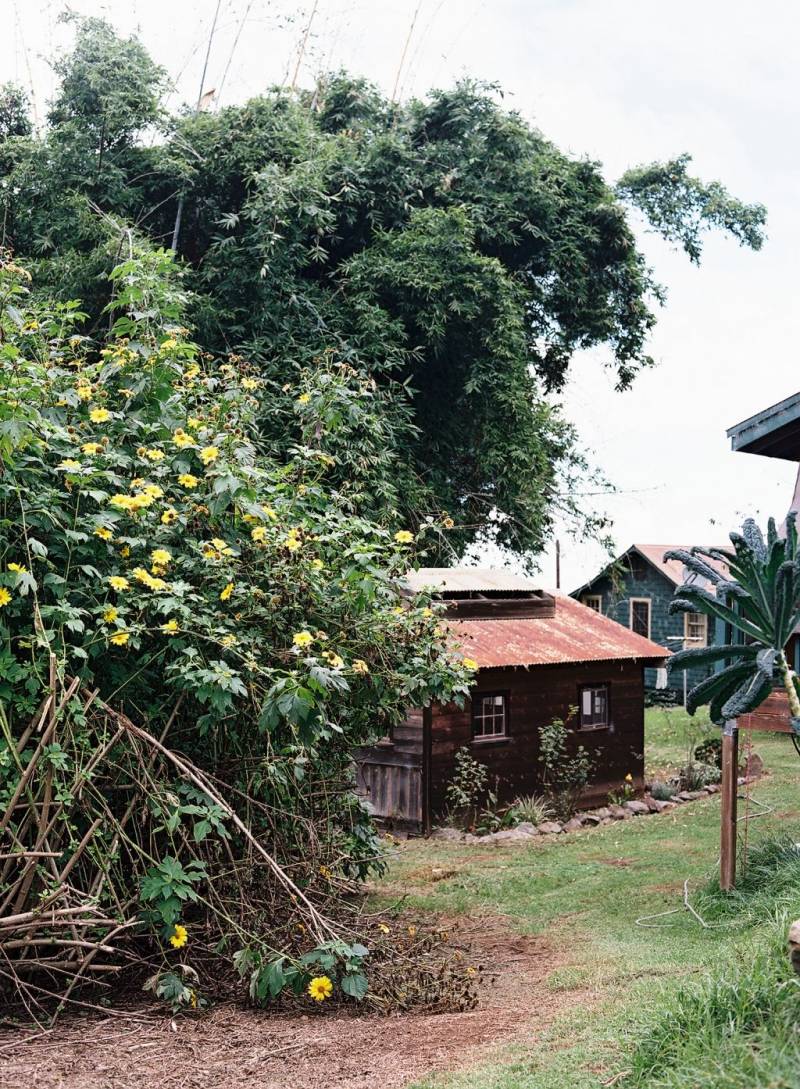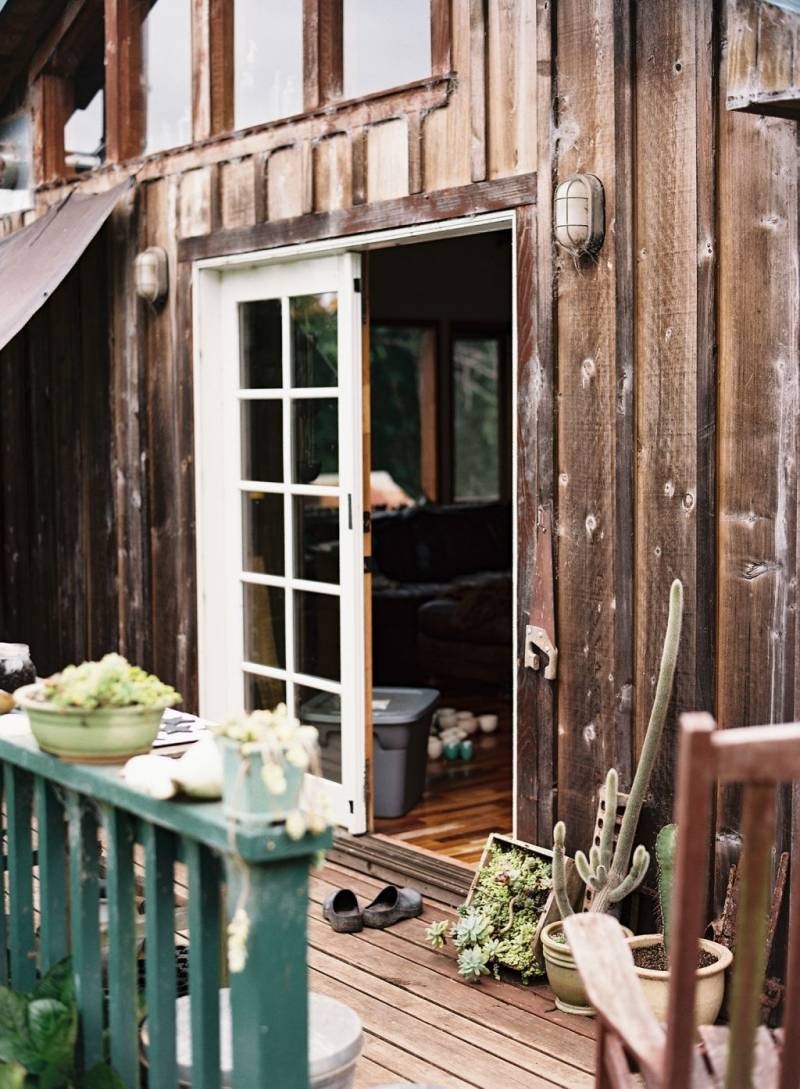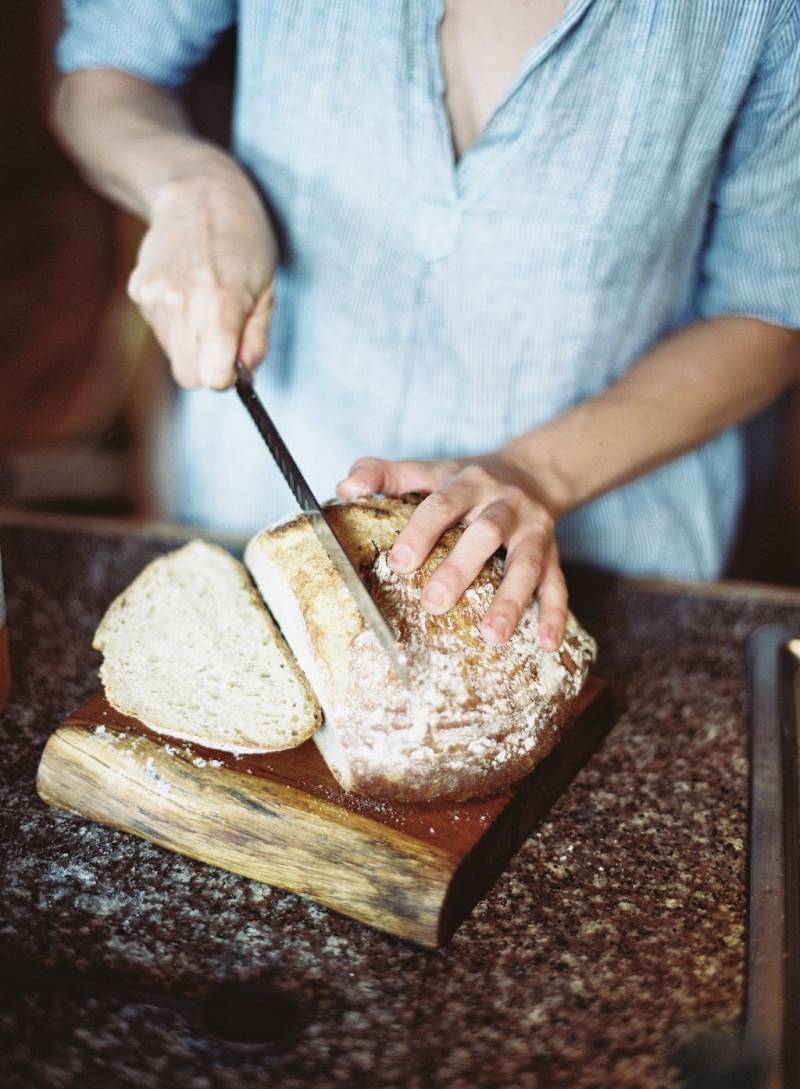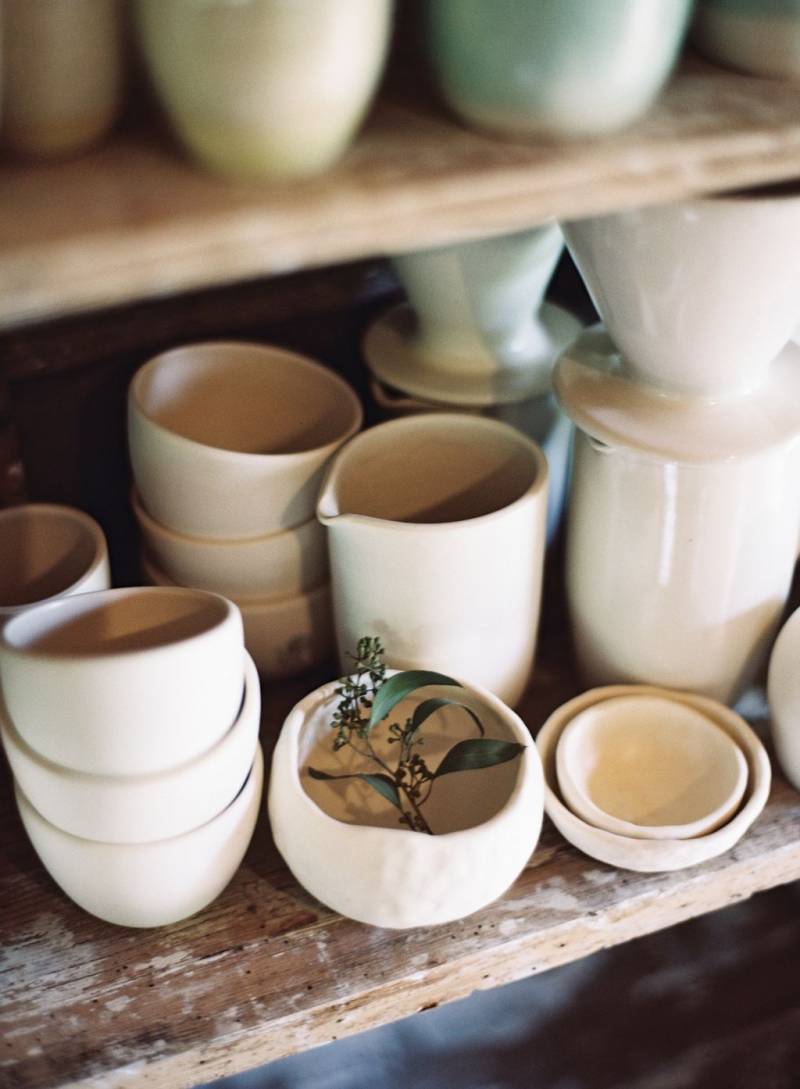 WHAT FIRST BOUGHT YOU TO POTTERY? My first class was a wood fired ceramics class at the University of Oregon about 15 years ago. I was enrolled in the art program there and one day I saw a large kiln the size of a bus, which is called an Anagama kiln. It was all brick, curved on the top, large chimneys coming out of it and surrounded by piles of stacked wood. A wood fired kiln is an intense process and is fired for seven days continuously which takes a tremendous amount of effort and dedication. The surface of the finished pots are covered by a organic glaze made from the ash of the wood. I was immediately attracted to the ritualistic process. I liked the smoothness of clay, the texture and feel of making a vessel on the wheel. When I first felt the clay, I think it was the medium I was called to. Ceramics takes time and there are many steps for one piece. Working with clay and mastering forms is a learned skill over time. I can see myself working and shaping clay the rest of my life.
WHAT IS IT ABOUT THE CREATIVE PROCESS OF POTTERY THAT YOU LOVE SO MUCH? Taking a lump of clay, then shaping it into a vessel that can be functional, like a bowl. Then eventually using that bowl in my kitchen to fill it with homemade soup made from the garden makes me feel connected to the whole picture. It reminds me that good and beautiful things take time. I enjoy making objects that are a part of a ritual, like tea bowls, and an espresso cup. I also love focusing on the form or shape of the piece. How it curves and how it fits in the palm of your hand.
Different types of firing is also a passion of mine. I love the story the surface tells after a piece is pit fired. The surface has light smokey colours, deep charcoals, with hints of rose. At the same time I love the unglazed surface of a porcelain bottle. The shape is really seen and the soft matte surface draws in your eyes. I love how the light is absorbed into the surface. I enjoy working on the wheel and hand building as well. Each is a meditation in its own way. The simple act of making a pinch pot still brings me joy.
WHAT'S YOUR FAVOURITE MEDIUM TO WORK WITH? Right now I mainly work in porcelain clay, and a black clay. The black clay I use I do not glaze the outside of the pieces. The dark matte clay really shows the shape and has a unique soft look. I also love working with stoneware that has a lot of texture. With that clay I usually pit fire it. I also enjoy experimenting by combining different mediums like wood with clay. The contrast of the smooth clay and rough bark texture creates a conversation with the materials.
WHAT DO YOU LOVE ABOUT WHERE YOU LIVE? I live up on a dormant volcano called Haleakala, which means "house of the sun". I like living up on the mountain, it gives me balance. Where I live, I am at 4000 feet but only 25 minutes from the ocean. Sometimes a blanket of fog rolls in and creates our own little island above the clouds. Its cooler here and that is soothing to me. There are seasons on the Hawaiian islands and you can really feel them up on the mountain side. For instance during the winter months we use our wood fired stove to break the chill and heat our house. I bake bread often and have a small garden that provides nourishment to my boyfriend and myself. Soon I hope to keep bee-hives and chickens here on the land.
WHO HAS INFLUENCED THE DIRECTION YOUR POTTERY HAS TAKEN? My mentors in my life are humble but experienced potters and teachers. Bob Flint is a ceramics teacher at the Hui No'eau. He is also a professional artist, that is accomplished in sculptural and ceramic murals. Al Okamoto is a life long teacher, who has a specialty in ash glazes and surface texture. He is extremely inventive and very supportive in my ceramic progression. Anne Mette Hjortshøj is a Danish potter that lives on the west coast of Bornholm, Denmark. She is a potter who's simple lifestyle and work inspires me. She has built a two chambered wood firing kiln that she fires her work in. She is humble and attentive but greatly talented.
DO YOU HAVE A CREATIVE COMMUNITY AROUND YOU AND HOW DO YOU FEEL THIS HELPS YOU? My group of friends that surround me are creative in so may different avenues. From photography to wood carving they strive for simple, clear craftsmanship and beauty. These friends support me in my creative visions, hold me to my goals, and push me to find my voice in my work. I am grateful for this community and friendship. I feel that it challenges me and pushes me to excellence in my art and keeps me accountable to my creative voice and growth.
WHAT DOES A TYPICAL DAY LOOK LIKE? I wake up with the sun and make a cup of tea and stretch. Then I go for a brisk morning walk and then head into my studio. The morning light in the studio is nice. I make a list of goals and orders due on my chalk board. I spend a little time drawing up a form on paper. I try to envision the final shape. Then I wedge up clay for the projects. Maybe make a cup of coffee and toast with avocado from our land. Put music on, maybe classical or I like Gillian Welch, something light and calming so I can focus. I fill a big metal bowl with water and gather my tools. I sit down at the wheel and begin.
ASIDE FROM POTTERY WHAT OTHER HOBBIES DO YOU HAVE? When I am not in the pottery studio, you can find me in the garden. I live at 4000 ft and the cool air is ideal for for growing salad greens and kale year around. Planting a seed and watching it grow to fruition is so fulfilling and humbling at the same time. I love the ocean and surfing little waves. I have a 9'2'' turquoise blue Ole longboard and it is a good day when I can catch a few waves and laugh with friends.
WHAT DIRECTION DO YOU SEE POTTERY MOVING IN? I see more focus on surface texture with glaze experimentation. Also the use of more alternative firing practices such as pit fired ceramics. Challenging myself with more ritual forms such as tea pot sets. Also throwing larger bowls and taller bottle forms. Creating a themed work by season that is cohesive. Designing a dinner ware collection that is organically shaped, subtle, but functional.
WHAT PLANS DO YOU HAVE FOR SEEDS & STONE? I want Seeds & Stone to grow with grace and create solid relationships and partnerships. I hope to continue to sell at Holiday craft markets and set up my online store. I want to include other hand made items made by my friends and myself such as carved wooden spoons, handmade paper, and hand collected seeds from my growing garden. I see Seeds & Stone becoming a simple lifestyle brand with useful tools for the home, kitchen and garden.