If your mouth isn't watering now it soon will be! Naked cakes are simple and beautiful with endless style options and today we have a trio of options for you baked by WINK BY ERICA and photographed by DIVYA PANDE just in time for the holidays.
The girls had this to say, "The concept of the naked cake is to showcase the cake in its natural glory with limited buttercream. In the spirit of keeping a natural, organic look, don't be afraid to decorate your naked cake with a variety of fresh, natural, and "undone" elements. A modern and organic alternative to more traditional fondant cakes! For the holidays, we suggest starting with a base of a delicious, seasonal cake. For this recipe, we chose a seasonal carrot cake made with fresh grated carrots and toasted pecans. The carrot cake is filled with homemade cream cheese buttercream in between the layers and and semi-frosted on the outside. We then decorated the naked cake in three festive styles."
Lucky for us the ladies have shared their recipes with us! Now to get into the kitchen! Happy baking!
HOMEMADE CREAM CHEESE BUTTERCREAM RECIPE
8 ounces cream cheese, softened / 4 1/2 cups confectioners' sugar / 1/2 cup butter, softened / 1 teaspoon pure vanilla extract
- Using an electric stand mixer fitted with the paddle attachment, place cream cheese and butter in the bowl and beat on medium speed until creamy, about 1 minute.
- Turn mixer speed to low and slowly add confectioners' sugar one cup at a time, scraping down the sides of the bowls as necessary with a rubber spatula.
- Add vanilla and increase mixer speed to medium, blending until creamy and fluffy, about 30 seconds.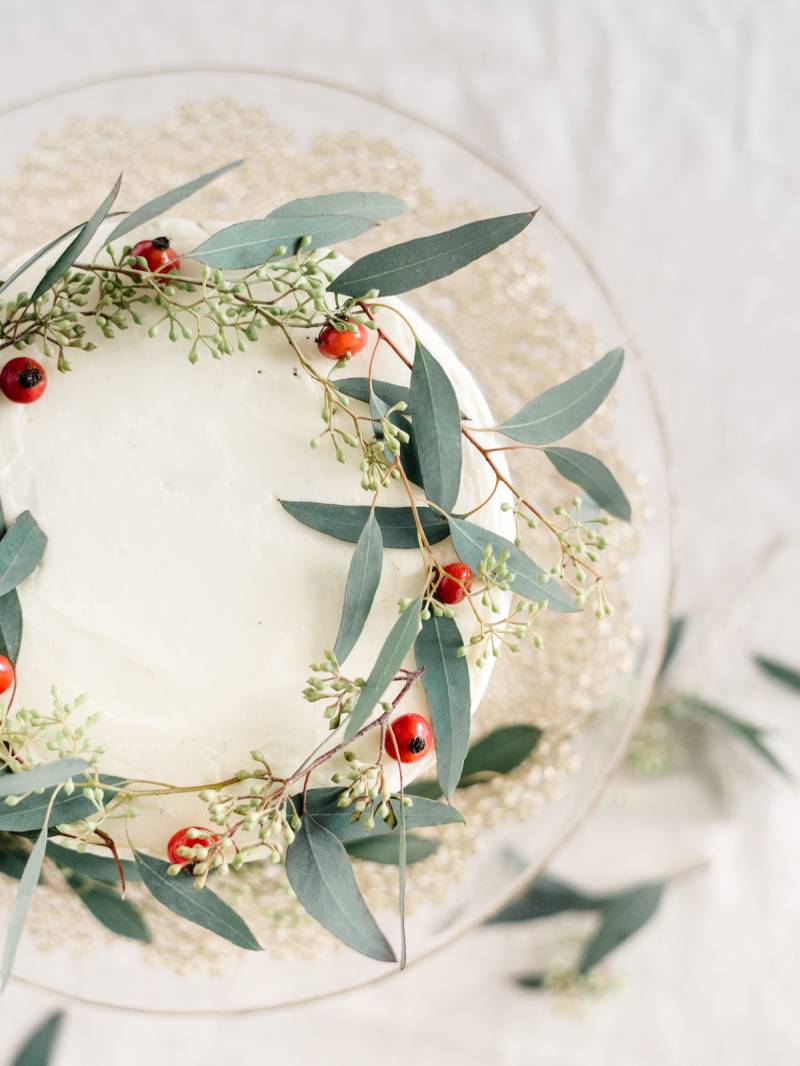 GREENERY WREATH | Outline the edges of the cake with eucalyptus leaves and holiday berries or pomegranate seeds for a festive wreath design. This makes for a stunning and holiday-appropriate addition to any dessert table!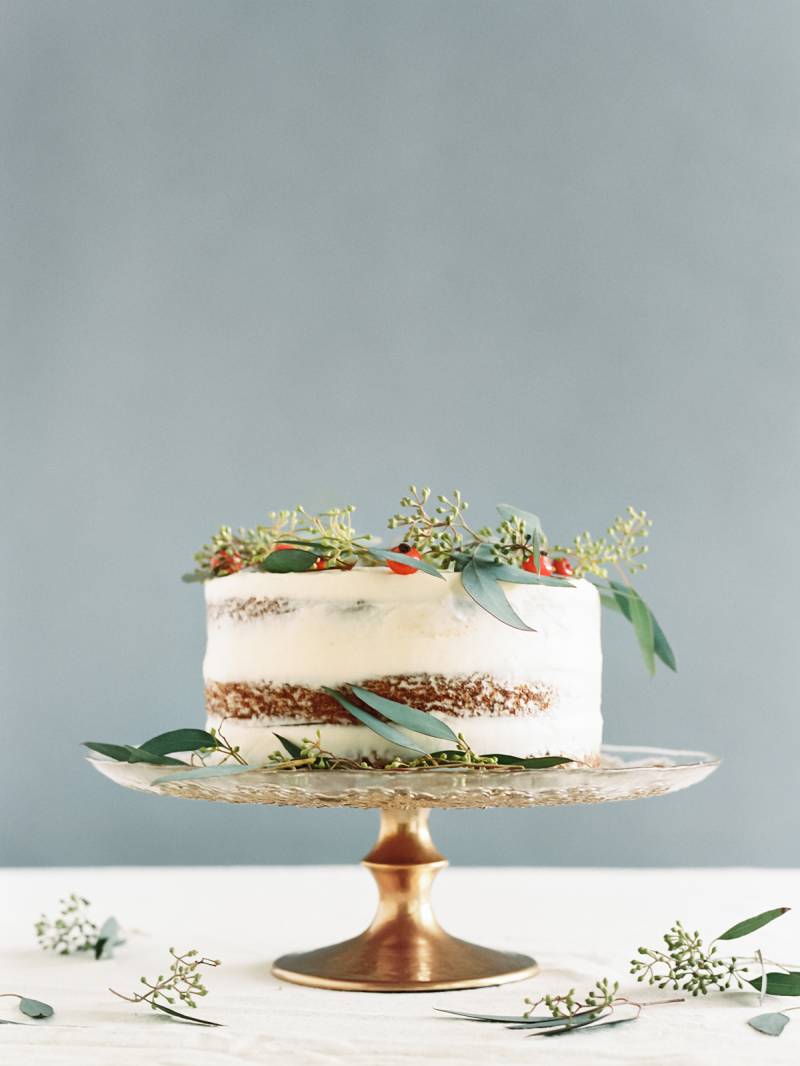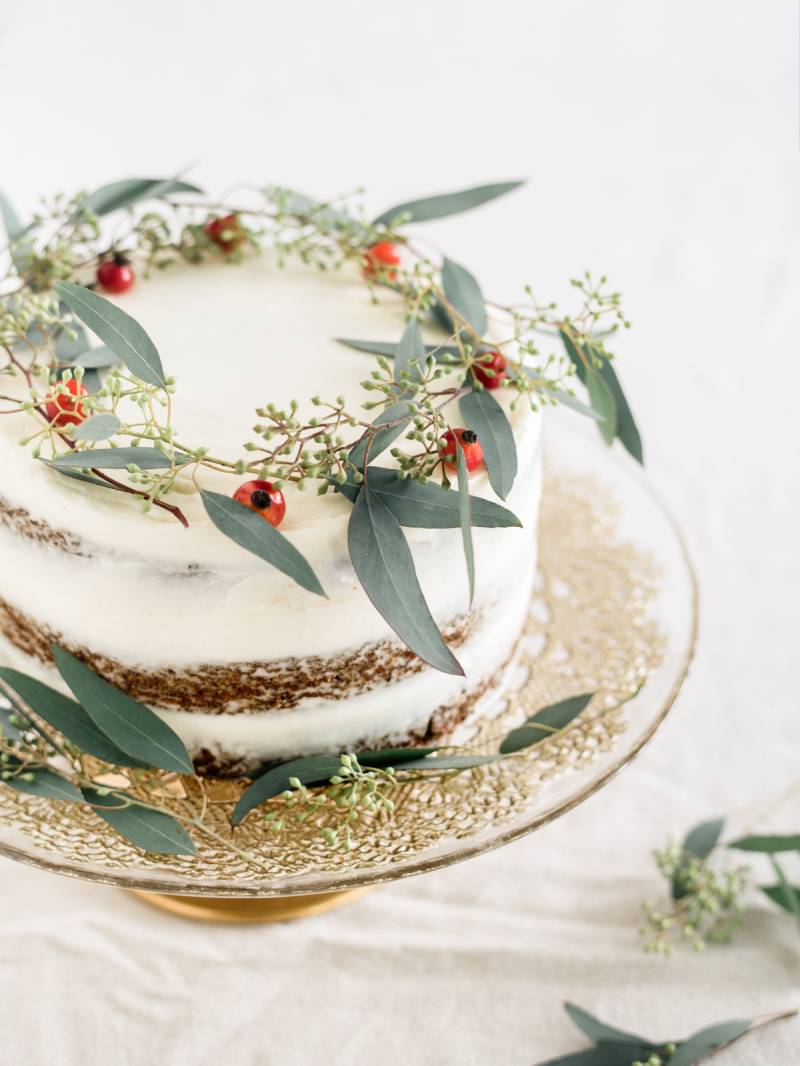 BERRIES DUSTED WITH POWERED SUGAR | Berries dusted with powdered sugar always create a festive and holiday feel to any dessert! Top the cake with fresh berries (blueberries, raspberries, and blackberries are all great options) dusted with powdered sugar for a dreamy appeal reminiscence of a snowy Christmas morning.
CHOPPED NUTS & CINAMMON STICKS | Take a cue from the cake itself and use the ingredients in the recipe to decorate the cake! Sprinkle chopped pecans on the edges of the cake and top with cinnamon sticks wrapped in a rustic jute twine.