Clair and Kyle debated for months whether they would be able to move forward with their July 2020 wedding, until the pandemic made it impossible to do so. They reluctantly decided to postpone their main event with all of their extended family and friends until the following year. However, they were still determined to plan a simple micro ceremony on their original date and had Colorado Wedding Photographer SARAH PORTER along to capture their beautiful celebration. Whilst the ceremony was meant to be simple, the goal for their wedding planner MOSS & MAEVE was to create an unforgettable, magical experience for the couple, especially in the face of such a difficult setback.
CHEROKEE RANCH & CASTLE was the perfect setting for a romantic, intimate ceremony that the couple envisioned. Or the Colorado-meets-French-Countryside feel as they described it. Emma of MOSS & MAEVE tells us, "We set the ceremony in an expansive field overlooking the castle and mountains. A floral installation featuring dreamy hues of pinks, purples and blues against neutral tones was set at the end of the aisle in a small semi-circle. The bride made her entrance through the Memory Garden iron gate down the small aisle made up of only 10 of their immediate family members and close friends.
To make the wedding even more special, Kyle's dad officiated the ceremony, drawing a few tears from the guests as he spoke. He stated, "we have all loved in our lifetimes, and in this moment, we're reminded that the ability to love is the very best part of humanity." During the ceremony, each guest was also asked to place flowers around the couple as a show of support through all of the ups and downs that life has to offer. The couple and their guests spent the remaining part of the evening on the back terrace of the castle, enjoying champagne, cake and an indescribable mountain view.
Clair and Kyle prioritise their love for each other over everything else, which was evident in every moment of their wedding day. Their positivity in the face of such heavy disappointment is inspiring and beautiful. Their wedding not only turned into a fairytale, but it was a reminder that happiness exists even during hard times. It reminds us to celebrate love and life's big moments as well as to look for the small moments of joy every day."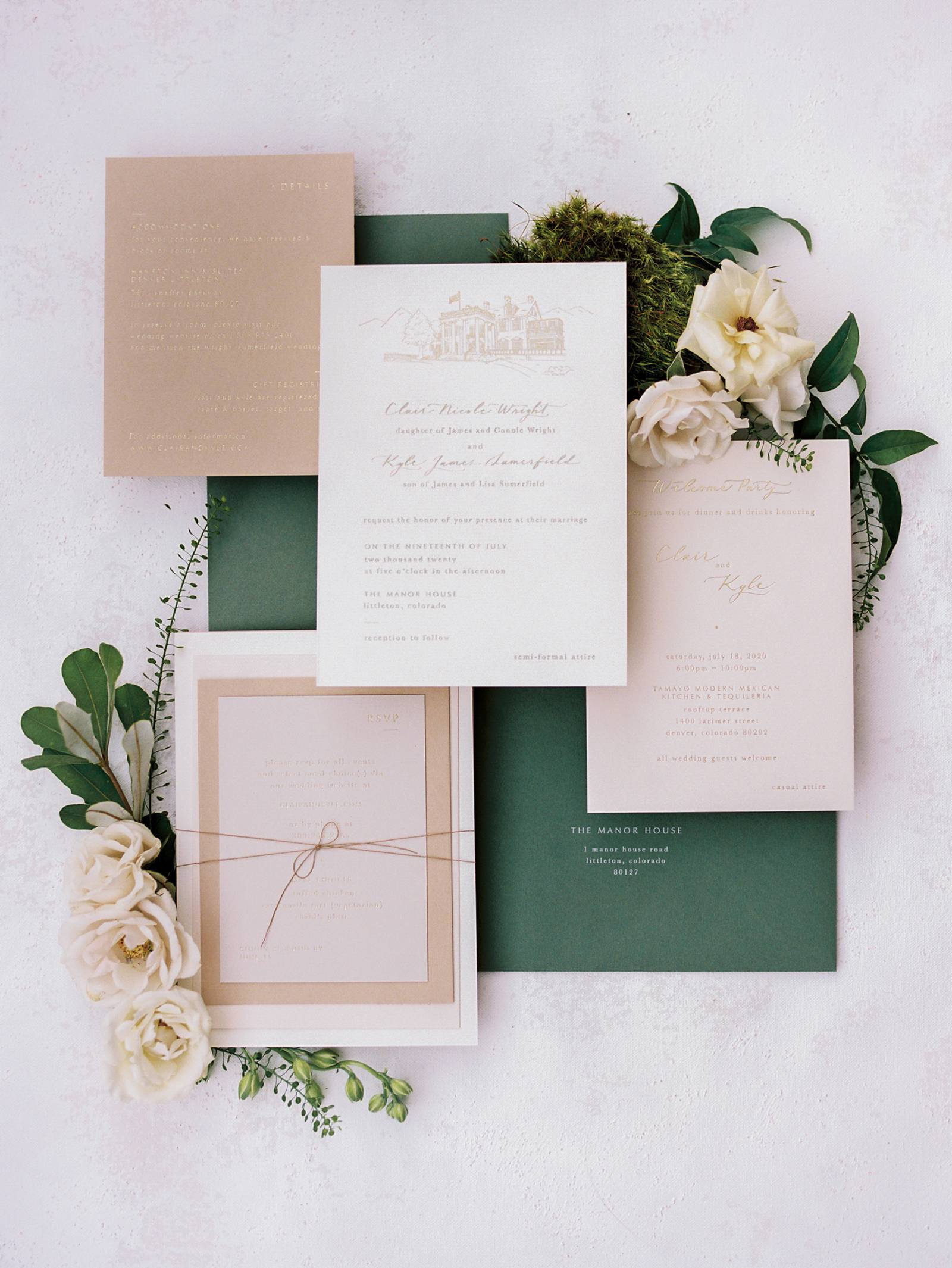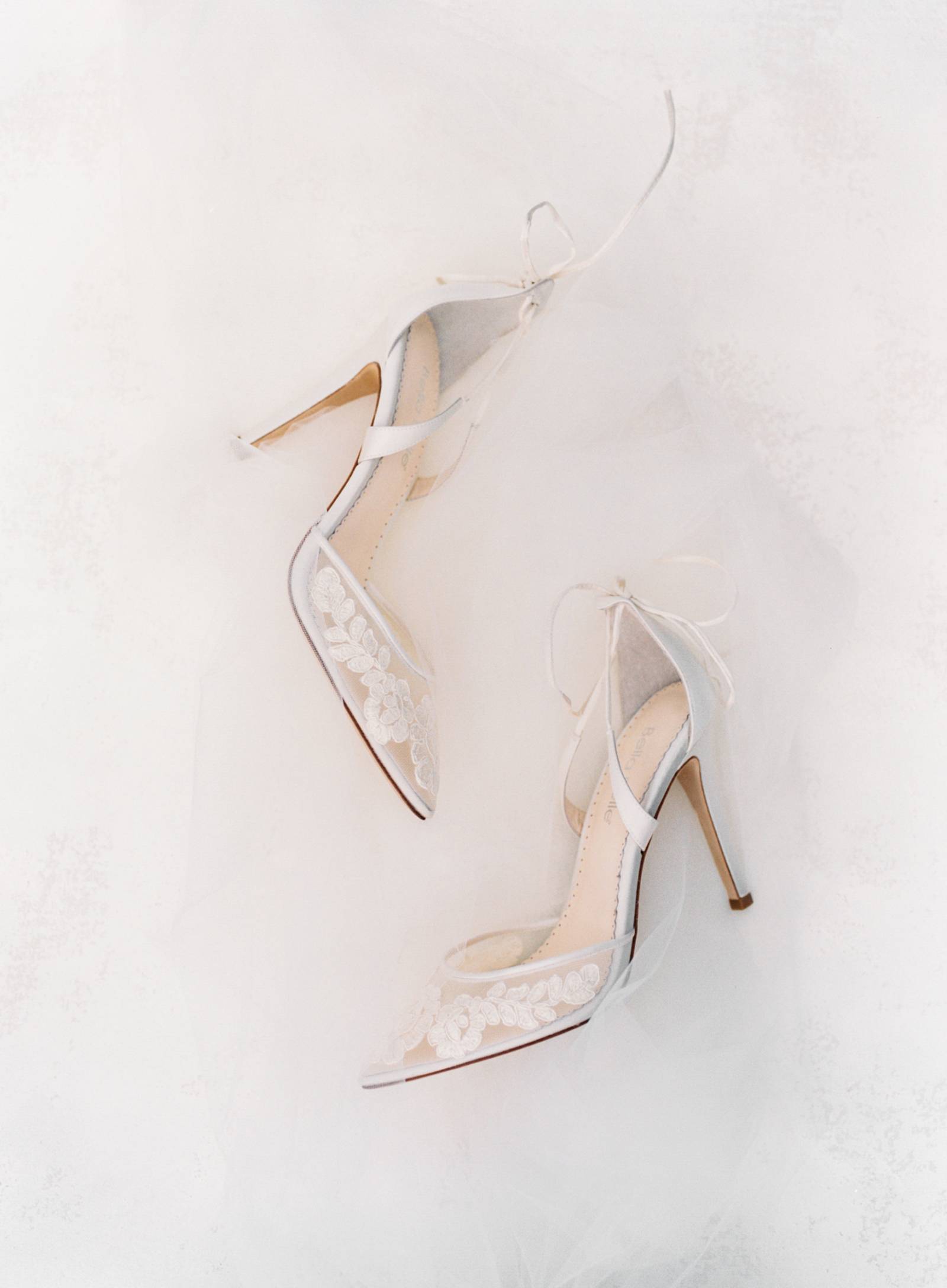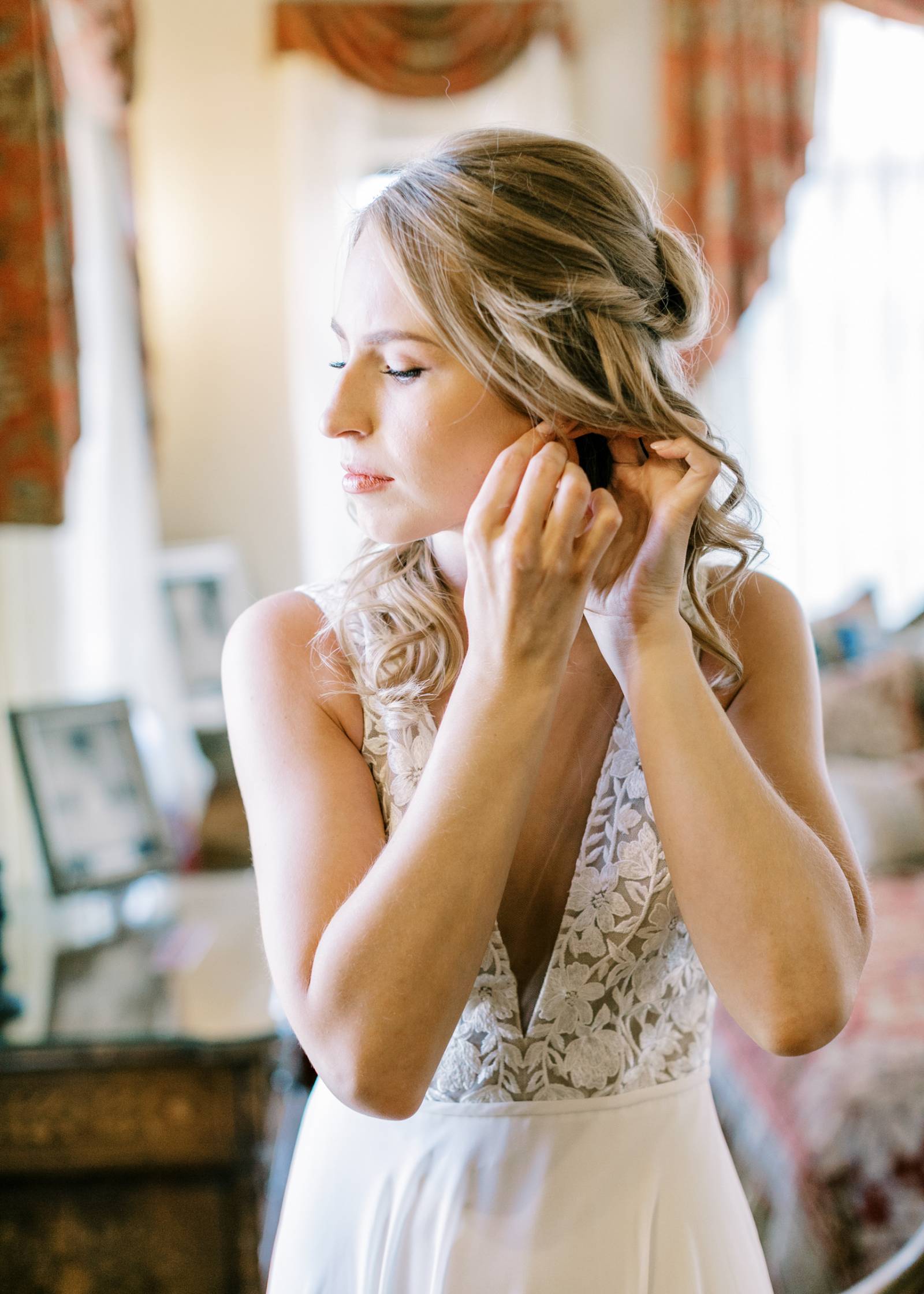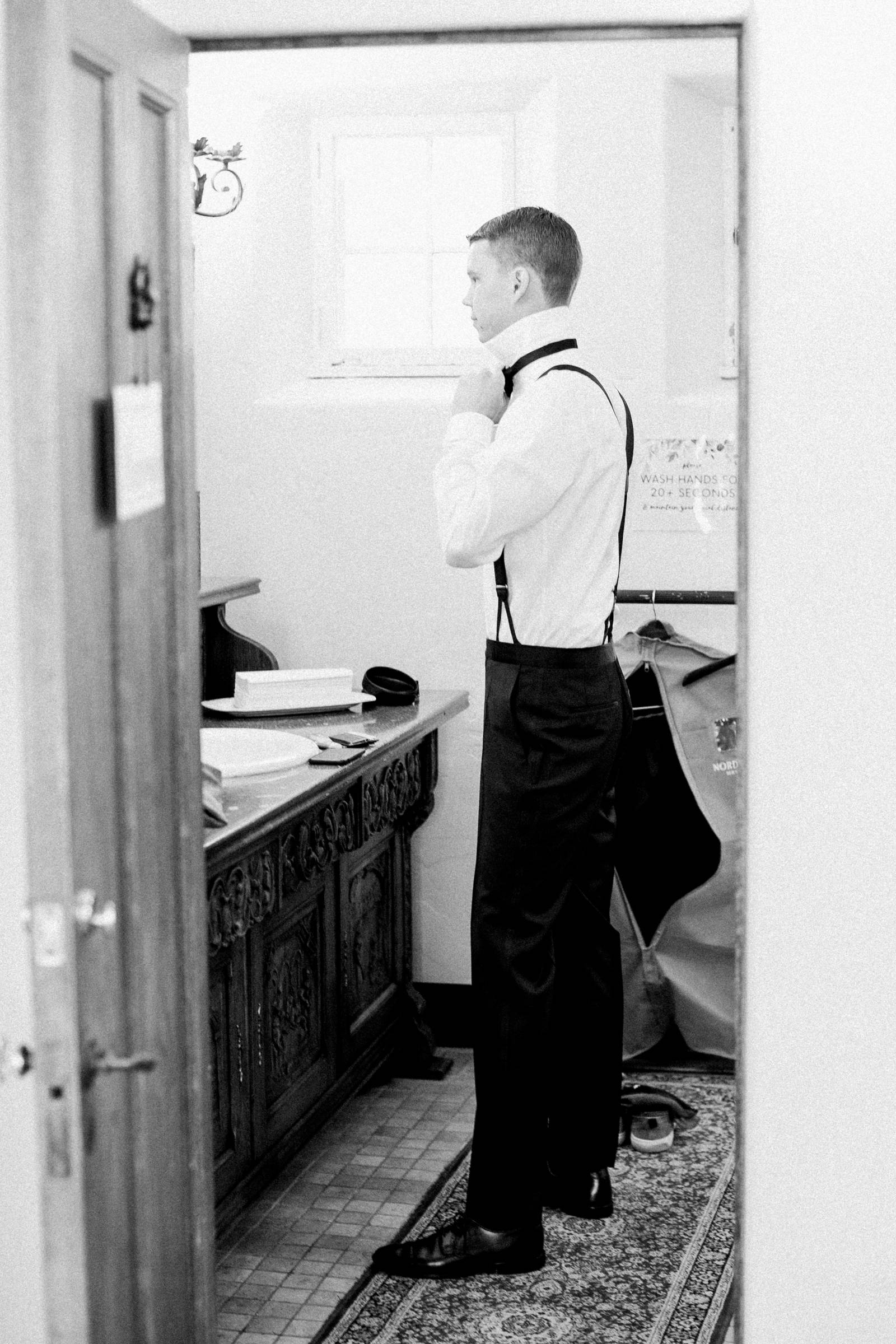 WHY DID YOU CHOOSE THIS LOCATION? We first toured Cherokee Ranch and Castle in the spring of 2019 when we were looking for venues for our original (bigger) wedding. We immediately fell in love with the castle, the history, and the stunning views! However, at that time, we decided Cherokee Ranch & Castle wasn't the right venue for us because it had a smaller guest limit than what we were looking for and we ended up choosing The Manor House in Littleton, Colorado as our wedding venue. About two months before our July 2020 wedding at The Manor House, it became clear that our wedding was not going to happen as planned because of Covid-19. Luckily, the Manor House and all of our amazing vendors worked with us to move our wedding day to August 2021 (hopefully when the pandemic is over). However, we were saddened by the prospect of waiting more than a year to marry. So, we decided to marry in a small ceremony (minimony) on our original wedding date and have our full wedding celebration on our postponed wedding date in August 2021. So, we basically decided to have two weddings! We wanted the two weddings to feel like two separate and different events. Therefore, we decided to find a new venue for our small ceremony. It was at this point that we remembered how much we loved Cherokee Ranch & Castle and decided to email them about last minute availability. We weren't even sure if they were hosting events because of Covid-19. Fortunately, they have plenty of outdoor space and were able to comply with local Covid-19 regulations AND they were also available on our original wedding day – so, everything fell into place and they became our new wedding venue. Honestly, one of the best things to come out of Covid-19 was the opportunity to utilise Cherokee Ranch & Castle for our wedding – it is absolutely stunning!
HOW DID YOU MEET? We both went to Augustana College in Rock Island, Illinois. We met through Augustana's Rowing Team! We both rowed all four years of our college careers. Fun fact: In 2015, Kyle was the team president and Clair was the vice president – talk about dream team!
TELL US ABOUT YOUR PROPOSAL: Kyle proposed on April 13, 2019! It was a Saturday, and Kyle had picked up the engagement ring from the jewelleer the day before (and I knew nothing about it). The day he proposed was a chilly spring day with grey skies. It had snowed the day before, so the ground was wet and muddy. That morning, Kyle suggested that we go to Rocky Mountain National Park for the day to enjoy the freshly blooming wildflowers. Not knowing that Kyle was planning to propose, I pushed back on this idea. First, it was too early in the season for wildflowers to be blooming. Second, it was an overcast, chilly, and muddy day. So, I suggested that we save the trip for a warmer weekend. Kyle, who was eager to propose, quickly came up with a backup plan and suggested that we go on a hike at Horsetooth Reservoir in the foothills of the Rocky Mountains. I was suspicious as to why Kyle wanted to go to the mountains so badly on a gloomy day, but I (somewhat reluctantly) agreed to go for a hike. After hiking through the snow (and mud) we reached a beautiful overlook. Kyle then asked me to take his picture, and when he turned around to face me, he had the ring in his hand. He got down on one knee and asked me to marry him! The sun came out and the day was absolutely perfect. I'm glad I agreed to go on that hike.
TELL US ABOUT FINDING YOUR WEDDING DRESS: I actually have two wedding dresses! My first wedding dress is a stunning Anne Barge A-line dress with a matching cathedral veil from Little White Dress Bridal Shop in Denver. I bought the dress with every expectation of wearing it for our July 2020 wedding. However, when Covid-19 postponed our original wedding and we decided to have a minimony, I was faced with a decision: do I wear my wedding dress twice or do I buy a second wedding dress? After much deliberation, I decided to buy a second wedding dress because I wanted to share photos of our minimony without ruining the surprise of my original wedding dress. However, we were six weeks out from our minimony date and most bridal shops were closed due to Covid. So, wedding dress options were limited to what I could find online and ready-to-ship. I ended up ordering this dress from BHLDN's "last minute bride" section. The dress arrived in the mail, I had it altered, and the rest is history!
DID YOU HAVE ANY DIY ELEMENTS? Yes! We wanted this minimony to feel fairly low-key. So, we opted not to have a band or DJ. Instead, we asked our wedding planner to play pre-made playlists from a Bose speaker. It actually worked out really well – but, took a lot of time to prepare!
DESCRIBE YOUR WEDDING FLOWERS: PLUM SAGE FLOWERS did a beautiful job of taking our inspiration photos and making them a reality. We loved the romantic look of soft pink and purple flowers, but we also didn't want our wedding to look like a 10-year-old girl's bedroom. Luckily, Plum Sage understood this concern and created whimsical arrangements with locally grown blooms. Plum Sage placed some of the ceremony flowers in terra-cotta pots, while other arrangements were placed on the ground – appearing as if they were naturally growing wildflowers. The overall effect was stunning and enhanced the beauty of our outdoor ceremony space without taking away from the magnificent view. The same whimsical and romantic inspiration was used when creating my bridal bouquet. We wanted it to look as though the hand tied bouquet could have been assembled using flowers found from the Cherokee Ranch & Castle property. We also had small and simple floral decorations for our ceremony sign and cake.
WHAT ADVICE WOULD YOU GIVE OUT TO A COUPLE PLANNING THEIR WEDDING? Roll with the punches and know that everything will work out in the end. You will get married and the day will be perfect – even if it's not what you originally planned. Planning a wedding during the Covid-19 pandemic was incredibly stressful and there were MANY tears shed along the way. But, now that it's over, we wouldn't change a thing. It feels like everything happened for a reason and we got to spend a beautiful day celebrating our marriage with the ten most important people in our lives (and, hopefully, we'll get to do it all over again next year)!
MOST MEMORABLE MOMENT? The only guests at our minimony were our immediate families. Therefore, in lieu of a traditional unity ceremony, we chose to do a flower-circle. We placed a few flowers on each of our guests' chairs before the ceremony began. Then, before we exchanged rings, we asked everyone to come up and place the flowers on the ground around us in a circle. This circle represented the love and support of our families. We felt that this was a unique way to incorporate our families into our ceremony and a lovely symbol of not only our unity as a married couple but also the unity and support of our families as we entered into our marriage. It was a beautiful moment and something we'll cherish forever.
WHAT ASPECT OF THE WEDDING WAS THE MOST IMPORTANT TO YOU BOTH? The intimacy of having our immediate families as our only wedding guests was so special! It's an experience we wouldn't have had if our larger wedding happened as planned. We're incredibly thankful to have spent the day with our families – their love and support on our wedding day was so important to us.
TELL US A LITTLE ABOUT YOUR HONEYMOON: Because Covid-19 was still a concern, we didn't want to fly anywhere. So, we decided to road-trip to Jackson Hole, Wyoming. We hiked and explored Yellowstone and Grand Teton National Parks. We also spent time in downtown Jackson Hole and enjoyed everything Jackson Hole Mountain Resort has to offer. We're hoping to take a longer honeymoon next year after our "second" wedding!
A huge thank you to Colorado Wedding Photographer SARAH PORTER for sharing this beautiful Colorado wedding with us. This fine art hybrid photographer is constantly inspired by the unspoken moments shared in the deep connection between two people completely immersed in love. "So much beauty exists in-between moments that I notice, unposed and vulnerable. These are the moments I would love to help you capture in your story. Every time I pick up a camera, it's an opportunity for connection. My process will revolutionise your perception of photography from fear to enjoyment. It is important that you experience the instances that leave you speechless and occasions that take your breath away on your wedding day." If you're looking for a Colorado wedding photographer you can see more of Sarah's work in our vendor guide.