Having grown up in New England, spending summers going to the Rhode Island shore, the bride was keen to incorporate the history of this region into her wedding day to Austin. Though they currently live in San Francisco it meant a lot to them to hold their special day on the East coast, in a place that was special to them. They chose to honour the history and tradition of Newport and created an event to match the rich and elegant history it holds.
New York wedding photographer KYLEE YEE captured their day and shares with us, "They had a very classic celebration opting to have their portraits taken on the grounds of the opulent Marble House, and added a modern touch to their by way of bright, colourful florals designed beautifully by SAYLES LIVINGSTON. Gatsby, their furry Bernedoodle baby was the star of the show as he walked down the aisle in his custom doggy tux. Andrea and Austin chose to treat their guests to a Del's Lemonade stand - a famous staple from the area. Their personalised ceremony was held by the water at BELLE MER and they chose to add few nautical/seaside touches to their romantic reception design.
HOW DID YOU MEET? We met in San Francisco at a startup event we were both volunteering at as a way to network with people in the tech industry (an industry we both ultimately became entrenched in!). After becoming close friends for over a year and a half, we decided it just made sense to date. We've now been together for five years since then.
TELL US ABOUT YOUR PROPOSAL: Austin proposed in the town square of our favourite little town in Wine Country of Healdsburg in Sonoma County, CA over the Thanksgiving Holiday in 2017. Andrea had arranged for a photographer to take holiday card photos of them, and Austin took the opportunity to propose during the shoot (knowing Andrea would be glammed up, and their mini bernedoodle Gatsby could be part of the moment).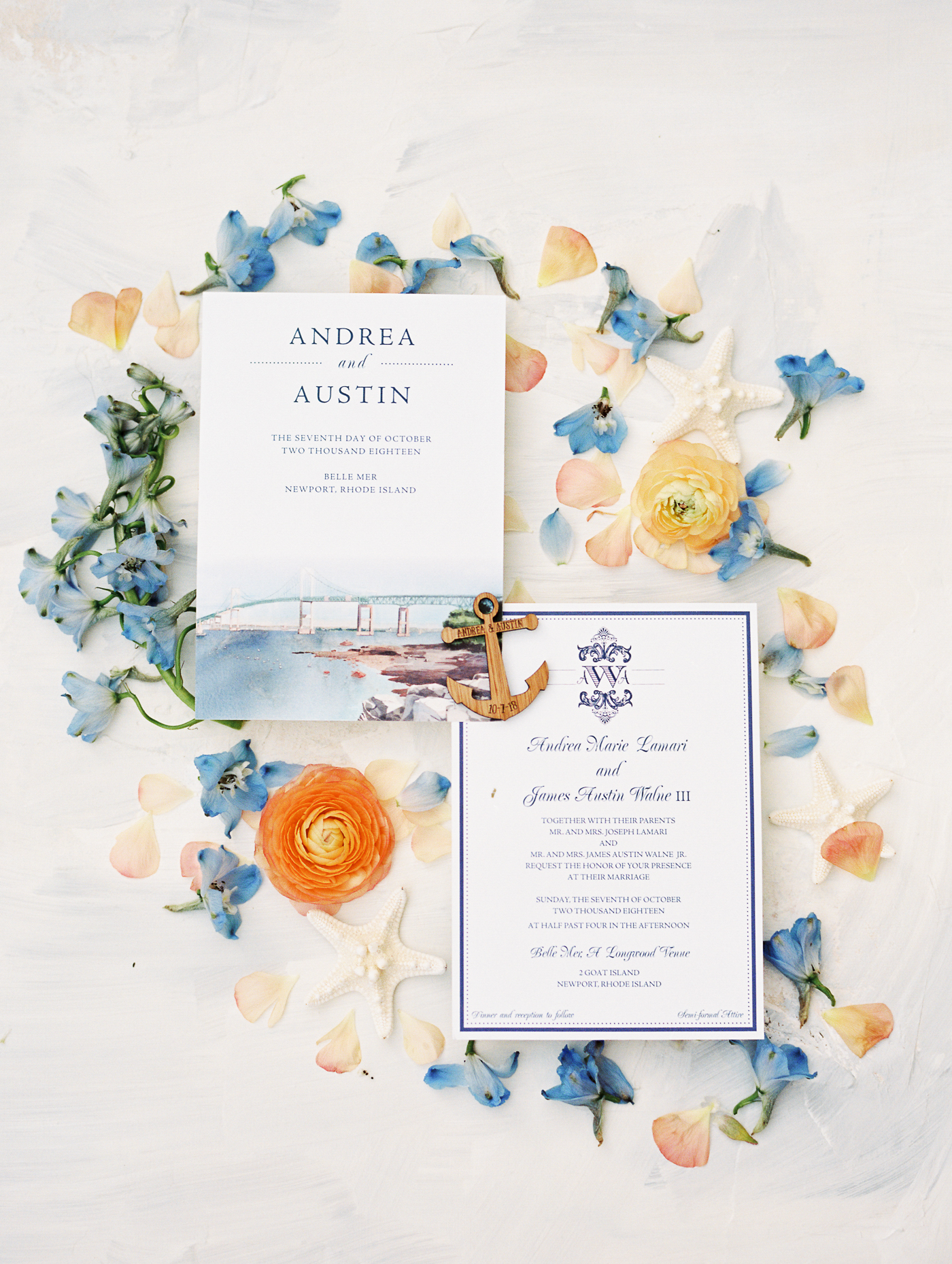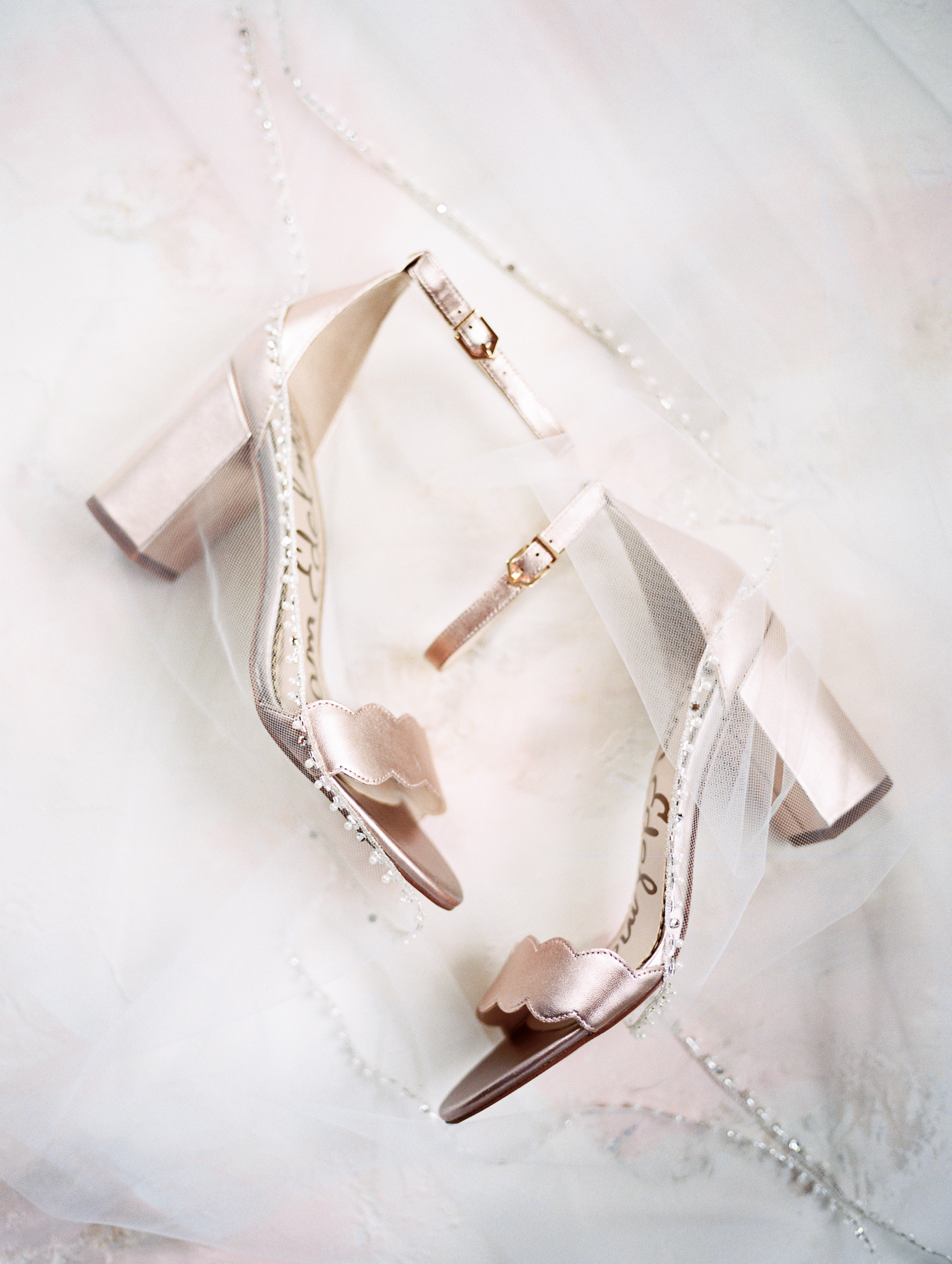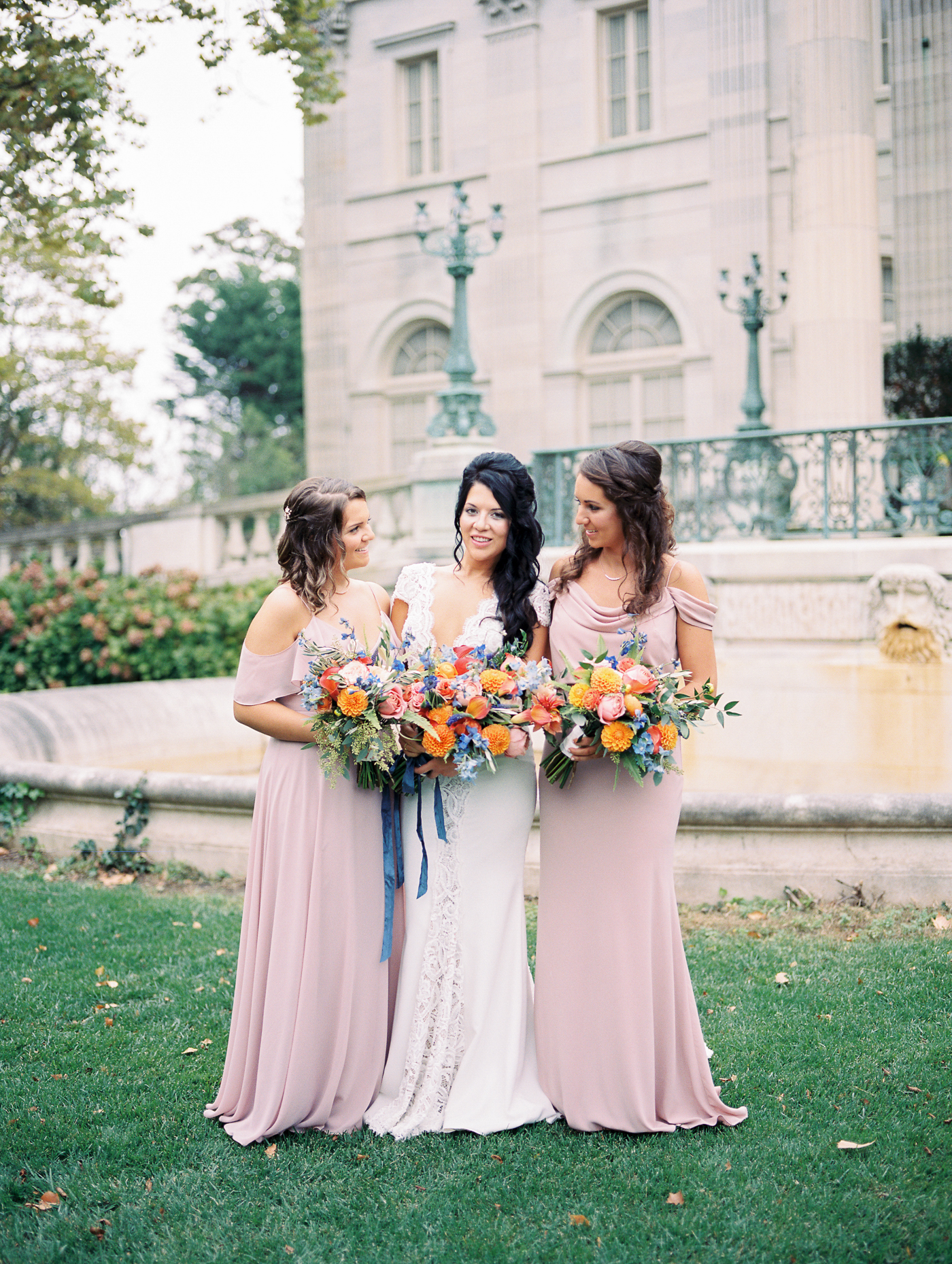 TELL US ABOUT FINDING YOUR WEDDING DRESS: Knowing that our wedding would be the same year as the Royal Wedding, I began researching the potential dress makers that Meghan Markle was rumoured to be working with. At one point, there was speculation that the dress designer Inbal Dror would be creating the royal dress. This led me to researching Israeli wedding dress designers for their meticulous attention to detail, slim-fit, and jaw-dropping design, only to determine that BERTA would make for a perfect match due to the design house's ability to accentuate delicate features with bold detail. I researched where to find Israeli designer dresses in San Francisco and found a wedding shop boutique that was luckily hosting a trunk show featuring BERTA. I fell in love with the first design I put on, and knew the dress was for me right then and there. It fit so well that I didn't need to get any alterations outside of the hemming at the bottom.
DID YOU HAVE ANY DIY ELEMENTS? Andrea's mom created custom ceremony programs including a word search with words that resonated with the bride and groom (like "startups"), and the program included cute details about the wedding party. This was a great way to keep guests occupied ahead of the ceremony. Andrea's grandfather hand-wrote the guest's table numbers on Rhode Island-shaped ornaments made with clay. In addition, Andrea and her sisters laboured over making wedding favours which included a box of Italian pastries (to honour her family's heritage) with sugar-coated almonds which represent the five wishes for a new marriage in Italy – health, wealth, happiness, fertility, and longevity.
DESCRIBE YOUR WEDDING FLOWERS: Our flowers were designed to intentionally to be full of colour with a rustic twist of green to add a pop during the fall months – the flowers consisted of dark blue hues to represent the seaside wedding location, and bright orange for not only the season but to give a small shout-out to the groom's alma mater, the University of Tennessee. If it were up to the groom, the entire wedding colour palette would've been bright orange.
FAVOURITE DETAIL OF THE DAY: In the days leading up to the wedding I (Andrea) had the idea to prepare a short (surprise) speech to honour my grandparents for being the key reason as to why our family is so in love with the state of Rhode Island which led to uniting all of our friends and families there. The speech then led into a slow dance between Andrea and her grandfather, and it was perfect. It was incredibly special knowing Andrea's grandparents could be there to celebrate on the day.
In addition, we had the opportunity to shoot our first look photos on the grounds of the breathtaking Marble House, which is a property owned and managed by the Newport Preservation Society. It requires a permit to conduct a photography shoot on, and we spent a fair amount of time planning the logistics to ensure we could optimise our time while there. The photos turned out spectacular!
WHAT ADVICE WOULD YOU GIVE OUT TO A COUPLE PLANNING THEIR WEDDING? Everything about the schedule will take 15-30 minutes longer than you expect, but don't sweat it! In addition, it's never a bad idea to have mini scissors, hair spray, and bobby pins on hand with someone in your bridal party. Also, make sure to steal one-on-one moments together. The whole wedding won't be concerned if they can't find you for a couple minutes.
MOST MEMORABLE MOMENT? Our mini bernedoodle Gatsby coming down the aisle and being a part of the ceremony and festivities. He proved to be a favourite of guests for photos during cocktail hour.
ANY OTHER DETAILS THAT HELP TELL THE STORY OF YOUR DAY? Though we didn't hire a formal wedding coordinator (and we're so thankful for the support we received from the Longwood Venues team), Andrea's mom worked nearly full-time hours (not so begrudgingly) to put together all of the small details of the ceremony and reception, which meant spending a lot of time on Etsy tying in all of the design details.
In addition, we were told there'd be a chance of a cruise ship docked in the distance of our wedding venue, within frame of any photos of our ceremony. We checked the cruise logs for weeks and found out that there'd be a high likelihood of this happening. Lo and behold, a cruise ship was parked in the direct line of sight of the ceremony. At the exact moment when it was time to kiss the bride and walk back down the aisle, the cruise ship blew its horn for departure. It was almost like the captain had been keeping an eye out for us to celebrate!
TELL US A LITTLE ABOUT YOUR HONEYMOON: Since we had to spend so much time out of our respective offices to fly out to the East Coast for the wedding, we're planning our honeymoon in Australia in late 2019. We opted for a "mini-moon" consisting of a long weekend in wine country (in the town of Healdsburg, where we got engaged) when we got back from the wedding. We're incredibly glad we didn't fly out right away for a honeymoon – it seems exhausting!
IS THERE ANYTHING YOU WOULD CHANGE OR DO DIFFERENTLY? We would've hired an emcee. Our band warned us that they weren't the "emcee type" and that meant that we were responsible for our own announcements all night, and remembering when to do them. Also, seeing as though we both consider ourselves to be nerdy startup people, we are bummed we didn't rent a drone to take aerial shots and videos of the wedding.
Thank you so much to New York wedding photographer KYLEE YEE for sharing this beautiful wedding with us. Kylee is an internationally acclaimed photographer with a fine art, editorial and photojournalistic approach to shooting weddings. Drawing inspiration from the environment as well as the unique connection between the couples she shoots, Kylee uses her artful approach together with her ability to make people feel comfortable, to compose painterly images that are beautiful, honest and romantic.
Be sure to check out this Fashion forward bridal shoot in the heart of Venice and see more of New York wedding photographer KYLEE YEE'S portfolio here.