Celebrating their union with a three day affair near Lake Tahoe, Payton & Luke's wedding style was sophisticated yet simple. The gorgeous bride tells us, "I was always obsessed with Carolyn Bessette's wedding look because she looked stunning and effortless. The inspiration for our event was in line with that vision. We wanted things to feel natural and organic but elevated with soft textures and intricate details." Northern California wedding photographers THE GANEYS captured their incredible celebration.
WHY DID YOU CHOOSE THIS LOCATION? We hosted our wedding at Martis Camp in Lake Tahoe, California. It was our ideal venue. My family owns a home at Martis Camp and we have so many fond memories visiting throughout the years. We knew its sophisticated yet cozy feel was the perfect atmosphere for our big day.
HOW DID YOU MEET? We met in college, at Brown University, during a meet and greet between our two teams. Luke played waterpolo and I played volleyball so we were on campus earlier than most for pre-season. We started dating in November of our freshman year and the rest is history.
TELL US ABOUT YOUR PROPOSAL: Luke proposed on a Monday at our apartment. I came home after work and there were rose petals all down our apartment floor, candles lit, and our song was playing in the background (I Will Spend My Whole Life Loving You by Imaginary Future and Kina Grannis). We ended up walking down the aisle to all Kina Grannis songs.
TELL US ABOUT FINDING YOUR WEDDING DRESS/ATTIRE: The wedding dress process was a lot of fun, even though it was also a bit stressful to do throughout the pandemic. I went to LA with my mom, little sister, and maid of honour to CAROLINA HERRERA. My mom wore a Herrera on her big day, so I knew I wanted to do the same. I had an image in mind of lots of lace, long sleeve, and a very intricate design. Nothing was working the way I imagined it. The bridal assistant chose a sleek, simple silhouette for me to try instead. It was exactly like Carolyn Bessette's and I felt like a million dollars in it. My bridal crew cried.
It was a very heavy dress, despite it's simple aesthetic, so we decided to find a lighter dress for the reception. I worked with a close family friend who happens to be a buyer for a local retail store in Palo Alto. She suggested that I design a custom dress with one of her favourite designers, OLIVINE GABBRO. I fell in love with Olivine's elegant, structured designs. The inspiration for this dress was Hailey Beiber's second gown at her wedding - something a bit flirtier and fun. We chose the fabric, style, colour, everything together.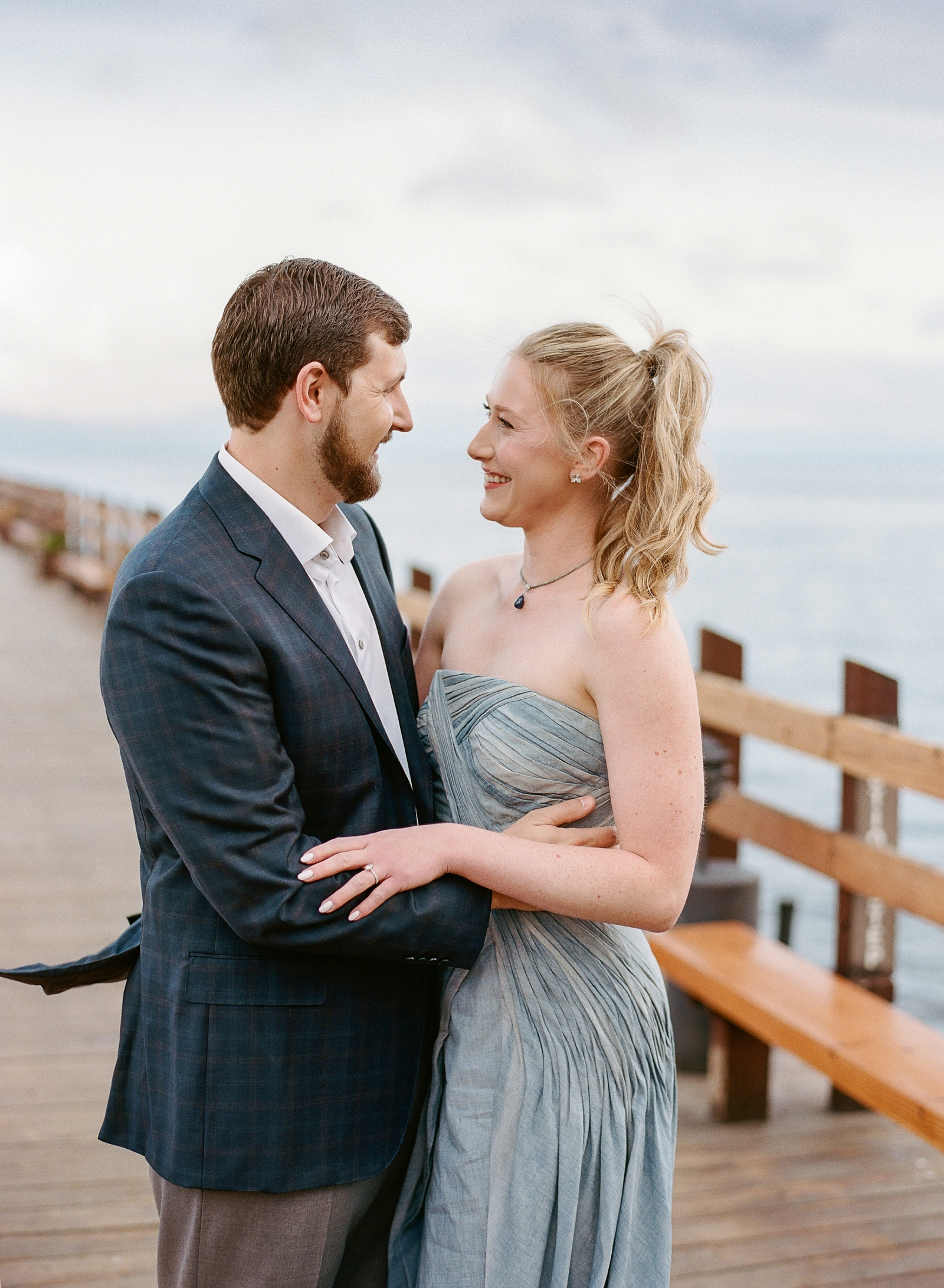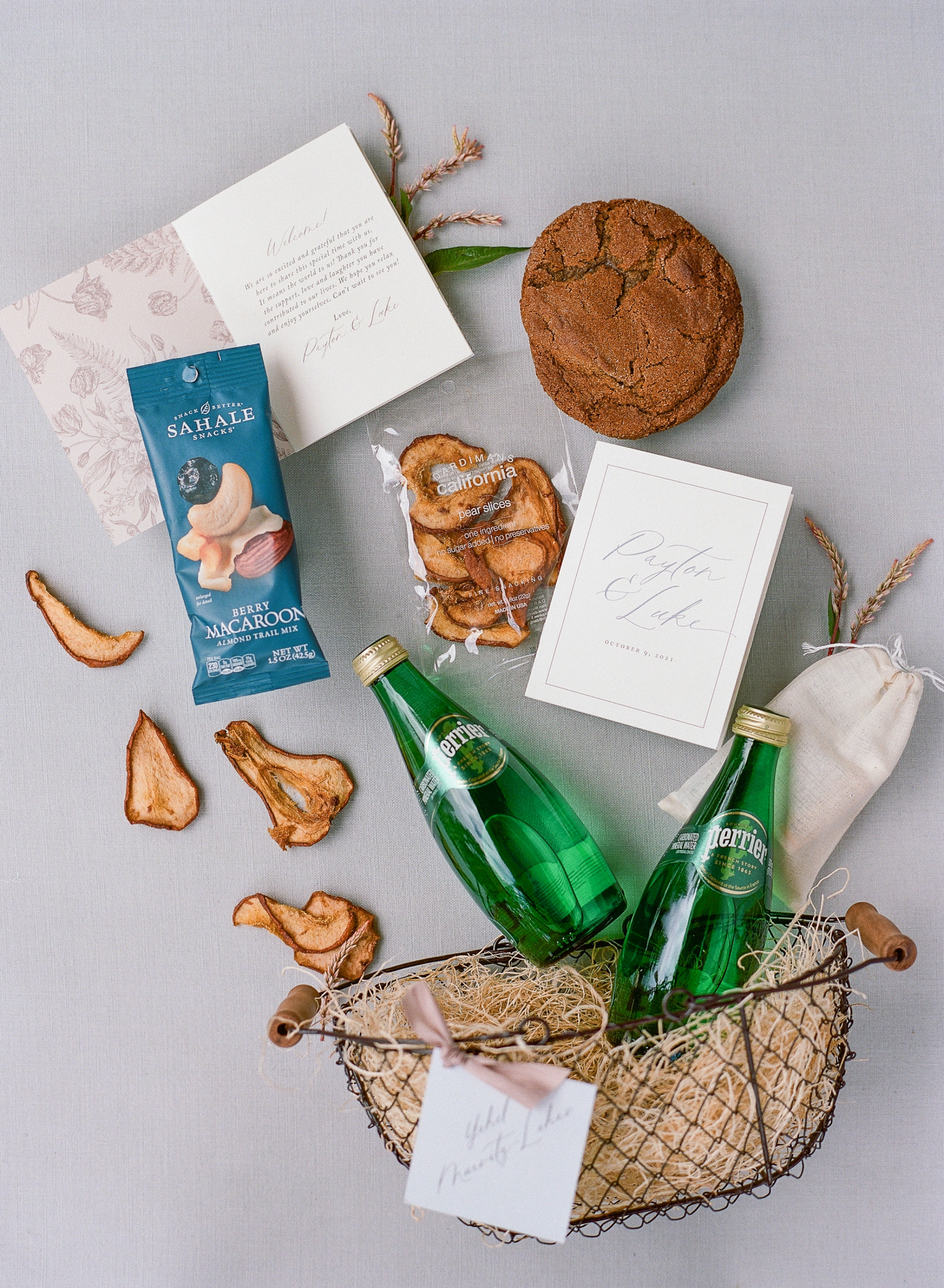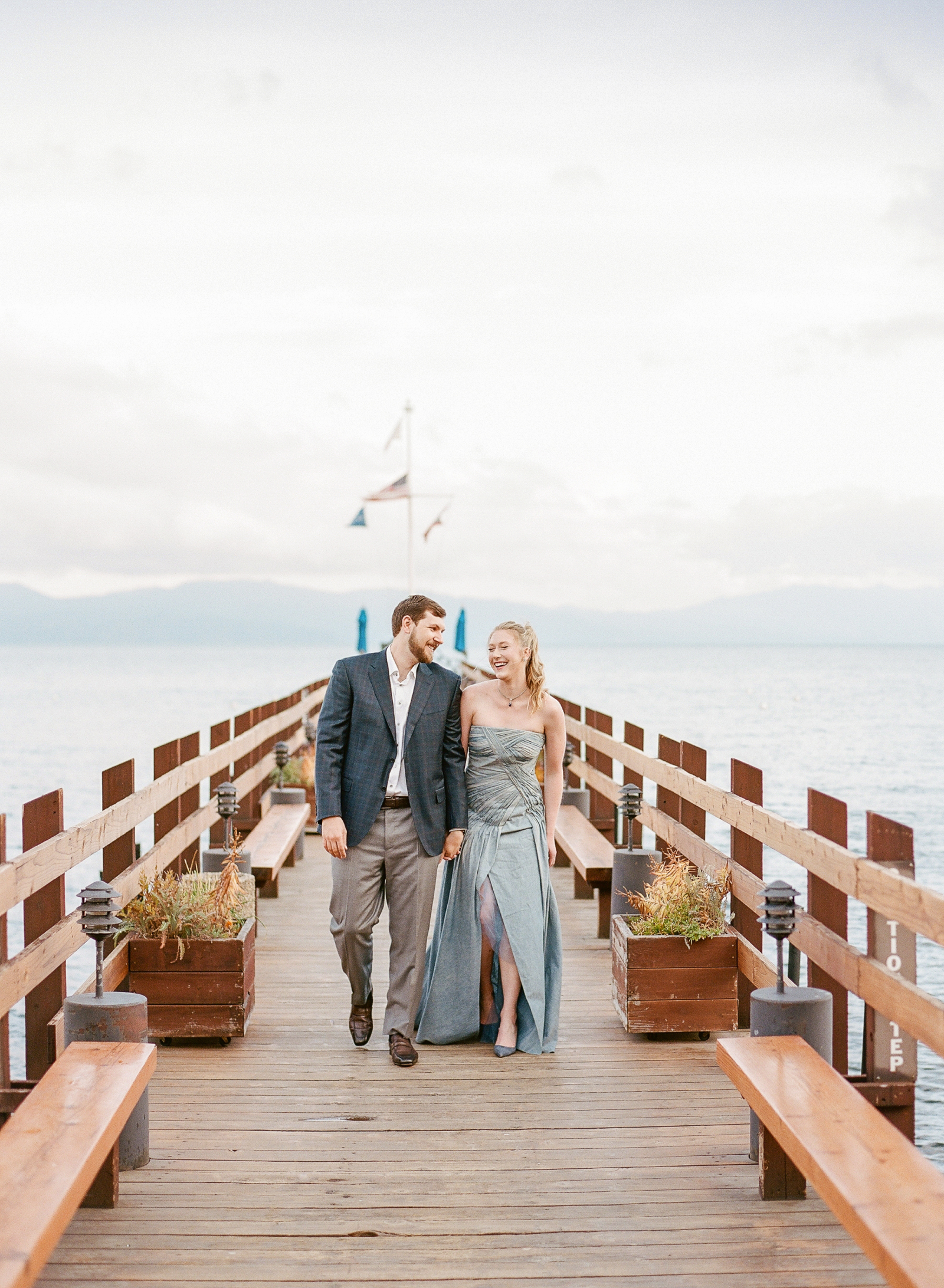 DESCRIBE YOUR WEDDING FLOWERS: I worked with Stems by Diana, who was so wonderful. She helped choose very organic, garden-style bouquets for us. It felt like a secret garden of my dreams. Diana also designed the most beautiful flower arch for us to stand under at the ceremony. It was perfect.

FAVOURITE DETAIL OF THE DAY: Our champagne tower was a hit. It was placed directly outside the dinner tent for guests to grab upon entering. It felt vintage and sophisticated.
WHAT ADVICE WOULD YOU GIVE OUT TO A COUPLE PLANNING THEIR WEDDING? Let yourself feel all the emotions that come – the good and the bad. It's a lot of pressure and stress to plan a wedding but it's all very worth it. Also, take breaks and remind each other why you're doing this in the first place.
MOST MEMORABLE MOMENT? Walking into the dinner tent after the ceremony. I had an outfit and hair change which made me feel like a celebrity and I was so proud to be arm in arm with my new husband, Luke. Our friends and family stood up and cheered as we found our seats. It was such a special moment.
WHAT ASPECT OF THE WEDDING WAS THE MOST IMPORTANT TO YOU BOTH? We loved writing our own vows. It was a last-minute decision, but it was hands down the best decision we made. Our officiant was a close family friend and he helped us craft the ideal ceremony, something short and sweet and all about our words of love.
ANY OTHER DETAILS THAT HELP TELL THE STORY OF YOUR DAY? Planning a wedding in 2020 wasn't for the faint of heart. Let's just say, it didn't feel like the rom-com that I was expecting. We experienced what felt like one challenge after the other from postponement to forest fires to snowstorms to power outages. It made it quite memorable to say the least.
TELL US A LITTLE ABOUT YOUR HONEYMOON: The day after our wedding, we had a family brunch and then jetted off to the big island in Hawaii. We rented a jeep, drove to the Four Seasons, and rested on the beach. It was the first time in a long time that we both felt relaxed. We drank mai-tais, went to fun dinners, and ate… a lot.
IS THERE ANYTHING YOU WOULD CHANGE OR DO DIFFERENTLY? Absolutely not. It was the most special weekend and we feel very lucky to have had a wedding despite the pandemic.
Thank you to Northern California wedding photographers THE GANEYS for sharing this gorgeous wedding with us today. As a husband and wife team, Emily & Thomas are driven by capturing real moments and documenting love stories in an organic way. "Some of the favourite aspects of our job are hearing unique stories, meeting amazing people and capturing love that can move mountains. We seek out couples whose weddings embody these ideas. We're inspired by authenticity and adventure, and as your photographers we'll rejoice in celebrated moments and tear up during emotional ones." You can see more of their work in the MAGNOLIA ROUGE VENDOR GUIDE and you might also want to check out this Intimate 15 person wedding at Chateau Lill.