Both lovers of nature, Jing Ma & David were always keen on having a garden wedding and an intimate gathering ensured it was the relaxed affair they were after. Working with Northern California wedding photographers THE GANEYS, they were inspired in large part by their previous work.
Initially planning to marry in England where the groom is from, the pandemic had them revisiting that idea and ultimately settling on CHATEAU LILL just outside of Seattle which reminded them of the English countryside and gardens. It offered an outdoor ceremony space and reception area underneath a tent, both of which proved to be important at a time where people are still nervous about spending time together indoors.
HOW DID YOU MEET? David and I met in Montreal in summer 2013 at a ballroom event, organised as part of a conference that we attended as graduate students. My friend, who was also David's classmate, introduced us. We didn't say very much at that time, but afterwards wrote to each other often. Through these letters and postcards, we gradually began to get to know each other and wanted to pursue something more.
TELL US ABOUT YOUR PROPOSAL: We got engaged on March 10, 2018 in Discovery Park, Seattle. That morning, I thought it was strange that we were going to visit the park again as we had just visited it recently, but David insisted we go. David initially wanted to propose in an open area surrounded by trees and grass, but I was adamant not to go there because we had done the trail before. So, he kept walking until we were on the beach. He pretended to take a selfie with a little tripod he recently bought and suddenly got on his knee. I was full of tears after he proposed with such beautiful words, so he had to get up and hugged me. I said yes and he knelt one more time to help me put on the ring. Afterwards, we went to Queen Mary's Tea Room for high tea.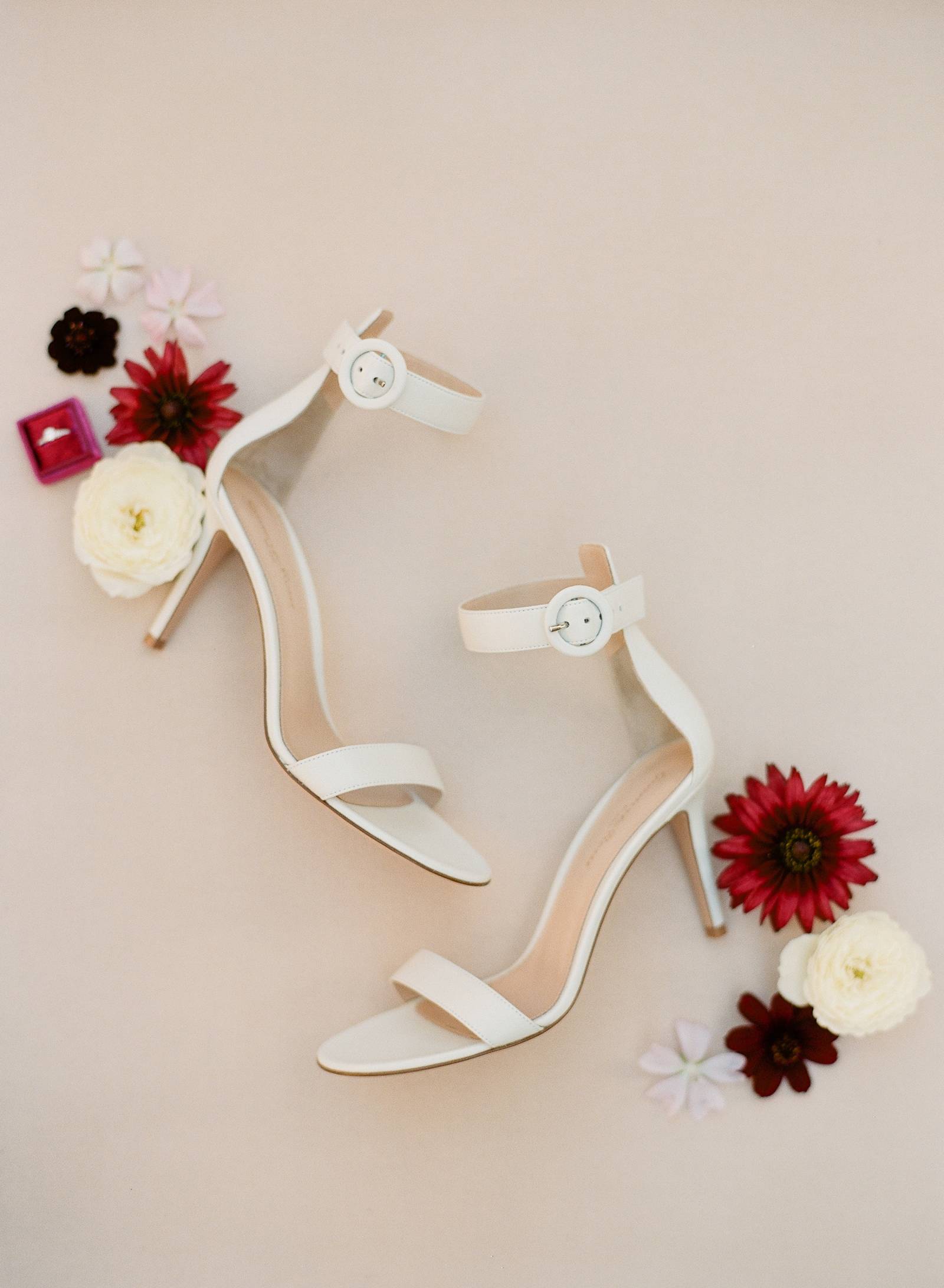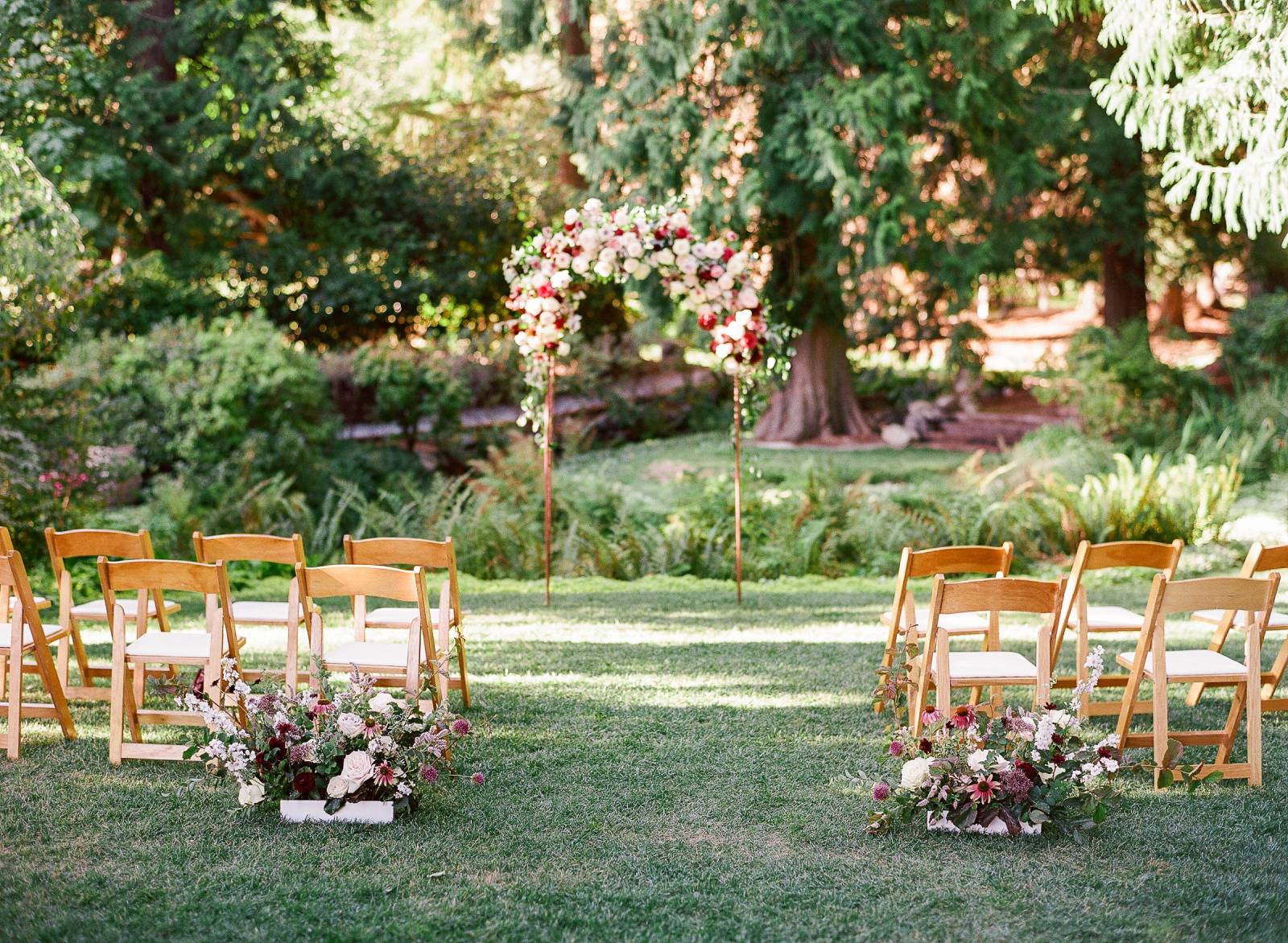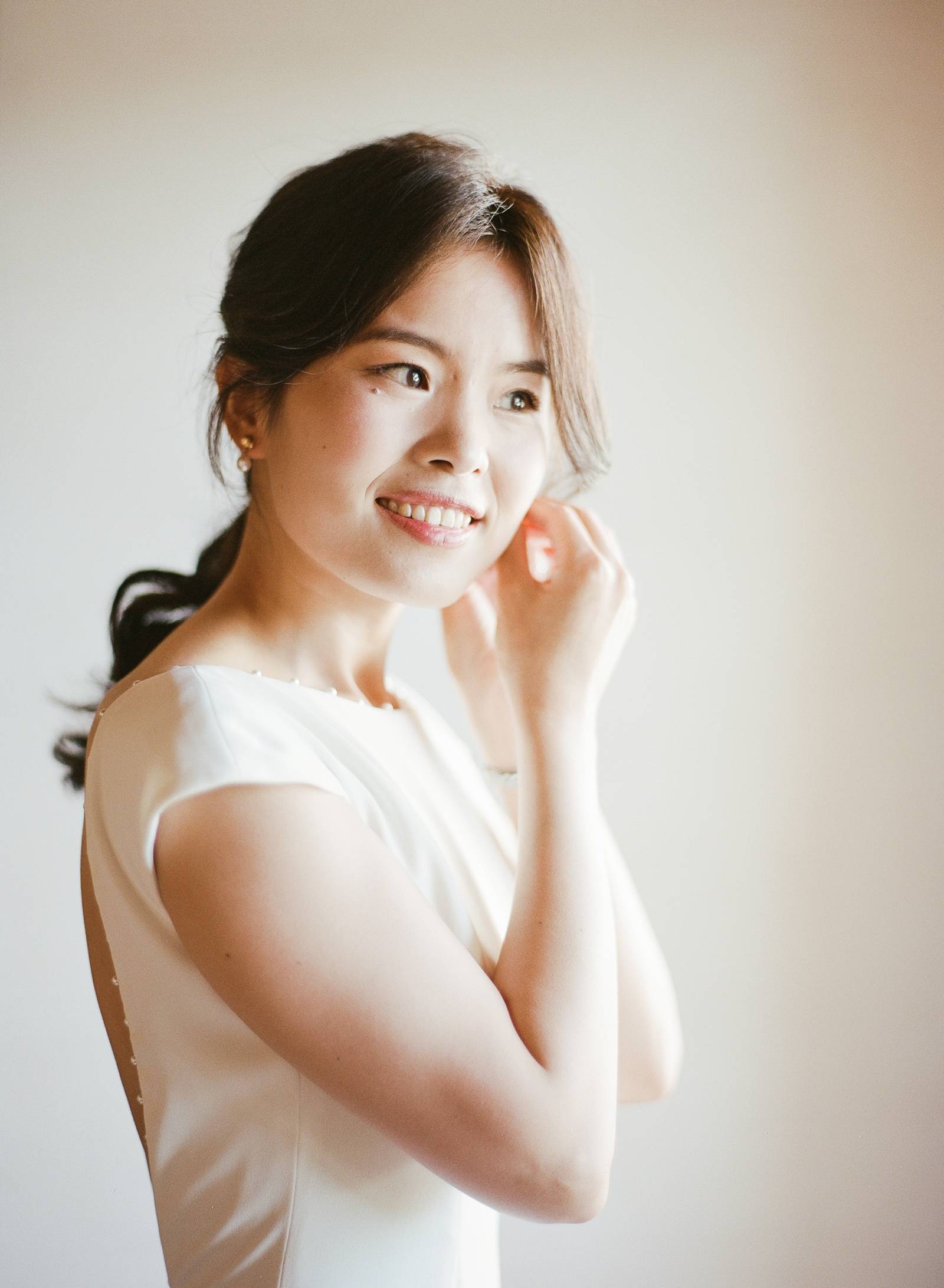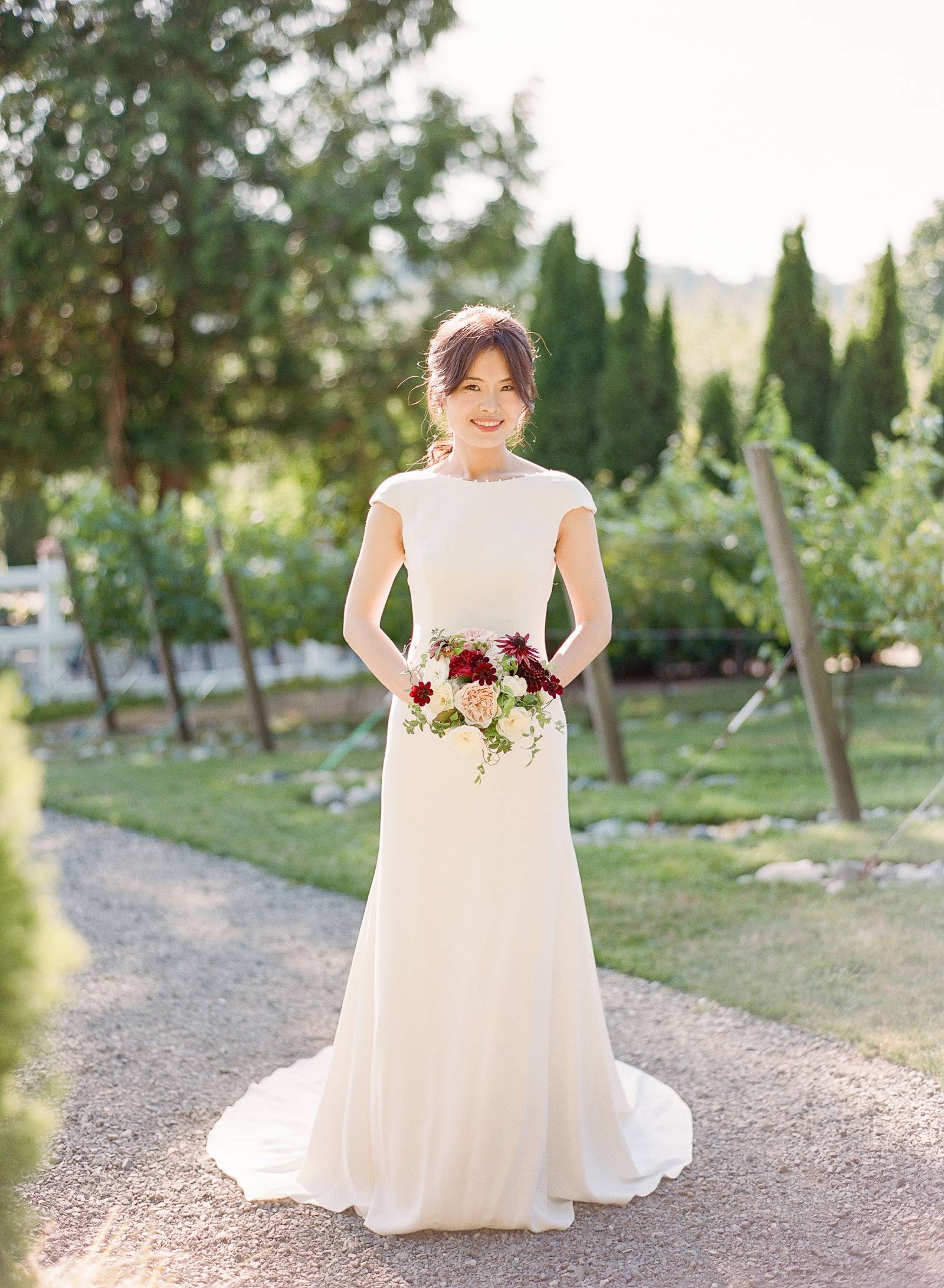 TELL US ABOUT FINDING YOUR WEDDING DRESS/ATTIRE: Immediately after our engagement, I started booking appointments to bridal salons even though we had not set our wedding date. Because our family and friends live far away, I went to bridal salons mostly by myself and sometimes enlisted David's help as I wasn't planning on keeping my dress a secret from him. I fell in love with one Vera Wang dress in a Texas bridal salon right before the pandemic. However, with the pandemic and our move to Washington, it was impractical to purchase the dress and travel for fittings. Finally, after we moved to Seattle, I visited Nyanza Bridal in Kirkland, WA for Vera Wang's trunk show. I initially planned to get the same dress I liked before, but a low-back slim fit Lela Rose dress caught my eye. It has delicate pearl detailing around the neck and in the back. Its cap sleeve also reminds me of the Chinese cheongsam. My cousin-in-law, who also lives in Seattle, accompanied me during my second visit to Nyanza Bridal. We both loved the clean and elegant Lela Rose dress. It was also such a comfortable dress to dance in. I was able to keep the dress a secret from David after all.
While I gave myself plenty of time to look for a dress, David didn't start looking for a tuxedo until a month before the wedding because he knew he would order Hugo Boss again from Nordstrom. He already owns a suit from the same brand, which he liked, so it was a very smooth experience for him to order and get alterations at Nordstrom.
DID YOU HAVE ANY DIY ELEMENTS? Yes! A day prior to our wedding, I realised that the table place cards I ordered from Minted would not arrive in time (the package was delayed by the courier). I was very disappointed because I customised those place cards with our guest names and the Chinese character Double Happiness (a traditional symbol of happiness in Chinese weddings). As a backup, we bought the plain place cards from a nearby Paper Source store and asked our sister-in-law, who writes beautiful script letters, to write guests' name on them. We scratched our heads to incorporate some special features and came up with the idea of adding a red heart stamp adjacent to the name. They turned out to be beautiful and matched well with our table settings.
DESCRIBE YOUR WEDDING FLOWERS: I wanted the classic white with a pop of red for our wedding, because red is a classic colour for Chinese celebrations. But red is also such a bold colour, so it can be quite difficult to make red look good. I chose Busara Flora not only because my photographer had just recommended her but because I know Tanya has an appreciation for Chinese culture. She has beautiful eyes for colours, and suggested pairing blush and lavender with the white and red I had in mind. I was very happy with the combination my florist came up with. It turned out to be so beautiful and elegant. I absolutely loved my bouquet which goes well with my soft white wedding dress.
FAVOURITE DETAIL OF THE DAY: We got every one of our guests dancing with us!
WHAT ADVICE WOULD YOU GIVE OUT TO A COUPLE PLANNING THEIR WEDDING? It can be intimating to think about all the aspects of wedding planning. Our advice is to identify what you value the most and stick with it, and to relax with everything else. In our case, we absolutely wanted to have our wedding in a beautiful venue and have a great photographer, neither of which we compromised. We are so glad about our decision. If you can afford it, hire a day-of planner. Our day-of planner was wonderful. She made sure everything goes as planned so that we could completely enjoy ourselves.
MOST MEMORABLE MOMENT? We had a great officiant who told our story in a beautiful way.
WHAT ASPECT OF THE WEDDING WAS THE MOST IMPORTANT TO YOU BOTH? We specifically wanted a small wedding so that we could be ourselves and relaxed, and fully enjoy this special moment. It was wonderful to be able to talk and dance with all the guests.
ANY OTHER DETAILS THAT HELP TELL THE STORY OF YOUR DAY? David and his brother set up a video camera and connected it to the audio system, so that we could have recordings of our ceremony to share with our relatives who were not able to attend our wedding.
TELL US A LITTLE ABOUT YOUR HONEYMOON: We were both very excited to finally get to travel (after staying at home for over a year). We chose Maui because we've heard so many good things about this island in Hawaii. We enjoyed snorkeling, amazing tropical views, beautiful sunsets, and delicious Hawaiian cuisine. It was so much fun seeing sea turtles and colourful fish under water. We also celebrated my birthday in Maui. We can't wait to go back!
IS THERE ANYTHING YOU WOULD CHANGE OR DO DIFFERENTLY? We would have loved our parents to be there with us, but unfortunately, they couldn't travel due to the pandemic.
Thank you to Northern California wedding photographers THE GANEYS for sharing this gorgeous wedding with us today. As a husband and wife team, Emily & Thomas are driven by capturing real moments and documenting love stories in an organic way. "Some of the favourite aspects of our job are hearing unique stories, meeting amazing people and capturing love that can move mountains. We seek out couples whose weddings embody these ideas. We're inspired by authenticity and adventure, and as your photographers we'll rejoice in celebrated moments and tear up during emotional ones." You can see more of their work in the MAGNOLIA ROUGE VENDOR GUIDE and you might also want to check out this Old world meets modern day in this wedding inspiration at Vizcaya Museum & Gardens.