If an intimate, joyful wedding in the Dominican Republic surrounded by all your friends and family sounds like your cup of tea, you're going to love this wedding by RYANN LINDSEY PHOTOGRAPHY. When the groom's style motto is "function over fashion" yet the bride's is most definitely not, the end result is somewhere in the middle. Erin & Dan (Murph) got married in the beautiful Dominican Republic and figured with so much natural beauty around them, they should use it to their advantage. With a talented calligrapher and stylist for a best friend - Wedding calligrapher SHOTGUNNING FOR LOVE - they couldn't go wrong. Their combined styles translated to simple, clean design with a less-is-more approach as using the natural landscape and flora to enhance the space. Erin tells us, "We kept our colour palette warm with earthy neutrals and pops of blush tones. I even chose function when it came to my hair. As much as I would have liked my hair to be down, I knew up was a safer choice to a longer-lasting bridal look. I didn't regret that choice at all."
HOW DID YOU MEET? During college, I would make trips back to Columbus, Ohio to see my friends and cheer on the Ohio State Buckeyes. Lucky for me, Murph [Dan] became friends with people from my hometown of Westerville, Ohio and that's where our intro started. Football games and college-friend weddings and meet-ups, our paths crossed here and there throughout the years.
In October 2016, I moved to a new home in Columbus and my sly friends decided to let Murph know that I had moved down the street from him, and that I was recently single. To my surprise, he came to my door and invited Chief (my chocolate labrador) and I over for dinner with some neighbours. I nervously accepted. The night was just what I needed and I even got a landscaper out of it because he offered to help with all of my yard work. It didn't take long for us to realise we really enjoyed spending time together and the rest is history!
WHY DID YOU CHOOSE THIS LOCATION? When we had decided on doing a destination wedding, our travel agent, Lindsay Barrie at Bliss Honeymoons, helped us narrow-in on some top choices based on their experiences and what we were looking for. We decided Dominican Republic because of the beautiful beaches and the travel time didn't seem impossible for our guests. Hilton La Romana (formally Dreams La Romana) was highly recommended for weddings, so it was an easy choice for us.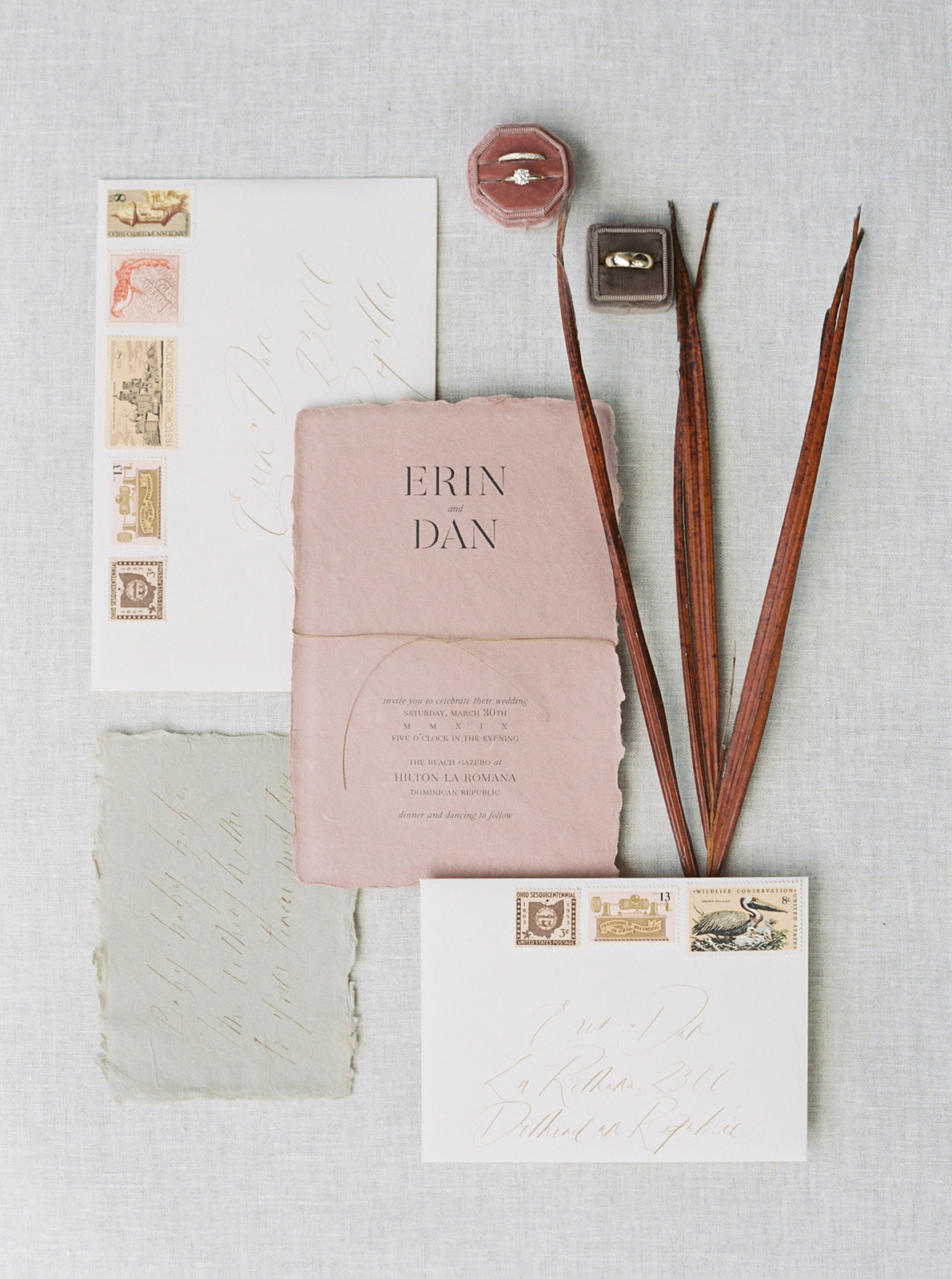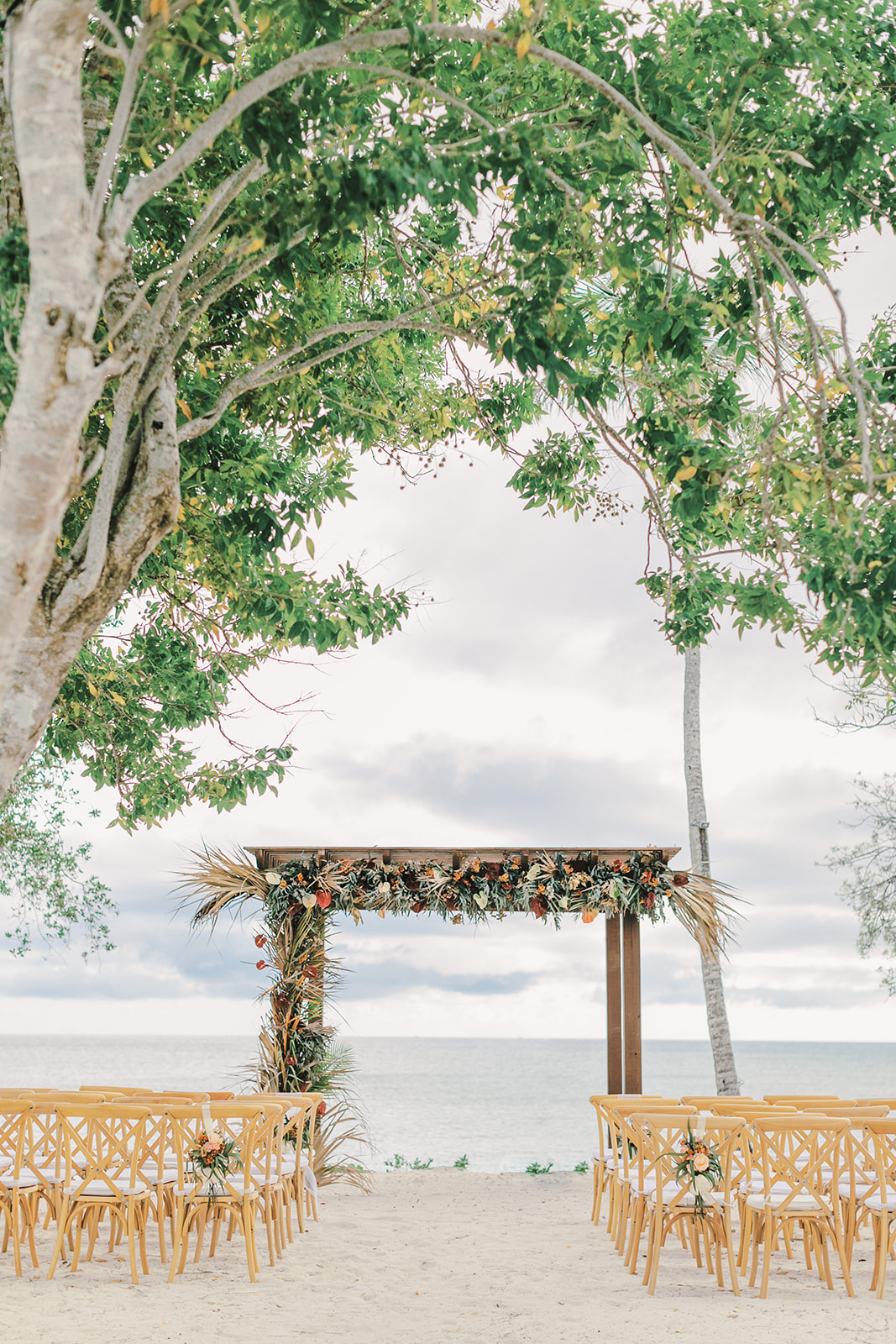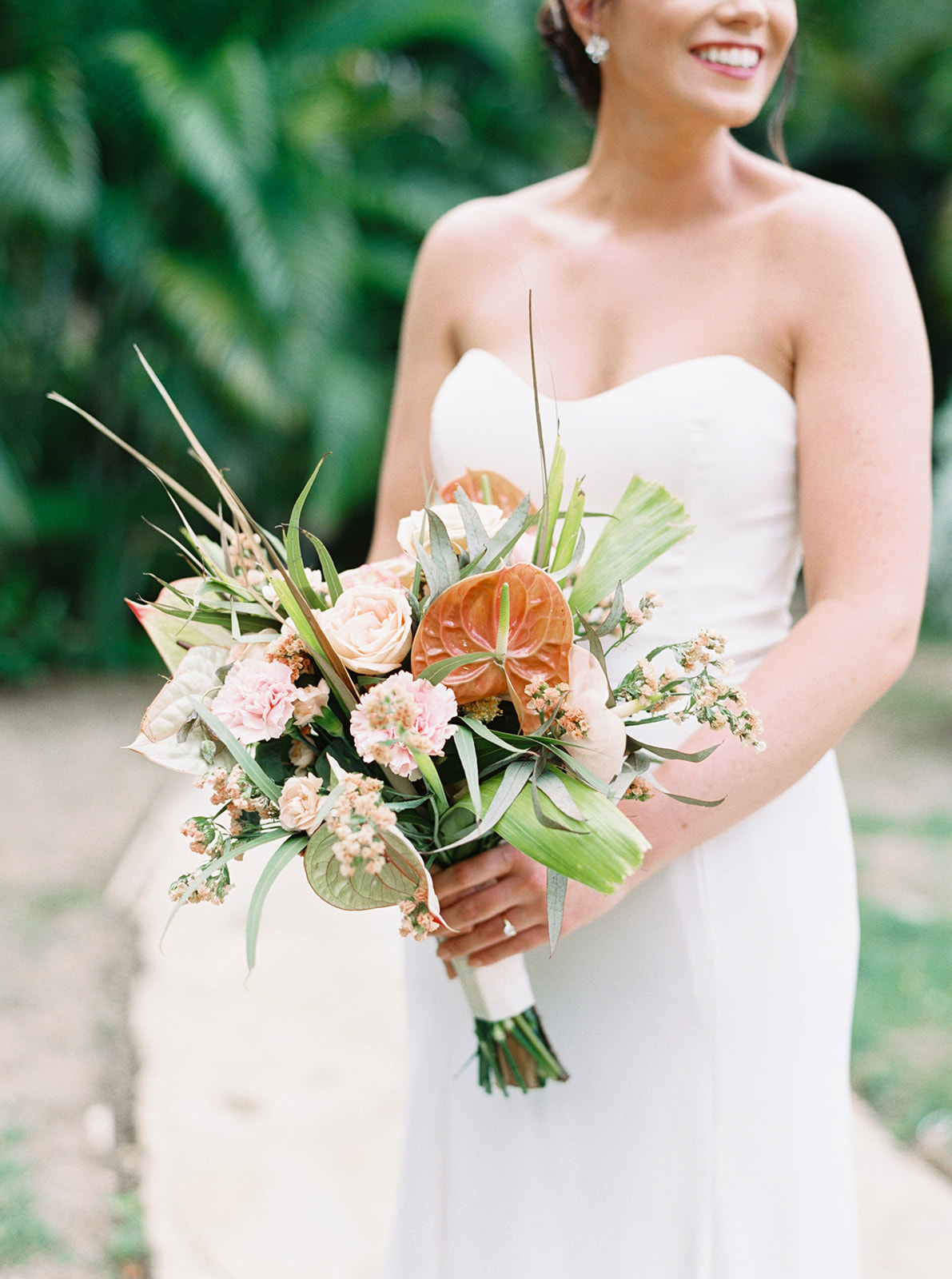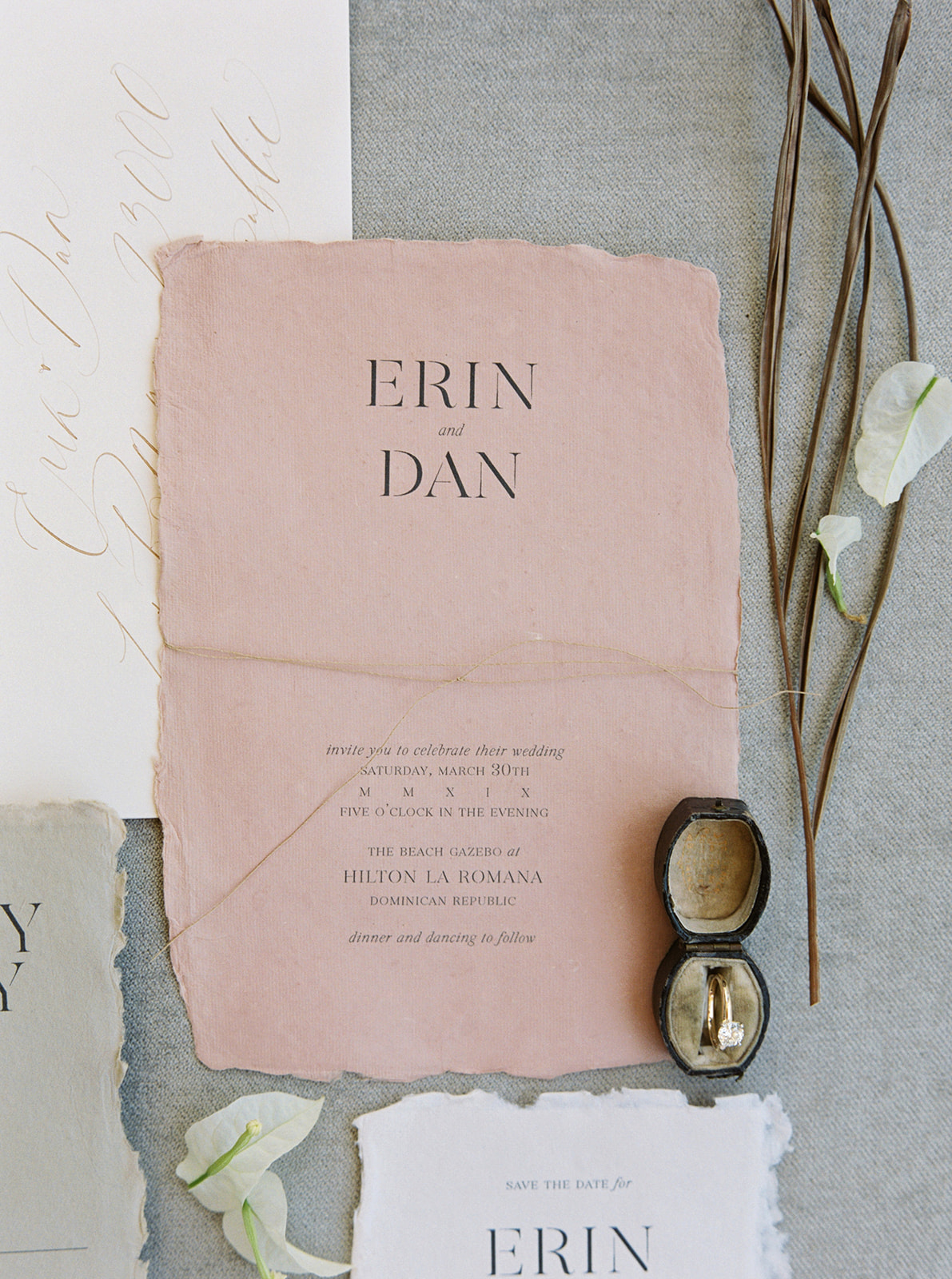 TELL US ABOUT YOUR PROPOSAL: For my 30th birthday, Murph took me to New Orleans. After a slight flight delay and some unplanned rain, he was itching to show me Jackson Square before our late dinner reservation at one of his favourite spots. The charbroiled oysters were calling his name and he was ready to get the ring he had been carrying all of the flight out of his pocket.
As we approached the square, the park was closed for the night and put a snag in his plans to walk the park. No matter, he quickly grabbed my hand and walked towards St. Louis Cathedral where tourists and fortune tellers were all around. I had a hint that it could happen this trip but it was confirmed as soon as he began sharing his speech. He then got to one knee and asked if I would spend the rest of my life with him.
Of course I said "yes" and we spent the weekend celebrating in New Orleans with great food, adventures and meeting new friends.
TELL US ABOUT FINDING YOUR WEDDING DRESS: I booked an appointment at a beautiful shop in downtown Columbus, Ohio called LA JEUNE MARIEE. I kept my group intimate by asking my nana, mom and sister to join me. I was certain I knew what I wanted, a boho sheath to accent my figure and straps are a must. After a series of narrowing in on my top choices, I said I would be open to a wild card dress that my consultant wanted to pull for me. Before I knew it, we were all in love with the classic look of my ivory, strapless sheath. The fabric was light, yet wrinkle-resistant and it felt very ideal for a wedding on the beach.
DID YOU HAVE ANY DIY ELEMENTS? Murph did make the holders for our table signage, but we kept the DIY to a minimum. Plus, we had to keep in mind what would travel easily with us.
DESCRIBE YOUR WEDDING FLOWERS: Lush bunches of dry and fresh tropical flowers and palms to match our muted colour palette. We used a minimalist approach on the tables with single-stem tropical flowers in delicate vases.
FAVOURITE DETAIL OF THE DAY: Nikki Daskalakis of Shotgunning for Love was at my wedding as a best friend and bridesmaid, in addition to her role as stylist. She surprised us with a laser-cut sign of lyrics "Oh baby babe, I wanna be around you" from our song, "Coming Home" by Leon Bridges, hung above the gazebo during the reception. It was such a thoughtful touch and a perfect backdrop as guests took photos to put in our guestbook.
WHAT ADVICE WOULD YOU GIVE OUT TO A COUPLE PLANNING THEIR WEDDING? Be fluid in the planning process so it doesn't overwhelm you. Find a way to pause during your wedding day and take it all in.
MOST MEMORABLE MOMENT? Our vows. We wrote our own and so it was exciting to hear what each person had to say.
ANY OTHER DETAILS THAT HELP TELL THE STORY OF YOUR DAY? Our photographer, RYANN LINDSEY, had heard all about how Murph was the ultimate prankster during our rehearsal dinner. She thought we should prank him by having one of his groomsmen be in a white dress for our "first look" in place of me. It was perfect. She gave him a note that I had wrote for him and he teared up. As the emotions came over him, his brother reached for his left shoulder and stepped in front of him. He bursted into a laugh and was filled with disappointment as he realised he'd been pranked. It definitely took the edge off that day and reminded us to have fun. Something we both needed to help settle our nerves.
Wedding calligrapher SHOTGUNNING FOR LOVE is a valued member of our VENDOR GUIDE. At Shotgunning for Love, calligraphy is handcrafted and personal. "I think of calligraphy like a fingerprint; each artisan has their own style. For me, each curve is crafted with mindful purpose. I believe in the value of creating something with your hands and the beautiful imperfection of a hand lettered stroke. I'm inspired by little drops of ink where they're not supposed to be, the textured edges of handmade paper, pulling the lever of my letterpress, and the reason I began practicing this old trade. I want to make heirloom stationery that tugs on the heartstrings - pretty enough to keep." You can see more of their work in their profile here.