I always get swept up in the beautiful landscapes that Colorado wedding photographers ALP & ISLE captures in their weddings - this Telluride mountaintop celebration is no exception. Laura & Waid decided to have their intimate destination wedding in this beautiful and remote Colorado town. As laid back people they wanted that to come through in their wedding style, yet they still wanted to maintain some sense of formality which they did through their florals and attire. 'Intimate' was the result they were after and as you can see from these beautiful images, was exactly what they achieved with a small guest list under 30.
The gorgeous bride tells us, "We decided pretty early on we wanted to do a destination wedding. We picked Colorado due to the beautiful scenery and the mountains. Waid visits Colorado every September to go elk hunting so we liked that small tie too. We ultimately picked Telluride because of how beautiful the San Sophia Overlook is. We picked it solely on the photos we saw online - it was insanely beautiful and we knew we wanted to start our marriage there."
Emily from ALP & ISLE tells us, "After the the most touching first look we have ever witnessed, they along with their family and friends took the gondola to San Sophia Overlook atop Telluride Ski Resort where their ceremony had one of the most dramatic and sweeping views in all of Colorado. This couple are so in love and their happiness is contagious. After a beautiful and tearful ceremony where they exchanged their hand written vows, they had their first dance on the overlook and then entered their dinner party reception at Allred's Restaurant which shares the same dramatic mountain views. We were part of a stellar vendor team with Sutton Errico of BY SUTTON at the helm. Laura's wedding style was inspired by rustic elegance and you could see her style in the gorgeous venue, her stunning canary diamond, as well as in the creamy toned blooms and greenery by NEW LEAF DESIGN. Their cakes were designed by FIG & BLOOM and featured three different flavours including a crowd favuorite of Kentucky Butter Cake with Colorado peaches. All the tables at their intimate dinner party reception were beautifully laid with textured LA TAVOLA FINE LINENS, happy blooms, and candlelight. At sunset we took a short stroll with the newlyweds and took some portraits. There, wrapped in golden light, the couple had a very touching moment with tears of happiness as their held each other overlooking the valley below. The happy couple completed their dream wedding with a dream honeymoon to South Africa."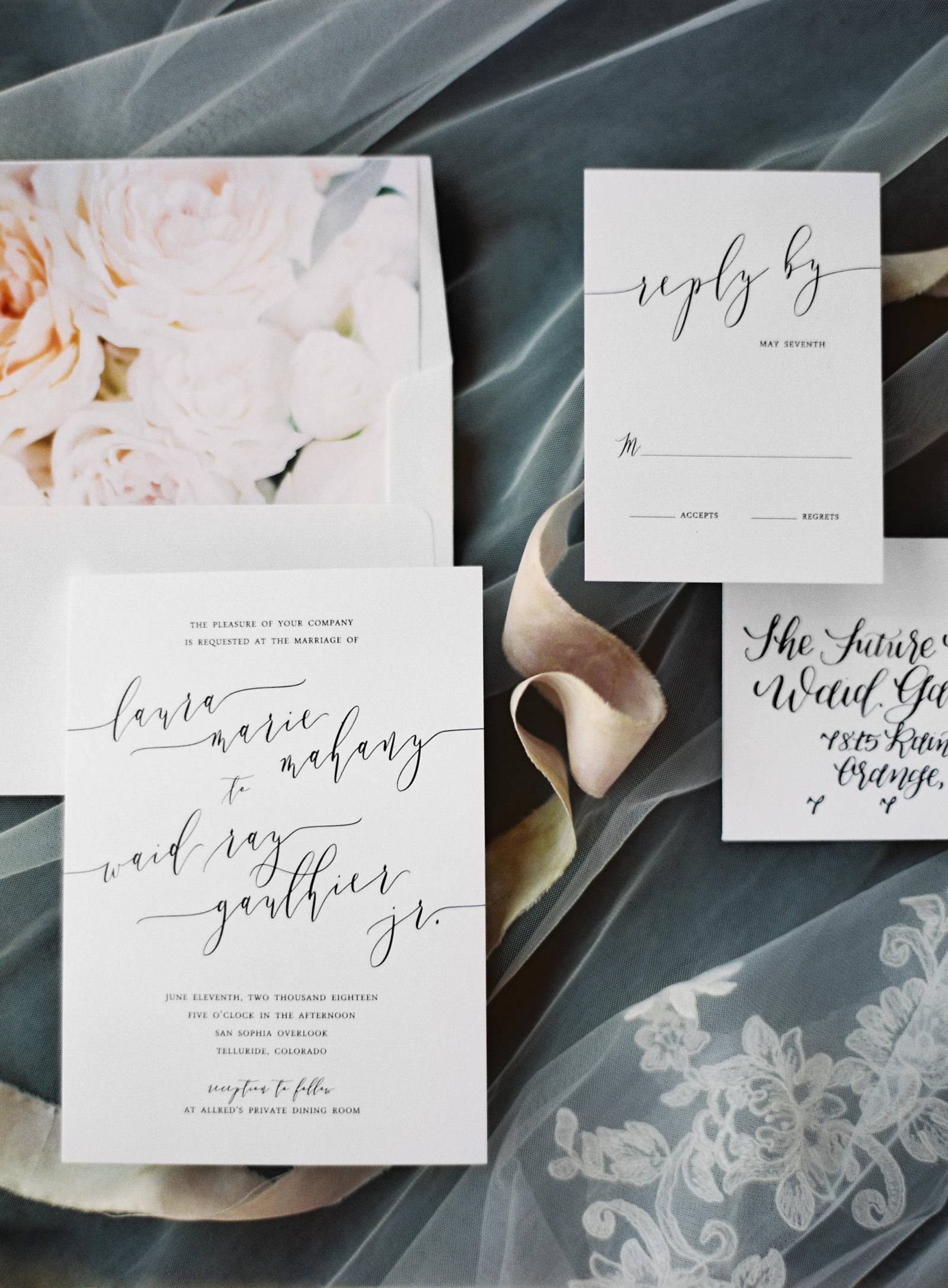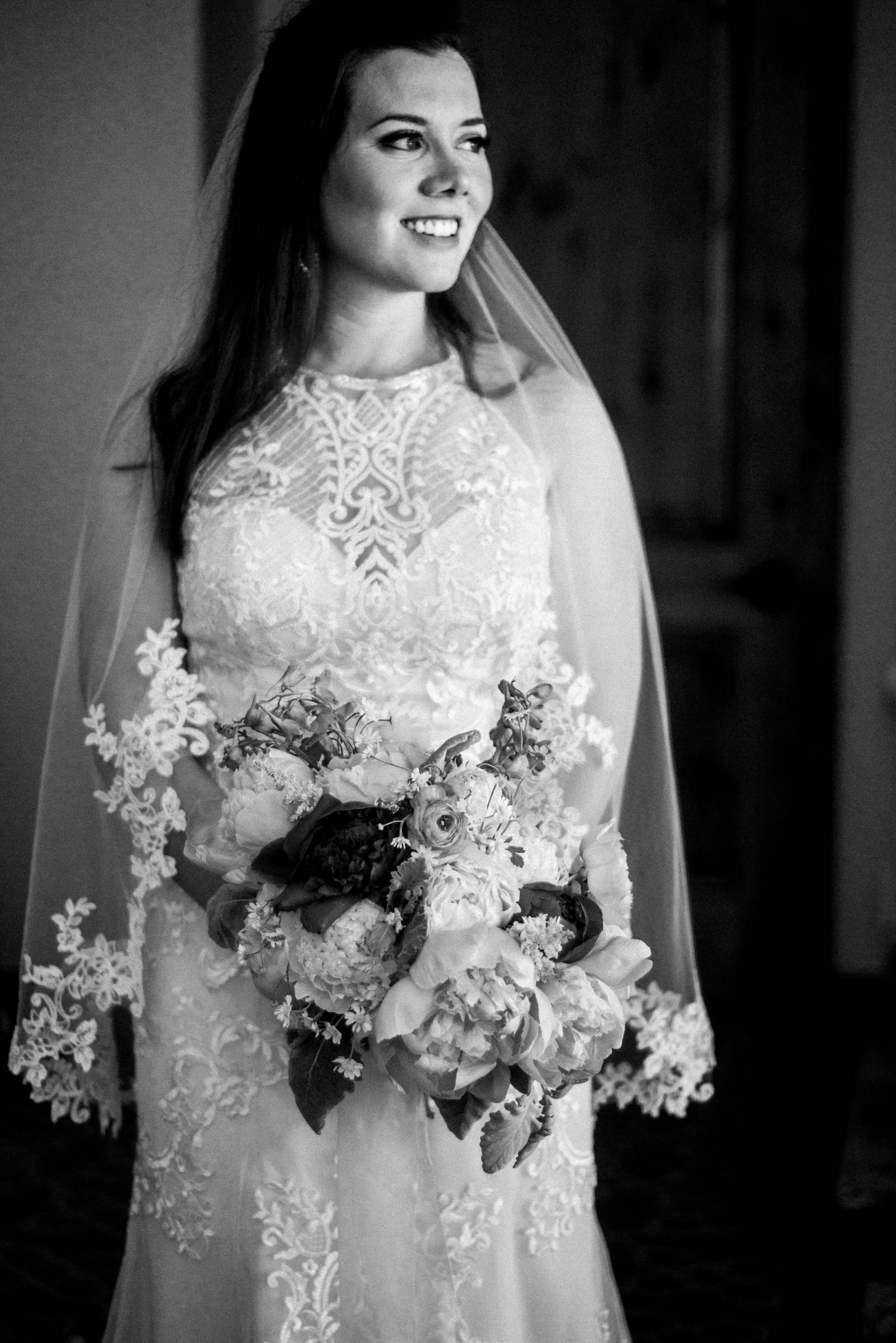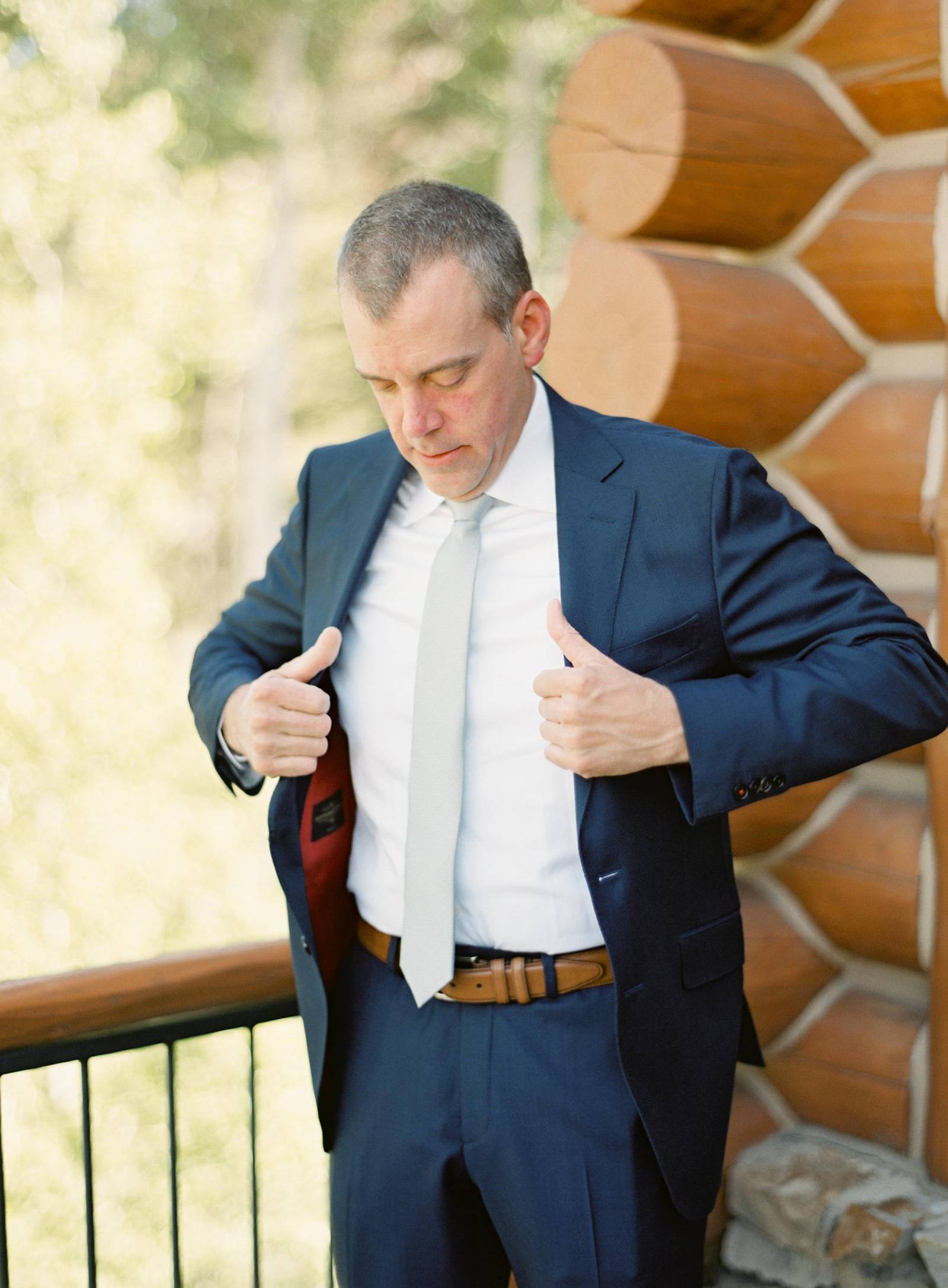 HOW DID YOU MEET? Waid and I met at work. We work in a chemical plant. When I came to interview at the plant, he was assigned to give me a tour around the facility. I keep a journal and the day that we met, I wrote that he was my favourite person I met that day. We worked together for about a year before we started officially dating.
TELL US ABOUT YOUR PROPOSAL: A couple years after working together, I accepted a promotion to another location with our company. Waid and I were long distance for about nine months driving 5 hours one way to see each other on the weekends. We were planning to spend Labor Day weekend with my family in Austin but Hurricane Harvey hit the Texas coast a week before leaving us to work really long hours to try to get our plants back into production. This meant our plans got cancelled. I was able to get away to Austin but Waid ended up not being able to come. Monday morning, Labor day, I woke up to a text that he was halfway to Austin having just gotten off a 24-hour shift without sleeping. We spent a few hours together and when we were about to go back home, we all went outside into the backyard and Waid started saying some really sweet things. Then he got down on one knee and proposed with the most beautiful canary diamond ring. I said yes! What made it extra special was that he had my twin sister be there as a surprise. She had literally been watching from behind the bushes. We're extremely close so I was so happy she was there. It was such a memorable and special moment after a week of exhaustion and stress induced by Hurricane Harvey.
TELL US ABOUT FINDING YOUR WEDDING DRESS: I went to a couple boutiques and bridal stores with my twin sister and mom. I was not looking forward to this part of wedding planning because I didn't like the idea of spending thousands of dollars on a dress I would wear for a few hours. I unfortunately put off looking until about four months before the wedding so I had to find something off the rack. Luckily, I found the dress at a great price off the rack at a bridal salon in San Antonio, TX. It was a little overwhelming when we got there but they didn't have a consultant helping me get into the dresses... my sister did it! So that was pretty fun and special.
DID YOU HAVE ANY DIY ELEMENTS? Since we were flying to Telluride from Texas, we elected not to DIY much. My father-in-law is a woodworker and he made a sign for us with our names and our wedding date that we displayed at our ceremony site. That was the only DIY piece. I am not very crafty, though, but I love supporting others who are so I did purchase as much as I could from Etsy.
DESCRIBE YOUR WEDDING FLOWERS: Working with Amber and Frannie from New Leaf Design was amazing. They were so receptive to my feedback and made the process so easy for me from afar. I wanted the flowers to match the scenery so I elected a wildflower look for the flowers. We went with a lot of greenery with a muted colour palette to dress up the reception space. To keep things interesting, there were pops of bold color incorporated into my bouquet.
FAVOURITE DETAIL OF THE DAY: I loved our cakes! They were so pretty I almost didn't want to cut into them! And they tasted amazing and were so fresh.
WHAT ADVICE WOULD YOU GIVE OUT TO A COUPLE PLANNING THEIR WEDDING? Stay true to yourself! There is no right or wrong with a wedding. All that has to happen is that you and your partner marry! Waid and I wanted a beautiful wedding that would reflect us as a couple and share this monumental moment in our relationship with the people that are most important to us. However, we wanted to stick to our budget and weren't keen on some of the elements that make up a traditional wedding. To do this, we cut the things that didn't matter to us and added things that did.
MOST MEMORABLE MOMENT? Waid and I wrote our own vows. We didn't share them with anyone until we said them to each other during the ceremony. It was so incredibly special and made our wedding ceremony feel so personal and intimate.
ANY OTHER DETAILS THAT HELP TELL THE STORY OF YOUR DAY? We didn't have dancing at our reception because it wasn't important to us. We did want to share a first dance though, so immediately after our ceremony, we had our first dance at the ceremony site overlooking the San Juan mountains. It was so intimate and special and I will never forget it.
TELL US A LITTLE ABOUT YOUR HONEYMOON: We went to Africa! We visited Zambia, Zimbabwe, South Africa and Mozambique. It was the trip of a lifetime. We saw Victoria Falls, went on safari and had some remarkable animal encounters, and ended the trip relaxing on the beach in the Indian Ocean. We loved it! It was the perfect amount of both adventure and relaxation.
IS THERE ANYTHING YOU WOULD CHANGE OR DO DIFFERENTLY? Nothing! I was unbelievably happy the entire day. All of my vendors were absolutely amazing. My mom kept commenting how amazing it was that we planned the entire day through the internet without seeing anything in person but it's really the wonderful vendors we hired that made that happen.
A big thank you to Colorado wedding photographers ALP & ISLE for sharing this beautifully intimate Elopement with us. Blessed to live amongst the stunning landscapes of the Rocky Mountains this husband and wife team translate your day with a focus on natural interactions and emotion. If you're a Colorado bride you can see more of their work in our vendor guide. And you should definitely check out this Romantic intimate Lake Tahoe Elopement.