In a perfect seaside town that hosts thousands of weddings a year, Kristine and Trevor's BELLE MER wedding in Newport, Rhode Island was truly a special experience to photograph for Boston wedding photographer CATHERINE THRELKELD.
Kristine wore the most beautiful LAZARO gown and LOCKSTAR BEAUTY BAR styled her hair half up-half down with delicate pins for a contemporary spin on a classic bridal silhouette. Trevor and Kristine's first look at BELLE MER'S oceanfront lawn was tear-jerking and intimate. This couple is clearly so loved by their close families and friends. Their bridal party - all 26 of them - wore classic black tuxes and long JENNY YOO bridesmaid dresses in morning mist. The girls carried white, rust and orange bouquets that perfectly complemented their dresses and were the perfect late summer floral element.
Kristine and Trevor married at Emmanuel Church in downtown Newport. The church, built in 1902, was the perfect classic setting to bring wedding guests into downtown and see some history of the city. LESLIE LEE FLORAL DESIGN accentuated Belle Mer's blank slate reception space with greenery and floral installations on the ballroom's staircase and fireplace mantle. Besides the head table that featured a long floral garland, the round tables had white floral and greenery centerpieces, with rust, and dark orange florals that tied together the late summer colour palette.
During cocktail hour, guests dined on fresh New England seafood including lobster tails, raw oysters and shrimp. Belle Mer's indoor-outdoor cocktail area allowed guests to enjoy the sea breeze and views on the harbour. For entertainment the couple brought in SUGARBABIES, an incredible wedding band based out of Boston. Belle Mer's large dance floor was absolutely packed all night. Kristine and her dad's father-daughter dance was a highlight as the pair surprised guests with an incredible choreographed first dance. Another fun moment was when the father-of-the-groom took the mic and rapped to the crowd.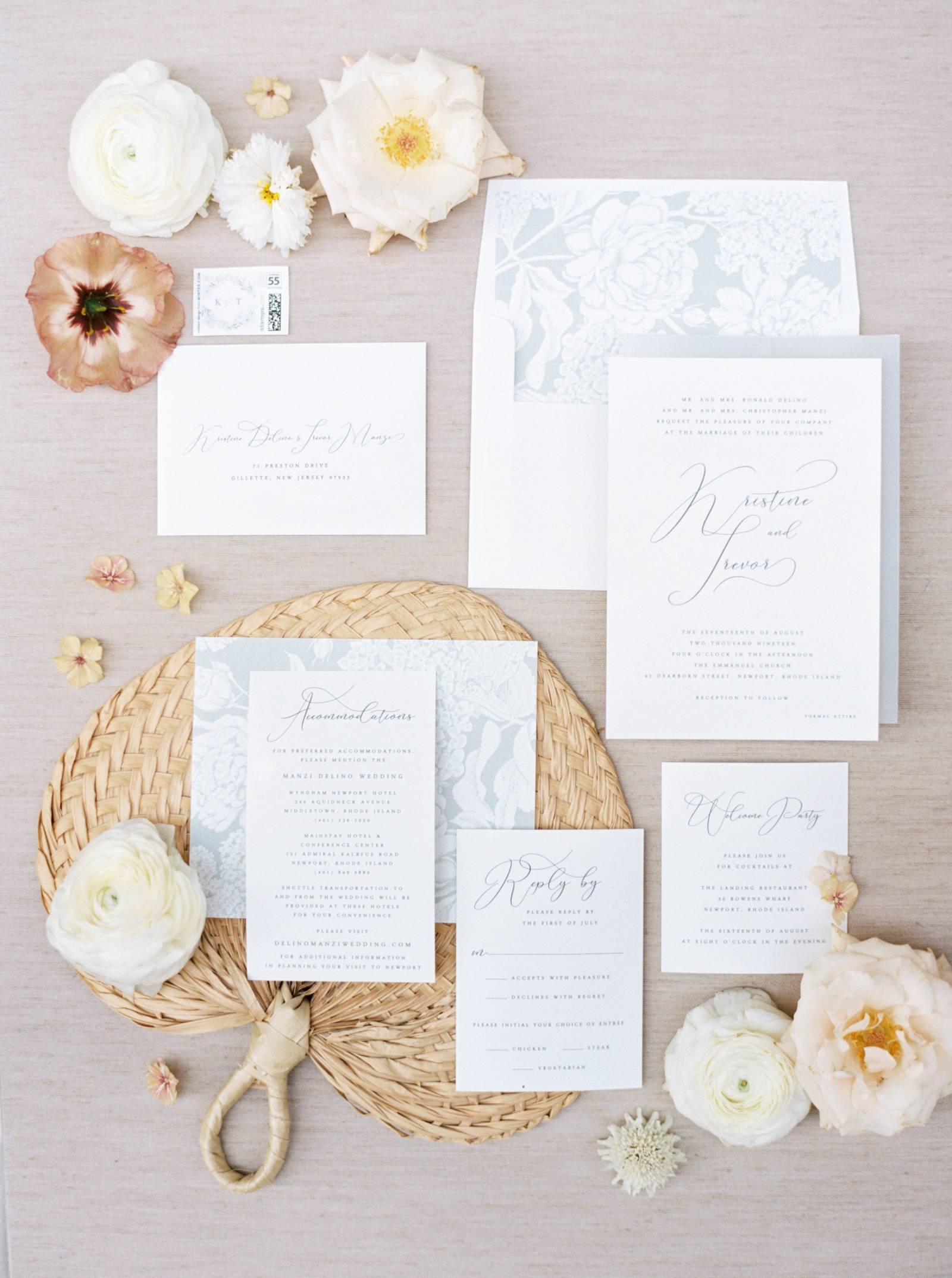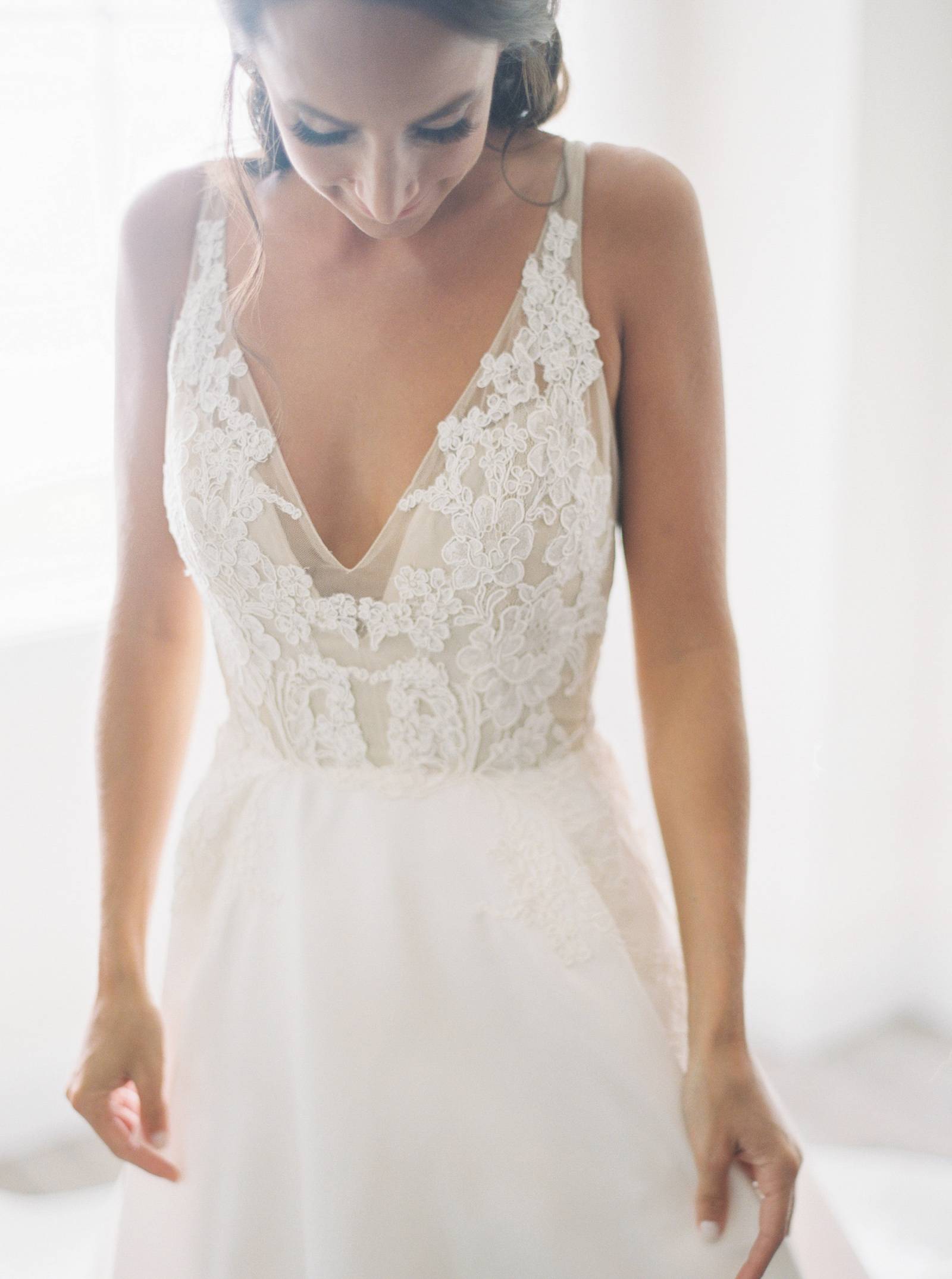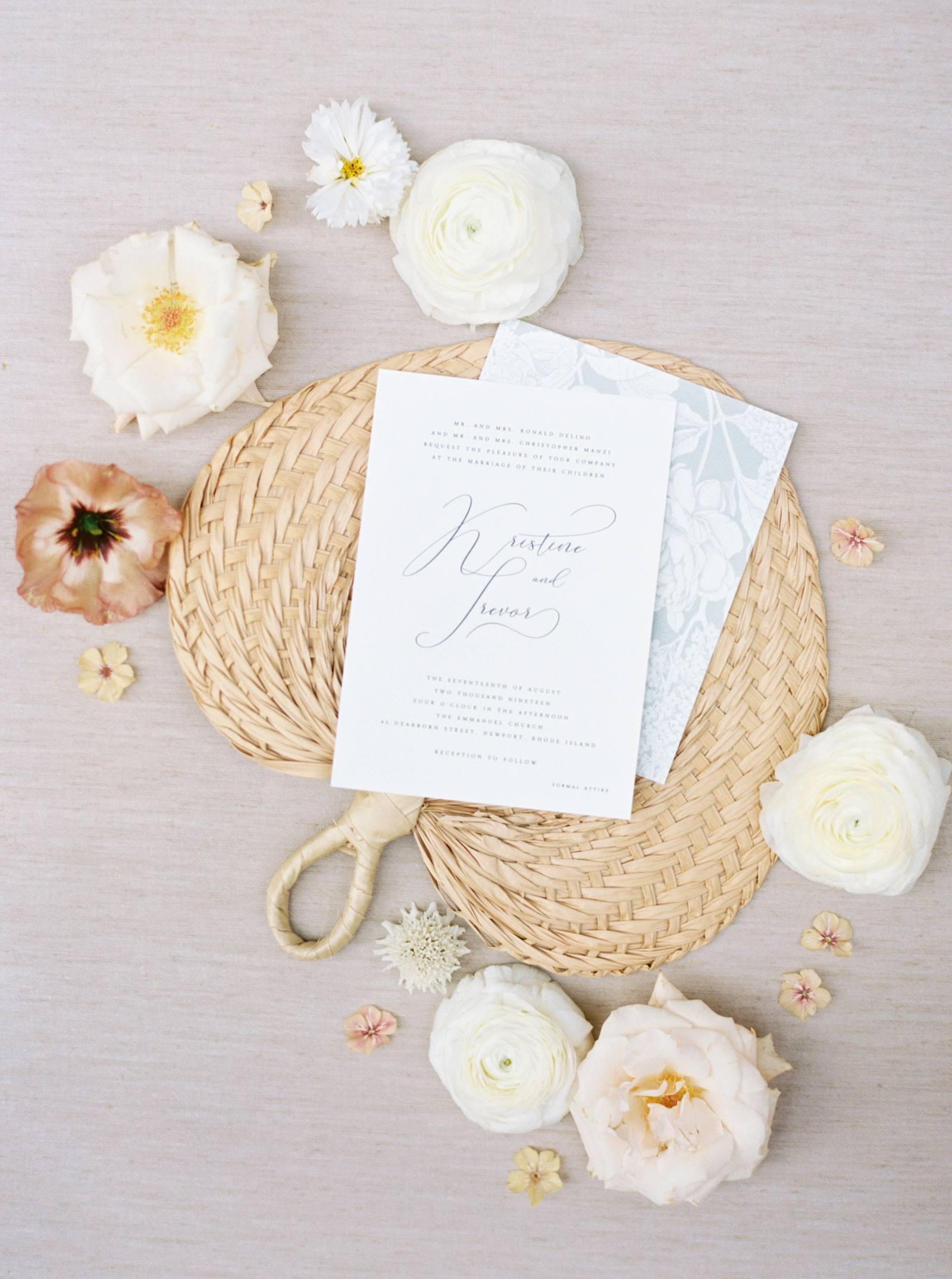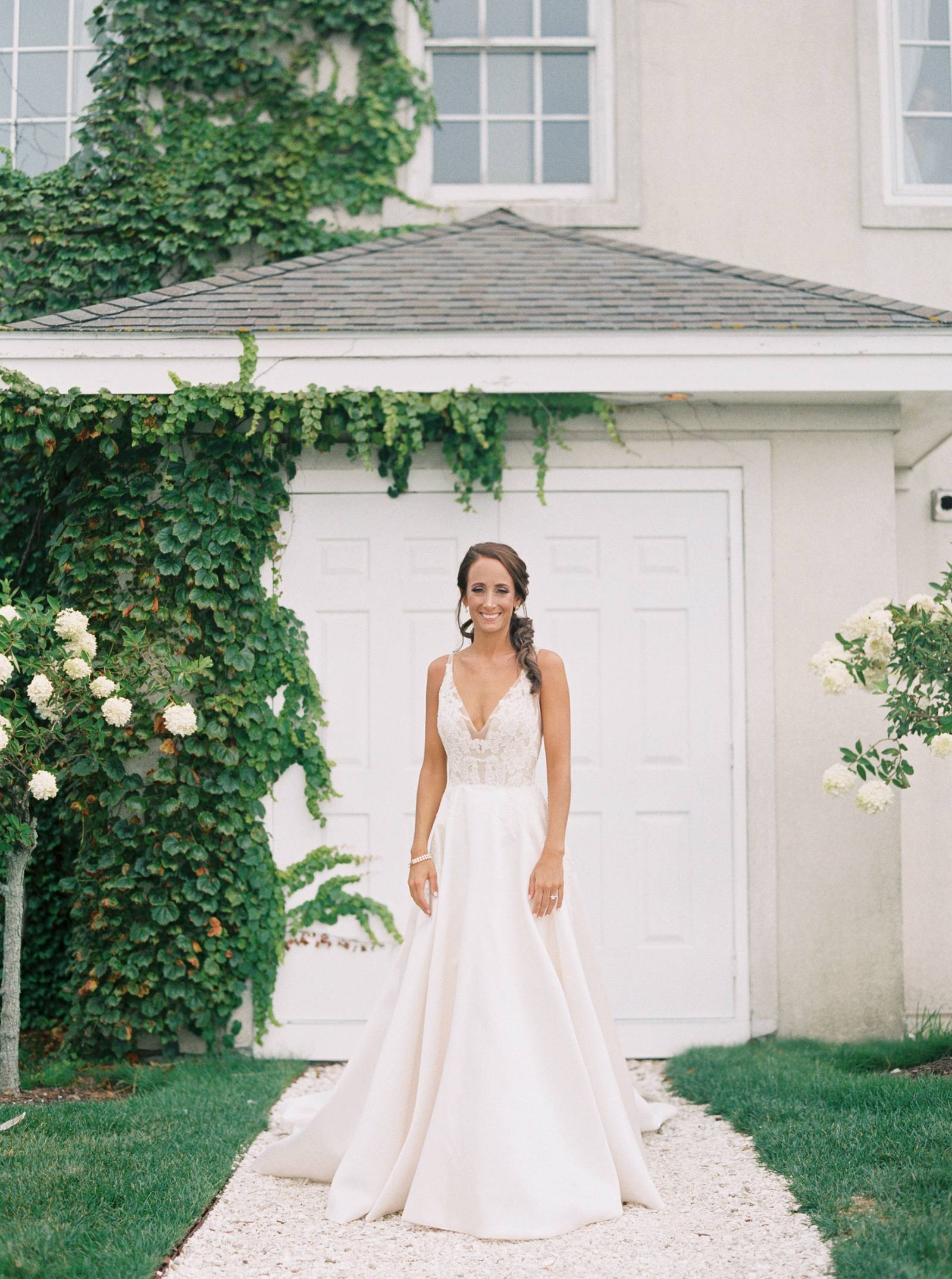 WHAT WAS THE INSPIRATION BEHIND YOUR WEDDING STYLE? The inspiration behind our wedding style was drawn from both the location and the venue, which were everything that we were looking for. We wanted something elegant and modern but also very romantic. The space is bright and airy with high ceilings, large arched openings, floor to ceiling windows and amazing waterfront views of the Newport bridge. We knew that we wanted to compliment all the things we love about Belle Mer, but also make it our own. The flower arrangements were a huge part of the overall style and really made the space come to life. We wanted a simple colour palate that would be bright and summery, so we chose shades of white, green, and a pop of champagne with gold accents. All the décor including signage, picture frames, candles and vases were glass and gold metal which complimented the flower arrangements and the space at Belle Mer perfectly. The bridal attire also added some colour. The guys were in tuxes and the girls in a beautiful muted green colour called morning mist from Jenny Yoo – which I loved! The black tux against the colour of the dresses looked great together and really made an elegant statement. The space inside is stunning but it also has a large outdoor area so with lanterns, adirondack chairs, and an outdoor fire pit we tried to capture a classy outdoor summer night vibe.
WHY DID YOU CHOOSE THIS LOCATION? We chose Newport, RI for many reasons. Newport is only about 20 minutes from Roger Williams University, where we both attended college, so we are very familiar with the area and how beautiful it is! We would go to Newport for special occasions, and it is where we had our first real romantic date. It was sentimental for us to go back and get married where it all began! Our families live in both Massachusetts and New Jersey, therefore RI was a great destination for everyone to meet in the middle. We were able to have most guests there for a long weekend so everyone was able to experience Newport and spend time there as we did many years ago. Choosing Belle Mer for our venue was easy, we fell in love with it as soon as we walked in. I am an architect therefore I really appreciate the design of the interiors and feel of the space. Also, being on the water was something we knew we wanted. It has a great flow going from the waterfront yard to the patio to the cocktail hour space and then finally the reception room. Belle Mer was everything we could have dreamed of!
HOW DID YOU MEET? We met at orientation going into college at Roger Williams University. We were both in the same group for the weekend so we spent a lot of time together getting to know each other. We knew right away this was going to be something special. Ironically, the next time we saw each other was the very first day back! We ended up living in the same dorm with only a total of about 20 people, so we quickly became very close friends. It wasn't until our sophomore year that we started dating and the rest is history!
TELL US ABOUT YOUR PROPOSAL: Every summer we spend time at our family vacation home in Maine. I have been going there my entire life, and ever since Trevor and I started dating he has been there every year. This place means the world to me and we have been able to make so many amazing memories there over the years. Since we started dating, our families have become very close and we all enjoy the house together a couple times a year. It was the annual Fourth of July party in 2018, Trevor took my hand to go walk down on the rocks, away from the party for a couple minutes. I'll never forget what a beautiful night it was, looking out on the horizon there wasn't a cloud in the sky and the sun was just starting to go down, its my favourite time of day there. No one knew what was happening besides my brother, my dad, Trevor's dad and his best man. After a sentimental and private conversation sitting down by the water, Trevor got down on one knee and proposed. After almost falling off the rocks, I looked back up at the house and everyone had figured out what was happening, cheering and screaming. Then, my brother lit off fireworks to celebrate. It was truly a dream come true.
TELL US ABOUT FINDING YOUR WEDDING DRESS: I didn't know at all what kind of wedding dress I wanted. Yes, I had pictures of things that I liked but I wasn't sure what kind of silhouette, designer or fabric I would like best. Therefore, I had an open mind when first trying on dresses. On the other hand, Trevor knew he wanted to wear a tux, he thought it would be the most classic look and I just trusted him – he has a great sense of style. So, looking at dresses I always pictured what I would look like next to him in a tux. Countless bridal salons later, I started to narrow down things that I liked and didn't like. It wasn't until I saw my dress online that I knew I had to find a store to try this on. L'Fay in NYC had it and I made an appointment right away. I knew as soon as I tried it on this was the one. I loved the lace at the top, the detailing was so pretty and delicate, which came down the sides a little bit. The skirt was long and flowy, which made me feel so comfortable throughout the entire day. My favourite part of the dress however was the low back with long thin straps. It was the perfect mix between elegant and sexy and it had just enough detail to make it special and unique!
DID YOU HAVE ANY DIY ELEMENTS? We designed, printed and framed all of our signage through out the venue. I used all my own lanterns, vases and candles for the décor throughout each space. I also designed my earrings that I wore that day that were made from my grandmother's pearls. Nanny, I love you.
DESCRIBE YOUR WEDDING FLOWERS: Our wedding flowers were more beautiful then I could have ever imagined! Belle Mer has a couple of spaces in the reception room that allow you to make large arrangements, which is very unique to the venue. There is a grand staircase that had flowers all the way up the railings and on top and bottom of the stairs. There is a mantel that had a large arrangement of flowers and candles all along the ledge. We had lanterns with flowers on the patio outside, alongside our welcome sign with flowers hanging on top. The centerpieces were all simple bouquets with gold vases and candles. Our head table of 40 people had a very beautiful garland arrangement that laid across the entire length of the table. And, finally the bouquets were so beautiful and went so well with the bridesmaid's dresses. The colours were stunning! We asked for our colour palate of whites, greens, champagne and a little pop of yellow. It all came together so well and exceeded all our expectations!
FAVOURITE DETAIL OF THE DAY: The flowers! I think because we did a couple of large arrangements it really had a big effect on the overall décor.
WHAT ADVICE WOULD YOU GIVE OUT TO A COUPLE PLANNING THEIR WEDDING? Don't stress about the little details! No one will remember what kind of silverware you chose. Also, take a moment to yourself and your husband or wife to stop time, look around, and digest what is happening. It all goes too fast and you want to remember the feeling you have that day for the rest of you life.
MOST MEMORABLE MOMENT? I think we have two most memorable moments. The first is the moment that we saw each other for the first time that day. After the anticipation all day it felt so good to be together. We were so ready to get married and it was just an overwhelming feeling of love and pure happiness. The second moment was when we were hidden upstairs about to be announced as husband and wife and walk down the grand staircase. It was just the two of us up there, knowing that everyone we love was right down those stairs waiting for us. The feeling of all our worlds coming together and all being in the same room is the most amazing feeling, something that might only happen this one time in our lives.
WHAT ASPECT OF THE WEDDING WAS THE MOST IMPORTANT TO YOU AND YOUR HUSBAND? One of the most important aspects of our day was that everyone had a fun time! The band was one of the first things that we researched and booked because we knew we were going to be on the dance floor all night. The band was amazing and we are still getting compliments on them months later. Above all the planning and details we knew we wanted to have a party!
ANY OTHER DETAILS THAT HELP TELL THE STORY OF YOUR DAY? We want to mention that Trevor's sister's bakery, "Flourish Bake Shoppe" baked and designed our deserts. She made an incredible grooms cake for our rehearsal dinner and an elegant four tiered wedding cake that complemented the style of the venue perfectly. She made cake pops for our party favours that ended the night with something sweet and memorable. It meant so much to us to have her work featured at our wedding! Another very memorable part of the day was my father and I's dance. We had been practicing for months keeping it a secret from everyone! It was one of my favourite parts of wedding planning because we had so much fun doing it together. We started off with a slow sentimental song and then after just the beginning verse changed to a fun upbeat song, everyone was so surprised. I will never forget how loud everyone was cheering, it was so much fun!
TELL US A LITTLE ABOUT YOUR HONEYMOON: For our Honeymoon we traveled to Italy and Greece. We started in Positano on the Amalfi coast followed by the city of Taormina in Sicily. A few of our favourite days included a private boat to the island of Capri, an authentic Positano home cooking class and a hike called the Path of Gods, which sits high above the ocean with the most incredible views of the dramatic Amalfi coastline. We spent our downtime relaxing with amazing views from either our hotels private beach or pool. The last stop was the Greek Island of Santorini, which was breathtaking. Some of the things we loved were at the sunset cruise, exploring around the island in a n ATV, and horseback riding on the beach. The food was amazing in all places and there was no shortage of good wine! We already want to go back!
Thank you so much to Boston wedding photographer CATHERINE THRELKELD for sharing this beautiful wedding with us. Catherine uses film photography as much as possible during wedding days when she has natural light available. "I love how my film photographs look like paintings. Wedding photography can be an art, and film forces me to slow down and be artistic." If you're looking for a Boston wedding photographer you can see more of Catherine's work in our VENDOR GUIDE and also in this Moody and romantic Massachusetts Mansion wedding with rich plum tones.