Having spent a bit of time working in floral design for the wedding industry, bride Jasmine worked closely with her boss - Shawna from THE WILD DAHLIA - to design a wedding palette that was a bit untraditional, yet romantic and Gatsby-esque. As a result, they choose deep colours and decor that enhanced the beauty of the old world vibe of the venue. Boston wedding photographer CATHERINE THRELKELD captured her beautiful wedding to Thomas.
Having visited many venues choosing WILLOWDALE ESTATE was a no-brainer. Jasmine had been to many venues through work but had only seen it through pictures. "We immediately fell in love with it's old world charm, decor, staff, and grounds. The venue itself reminded us of a little English cottage or estate we had seen in our travels to the UK."
HOW DID YOU MEET? We met at Providence College in Providence, Rhode Island. We were good friends before we started dating when the timing was right, Thomas asked me over for dinner... a pasta dish his mother sent back to school with him after a weekend home!
TELL US ABOUT YOUR PROPOSAL: The day started at Fenway Park in Boston, Massachusetts. We were excited to watch our first Irish hurling match. We had plans to meet our parents afterwards at the Waterfront for an early dinner. Being a stickler for time, Jasmine insisted that they leave at 2:30 to make the reservation. But Thomas had plans of his own. Whether intentional or not (or maybe it was just nerves), Thomas put the wrong address into the Uber app and we made it to the Waterfront promptly at 3. It was a blustery November day but we were dressed for the cold so Tom told the Uber driver to stop and that we would walk along the Waterfront to the restaurant. As we walked along the cobblestone pathway (Tom made sure to point them out so Jasmine would not notice Catherine, our photographer), Thomas suddenly stopped and dropped to a knee. The photos tell the story the best but needless to say, Jasmine said yes! Our parents were there to celebrate the engagement at Strega on the Waterfront soon after.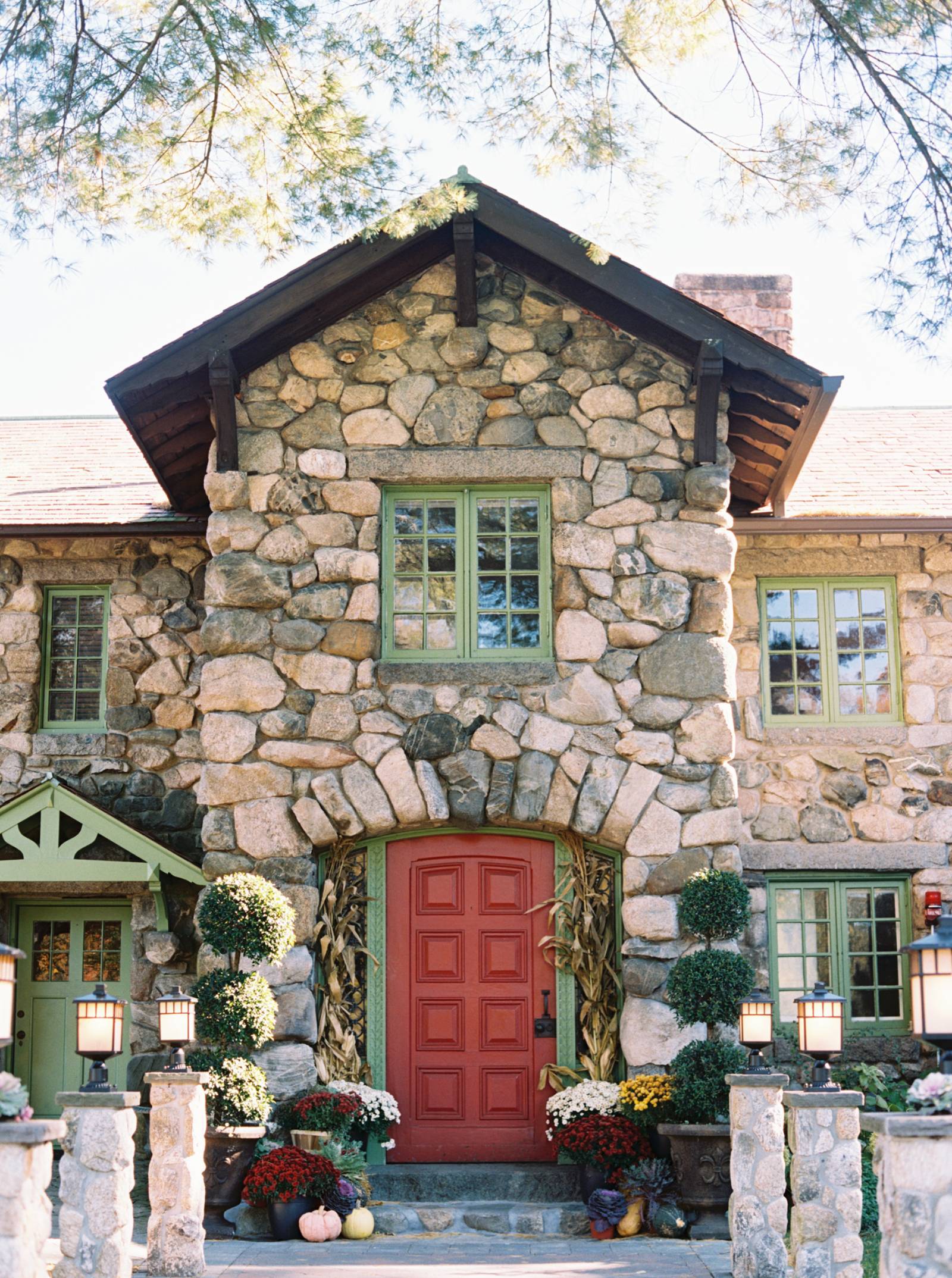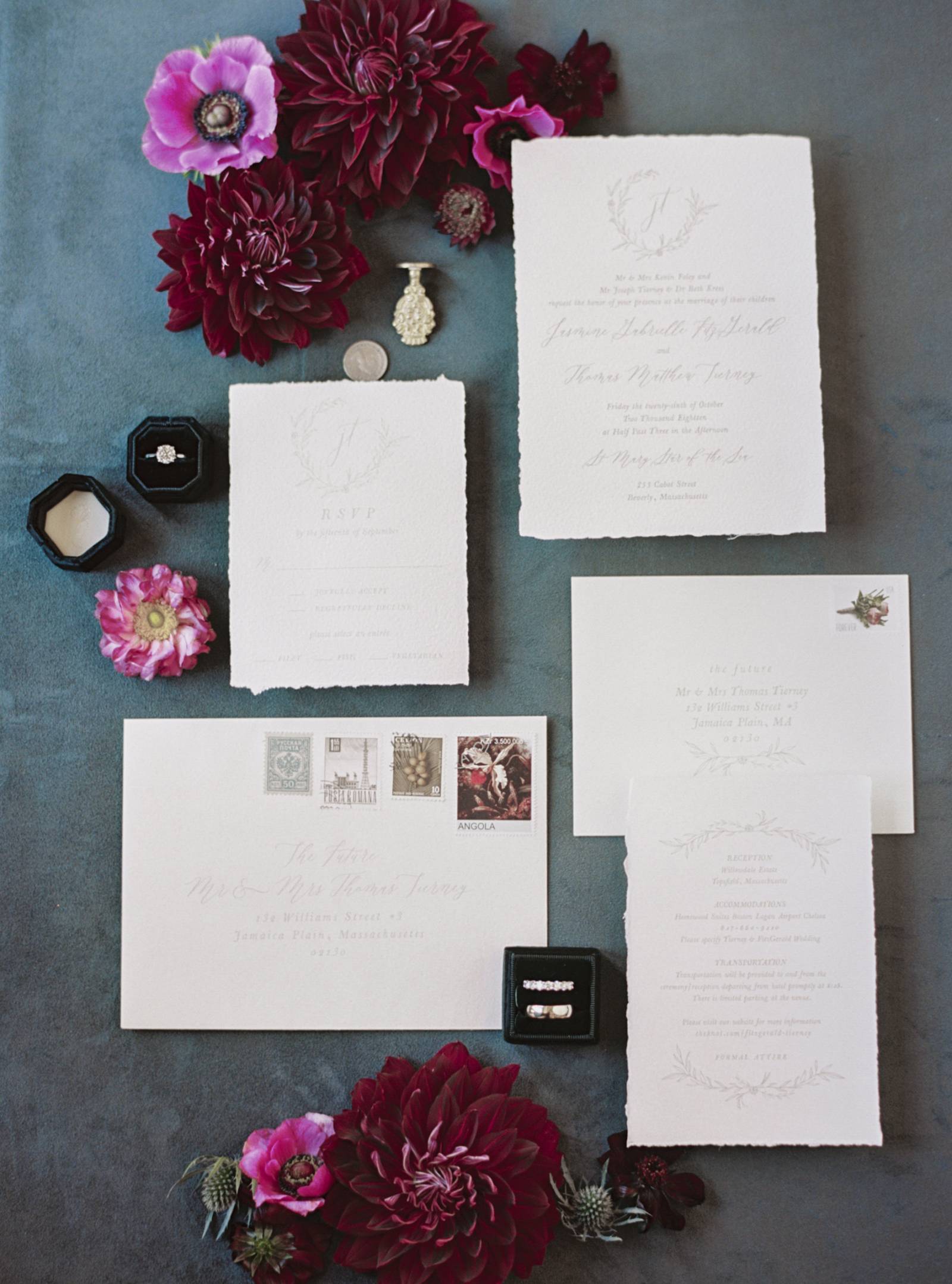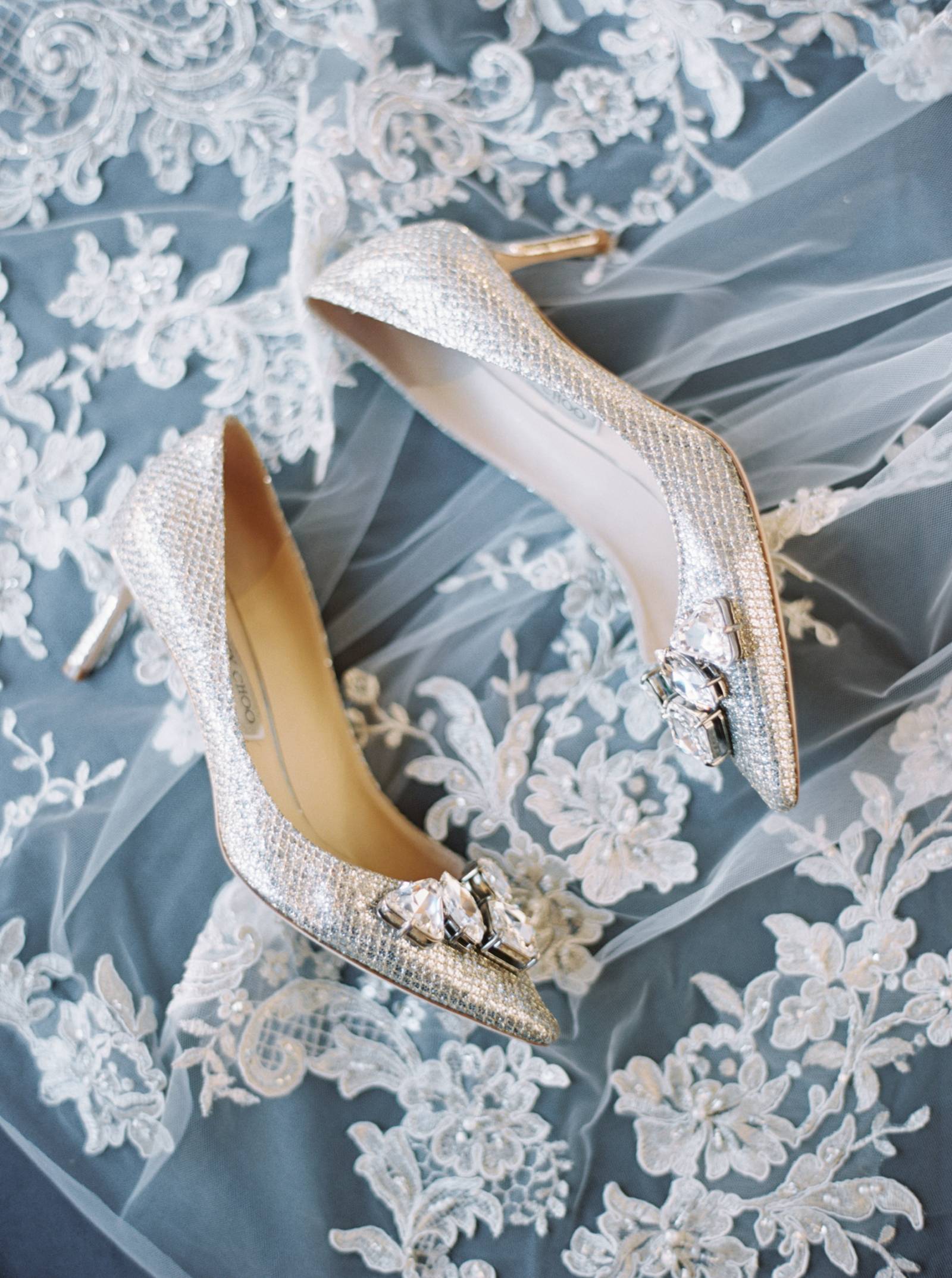 TELL US ABOUT FINDING YOUR WEDDING DRESS: Jasmine had been "pinning" dresses on Pinterest as she saw them as soon as she realised that Thomas was "the one." When the engagement was official, Jasmine realised that most of the dresses she liked were by the designer, Berta. From that day forward, she wanted to be a Berta bride with a right off-the-runway bridal style. Jasmine and her mom attended a Berta trunk show at Alexandra's Bridal Boutique in Fall River, Massachusetts and fell in love with many of the dresses. Jasmine went back to the boutique with her mom, sister, grandmother, future mother in law, and future sister in law to finally try on dresses. She saw her Berta dress on the mannequin and knew that was the one. Tears came to her eyes as she tried on her gown for the first time and walked out of the dressing room for her family to see. It was a definitive yes from all!
DID YOU HAVE ANY DIY ELEMENTS? We actually wanted to be as "as part" of the wedding style as possible. We made the arbor for the escort display using copper pipes and fabric. Jasmine hand wrote all of the escort cards and table numbers on flower-pressed paper. We also incorporated our families by placing photographs of them along the shelving in the cocktail hour room.
DESCRIBE YOUR WEDDING FLOWERS: Again, Shawna and THE WILD DAHLIA team played a major role in the palette and design of our flowers. Jasmine's bouquet was filled with lush and cascading rich, dark greens and blooms that were a mix of antique purples, rich plum tones, and touches of magenta. The couple wanted their centerpieces to be reminiscent of that Gatsby vibe with saturated colours and asymmetrical features. Above all, Jasmine and Tom wanted their wedding to look press the boundaries of more traditional weddings and show that incorporating rich colours into a wedding could be as beautiful and romantic as a more traditional softer palette.

FAVOURITE DETAIL OF THE DAY: We loved how subtle texture and print played a role in our wedding. We used navy suede linens, a blue floral print napkin, flower-pressed paper table numbers and escort cards, and beautifully saturated colours in our flower centerpieces. The groomsmen's boutonnières were wrapped in black velvet ribbon and the bridesmaids bouquets incorporated cascading silk. The whole look was just so different from other weddings we've seen.
WHAT ADVICE WOULD YOU GIVE OUT TO A COUPLE PLANNING THEIR WEDDING? Thomas and Jasmine made a promise before their wedding to try to experience as much of the night as they could together. We were told that the wedding day goes by so fast... and it did! We made sure that we were by each others side dancing, talking, laughing the entire day so that we could look back and have the same wonderful memories. We would advise other couples to share in the planning, and eventually the wedding day, together so that they can look back with shared, beautiful memories. (For more concrete planning tips: splurge on great food and music-- that is what your guests will remember-- and a great photographer -- that is how you'll remember!)
MOST MEMORABLE MOMENT? One of the most memorable moments was during dancing. At one point we stopped and looked around at all of our guests dancing and said, "Wow. This is amazing. Everyone we love is here right now... for us."
ANY OTHER DETAILS THAT HELP TELL THE STORY OF YOUR DAY? Although we planned a beautiful wedding, our wedding day would not have been nearly as magical or as flawlessly executed without the Willowdale team and vendors. Our friends and family STILL talk about our wedding... from the venue to the decorations to the food... EVERYTHING. We are so appreciative of everyone at Willowdale and our amazing vendors for giving us the best day of our lives.
TELL US A LITTLE ABOUT YOUR HONEYMOON: We went to Maui for our honeymoon and spent our time exploring the island both by land and sea. We enjoyed conquering some fears (jumping off cliffs and SNUBA diving) as well as spoiling ourselves with delicious meals. It was the best trip we've ever been on!
IS THERE ANYTHING YOU WOULD CHANGE OR DO DIFFERENTLY? Not a thing!
Thank you so much to Boston wedding photographer CATHERINE THRELKELD for sharing this beautiful vibrant wedding with us. Catherine uses film photography as much as possible during wedding days when she has natural light available. "I love how my film photographs look like paintings. Wedding photography can be an art, and film forces me to slow down and be artistic." If you're looking for a Boston wedding photographer you can see more of Catherine's work in our VENDOR GUIDE.