The romance of a European wedding never gets old (particularly when you live in a very different environment!) and this Prague celebration of Inna & Ondrej's captured by Prague wedding photographer STEPAN VRZALA truly highlights the beautiful of Prague. Choosing a venue close to the city centre, the ceremony was held at KLEMENTINUM MIRROR CHAPEL - a stunning Baroque hall decorated with fresco paintings and mirrors. The reception was held just a few minutes away in ZOFIN GARDEN RESTAURANT on a small island on the river, overlooking the city. "Although we were in the centre of busy, vibrant Prague, the whole day felt intimate and personal – like we had a piece of the city just to ourselves that day."
Beautiful bride Inna had always imagined a formal affair, but also wanted to incorporate elements of nature into the day. "Our reception was held under a beautiful tent that included lots of greenery and florals. We wanted guests to feel like they were strolling through a park or garden.
HOW DID YOU MEET? We had been in the same friend group for some time but kept missing each other (I would arrive to a party ten minutes after he had left or he would show up for an event that I decided to not attend). We finally ended up meeting at a friend's house warming party and it was the owner's dog that brought us together. After a little push from a mutual friend, we began talking and getting to know each other. Looking back, we knew from our first date that we were going to be together for a very long time.
TELL US ABOUT YOUR PROPOSAL: To this day, I still don't know what he had originally planned for the proposal, because he couldn't wait and popped the question a couple of weeks earlier. It was a casual night, we were in the kitchen finishing dinner and I was talking about how much I wanted to marry him. I remember leaving the kitchen and when I came to sit back down, he pulled out this little box. I don't remember much after that because I burst out crying and blacked out slightly. I immediately sent out photos and texts to my family and closest friends. Little did we know that we would be having a small engagement party that night as my brother and best friends immediately jumped out of bed and came running over to our apartment to celebrate and drink champagne. It was the best engagement party I could have ever hoped for.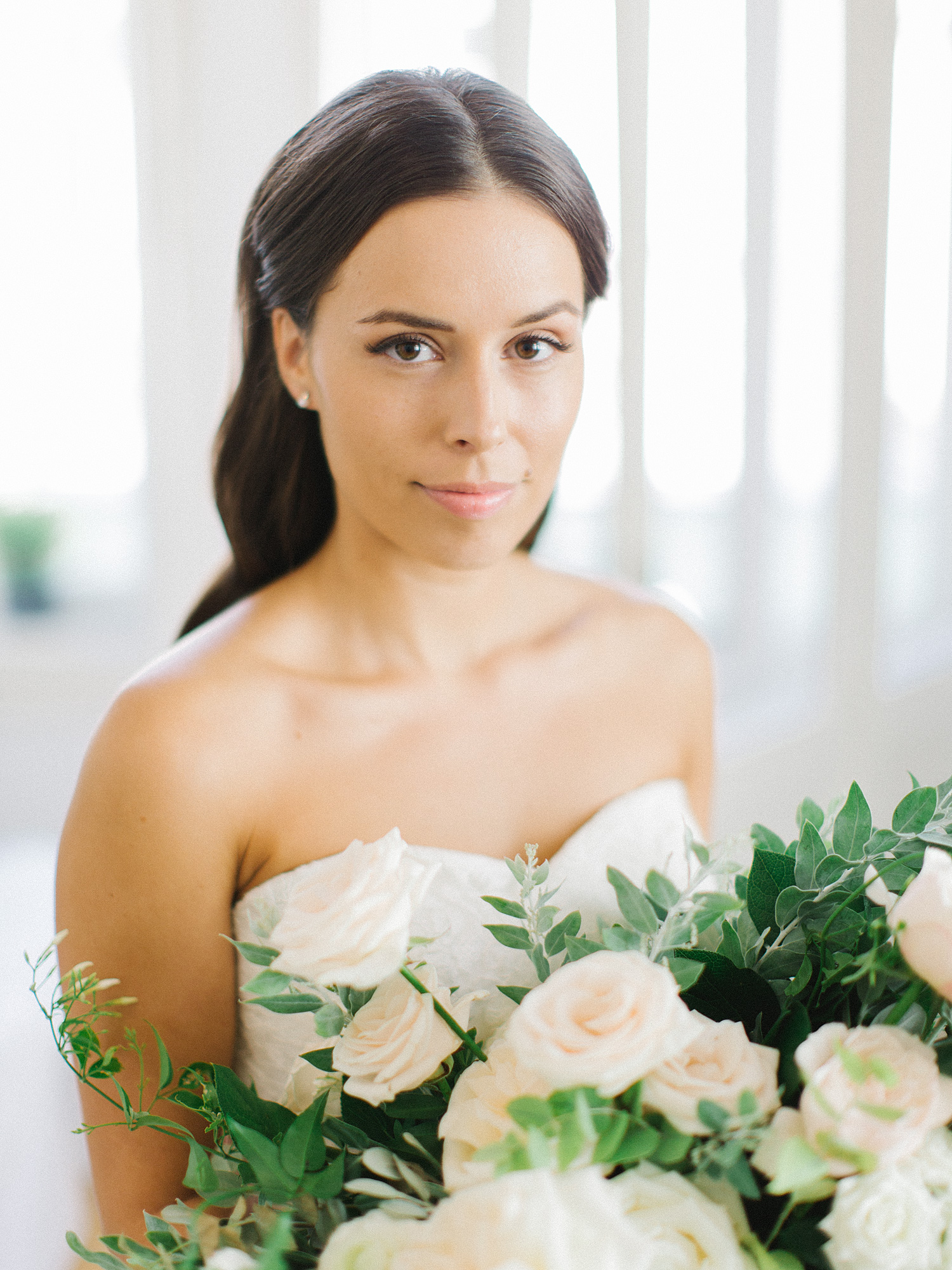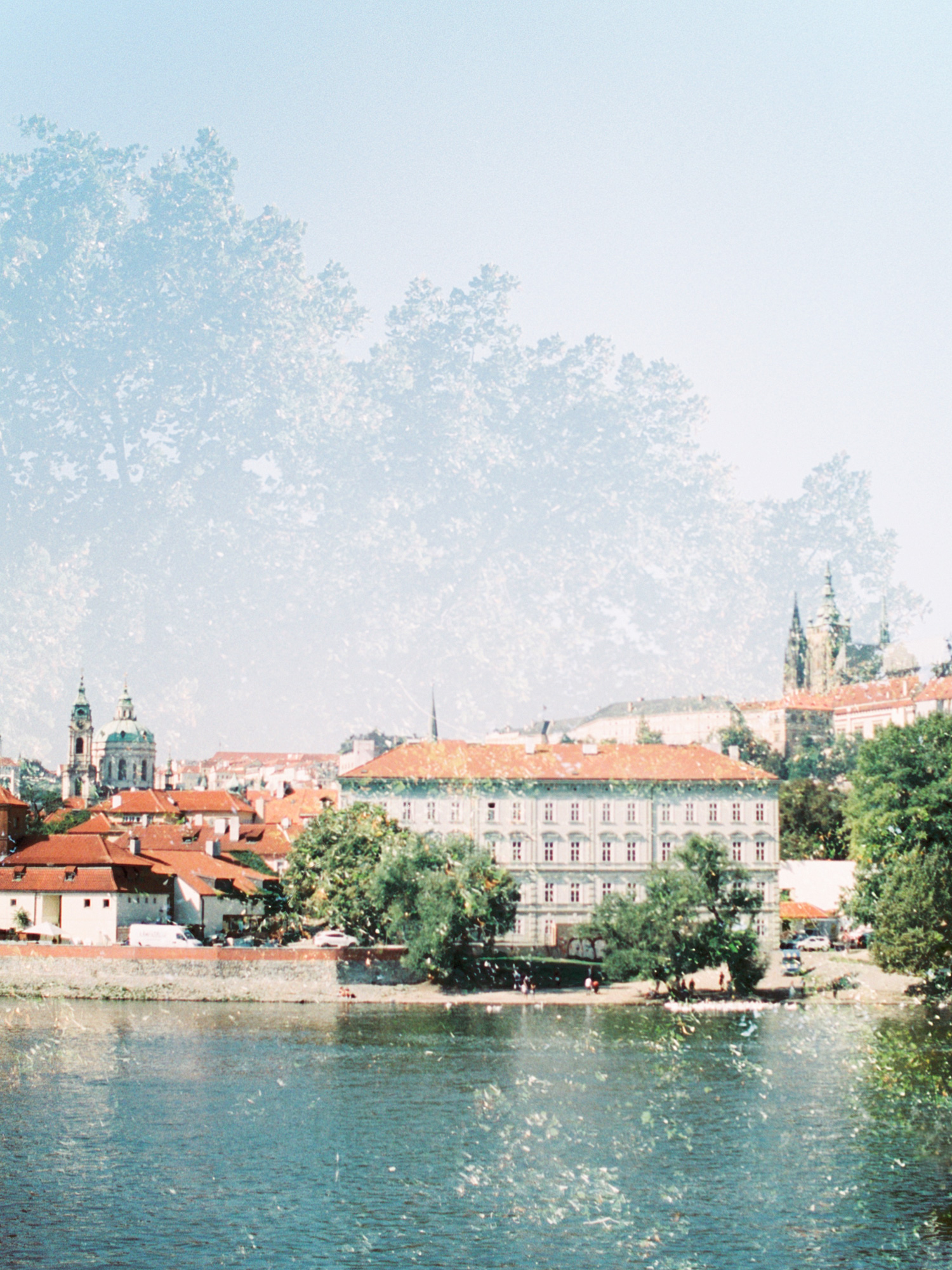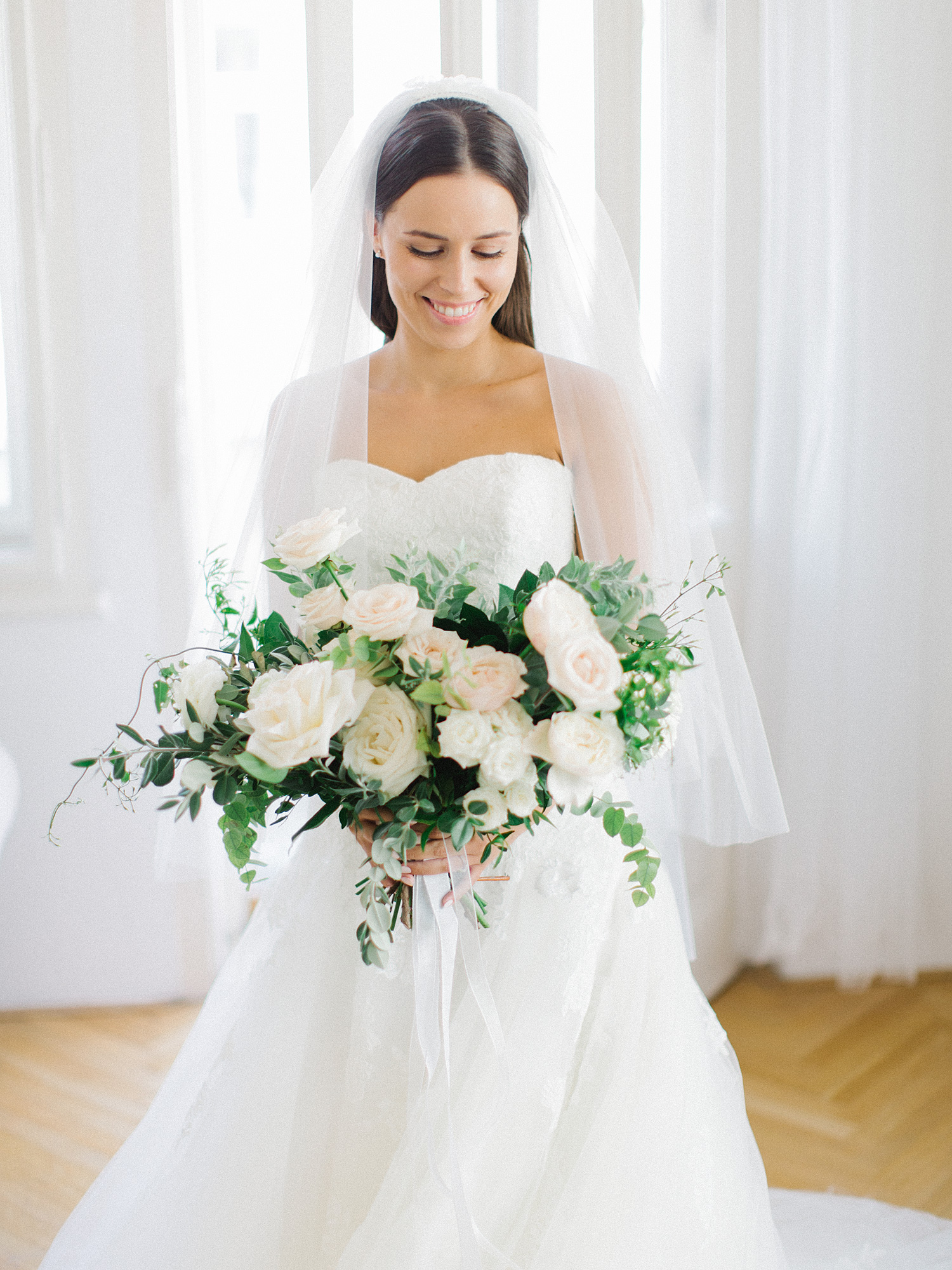 TELL US ABOUT FINDING YOUR WEDDING DRESS: A few months after the proposal, we traveled to the US to visit my family and I thought it would be fun to have my first wedding dress appointment with my mom. There were no plans of actually buying 'the' dress, but when you know, you know. Everything I had ever imagined came together in one gown and with the added veil I knew immediately that it was the one. Everyone was pretty surprised at how fast I found my dress and I was surprised at how emotional I felt when I found it. I never intended to change into a second dress at the reception but a month before the wedding I happened to find the most beautiful dress at Lord and Taylor while shopping with my bridal party. The sleek, fitted dress with a choker detail ended up being the perfect complement to my romantic, airy wedding gown.
DID YOU HAVE ANY DIY ELEMENTS? I decided to design and print the place cards and seating chart myself and it was a fun project to do to keep my mind off wedding day stress.
DESCRIBE YOUR WEDDING FLOWERS: From the day we started planning, I knew flowers would play a huge part of the day. I am very particular about plants and flowers and had a clear concept of what I wanted, so I knew that I had to find a team with the same design vision as me. The wonderful women at Cool Flowers listened to every one of my wishes, worked around our budget and designed the most beautiful bouquets and reception décor for us.

FAVOURITE DETAIL OF THE DAY: My mother brought a pair of handmade wedding gloves to the wedding that had been worn by two generations of women in my family. Although I chose not to wear them during the ceremony, I was able to put them on during our photoshoot and get a few pictures of myself wearing them. It was a special moment and I felt so connected to my family in that instant.
WHAT ADVICE WOULD YOU GIVE OUT TO A COUPLE PLANNING THEIR WEDDING? Allow others to help you. I took control of most of the planning but ended up relying on so many of our family and friends. They were so helpful on the days leading up to the wedding and on the day itself and I could have involved them more from the start.
MOST MEMORABLE MOMENT? After the first kiss, my husband and I made our way down the aisle into a small alcove at the back of the ceremony hall. For a few moments we were completely alone and we had a chance to tell each other everything we were feeling - how happy we were and how much love we had for one another. It was such a special, intimate moment – brief and completely unplanned - but one that we both remember to this day.
ANY OTHER DETAILS THAT HELP TELL THE STORY OF YOUR DAY? We had family and friends travel from all over the world to celebrate with us that day. In fact, many of the guests couldn't speak to each other because of language barriers. We were worried the reception might feel awkward, but quickly realised how unfounded our fears had been. Aided by a little alcohol, music and some great food, people of different backgrounds and ages were chatting, dancing and enjoying each other's company. Seeing so many of our friends and family finally coming together was probably the most heartwarming part of that day.
TELL US A LITTLE ABOUT YOUR HONEYMOON: We spent 10 perfect days at Samabe Suites and Villas in Bali. It exceeded any and all expectations we had for a honeymoon. It was a surreal experience having just spent the most beautiful day with so many family and friends, suddenly being transported to what could only be described as paradise on earth. We made so many memories in just a short time and we will look back on those days for years to come.
IS THERE ANYTHING YOU WOULD CHANGE OR DO DIFFERENTLY? Nothing. Of course, many things did not go as planned that day, but there isn't a moment we regret or would go back and change. It was the most perfect day and we would relive it over and over if we could.
A big thank you to Prague wedding photographer STEPAN VRZALA for sharing this gorgeous Prague wedding with us today. Stepan's passion is capturing the moments of happiness that love can bring. Based in Europe, he finds inspiration from nature, traveling, and yoga; all of which help to bring a lightness and elegance to his work. If you're on the lookout for a Paris wedding photographer you can see more of his portfolio here and be sure to check out this Connecticut coast wedding with a relaxed nautical vibe.