Kelly and Paddy are a Chicago-based couple who when planning their elegant destination wedding, immediately knew that Ireland was the perfect location for them. Not only is Paddy's entire family passionate about their Irish heritage (nearly all five of his siblings studied abroad in Ireland and he is a member of an Irish bagpipe band) but Ireland is also where they realised they were meant to be together. Paris wedding photographer MOLLY CARR was along for the celebration and captured these stunning images of both their wedding and a pre-wedding shoot.
To kick off their wedding weekend, the festivities started with a welcome party at a classic Irish pub in Dublin. The next morning guests headed south by train and car towards the beautiful MOUNT JULIET ESTATE, just outside of Kilkenny. Upon arrival, they were given the opportunity to partake in one of the estate's many sporting activities including golf, hiking, horseback riding, and falconry. Before the festivities were to begin, the couple snuck away with MOLLY for an hour to explore the estate's vast gardens for a beautiful pre-wedding session.
To set the tone for their sophisticated European soiree, SHASTA BELL CALLIGRAPHY designed an incredible array of paper goods that perfectly tied in the old-world elegance of the venue with the classic style that Kelly so loves. Molly tells us, "I especially loved the hand-drawn illustration of the estate which was sprinkled throughout the entire wedding weekend – from inside of welcome bags to the ceremony programs."
She continues, "For Kelly's bridal look, she chose a simple and sophisticated gown by JENNY YOO that perfectly reflected her classic style. Paired with Loeffler Randall heels, a gorgeous up-do, and a flowing, ethereal veil, she was truly one of the most timeless and elegant brides I had ever seen. Kelly's bridesmaids were able to each chose their own dress from BHLDN, and I love the way the different shades of grey perfectly complimented each other."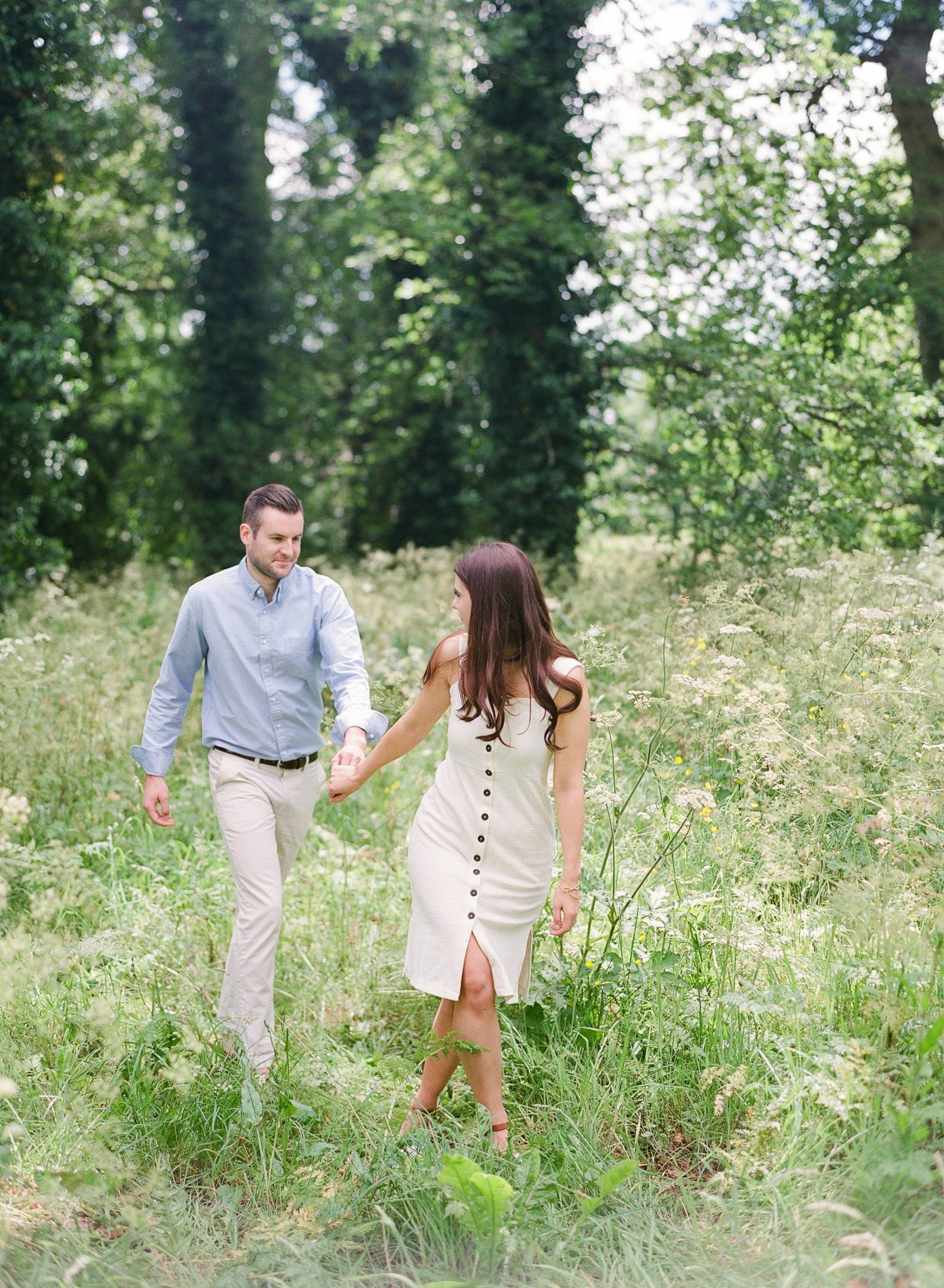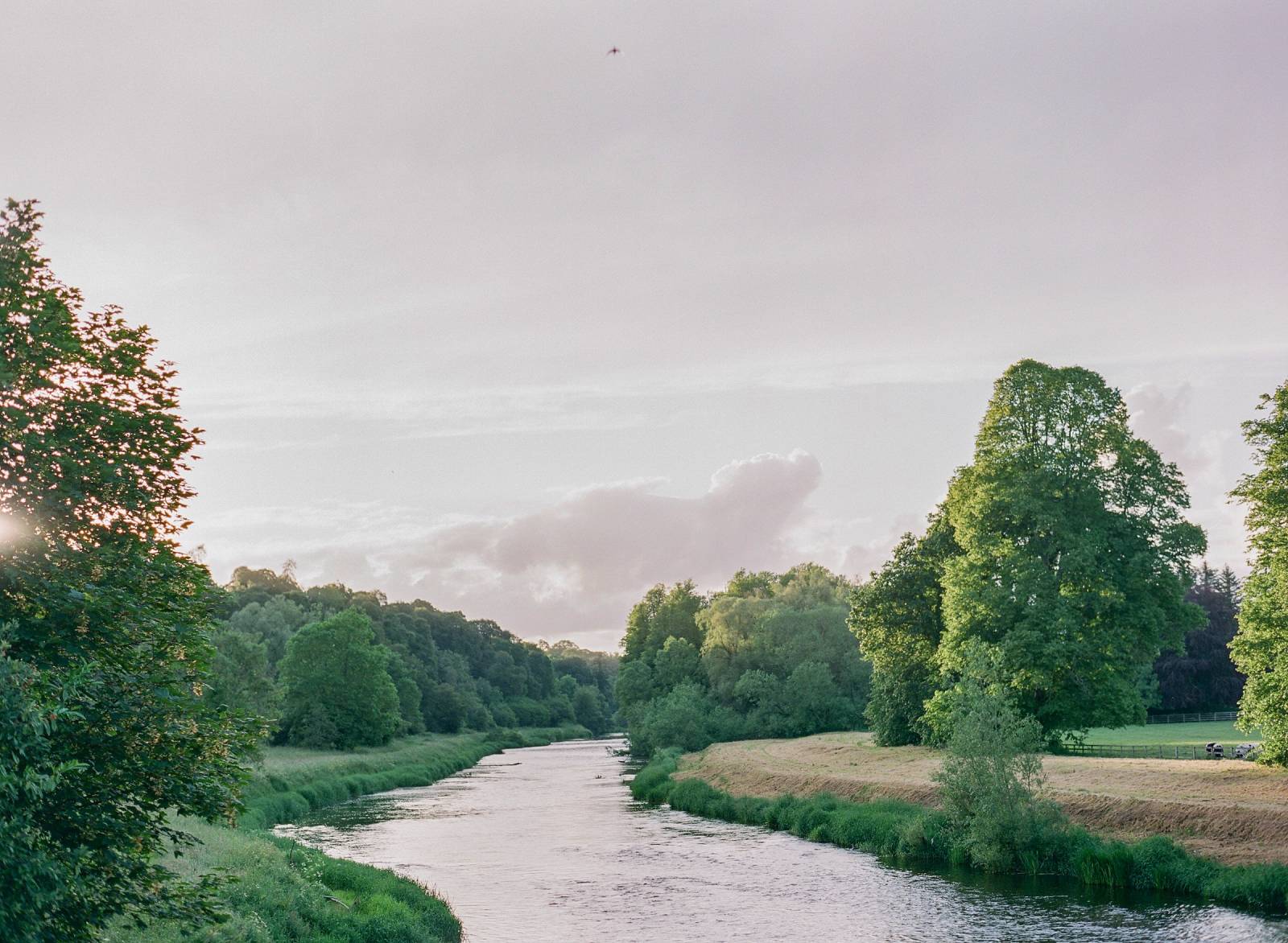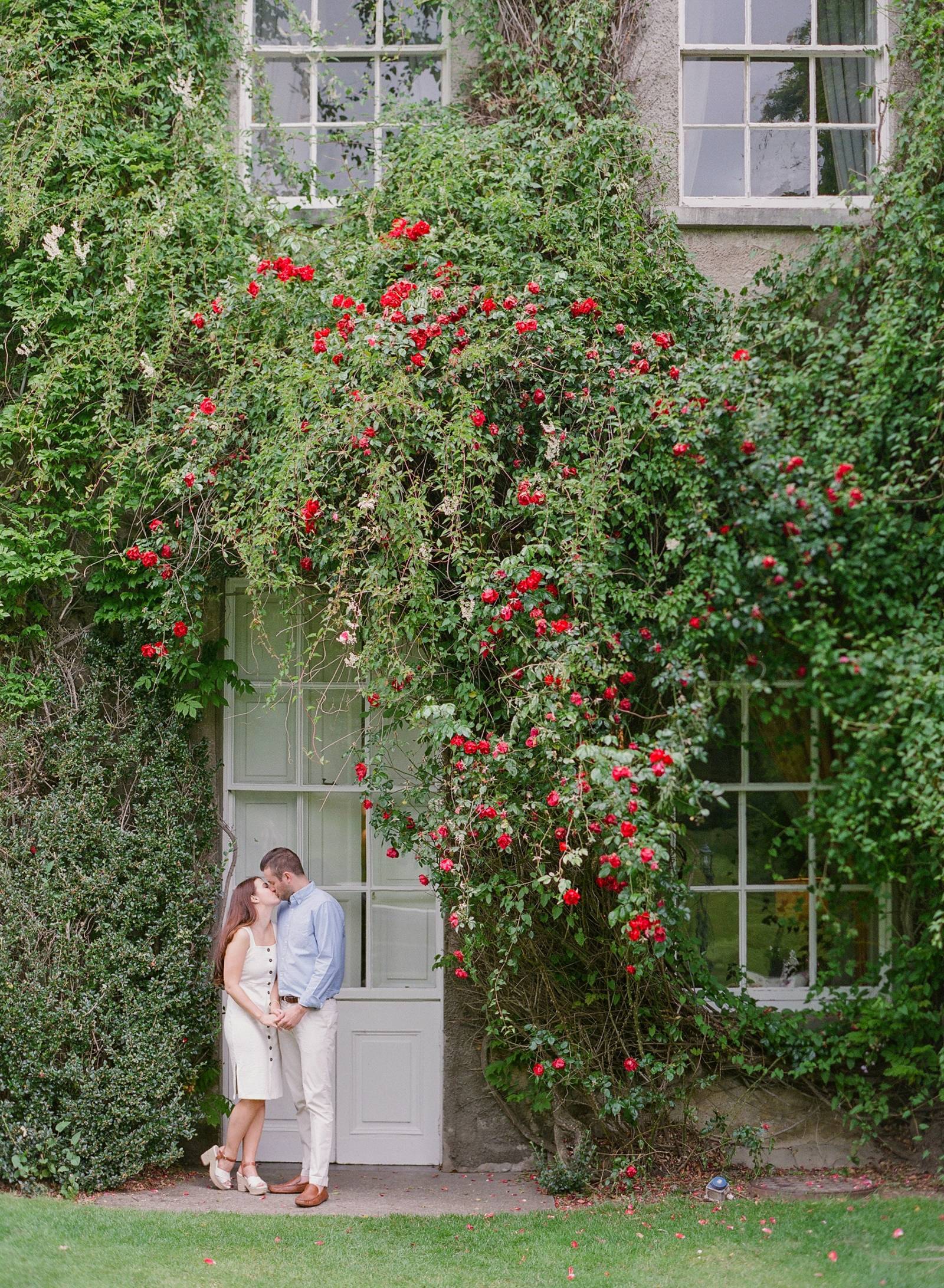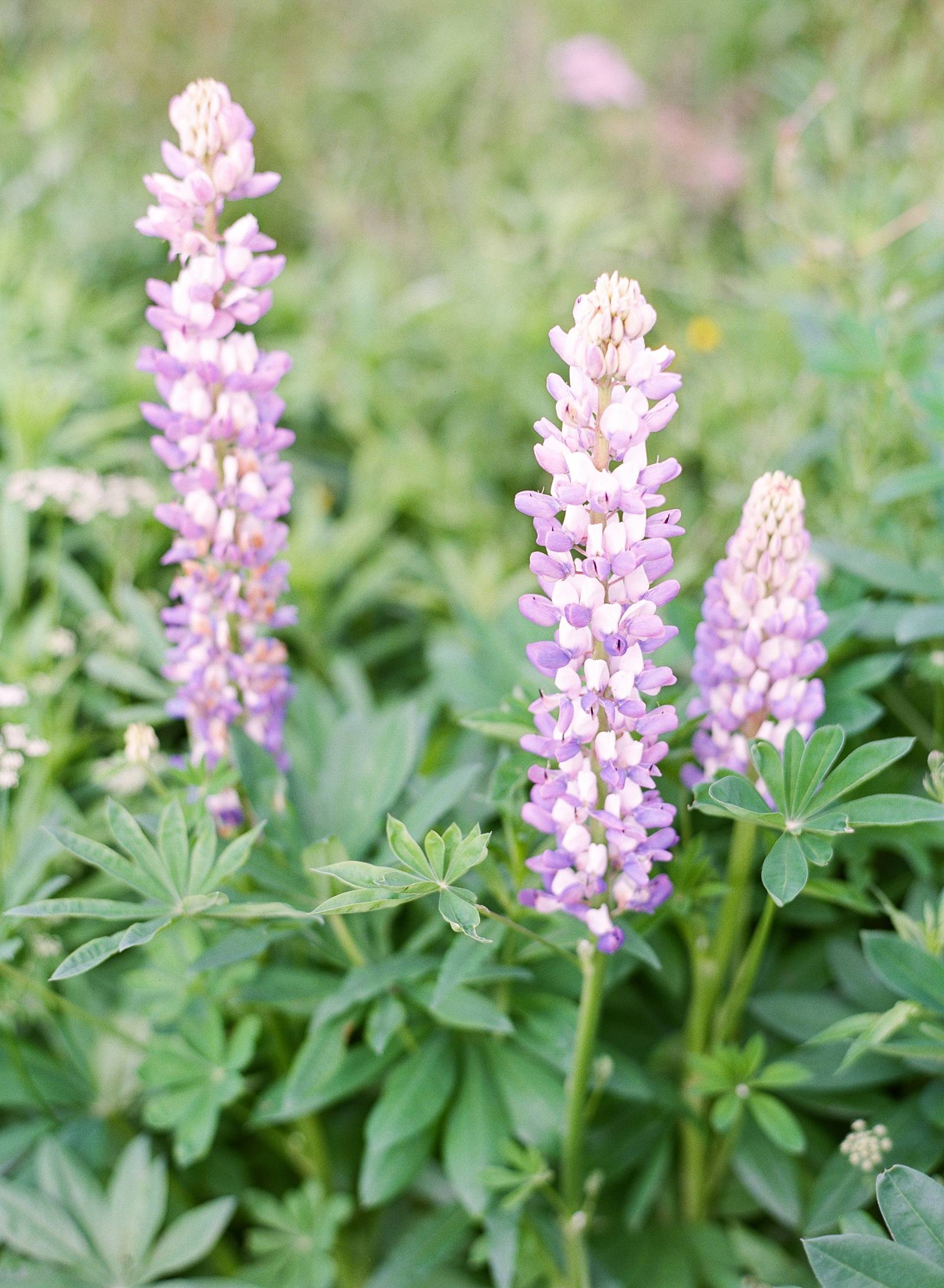 "Their ceremony was held in a gorgeous walled garden, framed by a gorgeous arch overflowing with blooms and greenery designed by the incredible BELLA BOTANICA. Kelly's brothers walked her down the aisle and they were married by Dara, a Celtic Monk, who wrote one of the most beautiful ceremonies I had ever heard. And, because we were in Ireland, we were graced with a little good-luck rain shower that added such a romance and intimacy to the moment. It was beautiful!
Just as quickly as the rain came it was gone, and in its place the most beautiful Irish sunshine! After their ceremony, the new Mr. and Mrs. Carr toasted their love with a glass of bubbly. Along with their guests, they headed back to the manor house for canapés and cocktails before the three of us snuck out to capture their wedding portraits in the garden.
As the sun set, they returned to their intimate dinner which was hosted in the beautiful and historic Lady Helen Dining Room. WATERLILY WEDDINGS & BELLA BOTANICA turned the space into a romantic, garden-inspired dreamland complete with lush blooms and countless candles illuminating their guests as they toasted the newlyweds. The long, lingering dinner was punctuated by some of the most heartfelt (and hilarious) speeches I have ever heard. Finally, the couple and their guests headed into the bar for live music and dancing until the wee hours of the morning."
From bride, Kelly: "Paddy and I first traveled to Ireland with Paddy's family shortly after first meeting. It is a trip I will always treasure both because it cemented my relationship with Paddy and introduced me to the people I now call family. When we got engaged it was clear that we need to return to the place where we first fell so deeply in love.
Our primary considerations in selecting a venue were choosing a place that captured the history and tradition of Ireland, showcased the beautiful countryside and fostered intimacy among our guests. A timeless manor house, tucked away in picturesque Thomastown (and just a short drive or train ride from nearby Dublin), Mount Juliet was an easy choice. The manor house and grounds were equipped with all the amenities we knew would make our friends and family comfortable, while still maintaining the Estate's traditional Georgian style. The staff were the consummate professionals to plan with and provided five-star service for our entire stay. Dez, Mount Juliet's head of guests services, acted as my and Paddy's personal chauffeur of the grounds and tour guide of the manor house. He had us laughing from the moment we arrived and completely put our minds at ease.
Michelle from WATERLILY WEDDINGS was an absolute gem and the experience wouldn't have been possible with out her. (I actually cried after we interviewed her.) She was indispensable in both curating our amazing Irish vendors and executing our perfect day. Michelle went above and beyond to help plan all the events surrounding our wedding, including a Guinness Storehouse Tour, welcome party at a local Dublin pub and a rehearsal dinner on the Estate grounds. All for 75 international guests. It all went flawlessly thanks to Michelle's diligent efforts. Mishy (who works for Michelle) helped us to create the vision for the day and really helped me personalise our wedding from across the pond. Mishy has both flawless taste and gave excellent advice on what to splurge and what to save on. My absolute favourite design choices were the florals, paper goods and tug macarons.
SHASTA BELL CALLIGRAPHY'S beautiful paper is exactly what I have always dreamed of. It set the tone of our wedding from the blind embossed save-the-dates to the hand calligraphed place cards. She perfectly captured the elegant, garden theme of our wedding in her personalised sketch of Mount Juliet. As you remember, it rained during our ceremony. Someone thoughtfully grabbed few of the rain-marked wedding programs and put them in our room. One is now framed in our house and will always be a treasured keepsake."
"BELLA BOTANICA was the best "splurge" item in my wedding planning process. I love her elegant, yet organic floral designs. She took my Instagram flower arch inspiration and created a ceremony site that took our breath away. I was so worried about not having a floral trial before the big day, but her taste is impeccable and it was better than I could ever have imagined.
The tug macarons were one of the small ways I tried to bring a little bit of my hometown to Ireland. The green tug boat, the unofficial symbol of my hometown, was hand-painted by Cupcakes and Counting, on white macarons left at each guest's place setting. I loved this little pop of Leland in our otherwise traditional Irish wedding.
MOLLY'S beautiful photography captured every moment and design choice perfectly. I will treasure our photos forever. Her aesthetic and the images she creates are without compare.
Above all, my favourite thing about our wedding was how personal and intimate the whole weekend was. From the heartfelt speeches from my brother, Joe Pendergast, and Paddy's friend, Will Murphy, during the ceremony to professional piano-man and close friend, Benan Avci, playing classic sing-a-longs late into the night and, yes, even the rain, we just felt overwhelmed with love. I wish I could relive every moment!"
A huge thank you to Paris wedding photographer MOLLY CARR for sharing this beautiful wedding with us. Molly creates timeless and evocative images that are known for their romantic feel and painterly-quality. If you're planning a destination wedding in Paris, be sure to check out this valued member of our VENDOR GUIDE HERE and you can also read our short interview with her here. Also see this Chic & modern Chateau wedding inspiration with a black gown.