Take one stunning black gown, an impeccable French château and some exquisite film photographer by Paris wedding photographer MOLLY CARR and you have a recipe for chic wedding perfection. This divine - and utterly chic - inspiration was designed by RACHAEL ELLEN EVENTS who also created the florals. Wedding invitation designer PLUME CALLIGRAPHY designed an elegant invitation suite on hand-torn black paper which really sets the tone for the overall chic vibe.
Molly tells us more about the shoot, "Unlike many châteaux in the Loire Valley, CHÂTEAU GRAND-LUCÉ has an undeniable Parisian air. Although it is in the country, there is a sense of chic modernity and romance that one experiences walking the streets of the city of light. This château is one of the only works untouched by the destruction of the French Revolution and remains to be a perfect example of neoclassical architecture.

This combination of chic Parisian sensibility and timeless French architecture inspired us to create a similar juxtaposition in our editorial. We wanted to create something that felt modern yet classic, chic yet romantic, and French yet forward thinking. Many designers are inspired by the vintage nature of the French countryside but I felt the juxtaposition of old paired with new to be undeniably inspiring.

For the colour palette, Rachael wanted to create a feeling of undeniable luxury while maintaining a sense of classicism. Black, gold, cream, and soft grey perfectly fit the bill. Aileen of PLUME created a stunning invitation suite with handmade paper and gold calligraphy. The strong colour palette gave just the right amount of chic modernism while the gold foil and textured edges evoked an old world sensibility. Vellum accents with wax seal details furthered the juxtapositional design. Our styling was once again paired by this mix of feelings - over the top Parisian pumps paired with antique French texts.

Our beautiful bride wore a stunning black ostrich feather gown. This colour choice created a fashion statement - which we are seeing more and more brides lean towards. Brides don't have to be bridal - they can opt for an iconic fashion moment instead - especially when getting married in the most fashionable country in the world. Our groom wore a velvet black tux - the perfect combination of French luxury and modern sensibility. Her sleek hair and classic makeup proved to be the perfect combination for this look.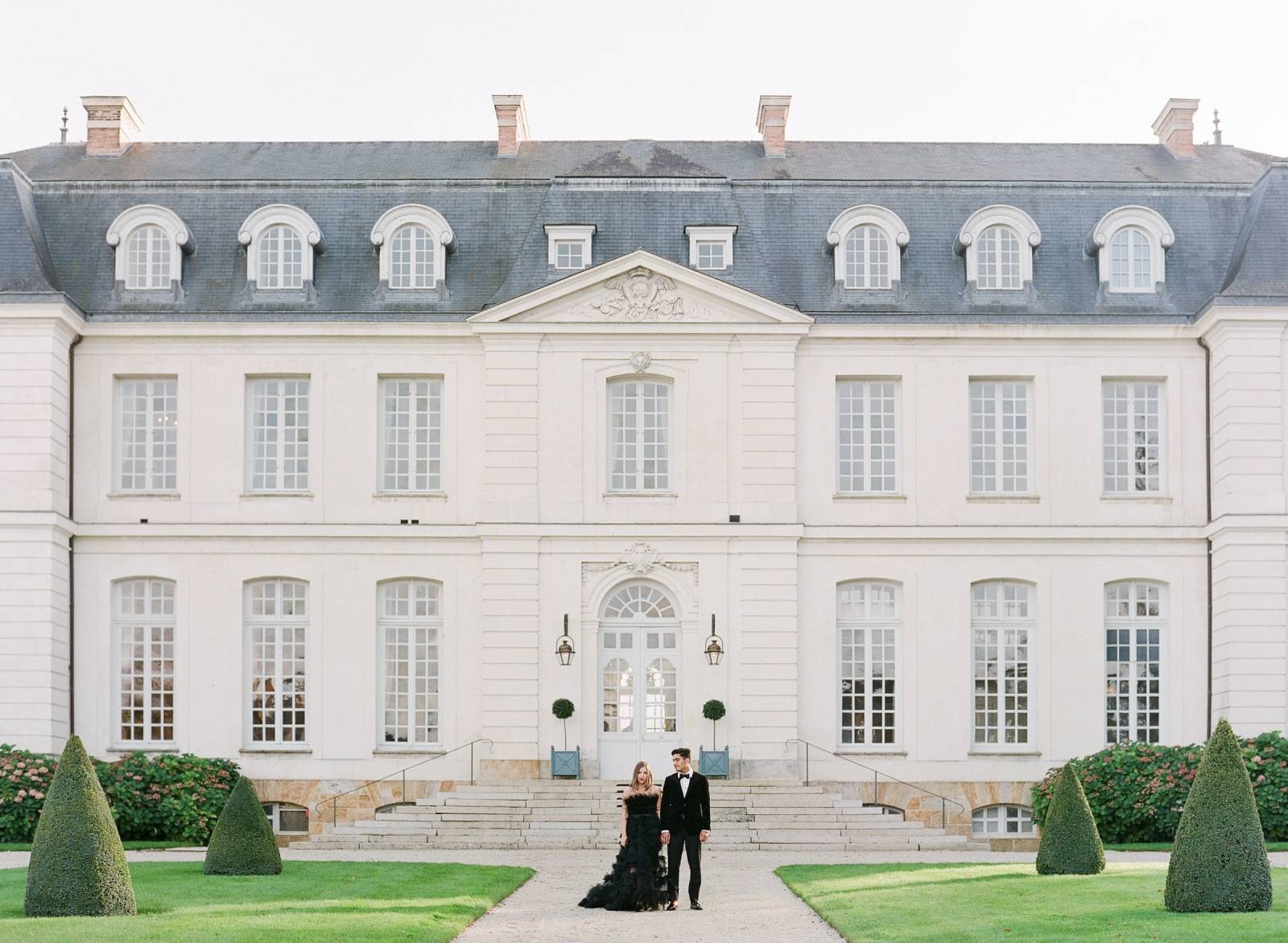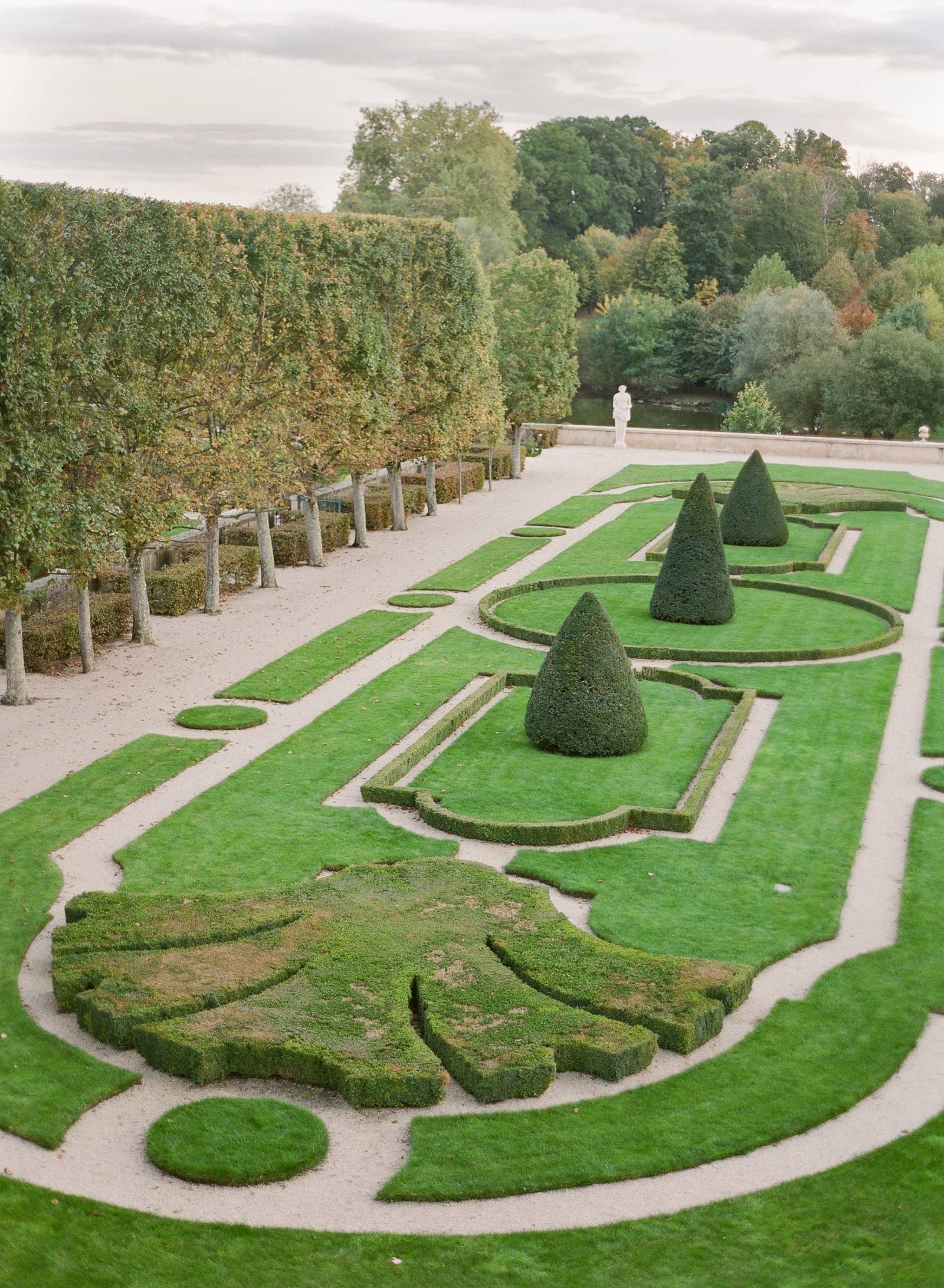 "The tablescape was inspired again, but the combination of modern and antique. Rachael wanted it to feel Parisian yet fresh. She opted for the soft grey tones of a Parisian sky - greys, blues, neutrals, and a touch of black. The florals were monochrome and featured a mix of modern and classic elements. Dried lunaria balanced the traditional white roses while the organic nature allowed the look to have an air of romance. A mix of ivory and grey taper candles created a modern look while the antique china and brass candle holders anchored the design back to the antiquity of the château. Modern flatware and chairs juxtaposed the background of the classic french chateau architecture.

Overall, Rachael's inspiration for this design was for the bride who adores French romanticism but is naturally drawn to a more modern, chic aesthetic. The French countryside doesn't have to mean vintage or antique - take a fresh spin on the countryside sensibility that seems so obvious - bring a touch of bold Parisian fashion to the Loire Valley for an unforgettable french wedding celebration."
A huge thank you to Paris wedding photographer MOLLY CARR for sharing this stunning inspiration with us. Molly creates timeless and evocative images that are known for their romantic feel and painterly-quality. If you're planning a destination wedding in Paris, be sure to check out this valued member of our VENDOR GUIDE HERE and you can also read our short interview with her here. Also see this Sophisticated Santorini pre-wedding photo shoot.
Wedding invitation designer PLUME CALLIGRAPHY creates handwritten, organic and unique designs inspired by beautiful papers, soft neutral palettes and handmade materials. Trained as a graphic artist, Aileen combines calligraphic techniques and graphic design tools to create wedding stationery and brand stories that are beautifully special and unique. "We offer calligraphy services for invitations, logos, monograms, illustration, envelope addressing, seating charts, menus, and place cards." If you're looking for beautiful wedding stationery check out more of her portfolio in our vendor guide.