With a style that evolved throughout the wedding planning stage, it was ultimately the venue that inspired Rachel & Allen's wedding style. "At first, I wanted an outdoor, barn-like venue. However, as we searched, we were pulled in more of a elegant vineyard or garden direction. With ALTADENA TOWN AND COUNTRY CLUB, we were able to settle on a bit of both, and the vibe was equally traditional and modern."
Southern California wedding photographer CZAR GOSS captured their beautiful day which was in colours of gold and green to represent their family surnames (with their literal meanings of yellow and leaf). "From the invitation suite to the stunning verdant florals with pops of yellow, orange, and blush, to our table decor, to our bridal party's attire, it all illustrated the joining of our families. To keep things intimate, our officiant was a close friend who had helped Allen with the proposal and ring. We chose to write our own vows, and during the reception speeches, our parents joined our maid of honour and best man in giving a few toasts.
We wanted all our friends and family to have fun, feel special, and for the day to be as intimate and meaningful as possible, and all the details just flowed from that. To keep the fun going, we had an open bar all night, danced to 90s throwback jams, and there was an ice cream sundae bar in addition to wedding cake for dessert."
HOW DID YOU MEET? We met online, and got engaged on our 6th anniversary. Allen gifted me a photo album of all our adventures throughout the years, and I was so touched that he had taken the time to put it together that I was completely surprised when I got to the last page which asked me to marry him, and I looked up to see him holding a ring box.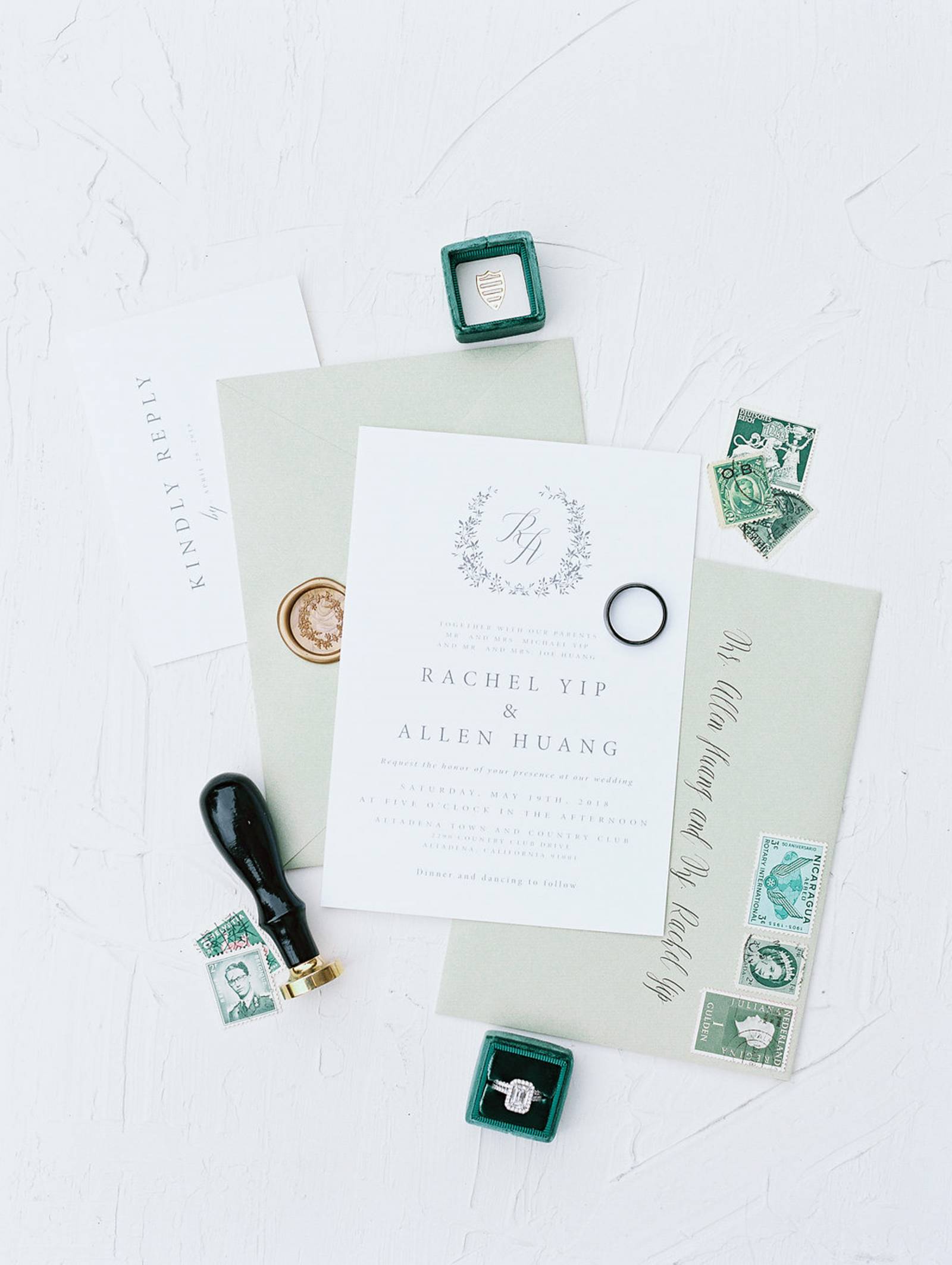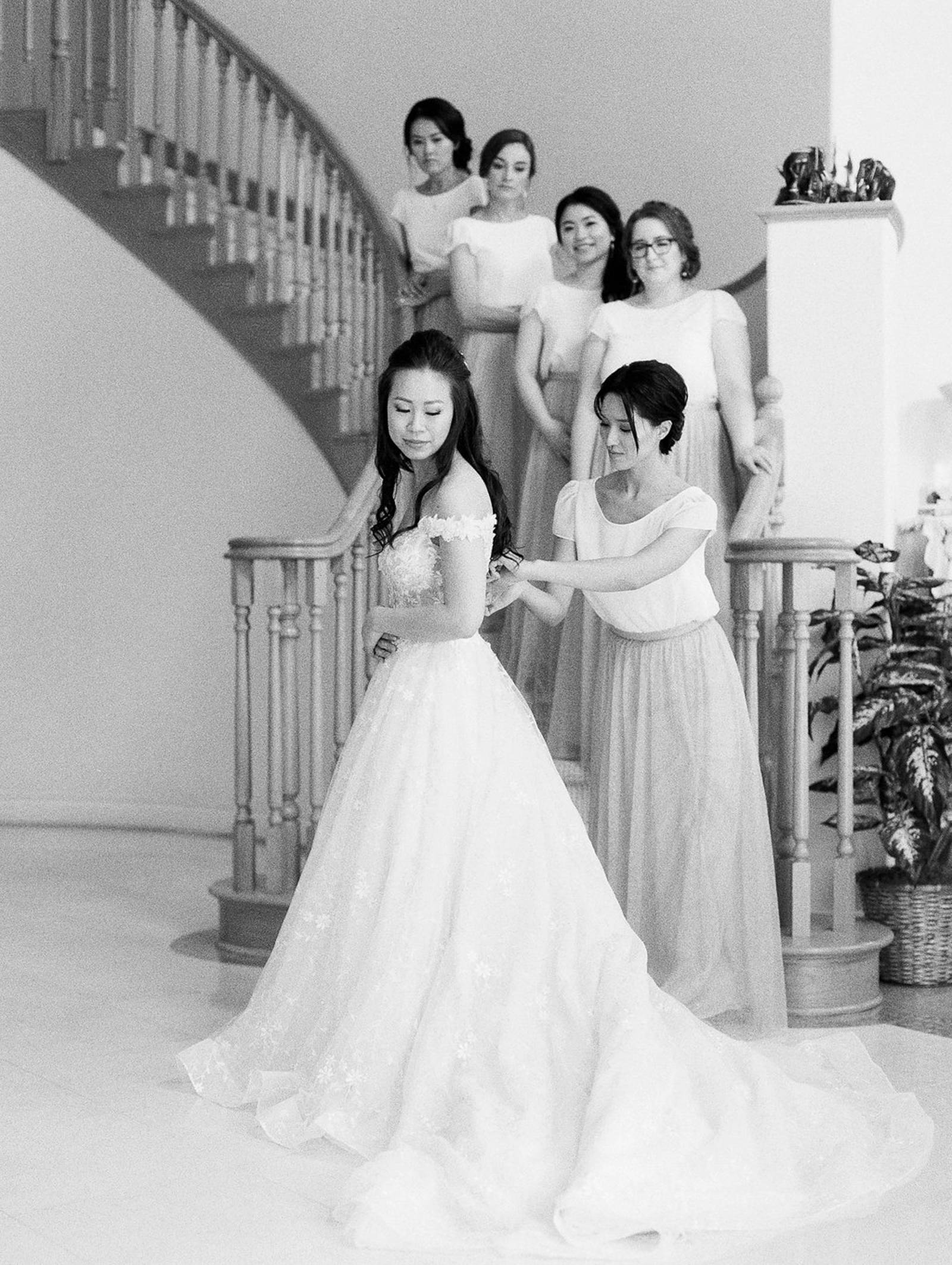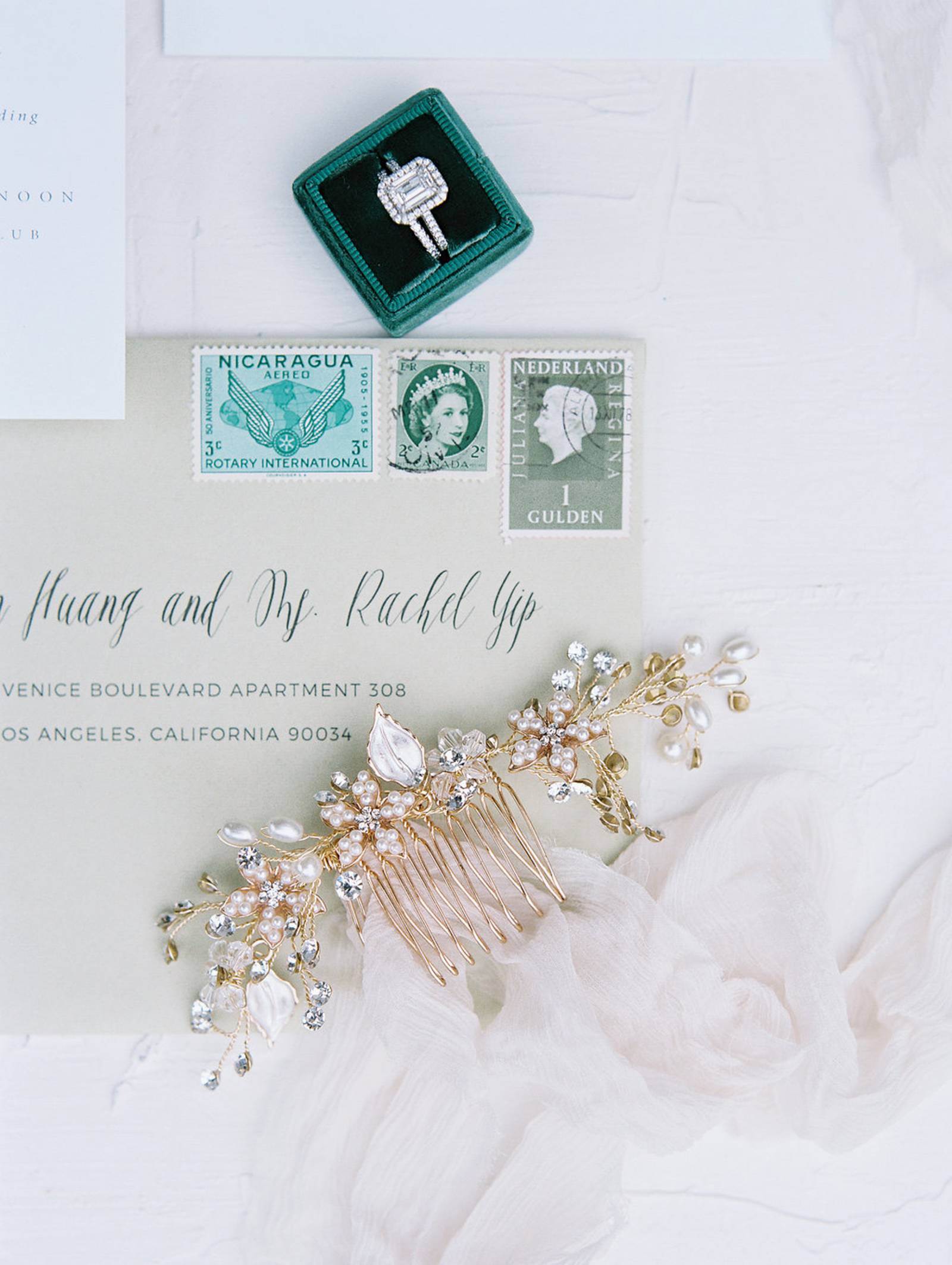 TELL US ABOUT FINDING YOUR WEDDING DRESS: Bride attire: Shopping for my wedding dress was one of my favourite parts of the wedding planning process, and I somehow ended up choosing three dresses. For the ceremony and first dance, I wore an off-the-shoulder ballgown with embellished floral appliqués completed with a cathedral length veil. For the father daughter dance, I wanted to pay homage to our culture, and changed into a traditional Chinese red silk qipao with gold embroidered phoenixes and dragons. I accessorised my hair by adding the same red flowers that my mother wore at her wedding. My last dress, aka my "party dress," was a strappy, tulle number. I wore a cap sleeve lace topper over it, which I removed for the dancing portion of the evening. I loved all my dresses, but the qipao was my favourite for how comfortable it was (and Allen's too).
DID YOU HAVE ANY DIY ELEMENTS? We had a few DIY details, but my favourite was the Chinese calligraphed artwork one of my bridesmaids' mothers was so kind to hand draw and paint for us. It featured the characters of our surnames with green leaves and yellow chrysanthemums blooming in the background, literally and figuratively symbolising our union.
DESCRIBE YOUR WEDDING FLOWERS: We got so many compliments on our wedding flowers! Our florist used peonies, ranunculus, garden roses, hellebore, spray roses, spirea, and sweet pea to create a wild and overgrown, yet sweet and refined look. Our bouquets were mixed with sprigs of twigs and leaves, and shocks of orange, yellow, and light peach roses broke up the overall white and green palette. We decided on high and low centerpieces for each table, and we had a stunning long floral tablescape at our head table that was propped up by clear stands to produce a floating effect. The pergola and fireplace mantle were also adorned with burgeoning florals. I wanted our reception to feel lush, almost like a garden, and our florist certainly achieved that.
FAVOURITE DETAIL OF THE DAY: We had a few DIY details, but my favourite was the Chinese calligraphed artwork one of my bridesmaids' mothers was so kind to hand draw and paint for us. It featured the characters of our surnames with green leaves and yellow chrysanthemums blooming in the background, literally and figuratively symbolising our union.
WHAT ADVICE WOULD YOU GIVE OUT TO A COUPLE PLANNING THEIR WEDDING? Make decisions quickly, and move on and don't question them. This is easier said than done considering the cost of a wedding, but it would've saved me a lot of stress and time. It's too easy to get lost in striving for perfection.
Speaking of stress, two words: cake tastings. And don't forget to eat your wedding cake on your wedding day! The last month before the wedding is the busiest when all the vendors are being finalised, and splitting tasks kept us sane.
MOST MEMORABLE MOMENT? So hard to name one! Honestly, it wasn't a moment so much as having all our friends and family come together to celebrate and shower us in their love and support. Also, seeing our parents so happy. The entire day was wonderful. All the details came together perfectly, and it was surreal being surrounded by all of our loved ones. Although my grandfather had passed away a month before our wedding, we wanted to honour and include him in spirit in every way possible. In addition to reserving a seat for him at the ceremony and reception, we celebrated him with a red wine toast instead of a champagne toast (he was a red wine aficionado).
ANY OTHER DETAILS THAT HELP TELL THE STORY OF YOUR DAY? I wanted my bridesmaids to feel amazing and be comfortable on the big day, and I looked at countless bridesmaid dresses for a look that would fit with the above, the theme, and also be affordable. I eventually settled on separates: gold tulle skirts, and ivory flutter cap sleeve tops with a plunging V in the back. They all looked elegant and beautiful, and the separates are timeless pieces they'll be able to wear again and again.
TELL US A LITTLE ABOUT YOUR HONEYMOON: We decided to just GO for it and honeymooned in the Maldives. It was tough to get to (we had a 16 hour flight, 7 hour layover, another 4 hour flight, followed by a 45 min speedboat ride for each leg), and after all that travel we felt we had to make the most of it and spent our entire two weeks there. We stayed in one of those over the water huts that had a ladder leading down into the ocean so it was like having our own private ocean. The island we stayed on was fairly quiet, so the entire experience was intimate and super relaxing - all we did was eat, swim, snorkel, relax. And we came back unrecognisably tan!
A huge thanks to Southern California wedding photographer CZAR GOSS for sharing this delightful wedding with us today. Czar's passion and talent for photography have taken him to destinations around the world. Capturing the quiet moments, the lively moments, and everything in between is what draws Czar to wedding photography; the communication that takes place with the look of an eye or the caress of a hand, the power of the written and spoken word, the locations and details that couples carefully curate as part of their wedding day. It's all captured artistically and with meticulous intent. You can see more work from this Southern California wedding photographer in our vendor guide.
Check out this Stylish California wedding with a touch of glamour that he captured.