Self-described as sentimental and nostalgic, gorgeous bride Lindsay wanted her wedding to Scott to have a very romantic, ethereal feel – like a fairytale daydream. Texas wedding venue THE WHITE SPARROW BARN was the perfect spot to give them an enchanting wedding, beautifully captured here by North Carolina wedding photographer MADELINE TRENT. Working with wedding planner MARISSA LOTHSCHUTZ, the couple had to deal with their wedding being rescheduled from April to June due to Covid-19.
With Scott living in San Francisco and Lindsay living in Dallas, Texas, the couple weren't able to see each other for the entire quarantine, so it was very important to them to have a setting of total romance on their wedding day. Using a soft floral inspired colour palette, and several meaningful details, MARISSA created an intimate and heartfelt experience for all their guests. After a tear filled first look under the oak trees, Lindsay gifted each of her bridesmaids with a hand lettered acrylic "tag" for each of their bouquets, which had one word that described a quality she loved about them - kind, true, present, faithful, and loyal. One of the first wedding ceremonies in "Sparrow's Landing", Lindsay's florist JUBILEE FLOWER CO. created a romantic secret garden feeling for guests by lining the aisle with floral arrangements and creating a unique planted installation at the altar.
The groom's tears set the tone for an emotional ceremony as the bride walked down the aisle with her father in a custom MARTINA LIANA gown and cathedral length veil. Lindsay's brother custom made Scott's wedding ring using each of their grandfather's wedding bands and sandblasting the metal with grains of sand from their recent trip to the Hawaiian island of Kauai. One of the show stopping details was the incredible multi-tiered "growing" cake table display by BUTTERFLY CAKERY of six separate wedding cakes by the staircase. Lindsay and Scott wanted their guests to enjoy several flavours of cake, but wanted to maintain the same simple colour consistency and romantic feeling for each cake.
HOW DID YOU MEET? We met through a mutual friend in 2011. We were instantly attracted to each other, but our lives were moving in two different directions. We stayed in contact throughout the years until Scott told me in 2018 (out of the blue) that he wanted to marry me. I was shocked, but we started dating long-distance.
TELL US ABOUT YOUR PROPOSAL: Our timing has never been great. Scott proposed three times without a ring, and I didn't take them very seriously. When he finally did ask me with a ring, we were in our pj's looking at old photos and snuggling with my golden retriever. It was very low-key.
TELL US ABOUT FINDING YOUR WEDDING DRESS: Honestly? I hated dress shopping, and I put it off as long as I could. I had my mom, mother-in-law, and matron of honour all fly in town to help me find the dress. All of my high school friends got their dresses from the same bridal shop, so I knew I wanted to shop there to continue the tradition. I love that we're all connected in that way! I didn't find one that I just loved, so I pieced together elements from three different Martina Liana dresses to make a custom dress that was more me.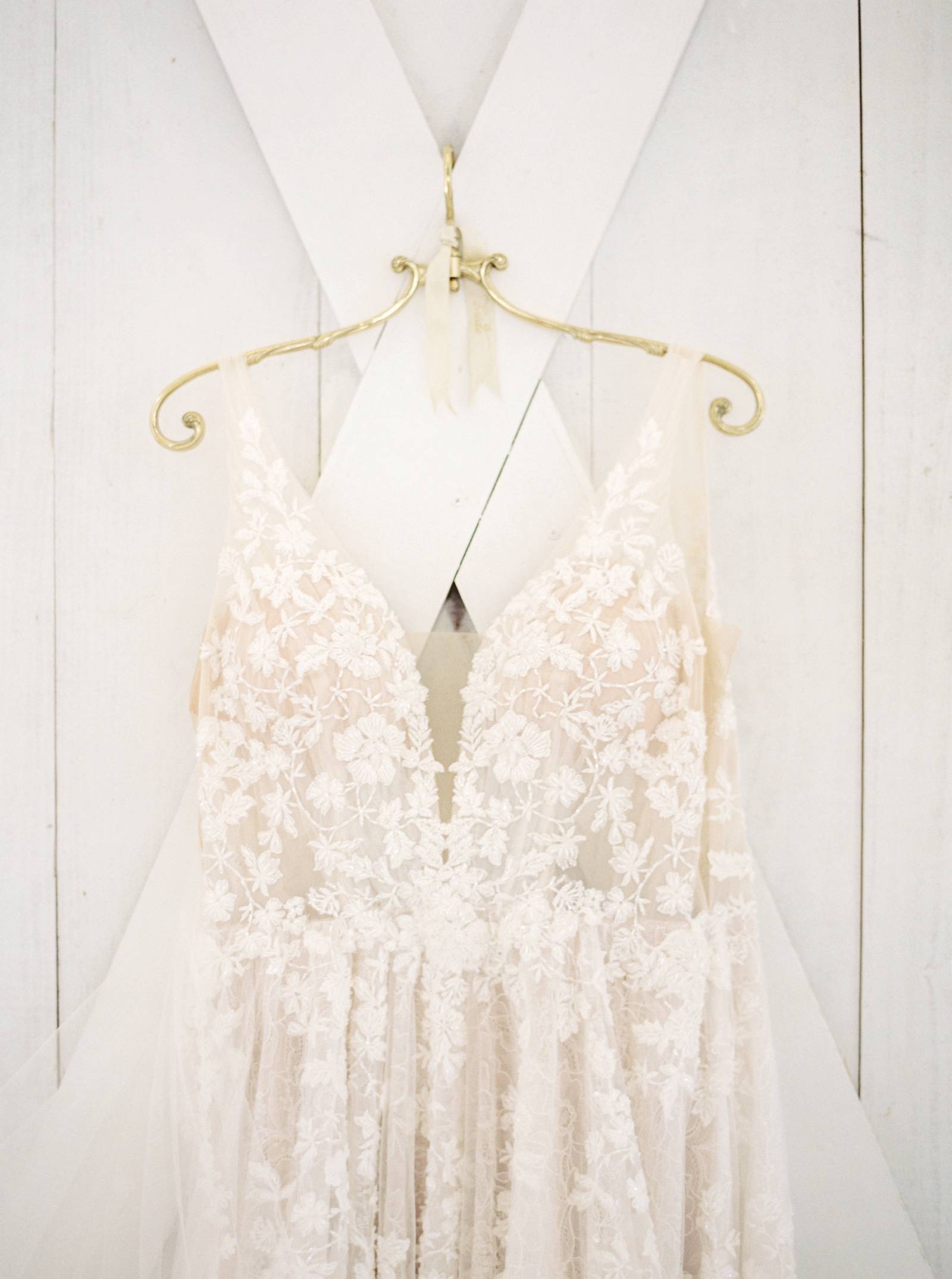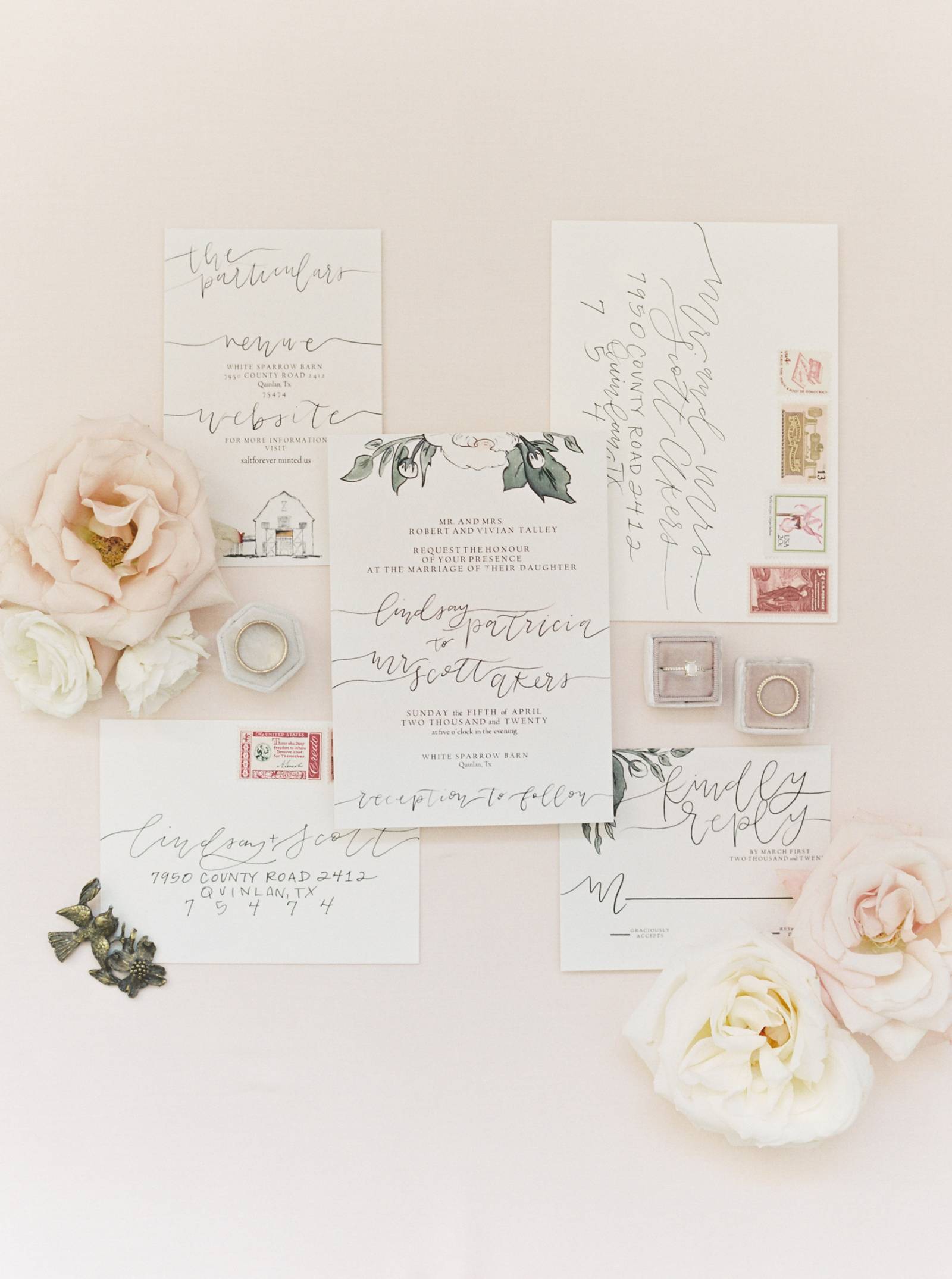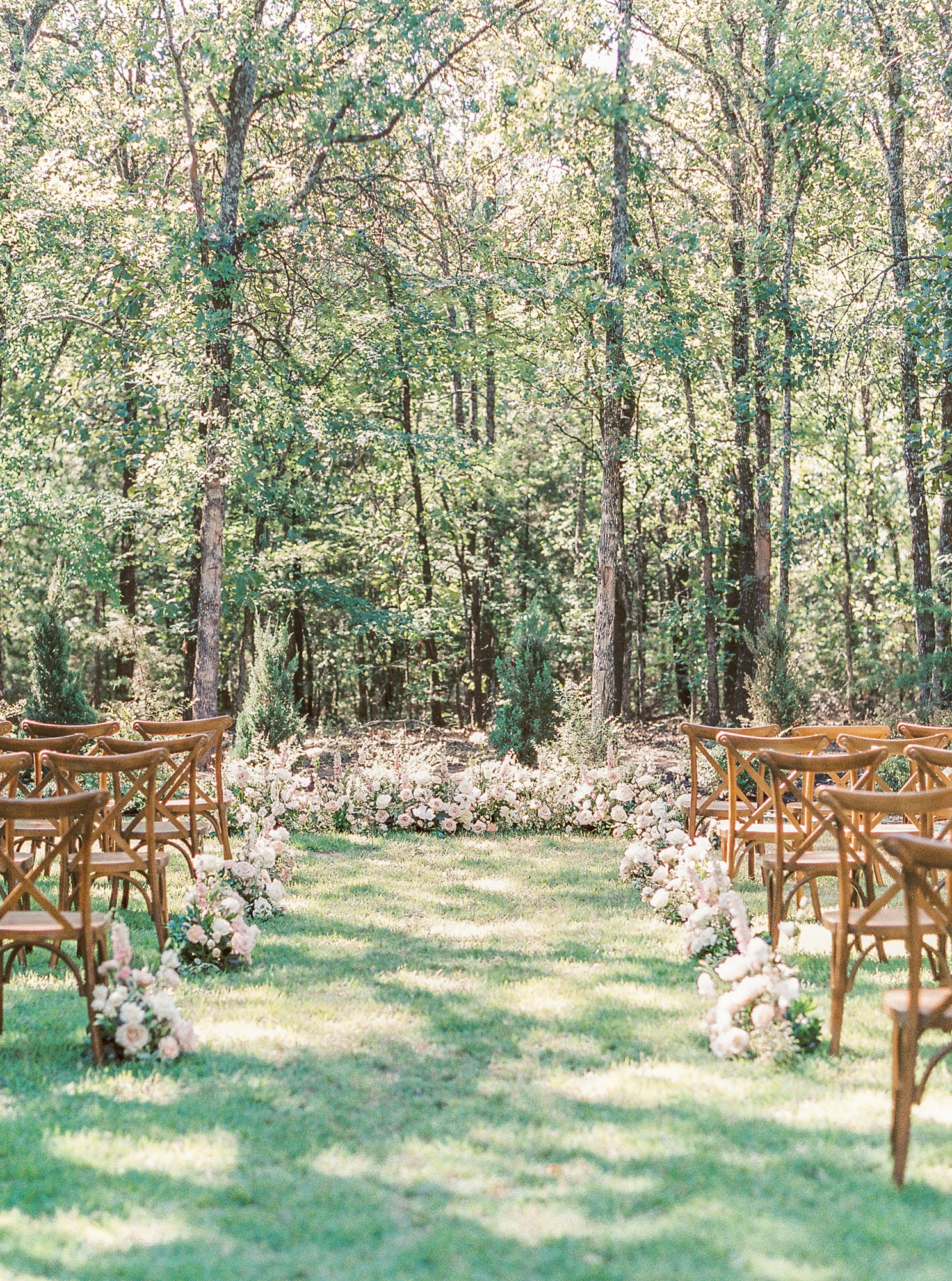 DID YOU HAVE ANY DIY ELEMENTS? My mom and I made the paper flowers that hung behind the bar. One of my bridesmaids made our ring bearer's banner. Because of COVID, we had to postpone our wedding. Some of our signage from the calligrapher had the wrong date, so I worked the night before the wedding to copy our calligrapher's beautiful script and change our signage! Thankfully, I love hand-lettering! Probably my favourite custom DIY element was that my brother is a jeweller and made Scott's wedding band. He melded together my grandmother's and Scott's great-grandmother's wedding bands and cast the gold in sand that Scott and I gathered from a trip to Kauai. The new wedding band is such a beautiful symbol of the loving families that both of us come from as well as the transformation of two becoming one.
DESCRIBE YOUR WEDDING FLOWERS: Our flowers were a mix of soft pinks, ivories, and greenery. My dad is a big gardener, and I grew up with a yard full of roses. I wanted to make sure to include a lot of roses to pay tribute to my father in addition to making sure there were ranunculus and peonies, which are my two favourite flowers!

FAVOURITE DETAIL OF THE DAY: I loved how the whole day just came together and all the details that I had planned for created the garden fairytale that I had envisioned our wedding to be. It was really fun to throw pops of our personality into the details too. Scott is a huge Star Wars fan and I love dinosaurs and Jurassic Park, so our cake toppers were Han Solo and Ellie Sattler. Throughout the wedding planning process, I became friends with the calligrapher. It was really meaningful for me to see her touch on so many pieces of our wedding. I gave my bridesmaids tags for their bouquets with words that described who each of them was to me. Even though guests might not have seen the tags, it was a very special moment that we shared together in the bridal suite that morning. We all cried as I got to explain how I experienced their friendship.
WHAT ADVICE WOULD YOU GIVE OUT TO A COUPLE PLANNING THEIR WEDDING? Be patient with each other. The wedding is such a fun day, but it's the first day of your new life as a married couple. I'm glad that Scott and I worked on our relationship while working on wedding planning.
MOST MEMORABLE MOMENT? My dad was extremely nervous leading up to the wedding. When we began our walk down the aisle, we shared a private moment where he gave me a math problem to solve (like he would do when we would walk together when I was a kid). It helped calm both of our nerves to reflect back on all of the walks we had taken together.
WHAT ASPECT OF THE WEDDING WAS THE MOST IMPORTANT TO YOU BOTH? The ceremony. We definitely wanted a beautiful wedding (and I think we definitely achieved a beautiful wedding), but what was most important to us both was to get married. After 9 years of friendship and dating (all long-distance) and a 2 month postponement of the wedding due to the pandemic, Scott and I were just excited to start our lives together.
ANY OTHER DETAILS THAT HELP TELL THE STORY OF YOUR DAY? There were a couple of small details that didn't go the way that we had planned. On the day of, I was glowing with excitement though and it was easy to let the little mistakes go. I was focused on the beauty of the day and that I got to marry the man of my dreams surrounded by so many people who loved us deeply.
TELL US A LITTLE ABOUT YOUR HONEYMOON: We had to postpone our honeymoon due to COVID. We're hoping to go at the end of this year because our trip is planned and paid for! We spent the first few days after the wedding trekking out from Texas to California with our two golden retrievers (one of which was a 9 week old puppy!).
IS THERE ANYTHING YOU WOULD CHANGE OR DO DIFFERENTLY? I don't think so. I had such an amazing team of vendors! Hiring Marissa to take wedding planning over one month before the big day was such a blessing of relief! She took over and coordinated with all the vendors to get the day to run smoothly. Our photographer went above and beyond by helping us come up with our day-of timeline to helping me think through my vision and what details would bring my dream to reality.
A big thanks to North Carolina wedding photographer MADELINE TRENT for sharing this stunning wedding with us. Based near Asheville, North Carolina her photography is romantic, joyful, and timeless, with an editorial style that is full of beautiful light and natural emotion. She specialises in romantic, whimsical, elegant weddings around the world. Check out more of her portfolio here and be sure to hop over to see this Romantic & delicately organic wedding inspiration at Bloomsbury Farm.
Texas wedding venue THE WHITE SPARROW BARN is a valued member of our vendor guide. Not too far from the DFW metroplex is one of the best venues in the country. The white barn's rustic charm is breathtaking in its idyllic natural setting amidst impressive oaks and lush gardens. This vintage Dallas wedding venue is a charming gem tucked away in the natural landscape of Union Valley. Just a 40 minute drive from downtown Dallas will transport you from urban hubbub to countryside getaway. This makes the barn an ideal Dallas wedding venue, without the hectic wedding coordination found in the city. Check out this Winter wedding in Texas with pops of pomegranate red held there.