We're on a bit of a colour run this week with some fun vibrant inspiration. This elopement shoot by Portland wedding photographer RT FAITH PHOTOGRAPHY takes place in Scappoose, Oregon at OREGON TAILS and is filled with vast and stunning landscapes. This perfectly styled elopement will appeal to the free-spirited couple looking to create a charming micro-wedding in Oregon's countryside.
Inspired by the natural beauty of Oregon itself, this creative team wanted to showcase the vast charms of the area. The ranch featured a contemporary barn, picturesque fields lined with lush walnut trees, and a steely yet tranquil lake. Industry talents from Portland and beyond came together to make this elopement the perfect summertime celebration between close friends and family.
The day started off slow on the ranch. The bride completed her hair and make-up then enjoyed a cup of coffee and watched adoringly as our groom brushed and ready his half-wild Oregon mustang, Merlin. As the ceremony approached, the couple began their ceremony dress preparation. The bride wore an elegant yet simple GRACE & IVORY low back dress, made of white chiffon and adorned with delicate lace. Vibrant summer blooms by BLUE FLORAL COMPANY framed the couple's canoe and added just the right touch of romance to the natural surroundings. The groom's attire with leather suspenders and dapper cowboy hat provided the perfect balance to the femininity of the setting.
The cheerful lounge area was set to encourage guests to nestle in and enjoy the lush countryside while sipping their drinks. Meanwhile, the bride slipped into her reception dress - a sexy teal and dark green ombré number. As guests prepare to gather for dinner under the inviting walnut trees our couple took some time for themselves exploring the ranch's natural grounds along with their majestic companion, Merlin.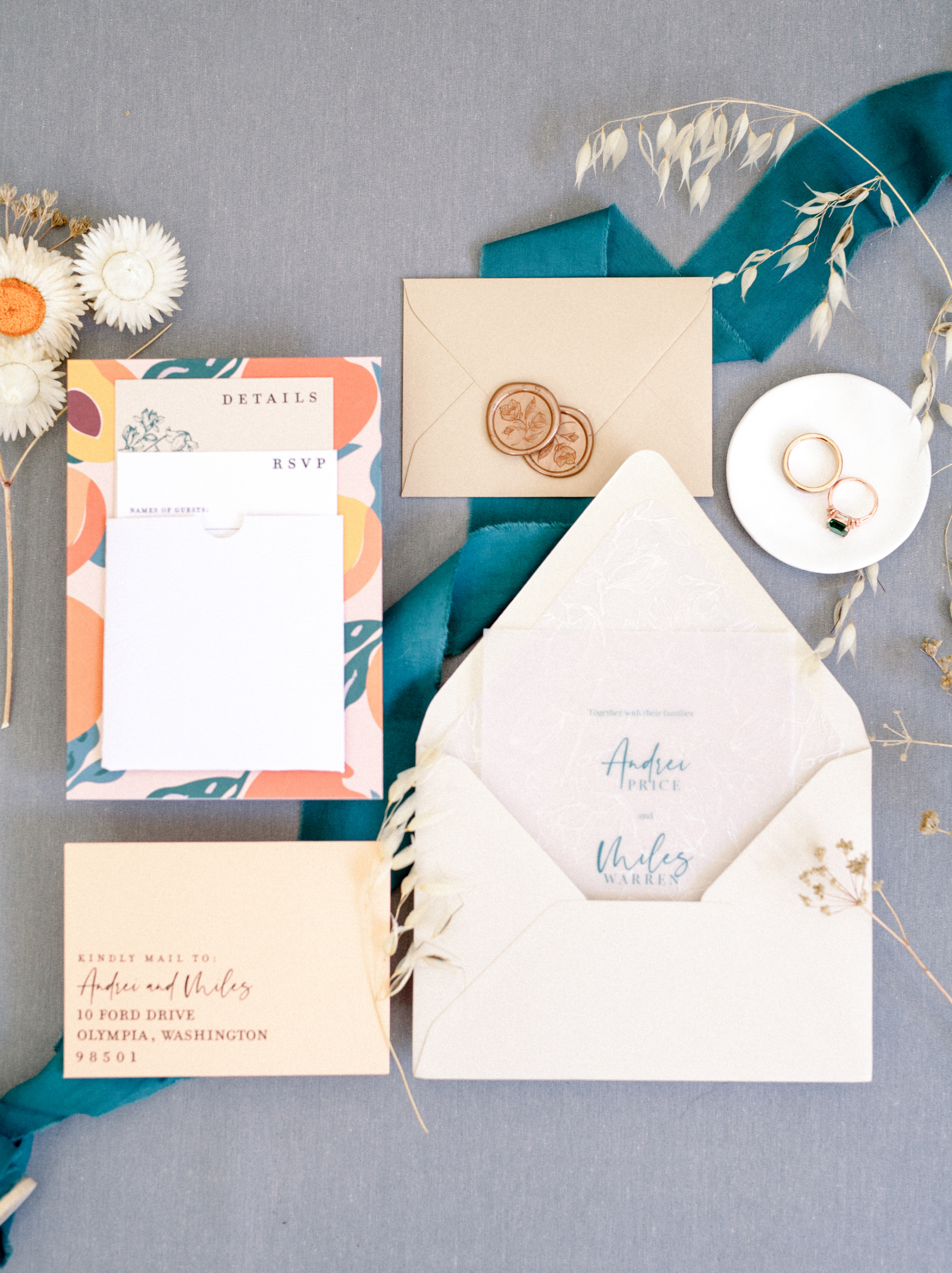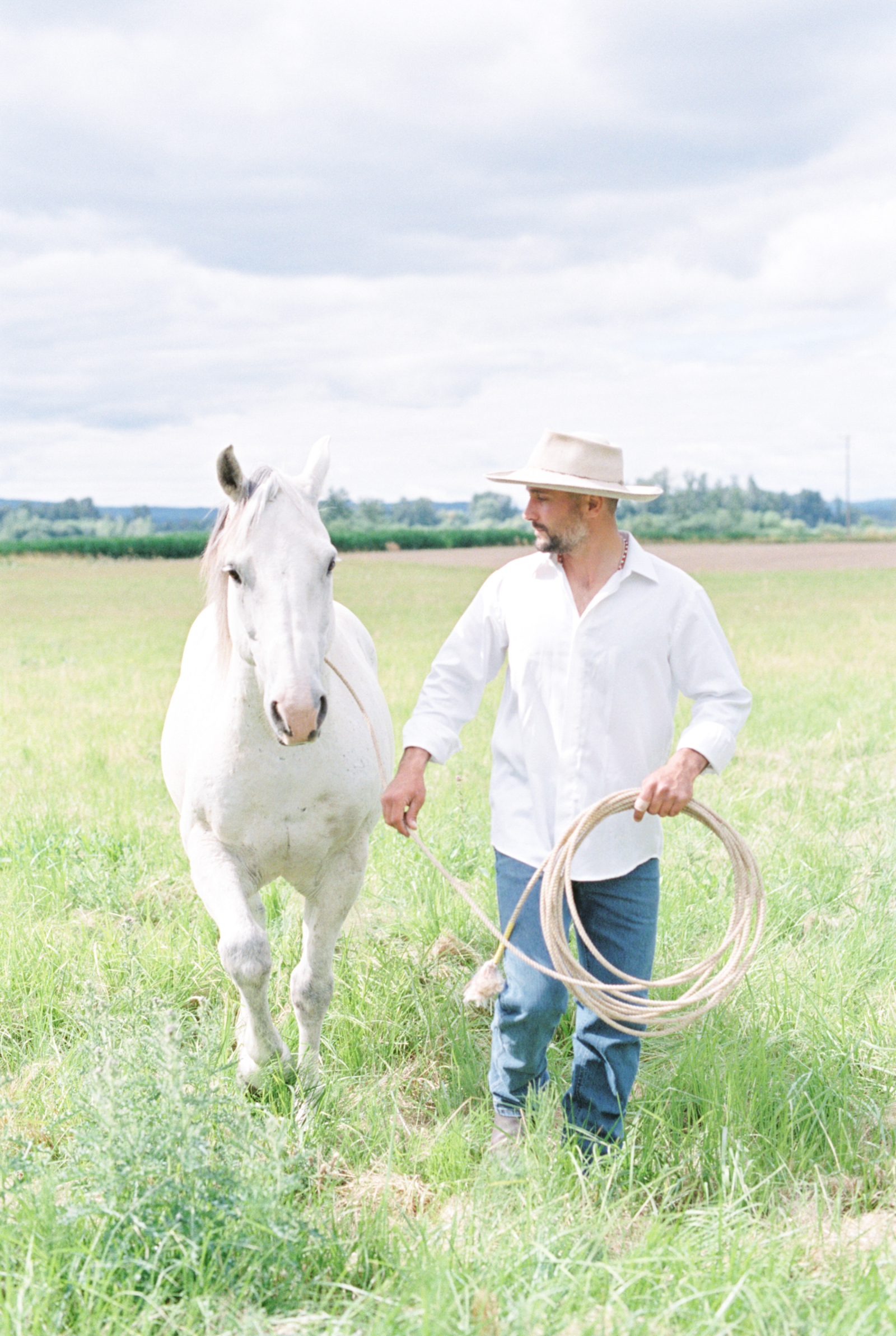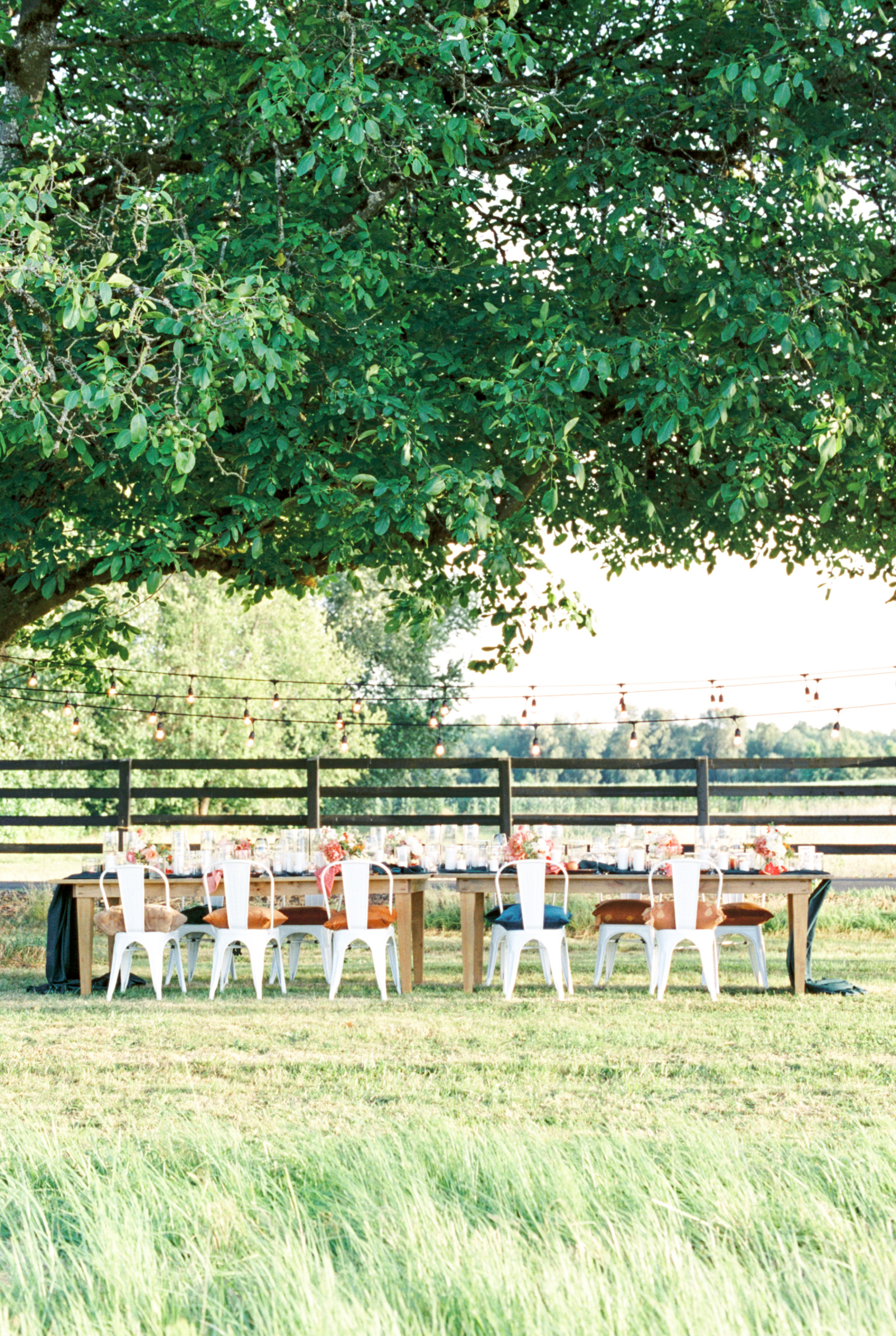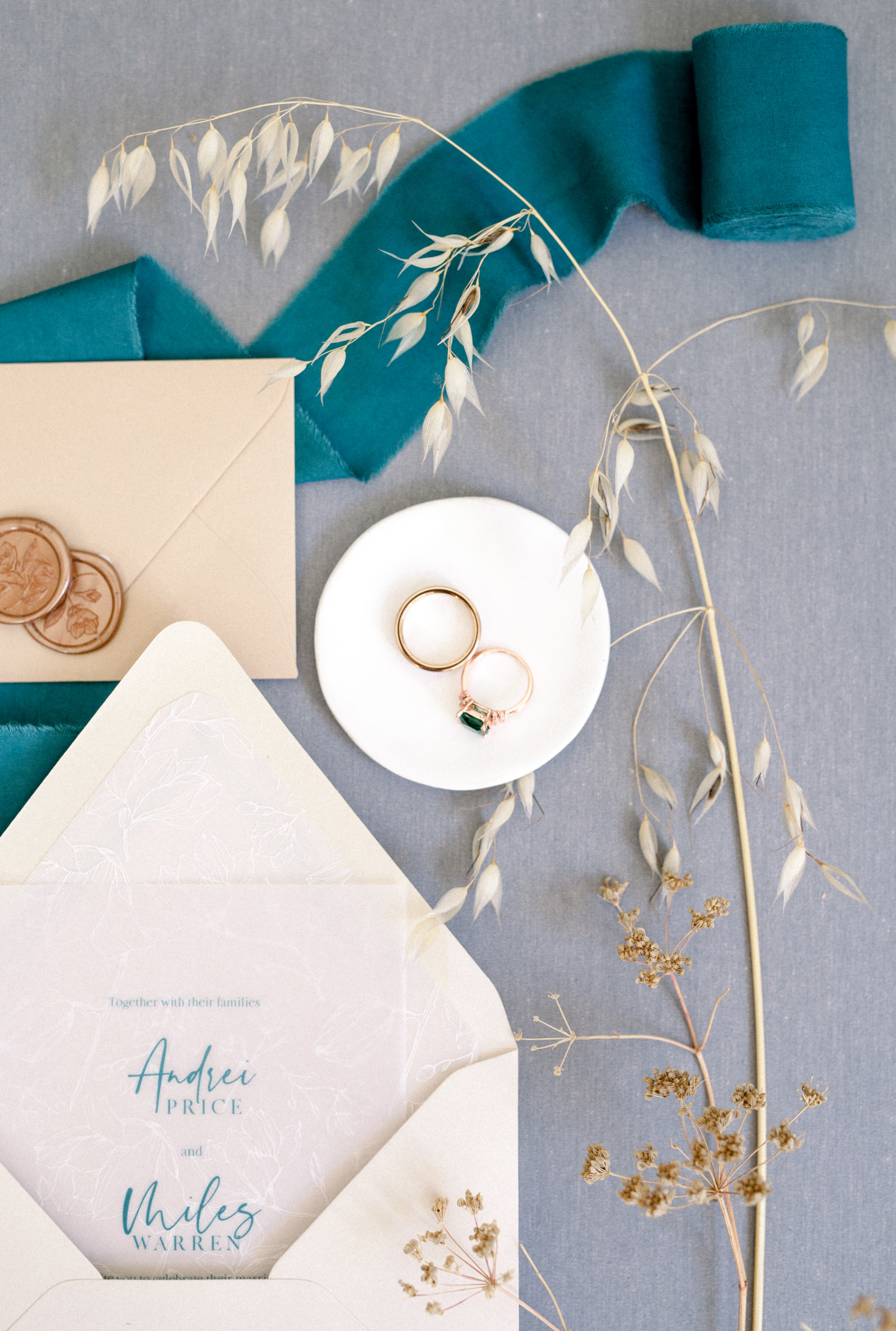 The dinner table was placed between the dappled trees creating a space of its own and incorporated sweet summer peaches and coral florals, whilst highlighting each striking walnut tree branch organically with modern floral clusters cascading down the trunk. BLUE FLORAL COMPANY brought warmth and light to the nighttime festivities by flooding the table with candlelight and floral pops down the centre finished by cafe lighting overhead. INDIGO EVENT DESIGN chose warm copper flat-wear, hand-dyed linen napkins in ever so slightly different shades of peach and orange. These warm tones were perfectly contrasted with the cool tones of the overflowing emerald table runner. Wood carved menus, warm blankets, and copper calligraphy on sweet peach leaves were perfect touches to this vibrant romantic ranch elopement.
Guests enjoyed handcrafted charcuterie boards, a custom dinner menu, sweet peach pies, and delicious cake under the summer stars, surrounded by the inviting, peaceful, and joyful atmosphere of the quaint ranch in Oregon's countryside.
Weddings in 2021 maybe quite different from what it used to be. This feature is a perfect example of the endless possibilities to create a beautiful wedding on a micro level. An inspirational elopement for planning couples seeking an outdoor romantic summer wedding filled with bold colours and realistic niceties from nature.
A big thank you to Portland wedding photographer RT FAITH PHOTOGRAPHY for sharing this fun colourful inspiration with us. Rithy is a published fine art wedding and adventure elopement photographer whose work pulls from the environment around her, creating timeless imagery on film, filled with genuine fun and romance. Her joy and passion for helping other has not only lead to lasting relationship with her clients, but with creatives in the wedding industry. Check out more of her portfolio here.