Katrina & James were after a quintessential California location for their wedding. Taking advantage of the warm summer nights in California they landed on a private villa in Malibu which had a beautiful outdoor setting overlooking the ocean, offering a breathtaking backdrop for both local and out-of-town guests. Southern California wedding photographer LE VIE PHOTOGRAPHY
Building on the natural beauty of the venue's lush garden, they incorporated a rustic style along with their favourite colours into the day. "We also love the effect of strategic light sources, so introduced a mix of string lights, wrap and up-lighting on trees and a custom neon sign."
WHY DID YOU CHOOSE THIS LOCATION? We wanted our wedding to be in a quintessential California location. We also wanted to take advantage of summer in California with the warm summer nights! So we found an outdoor setting that overlooked the ocean to create a breathtaking backdrop for local and out-of-town guests.
HOW DID YOU MEET? We met through good married friends of ours, Tucker and Ali Kain. James and Tucker grew up together in Ohio, were close friends in New York City and then moved to Los Angeles within a year of one another. Ali and Katrina had met working together in New York City, before reconnecting in Los Angeles. Tucker and Ali each had friends over one night at their home in Brentwood and that's when we first met. Their role didn't stop there, as Tucker was one of James' groomsmen, Ali was our florist, and their daughter Palmer was one of our flower girls.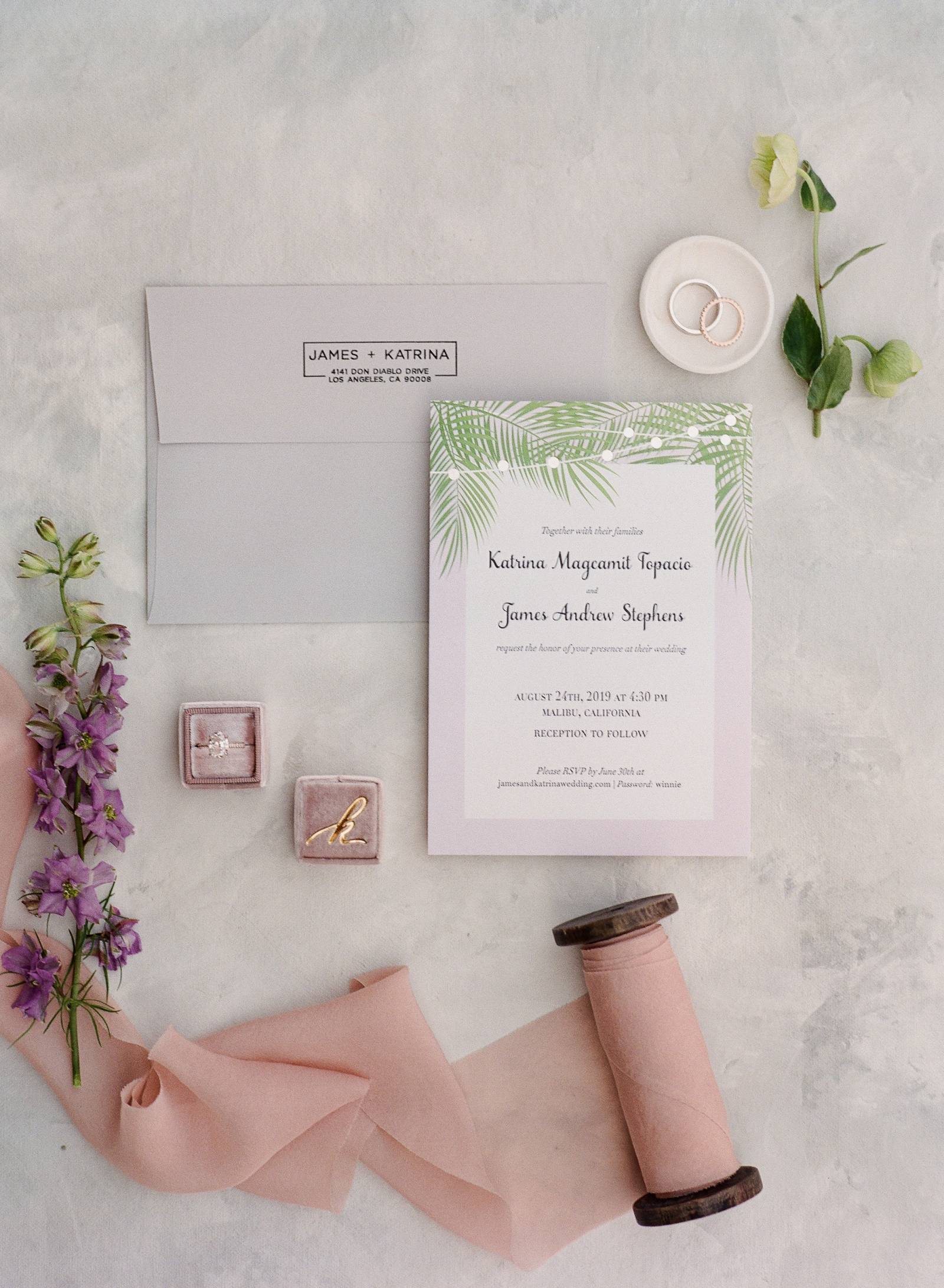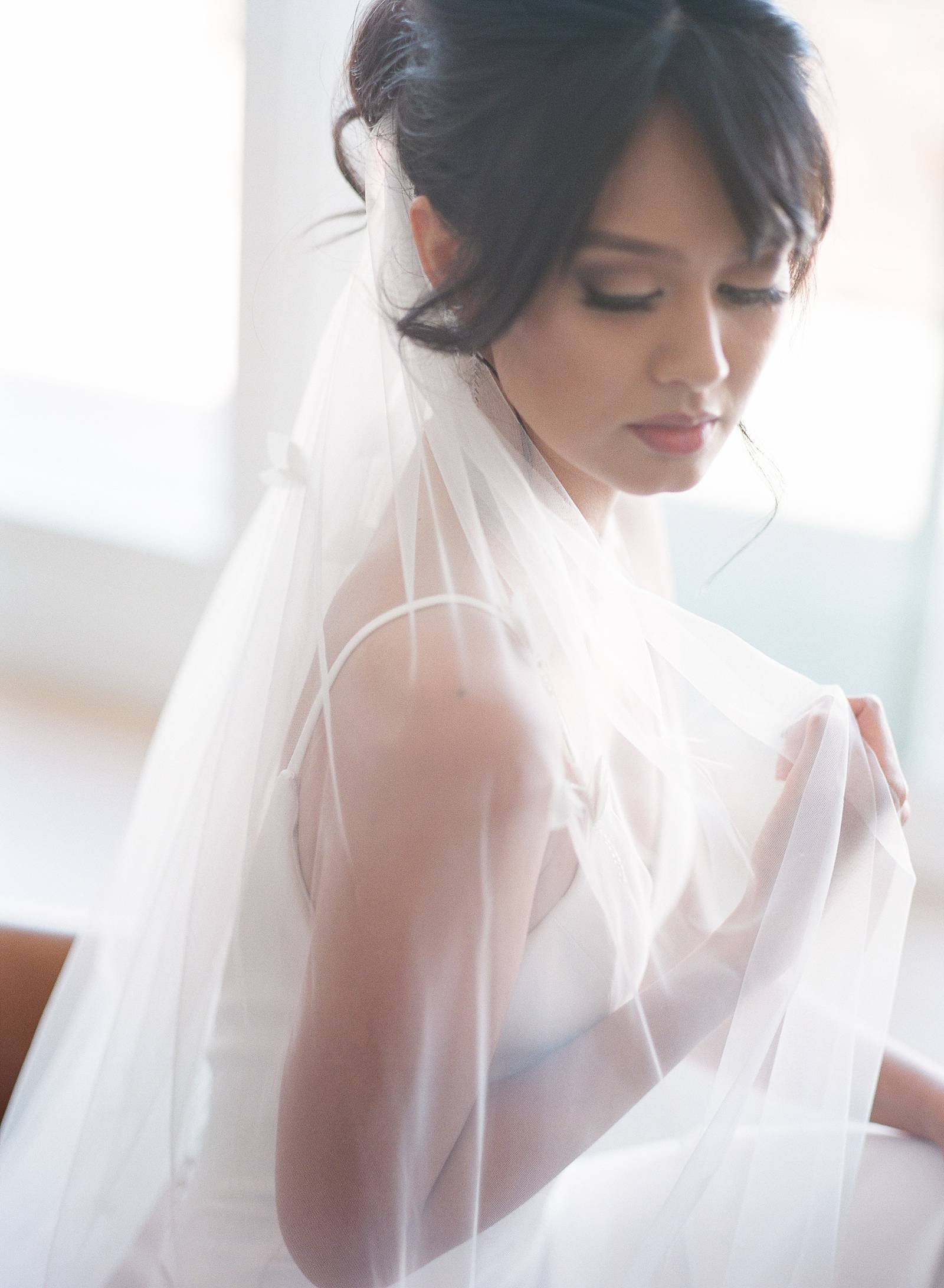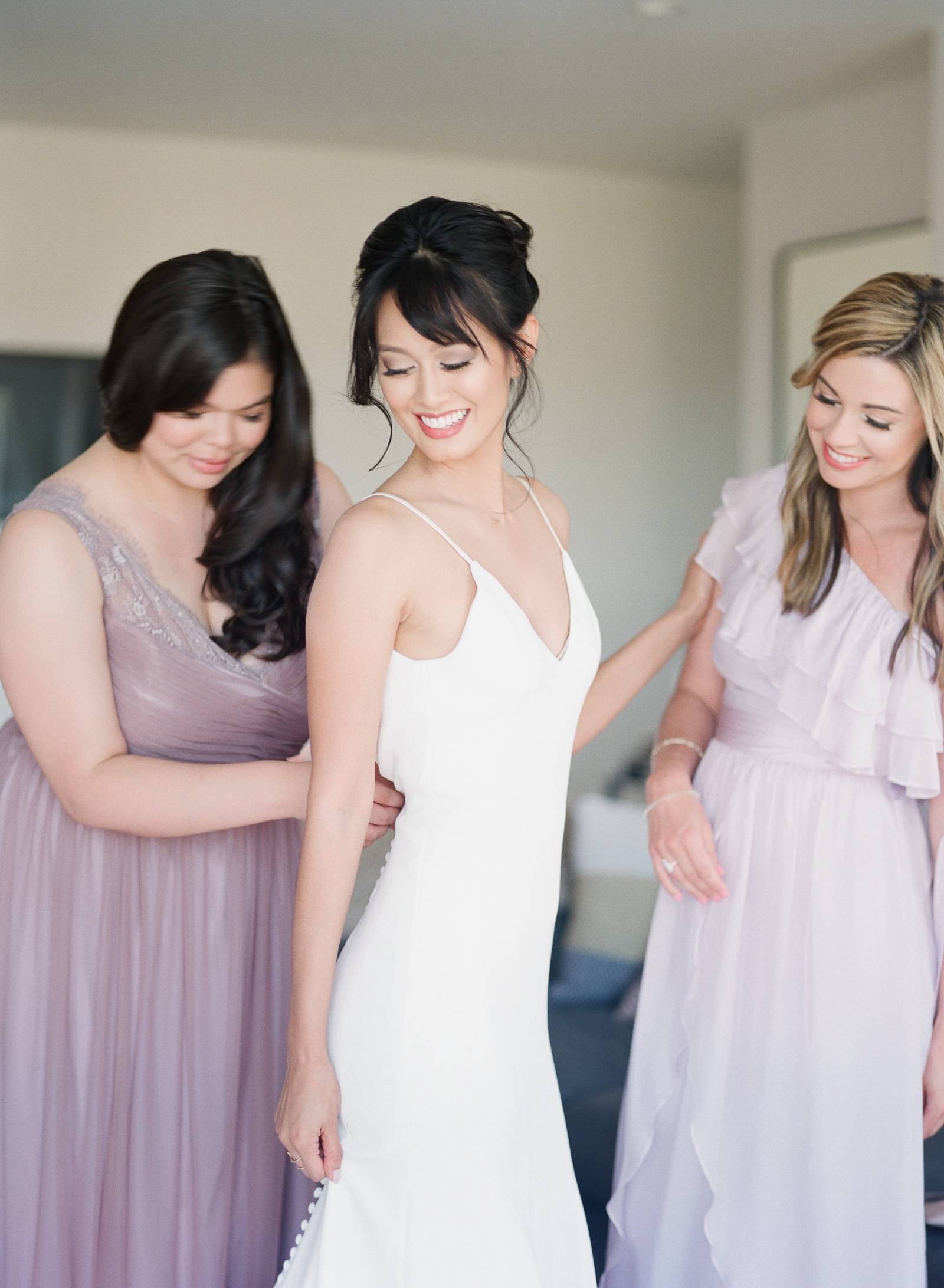 TELL US ABOUT YOUR PROPOSAL: James surprised Katrina with a proposal in San Francisco at Pier 39. Katrina wasn't feeling well that day but after the proposal enjoyed a miraculous sudden recovery as we shared the news with family and friends!
TELL US ABOUT FINDING YOUR WEDDING DRESS: I wanted something simple- no lace, no sequins, no frills. Even though I knew it would be unforgiving (God help me), I wanted to wear the dress, not have the dress wear me! Sexy, but not too revealing- classy. Classy is the theme here.
DID YOU HAVE ANY DIY ELEMENTS? James designed the wedding website, and the bar and buffet menus. Outside of that, we trusted Ali Kain (A.Z.K Bloom) with just about every other aesthetic detail and she crushed it.
DESCRIBE YOUR WEDDING FLOWERS: Ali found ways to incorporate displays of flowers throughout the venue that were both stunning and yet also felt natural to the setting. She utilised a rich green base of vines and palms, and wove white, purple and blue flowers throughout.
WHAT ADVICE WOULD YOU GIVE OUT TO A COUPLE PLANNING THEIR WEDDING? It all starts with the location. Find a place that does a lot of the work for you and then focus on a few standout décor items and experiences important to you to make your wedding memorable.
MOST MEMORABLE MOMENT? Walking down the stairs as we were first introduced as husband and wife to see the stunning setting with all the aesthetic details realised and all the people we love applauding us.
WHAT ASPECT OF THE WEDDING WAS THE MOST IMPORTANT TO YOU AND YOUR HUSBAND? The aesthetics of the setting. We are attention to detail people, but with the ceremony and reception all occurring in one space, we knew that the setting and décor would set the tone for the entire event from start to finish.
TELL US A LITTLE ABOUT YOUR HONEYMOON: We deferred our honeymoon and actually just got back - we went over the holiday break. We went to Boracay, El Nido, and Makati in The Philippines and went to Tokyo, Kyoto, and Nara in Japan. It was really important to me (Katrina) to show James the motherland (The Philippines) and we had such a good time there! Truly a beautiful place and was the perfect honeymoon setting. Japan was more hustle and bustle but was a great experience! We spent New Years Eve there.
IS THERE ANYTHING YOU WOULD CHANGE OR DO DIFFERENTLY? We would likely have trimmed the ceremony a bit and picked a few different vendors, but for the most part the little things that didn't go exactly as we planned went unnoticed by guests.
Southern California wedding photographer LE VIE PHOTOGRAPHY seeks to create imagery that holds a deeper meaning and will stand the test of time. He focuses on capturing what is most important: life's moments. As a visual biographer, he seeks to capture authentic imageries that tell life's beautiful stories. His goal as a photographer is to take his audience back to each moment and give them the same exact feelings he felt when he captured his images. Every image created by Viet is an invitation into his world. A world that he believes is fill with beauty and hope. You can see more of his portfolio here in the Magnolia Rouge Vendor Guide. Head over to see more of his work in this Calm & Serene early morning couples shoot.