Alex and David are both in the airforce and met and fell in love while in flight training school. When it came time to start planning they decided to host a destination wedding in Charleston, South Carolina - the place they were soon to call home. This created the perfect opportunity to introduce their friends and family to beauty of the low-country and these images of their special day by Charleston wedding photographer ELIZABETH LANIER have us wanted to book a visit there stat! With planning and design by BELLAFARE their celebration was one to remember.
WHAT WAS THE INSPIRATION BEHIND YOUR WEDDING STYLE? In my everyday life, I enjoy trying new trends, exploring the newest colour of the season, and standing out in the crowd. However, when it came to our wedding, I really needed the aesthetic of the wedding to stand up to the test of time. I envisioned our photos to be classic for my future little girl to look through our wedding album and not see past trends but a beautiful day that could have been yesterday, today, or even tomorrow. Both our ceremony and reception venue were rooted in history, so we really hoped to highlight the natural beauty of the spaces. We very much wanted our wedding to compliment us, our sweet southern heritage with a little spice of Latino flavour as an homage to David's Hispanic roots as well. You know what they say, "It's all in the details!"
WHY DID YOU CHOOSE THIS LOCATION? David and I are both in the military which means that home is wherever we are together! Charleston is the city of our first official base in the Air Force as C-17 pilots, our first home together, and the place where we have made a new family with our squadron since we can't be with the families we were born into. It felt important to choose Charleston as the place for our wedding so that we had the opportunity for all our "families" and friends to come together in a place that has meant so much to us. We very much wanted our wedding weekend to highlight all that we love about this wonderful city and make this weekend one that our guests would never forget. Charleston is known for its rich and progressive history. Not many places have a bustling downtown that is made up of historical buildings and a thriving nightlife, surrounded by beautiful bodies of water, and you can be in the country in just a short car ride. David and I were drawn to venues that would highlight all the charm that made us fall in love with Charleston. Our weekend started with a welcome celebration for our families and all wedding guests at one of our favourite spots in downtown Charleston, Prohibition. David, a Texas boy, was able to rock his cowboy boots, and I, an Atlanta gal, was able to impress with my jewelled chunky heeled Jimmy Choo satin pumps because he is a little bit country, and I am a little bit, me! We loved that our out-of-town guests got to experience a little piece of Charleston nightlife.
On the wedding day, we wanted to have our ceremony in a church. Our faith is important to us, and we both know that God has had a hand in both of our lives and in bringing us together, so we wanted our ceremony to reflect that. The First Baptist Church of Charleston, the oldest Baptist Church in the south, was our first choice. Located on a quiet cobblestone street, just around the corner from the famous Rainbow Row. Choosing the church gave our guests the ability to learn a little history of Charleston as well as being the perfect place for us to commit to each other and have our marriage blessed.
The reception venue choice was truly a no brainer. The minute David and I drove onto the property and experienced the mile long drive through the almost 300-year-old live oaks covered in Spanish moss down the Avenue of Oaks, we just knew that this was where we wanted to have our reception. The venue gave our guests the quintessential Charleston experience, cocktail in hand, surrounded by oaks with the reflections of the Creek at sunset. We truly choose all our venues in order to create a mini vacation, not only for our out-of-town guests but even our in-town guests. Each venue served as a small vignette of Charleston and all the places and spaces we love about this city!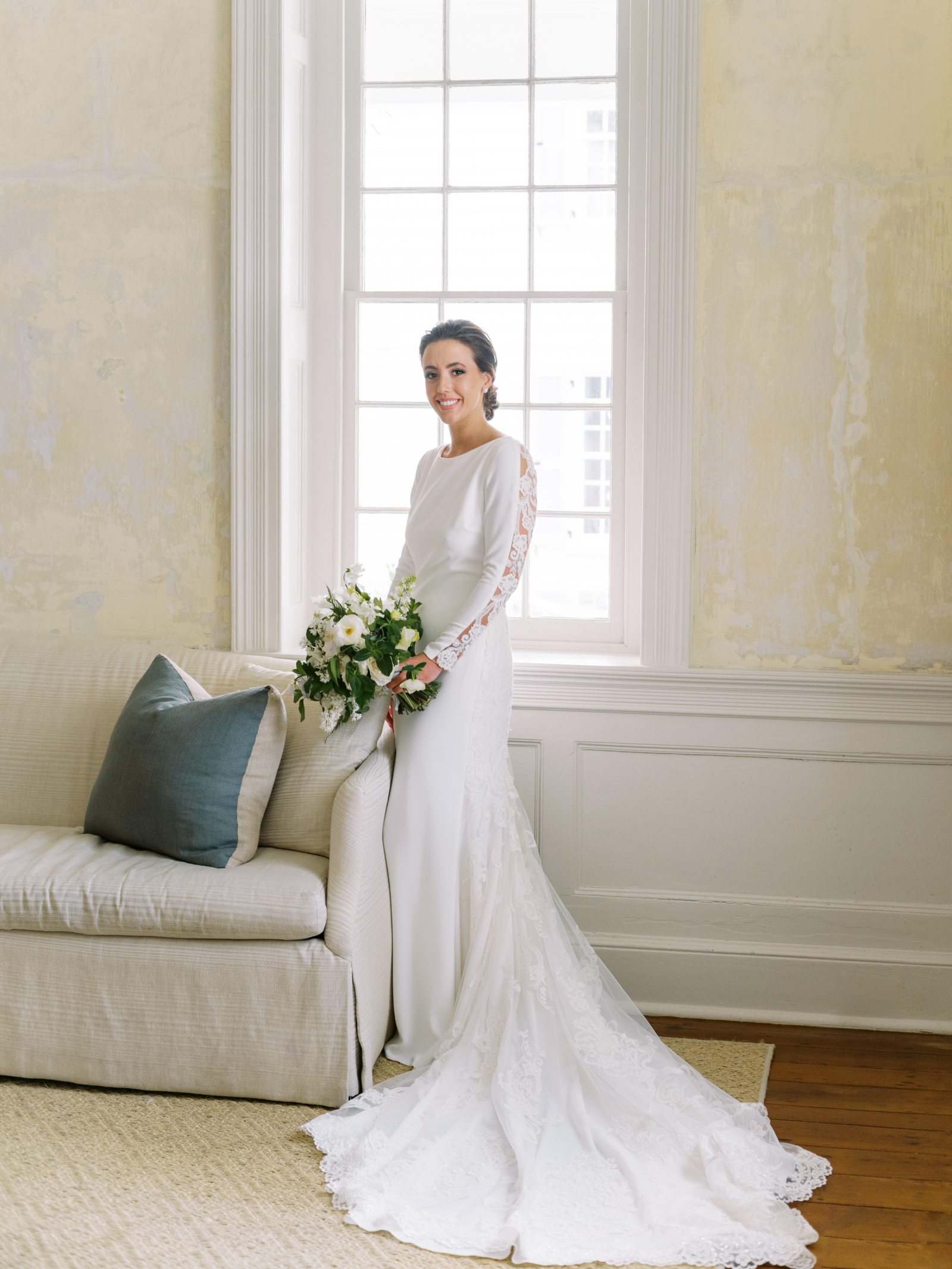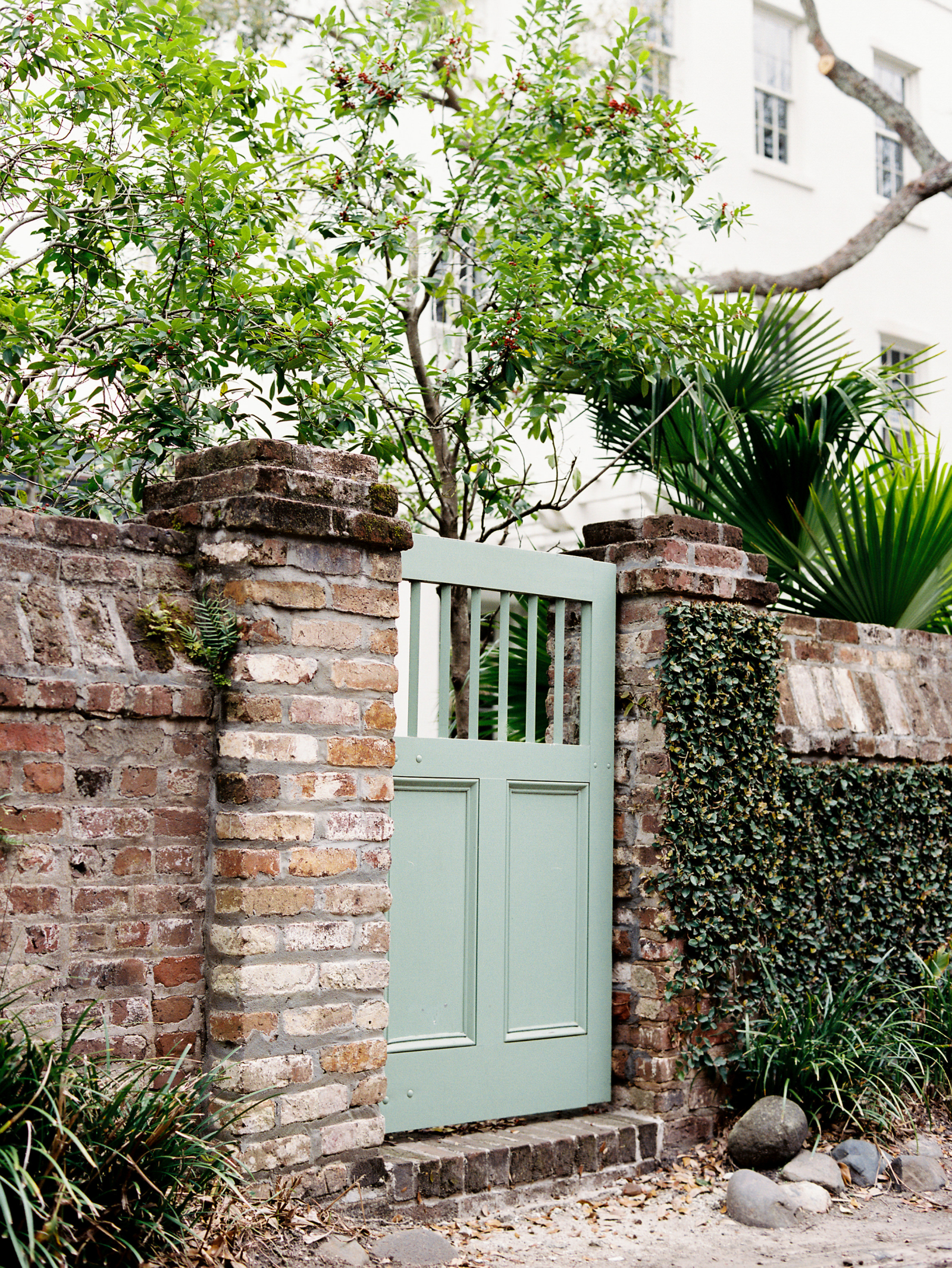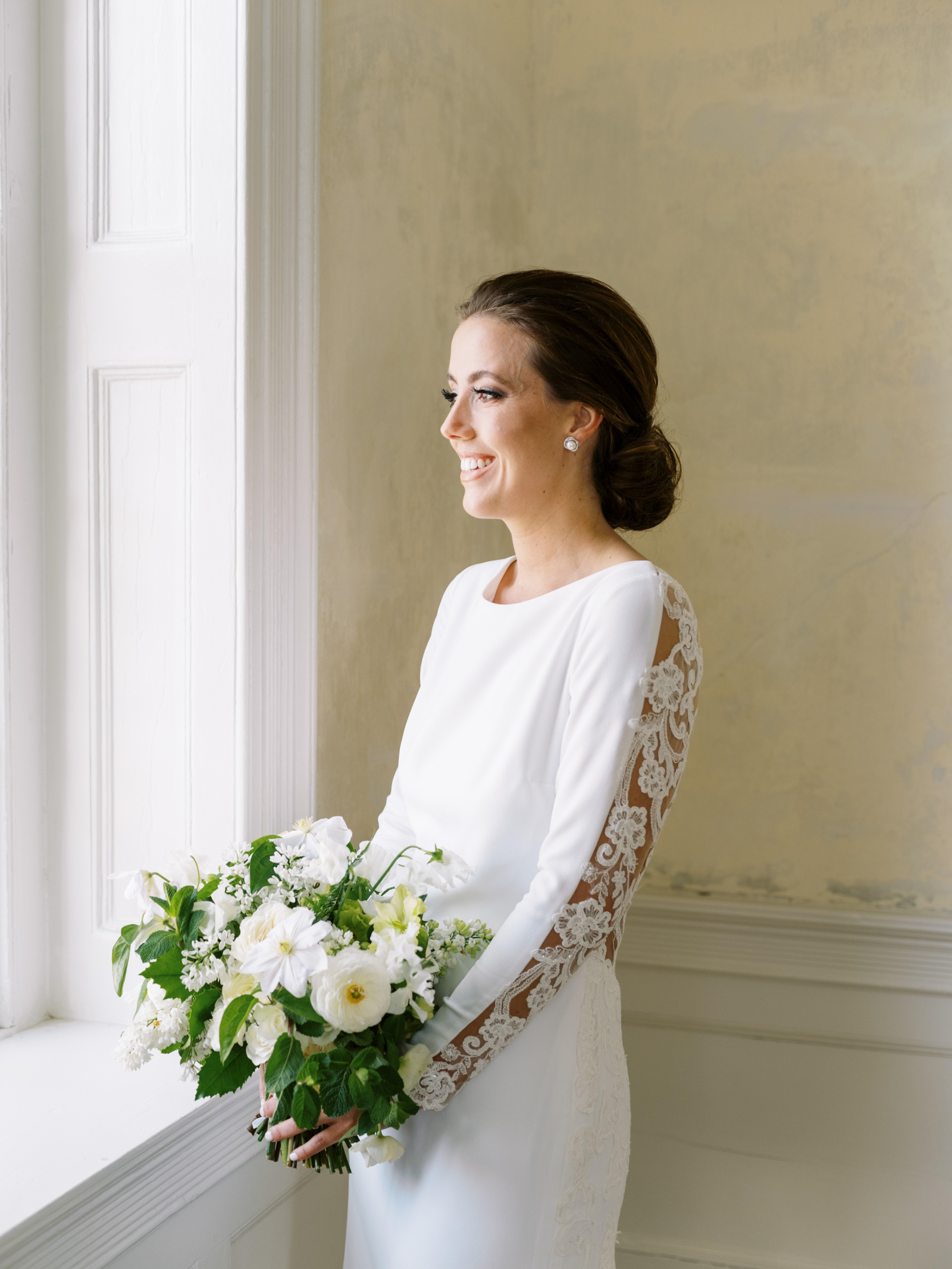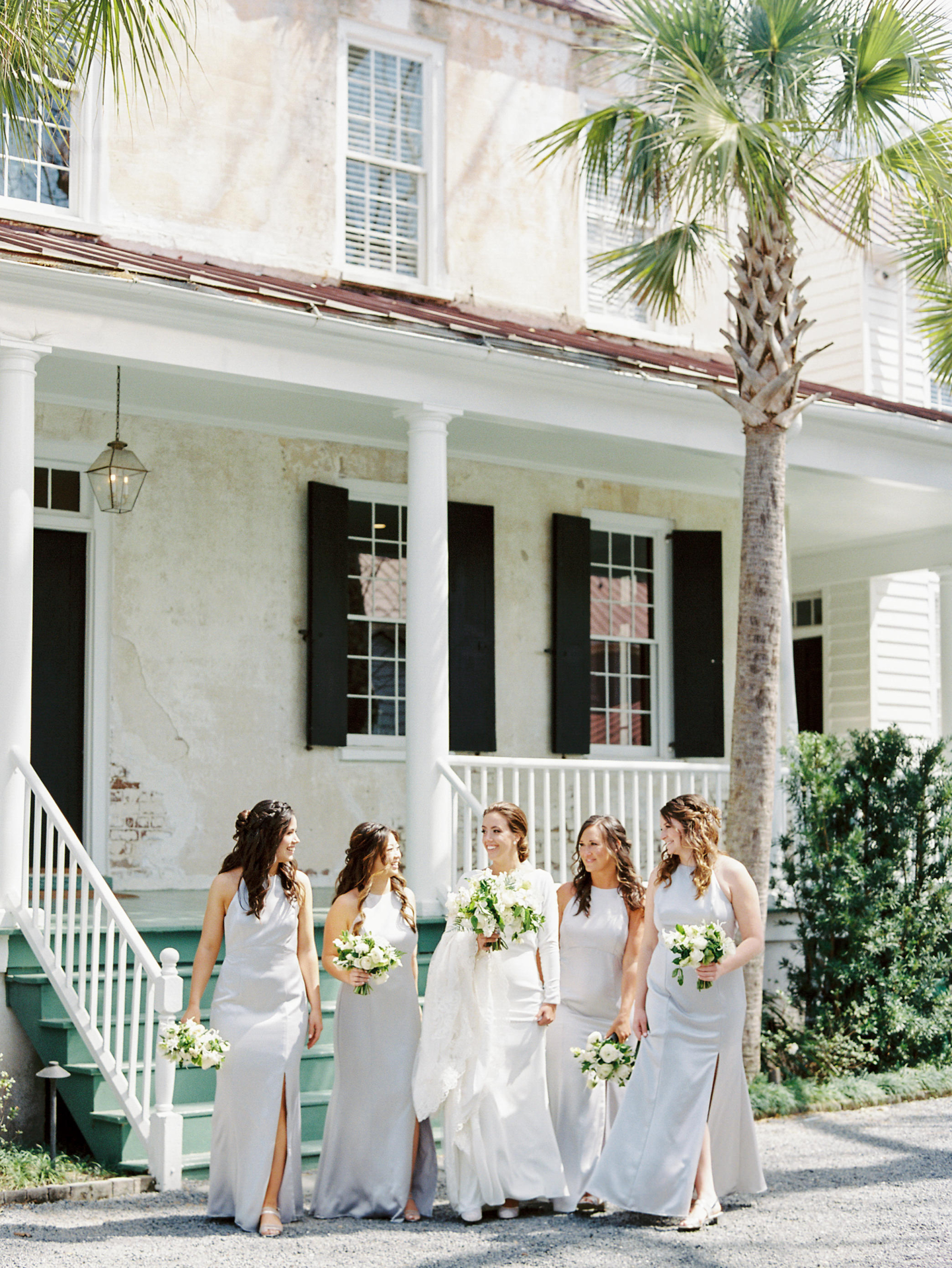 HOW DID YOU MEET? David and I both were fortunate enough to attend the United States Air Force Academy in Colorado Springs, Colorado. We met at the Academy airfield where I was training to be a future glider Instructor Pilot, and he was a year ahead of me, so he had already become a glider Instructor Pilot. Since he was one of my instructors, he tried to keep it professional, but there were definitely sparks flying! Both of us were definitely guilty of flirting and honestly, nothing much has changed in that department.
TELL US ABOUT YOUR PROPOSAL: We had spent a year doing long distance as he graduated a year before I did. Upon his graduation, David had been selected for Undergraduate Pilot Training at Vance Air Force Base in Enid, Oklahoma. We were both lucky that when I graduated, I too was selected for Undergraduate Pilot Training at Vance! Once again, we were back at the airfield together!
I was out on my training flight one day, and my Instructor Pilot made a radio call back to the airfield letting them know we were thirty minutes out from returning to base. This was an unusual call to make, but I didn't think much of it and shrugged it off. Once we landed, I opened the door of the aircraft, and the first thing I saw was David, standing in front of me with the biggest smile. As he started to get down on one knee to propose, I noticed our closest friends standing in the background holding a huge sign asking me to marry him! I was shocked, I could not stop smiling. I could not believe that he had surprised me like this all on his own. Later, I found out, the ENTIRE BASE was in on the proposal. There will never be a better ending to a flight for me than the day he asked me to marry him. Shoutout to the United States Air Force for giving me the man of my dreams!
TELL US ABOUT FINDING YOUR WEDDING DRESS/ATTIRE: I knew my wedding dress was going to have to be classic, simple and fit with our Charleston wedding vibe. It needed to have lace, be modest and give a little nod to my personality. I couldn't visualise it, but I knew when I found it, I would know. That meant shopping in my hometown of Atlanta with my mom and my sister.while I tried on literally everything Atlanta had to offer. In the end, ironically, the dress that I felt was "the one" happened to be the very first dress I tried on. I told the bridal atelier what I envisioned myself wearing and they brought a stunning, long sleeved Pronovias crepe gown with a very classic and simple front, but full of drama and elegant lace on the back from the neck to the very tip of the train. I had never seen anything like it, and I knew that this was my dress. All it needed was my pair of Kate Whitcomb block heels which were necessary for parading down the cobblestone streets of Charleston after the ceremony (more on that later).
For the reception and after party, I needed something else. Something a little more fun, still classic, and simple, but light and easy because I intended to dance the night away to our amazing band with David, our family, and our friends. Since we had already scoured all of Atlanta, my mom and I decided to check-out what Charleston may have to offer. I tried on a chic silk Elizabeth Fillmore dress at White on Daniel Island and fell in love. I am so glad I made the decision to change into a second dress. It felt good to change into something a little sexier, a bit of a cooler vibe to really move on the dance floor!
DESCRIBE YOUR WEDDING FLOWERS: At the ceremony, we wanted Megan from VERO EVENTS to create an amazing impact with whites and greens with the main focus being a flower filled arbor with draping white tulips as a tribute to David's late mom, Becky, who adored white tulips. Each pew was adorned with draping greenery and pops of tiny white flowers. There was a touch of drama in the classic tone invested into the church to draw your eye to David and me as we said our vows to each other. At the reception, Megan tailored our vision for a clean impact with monochromatic arrangements that moved down the tables. The vision was to create romance with tailored and traditional blooms and structures. The flowers used included hydrangea, hellebore, tulips, nerine lily, garden roses, delphinium, viburnum, orchids, and ranunculus to name a few! My bouquet was slightly composed with some of the flowers that were highlighted throughout the ceremony and reception. The flowers were everything I wanted but did not know how to pull off. So grateful for VERO EVENTS who can create so much even with just white and green!

FAVOURITE DETAIL OF THE DAY: Honestly, it is very hard to choose. It truly had so many magical moments and details that I still think about. We each have different details that really stick out for us. David really loved having Mamacita's Margarita Mobile Box Bar at our cocktail hour. Margaritas are not really all that special, but with Mamacita's you also get Wilbur, the most precious little donkey. He was definitely a fun little surprise for our guests.
For me, there was nothing more precious than the 7 little men in our lives in proper tuxedos and the two little ladies that were twirling in tulle to make all our guests sigh and smile before I walked down the aisle at the church. My youngest little nephew, Louie, in his tiny tux almost stole my entrance ;)
WHAT ADVICE WOULD YOU GIVE OUT TO A COUPLE PLANNING THEIR WEDDING? First and foremost, the only people's opinions that matter on that day are the two people getting married. You can do anything you want, make it stand out and reflect what you both love and what is important to you both. Think outside of the box, do things that make it your own. Sometimes it takes a little more time and creativity, but it is worth it in the end.
For my brides, an absolute must is to hire someone who is your right hand woman throughout your wedding day. Cacky at CACKY'S BRIDE AID was that for me and it was such a blessing to have her. She steamed my bridesmaids' dresses, carried the train of my wedding dress around downtown Charleston as we took photos so that it wouldn't be dirty before I walked down the aisle, carried my bouquet, re-applied my lipstick to make sure I was picture perfect, put my veil on right before I walked down the aisle, and so much more. I honestly couldn't have done it without her! She was my wedding day lifesaver.
For all of my couples, the best advice I can give, and I highly recommend, is to make an effort at some point during your day to have some alone time with just the two of you. A few minutes to just be together, take a deep breath and soak it all in. After all of the months and months of planning to make it, all happen, the day will go by so quickly. It will be over in an instant. David and I decided that the ride between the ceremony and the reception would be just for us. We rode in a vintage 1961 Rolls Royce, and it was a sweet ride in more ways than one! Together, we reflected on the ceremony, got pumped for the reception and just held hands. A very cherished moment of the day, I highly recommend it.
MOST MEMORABLE MOMENT? My favourite moment occurred right after the ceremony. We wanted the fun to begin with tequila and mariachi! It's an old Mexican tradition called a callejoneada, in which the wedding party and guests walk through the streets to their reception with a mariachi band. As guests exited the church, our callejoneada began with our guests being greeted by a mariachi band and surprised by a tequila bar cart where tiny little terracotta tequila cups were hanging by ribbons. Each cup was filled with a little bit of tequila for a toast to David and me. We thought this would be a great way to get the festivities going as well as pay tribute to David's Mexican heritage. We paraded through the cobblestone streets of Charleston with our mariachi band, our guests and lots of dancing. It ended at the park by the water for our guests to then be transported by bus to our reception. It is one of our most favourite moments of our wedding day!
WHAT ASPECT OF THE WEDDING WAS THE MOST IMPORTANT TO YOU BOTH? The most important aspect of this wedding was, truly, celebrating our marriage with the people we love, the family we were born into and the family that we have chosen and have chosen us. Being in the military, your co-workers become your family. They are the people who are always there for you when you need them here at home, but they are also the same people whose hands you put your lives in when you are on a mission for the Air Force. In order for David and me to be stationed together at the same base, even though we were already engaged to be married, the military will not consider stationing you together unless you are legally married. Even then, it is not always a guarantee due to the needs of the Air Force. So, in 2019, David and I decided, just like many other military couples have had to do the same, to elope. It was a sweet moment for us but also a little bittersweet to get married without the people that mean so much to us. My whole life I dreamed of what my wedding day would look like. I wanted it all. I wanted the dress, the flowers, the bridesmaids, the family, the friends, the live band, the cocktails, the toasts, the food, and the sparkler exit. So, this wedding day is the one that counts the most for us, it is the day David and I re-commit but also the day that all our "families" could come together and support us. It really brought everything full circle and meant so much to us to finally share this day with all of them!
ANY OTHER DETAILS THAT HELP TELL THE STORY OF YOUR DAY? I'll never forget the doors of the church opening, of course, first, I saw David, we exchanged a smile and then my eyes swept across the church at all the details we had painstakingly planned for so long! Our custom painted aisle runner with our wedding crest, the flowers that added so much beauty to the historical venue and walking down the aisle to the Charleston Virtuosi playing "Can't Help Falling in Love" by Elvis Presley were some of my favourite details. After we said, "I Do", they played Imagine Dragons, "Born to Be Yours", something a little more upbeat to celebrate our excitement of the day!
TELL US A LITTLE ABOUT YOUR HONEYMOON: With both of us being pilots in the United States Air Force, we are both constantly flying either locally in Charleston or all over the world. Military rules don't allow us to fly together, so this usually means that one of us is returning home while the other is taking off. If we are lucky, we might get a quick kiss in between! We absolutely love what we do and are thrilled to be able to serve our country, but it has made it a challenge to coordinate our military leave together at the same time due to deployments. It took us a little over a year to get it scheduled but it was important for us to have a honeymoon, time together to celebrate our marriage, just us on a new adventure. David and I chose a place that neither of us had ever been too, GREECE! We really feel very blessed to have had the opportunity to travel to Athens, Mykonos, Santorini, and Chania. It was an absolute dream honeymoon, and we are very much planning to return to explore the other Greek islands.
IS THERE ANYTHING YOU WOULD CHANGE OR DO DIFFERENTLY? David and I really dug in on this question and tried to come up with something, but honestly, we would not change a single thing about our wedding day or the whole weekend, in fact. It was perfect for us! During the planning process, you stress about everything going exactly as you want it to go. You spend so much time obsessing over the smallest details, and you worry that things will go wrong. But truly, our day was absolutely perfect thanks to Kristin at Bellafare. It had the perfect venues to showcase a city we love, it had the perfect guest list filled with the people we love and that love us back, it had the perfect details to reflect the type of people we are and the heritage that formed us and the perfect vibe to reflect true southern hospitality. It was everything we wanted and everything we needed. If we could do anything, we would do it all over again!
A huge thank you to Charleston wedding photographer ELIZABETH LANIER for sharing this beautiful wedding with us. Specialising in destination weddings, Sarah and Will of Elizabeth Lanier Photography, capture sophisticated, adventurous, and wildly in love couples all over the globe. Their passion for documenting authentic love stories and genuine relationships between the clients they photograph inspires discerning couples worldwide to entrust their most cherished memories to Elizabeth Lanier Photography. Head over to their portfolio to see more and be sure to check out this Fresh, lush green and white wedding inspiration.