When your parents live in 10 acres of beautiful countryside with an amazing wooded backdrop why wouldn't you get married there? If you love a backyard wedding then you're going to love this understated, elegant spring wedding held on the bride's family land. Mackenzie & Evan opted for an intimate affair that I'm sure you're going to fall in love with in these images by KASEY SMITH CREATIVE.
Wanting a backyard dinner party vibe for their wedding, the couple kept the decor of their wedding simple, natural and green. Using plenty of string lights, fairy lights and candles ensured they celebrated their union amidst magical surroundings. The furniture used was a mix of farmhouse and modern, with large wooden dinner tables and antique chairs juxtaposed by leather couches and glass coffee tables.
Their close family and friends experienced an emotional ceremony under a canopy of trees in the spring sunshine. After the "I-do's," guests were greeted by delightful cocktails and appetisers under a vining pergola. Amidst the sprawling acres of land, a refined reception space awaited guests arrival. Guests were greeted by ornate place settings with beautiful blue china that stole the show. After heartfelt toasts and cake cutting, Mackenzie and Evan danced the night away under the moonlight.
HOW DID YOU MEET? We met one Halloween weekend in Asheville, N.C. It was an amazing music-filled weekend and Evan and I left both totally and completely infatuated with each other. As soon we got back home we planned our first date.
TELL US ABOUT YOUR PROPOSAL: We were living in NYC at the time. We went to The Met one Friday evening to wander around and as we were at the top of the main staircase he got down on one knee to propose. Evan, however, decided to not put the ring in its box because it would be too obvious in his pocket, so as he reached to get it and slowly realised it had made its way into the lining of his pants he had to stall for a bit. It was all very memorable and special though - the night ended with a beautiful dinner at One if by Land, Two if by Sea and then phone calls to our friends and family.
TELL US ABOUT FINDING YOUR WEDDING DRESS: The place is a not-for-profit wedding dress shop in NYC called The Bridal Garden. They have designers donate dresses and then sell them discounted with all profits going to benefit education. It was a very do-it-yourself experience, but I was lucky to have my sister, mother and best friend come help me dig through the hundreds of sample dresses with me.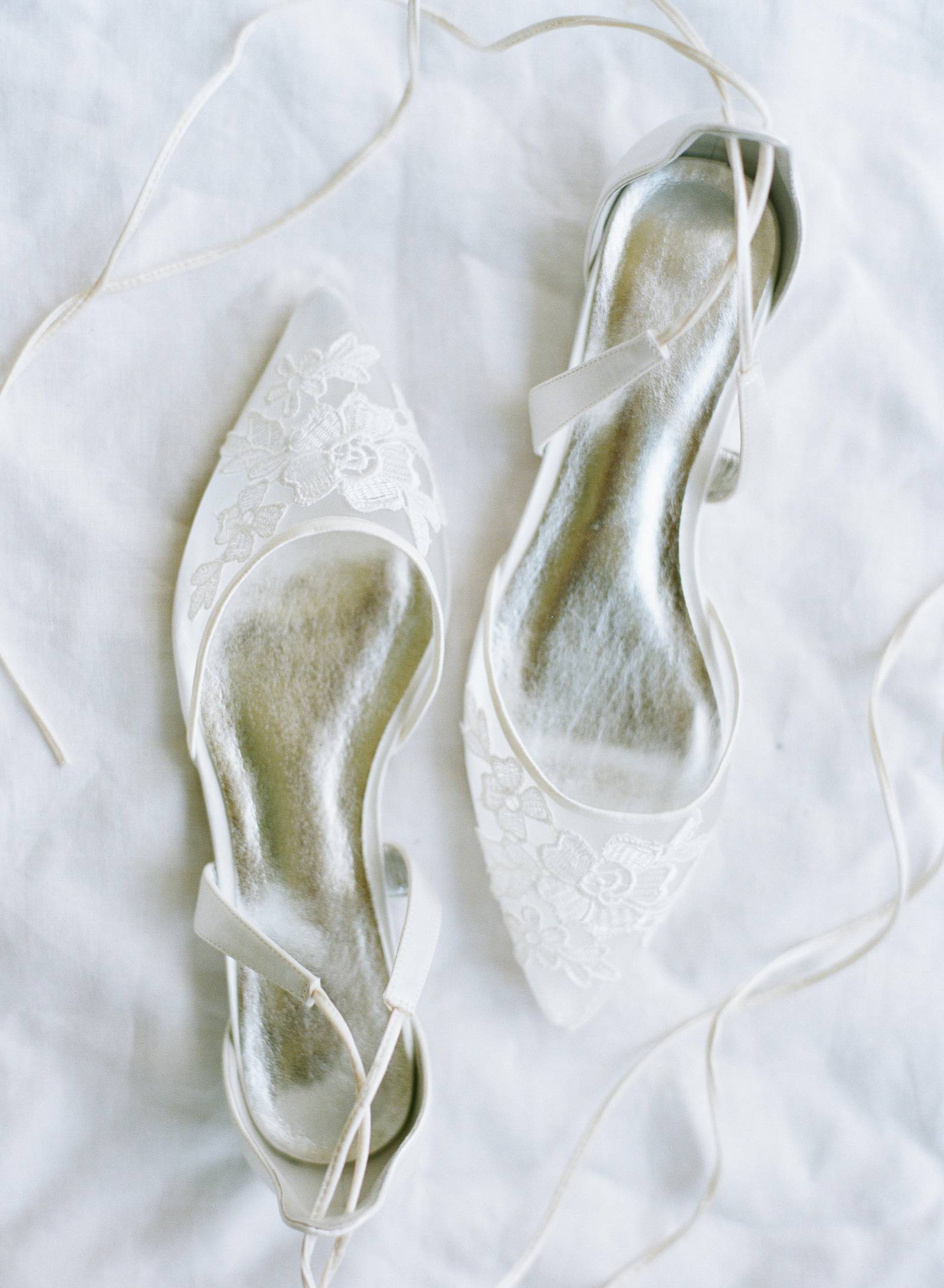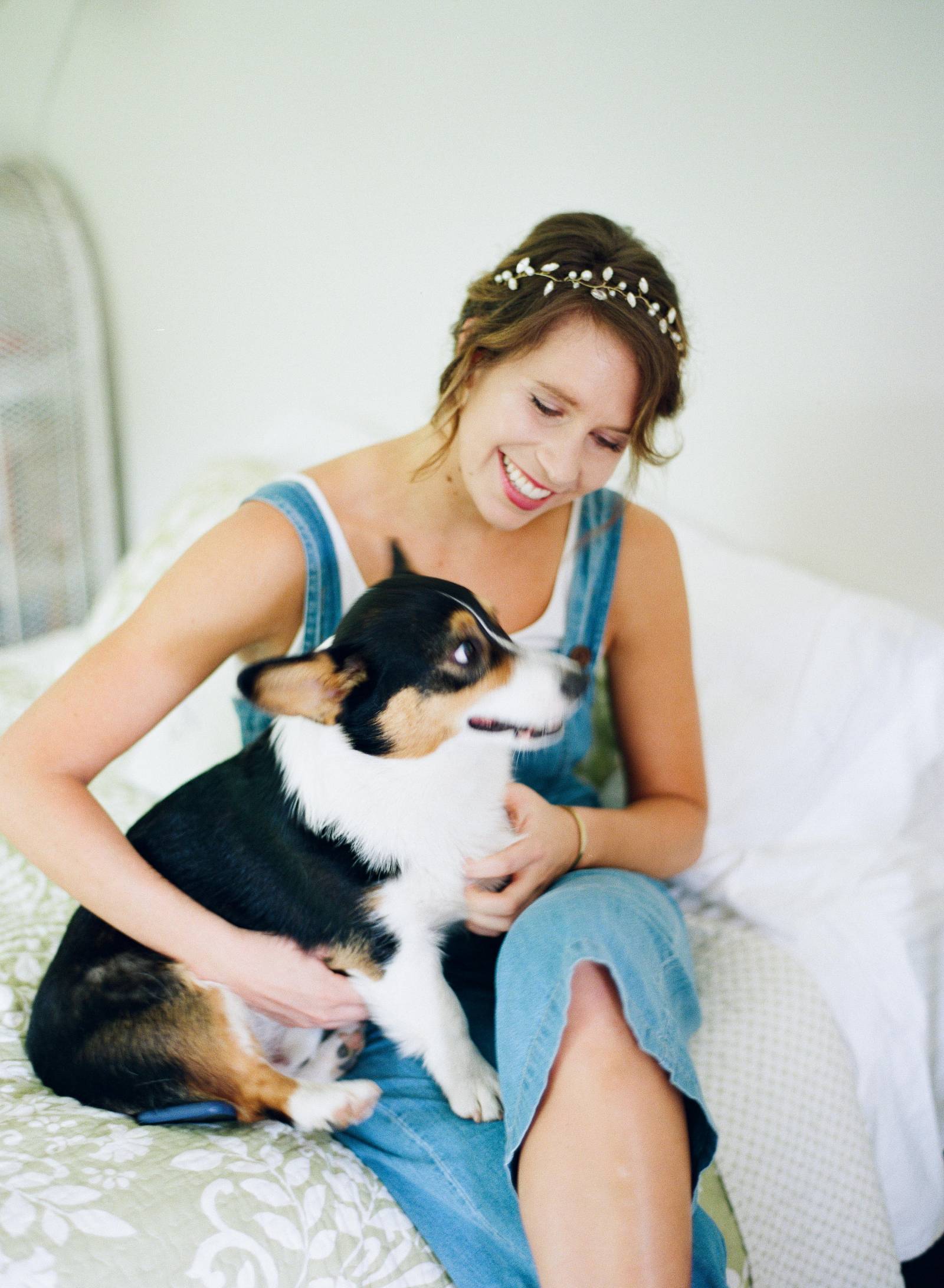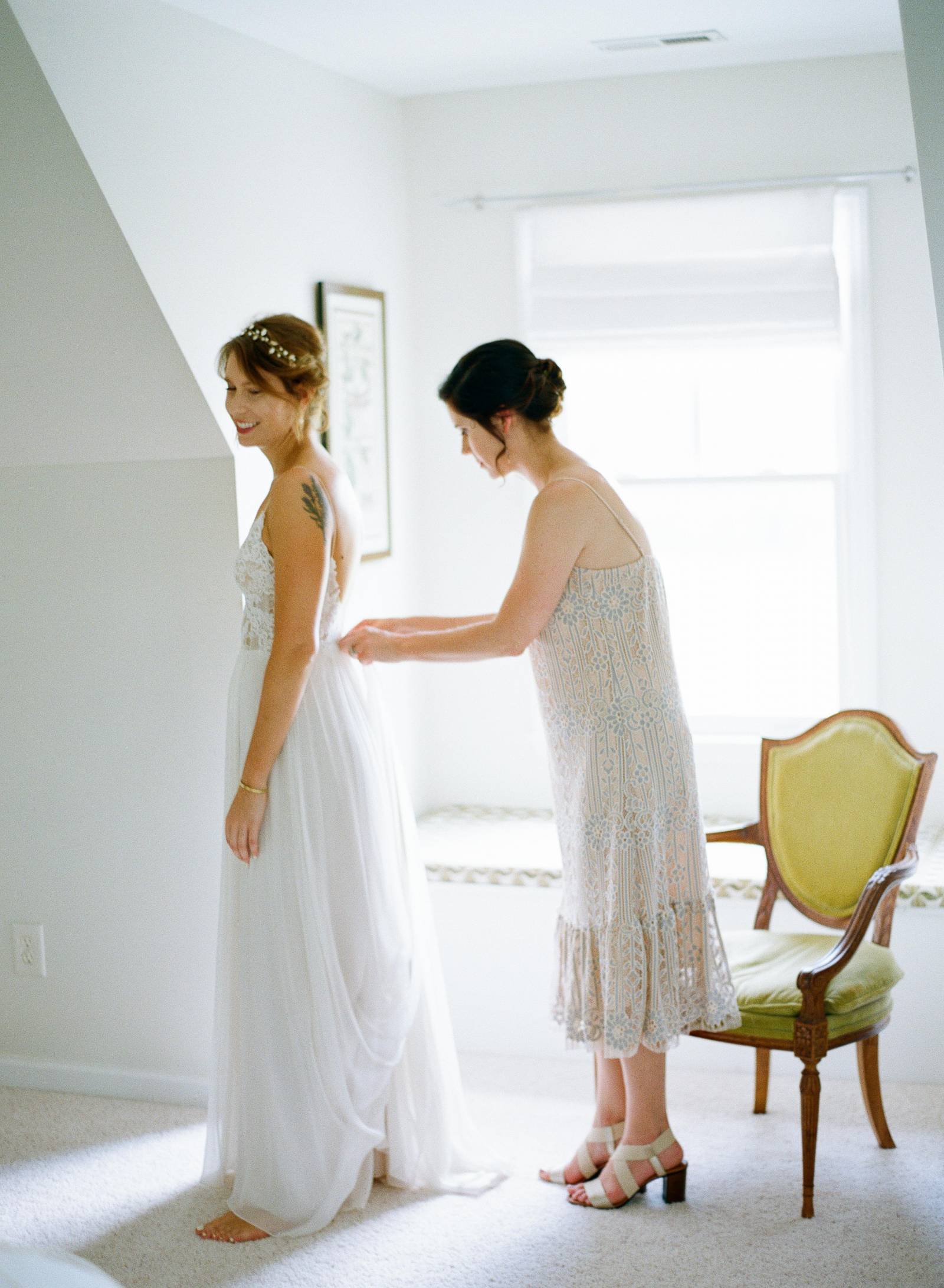 DID YOU HAVE ANY DIY ELEMENTS? Honestly, I am not a DIY person AT ALL. A good friend of ours did a lot of DIY stuff for her wedding so she passed some candle votives and chalk boards our way for decoration. Evan is an amazing event planner, so his DIY initiative was the tent lighting and music (we are both DJ's in our spare time so we put together a mixed playlist and DJ'd our own wedding). We also ordered a lot of flowers from multiple places and did our own floral arrangements - although I left that mostly up to the mom's.
DESCRIBE YOUR WEDDING FLOWERS: My colours for the wedding were blues, greens, and neutrals so I wanted that green colour to poke through mostly in our floral arrangements. All the tables had eucalyptus and baby's breath running down them, the party bouquets/boutonnieres were mostly an arrangement of green with a couple white garden roses in my arrangement, and throughout the wedding venue we had vases of green leaves with pops of white. I didn't want anything to take away from the beauty that was already in the yard - so that meant keeping everything very green and fresh.
FAVOURITE DETAIL OF THE DAY: A plated dinner. I'm so glad we had servers to fill water/wine and serve food because it allowed everyone to just be with each other over a great meal and not worry about getting up at a certain time for the buffet.
WHAT ADVICE WOULD YOU GIVE OUT TO A COUPLE PLANNING THEIR WEDDING? Give yourself a couple of days after the wedding to recover and reminisce before you jet off or go back home. It's so much work to plan a wedding and once it's over, it's over, so it's nice to just stay in the moment for a little bit longer before it becomes a distant memory.
MOST MEMORABLE MOMENT? Well I think it was the most memorable because it was the thing that went wrong. We really wanted our corgi, Burt, to be at our wedding (we even bought him a bow tie to match the grooms party). I did, however, want him to stay inside during the ceremony so that he wouldn't get in the way of pictures. His response to that was to howl at us through my bedroom window during our vows. His timing was impeccable though.
ANY OTHER DETAILS THAT HELP TELL THE STORY OF YOUR DAY? We had a couple signature cocktails and one mocktail that I thought really stole the show at the bar. We named the cocktails after pivotal moments of our relationship, one being a spin on a Cuba Libre named after the band we saw the weekend we met, and the other being an herb-y, gin punch named after the city we said I love you in. The mocktail was for the four pregnant women we knew would be in attendance but turned out to be one of the crowd favourites.
TELL US A LITTLE ABOUT YOUR HONEYMOON: We went to Aruba. We are not really huge beach people but definitely wanted to just chill with a beer after all that planning and mingling. We chose Aruba because in our search to have a perfect sunny week without any weather ruining our trip, we discovered that Aruba only gets 10 days of rain a year. In an ironic twist of fate though, we ended up getting one of those days.
IS THERE ANYTHING YOU WOULD CHANGE OR DO DIFFERENTLY? I loved how perfectly imperfect everything was actually. We forgot to do the sparkler sendoff, Evan and I ended up missing our car to the hotel after the wedding, our dog barked during our vows, the music shut off at multiple points during the reception, and we almost missed doing our first dance. It all made for a very memorable and fun wedding that was not being forced on any timeline, it's one of the reasons we didn't hire a wedding planner. We just wanted the night to unfold in the way it was meant to, and that meant a longer happy hour with lots of mingling and a nice long dinner where everyone really connected.