Beauty and romance come together in shades of dusty blue and blush in this graceful editorial planned and styled by Southern California wedding planner BOWTIES & BOUQUETS. Full of whimsy and fine artistry through dance, creativity and passion, the shoot was inspired by movement and in particular ballet. Naomi tells us, "Throughout the planning and design, we wanted to convey the beauty that is expressed solely in art, the passion that we can only experience through dance and the love between two people who share a love for the same craft. Our theme was vintage inspired with handmade paper elements, a soft and flowy calligraphy font, silk linens, gorgeous lace and vintage inspired crystal glassware. I was inspired by delicate details, soft blues and pinks and elegant touches to express the gracefulness and awe of ballet."
Captured by STEPHANIE WEBER PHOTOGRAPHY, the micro ceremony setup featured an asymmetrical open floral arch with soft, spring tones to inspire year round. With soft greens, neutrals and pinks paired with the tiniest hint of dried elements MILIEU FLORALS created a truly unique and awe-inspiring design. The ceremony space utilises the beautiful architecture that the EBELL CLUB OF SANTA ANA has with the impeccable design of arched walls and French glass doors - which became the natural ceremony backdrop enhanced by floral elements. "We wanted to feature some truly unique ceremony chairs which is why we chose the champagne Napoleon chairs by MTB EVENT RENTALS. They added a soft tone and made the micro wedding ceremony unique and fun!"
Naomi explains, "Our reception table featured vintage and antique inspired textures such as silver antique chargers, ceramic dinner plates in shades of taupe and blush, vintage glassware, antique silver flatware, hand dyed silk napkins and handmade paper goods were used for each guest's individual menu and place card. The entire tablescape left you feeling welcomed into the reception space while truly making your jaw drop at the beauty and design of the florals and soft colour palette. The little touches of green were just enough to make the entire space feel vibrant and organic while the muted tones of white and blush filled the air with ethereal romance. Each place setting had a hand written menu displaying our delicious spread of delectables as well as a calligraphy place card scroll displaying their name in the most beautiful script, artfully created by SAM ALLEN CREATES! These details complimented each other in the most divine way, we couldn't help but feel jealous that we weren't special guests at this inspired wedding!"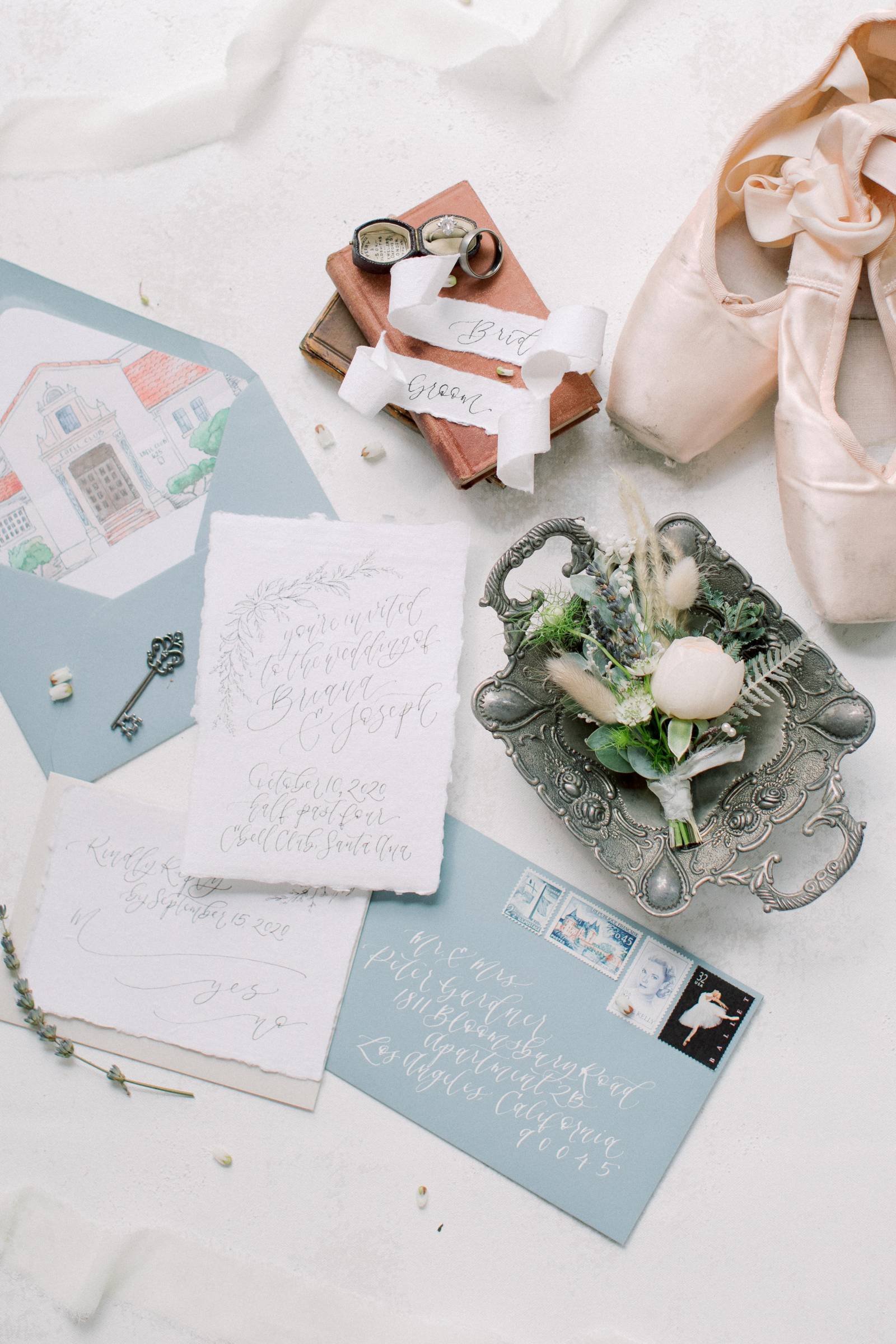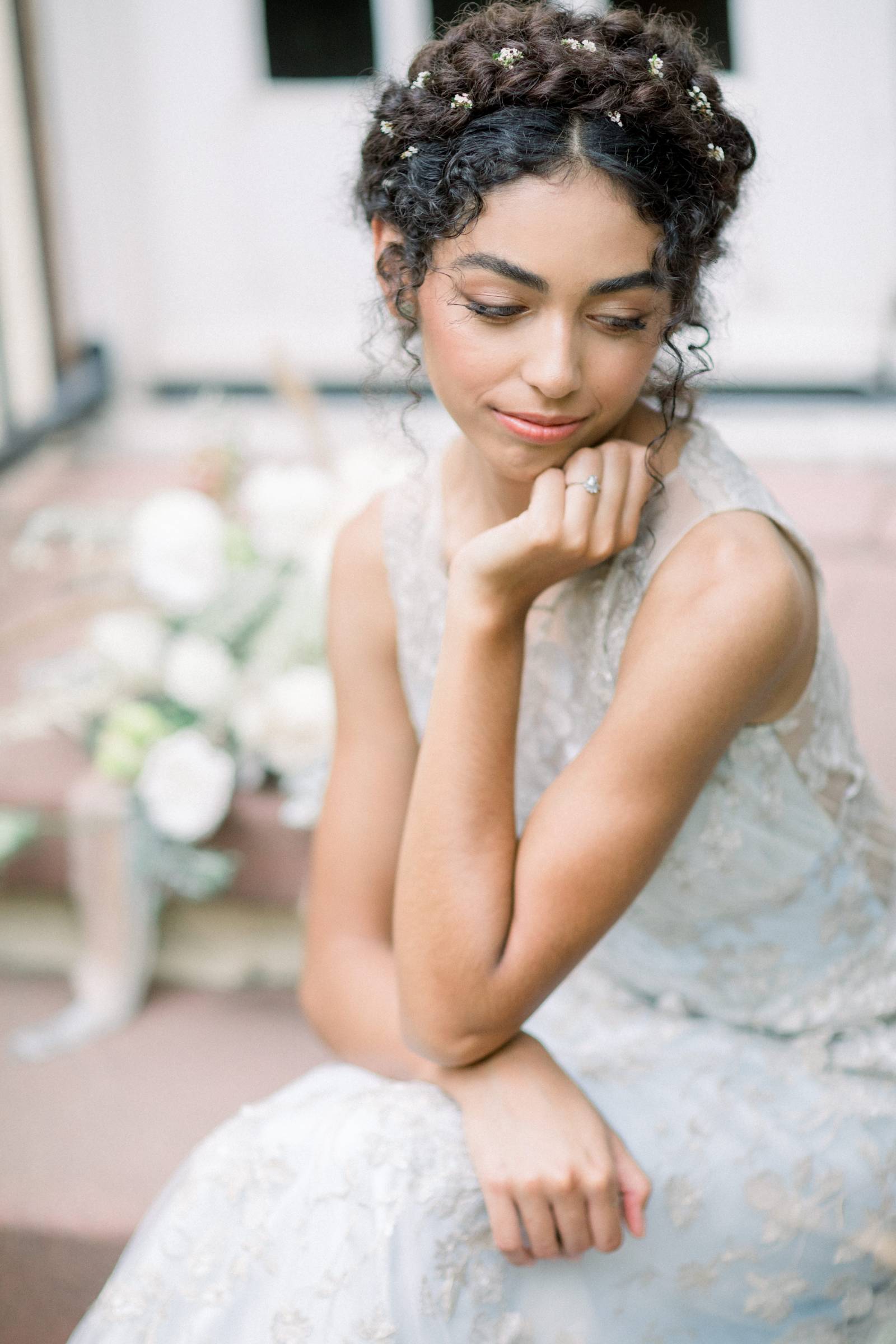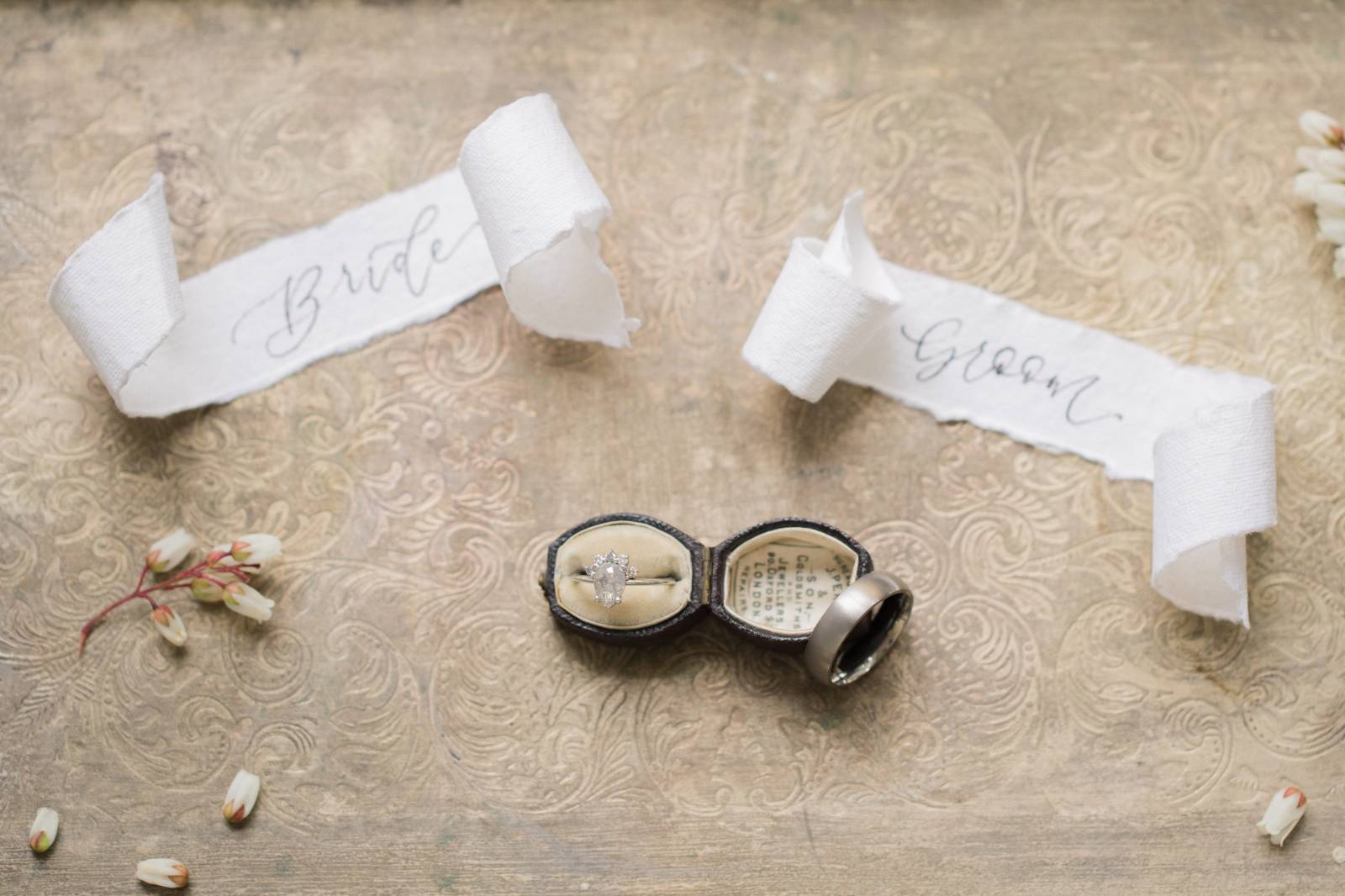 Our gorgeous cake was styled with some vintage books and a beautiful floral arrangement to create a focal point of a cake display at the reception. The cake took on the inspired design of our bride's dress with the lace ruffle detailing and shades of blue. There were hand painted floral details on the first 3 tiers of the cake that was then paired with an ombre lace ruffle that started at the bottom tier and slowly inched its way up to the second tier. The ombre effect created the elegance and romance that we were striving for. This cake was almost too pretty to eat purely because of the amazing design by COCOABERRY CAKE CO.
Our beautiful bride donned a stunning CLAIRE PETTIBONE gown that truly matched her vibrant joy and grace. This gown had a blue silk underlayer with a champagne tulle overlay that featured golden rich floral vines embroidered on the tulle. Sequins and lace embellishments richly complemented the illusion bateau neckline and open keyhole back for a stunning effect. This gown was the perfect statement for this graceful bride. It allowed for movement and flow, which was desperately needed for this ballerina to continue to pose and dance effortlessly with her lovely groom!
Our groom was dressed in a classic black tux from Friar Tux Shop. We chose to stick with the classic black as a way to create a style of chic elegance that would compliment our bride's unique soft blue lace gown without distracting from her. This allowed for our bride to shine as the focal point as our groom gazed with adoration at her.
"The hair and make-up inspiration was all about allowing our bride's natural beauty to shine through. She is filled with so much grace, elegance and joy, so we wanted to only accentuate that. E2BEAUTY designed our bride's hair in a soft braid to allow her natural curly hair to shine as is. Soft tendrils came down to frame her face and little flower pieces were added to complete the elegant and romantic up-do! Our bride's make-up look was flawless and understated to create a natural look of graceful beauty.
For our custom invitations, we chose a handwritten design and handmade paper by SAM ALLEN CREATES. We wanted to focus on the vintage inspired wedding invitation by keeping the main invite piece simple with only a floral drawn corner arch design. Sam paired the entire design with dusty blue envelopes with watercolour calligraphy in white. The fun touch to this suite was a hand drawn venue illustration that will create a welcoming impression to any guest who receives this.
The little details we chose to embellish our theme with were dusty blue shoes from wedding shoe designer BELLA BELLE SHOES - they reminded us of the "something blue" that every bride needs, and a hand calligraphed love poem that Briana and Joseph read to each other. Each element complimented the romantic and ethereal love that we wanted to showcase!"
A huge thank you to Southern California wedding planner BOWTIES & BOUQUETS for sharing this beautiful and graceful inspiration with us. Owner Naomi is a Wedding Planner and stylist for the wildly in love, fairytale-inspired, fine-art couples. "I believe that your fairytale begins as soon as you say "yes" and I want to create a wedding day experience that gives everyone their own unique and magical fairytale. I am a visual storyteller, a romantic dreamer and a firm believer of creating beautiful and magical keepsake memories that will stay with you for a lifetime! My dream for my clients is for each wedding to be significant through personal touches. Every single one of my clients is so unique and each one has a very special story to share. My greatest joy is getting to tell that story through the planning and design." Head over to her portfolio to see more.