This intimate backyard wedding by BETHANY SMALL is one for the books! Anna and Collin's love story began at Oregon State University, where the two cultivated a close friendship before it blossomed into something more. On Anna's official last day of college, her sweetheart took her to the Portland Rose Garden, and with a heating lamp in place to warm her up against the December cold, he got down on one knee. The months of planning that followed included endless trips to Portland's goodwill shops by Anna's mother to find the gold candleholders she craved for the tables, as well as sprucing up by Collin's parents of their stunning property, where the wedding would take place. There, under the maroon trees that inspired their florals, with 900 feet of twinkling lights strategically placed among them, the couple celebrated their union with the people they love most.
The time transitioned into a lively cocktail hour in the Petersen's backyard space filled with hors d'oeuvres and drinks. Conversations carried on about the joy and celebration of the beautiful union that had just taken place minutes before. Transitioning to the evening dinner, the guests were greeted with personalized seating cards that guided them to their seat in the transitioned ceremony space. Lighting created the perfect romantic vibe transitioning the night into dancing and desert where the guests enjoyed a homemade cobbler or a piece of the most simply elegant white wedding cakes you will ever see.
Just before the couple took their grand exit they enjoyed a few photos under the lights. For the grand exit, the sides of the driveway flooded with guests holding sparklers as the couple ran away into the night to enjoy their honeymoon! It was a wedding that not one attendee would soon forget!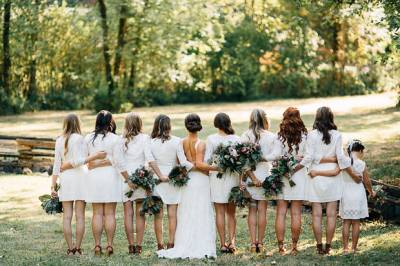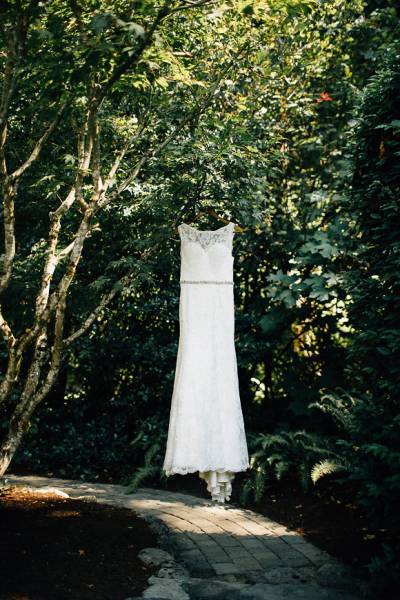 TELL US ABOUT FINDING YOUR WEDDING DRESS: I found my dress at Anna's Bridal, rather perfect since my own name is Anna. I had a hard time at first deciding on a dress because I was so particular. I wanted something that was fitted, buy elegant, something I could wear outdoors, but still feel classic. I finally settled upon my dress when I had tried it on at multiple stores and continued to like it. After talking with the bridal consultant I was confirmed that with the changes I made to have an open back dress it was going to be the perfect match for me.
DESCRIBE YOUR WEDDING FLOWERS: My wedding flowers were inspired by the maroon trees on the Petersen's property, as well as my desire to have the elegance and simplicity of greenery and white. My main flower the Protea which was actually the flower I gave when I asked each of my bridesmaids to be in our wedding. It wasn't until after I realized how unique and special the flower was that I then wanted to have them as the center piece of my bouquet.
FAVOURITE DETAILS OF THE DAY: My favourite detail would have to be the lighting. It added a great amount of interest to the venue and added to the elegant feel. We had over 900 feet of lights strategically placed and I think the detail and planning associated with the lights made the venue special.
WHAT ADVISE WOULD YOU GIVE OUT TO A COUPLE PLANNING THEIR WEDDING? Hire a wedding planner! Our moms were AMAZING, they made all our dreams come true as Collin and I spent a lot of time consumed with school and work. My mom lived and breathed our wedding for eight months, while Collin's parents perfected their property with endless projects. The only reason I suggest a wedding planner is because I would have loved to have given our parents less stress over the planning months!
MOST MEMORABLE MOMENT? Our favourite moment was when we got to stand on the driveway while receiving toasts from our best friends, brother, dads, and a spontaneous one from our flower girl. The night was warm, the lights perfectly lit up the yard as everyone was sitting at their tables. Also, seeing every person we loved gathered to our left and our right was a moment we will never forget.