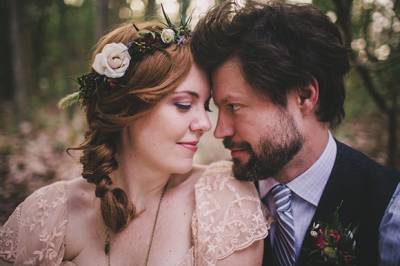 Ok this is one story you simply have to read!! I LOVE the story about how Mollie & Aaron met… it sounds like something out of a movie!! Sarah from 428 Main Vintage Rentals sent this gorgeous forest elopement by Hyer Images our way and I couldn't be more thrilled to share it with you. Mollie had a clear vision of what she wanted their day to be like, with most of her inspiration coming from their favourite books and her personal collection of 'dusty, old and treasured things'. As it took place just prior to Christmas she designed it around a rich – but slightly non-traditional – colour palette of bordeaux, brown, green, peach, and pink. The forest on the grounds of the The Inn at Middleton Place provided the perfect backdrop to their ceremony, ensuring they were surrounded by endless beauty and inspiration.
To add to the magic of the day, they also incorporated traditional Irish handfasting into their ceremony. "Our handfasting cord (or "Crios") was hand-woven in Ireland by Niamh Trua. Each color within the Crios had a special meaning, as did the pattern in which it was woven. On a whole, our ceremony was beautiful and emotional, but I think the handfasting was the most wonderful part of all."
From Sarah of 428 Main Vintage Rentals: "Mollie & Aaron's intimate & romantic winter afternoon elopement was one of the most unique and heartfelt events that I have ever had to opportunity to witness. Every detail of the day was perfectly suited to the couple and had so much sentiment behind it. This wedding was the epitome of a couple having a wedding for themselves and not for the fanfare of the day. The Theodore table from 428 Main anchored the vignette that was nestled into the Southern Lowcountry forest surrounding The Inn at Middleton Place. Every piece of the decor was lovingly selected by the bride to represent their relationship. The rich color palette for the day was carried beautifully throughout the florals, decor, the bride's gown, & even the bride's gorgeous red hair & fair complexion."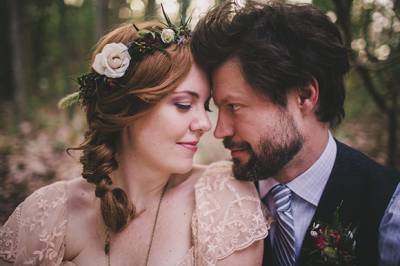 How did you meet? "Online" is the answer we typically give when people ask us how we met. It's true; before meeting face-to-face late in the summer of 2011, we exchanged a week's worth of witty emails in which we discussed everything from beards to dinosaurs to George R.R. Martin. I thought he was charming and well-read, and I believe he thought the same of me, so we decided to meet for a pint at our favorite Irish pub. (How we hadn't caught each other's eye there prior to this meeting, I have no idea!) As far as first dates go, it was stellar. He played the bagpipes, was an avid reader, and taught Latin. I was really Irish, loved to read and write, and could easily hold my own in a conversation of the classics. We occupied a booth for nearly 7 hours, sharing stories, laughing, and quoting The Big Lebowski (among other more respectable works) while enjoying a few pints. It was absolute perfection.
The Proposal: A little more than two years after that wonderful first date, I had a rougher than usual week at work that left me feeling drained and exhausted. On a cloudy Saturday morning, in an attempt to rid me of my unusual melancholy, Aaron suggested we head downtown to browse in my favorite store before enjoying a nice dinner together. Since it had been a rainy day that ultimately cleared up after we finished our meal, he suggested we take a walk together along the water before heading home. On a bench overlooking the Charleston Harbor at sunset, Aaron got down on his knee and asked me to be his wife. He cried. I cried. Some of our more sensitive onlookers cried. It will forever be one of our most cherished memories.
The decor: Outside of 428 Main Vintage Rentals' 'Theodore' table, a 3-tier dessert stand, and a few pretty odds and ends from Owner Sarah Murdoch's personal collection, everything there was ours and had significant meaning to us. Aaron, who is an amazing artist, illustrated the wooden chalkboard with white paint and a saying in Latin: "Let us live and let us love". I then tied fresh rosemary and lavender sprigs on with jute. Since we worked on that little project together, it was one of my favorites. In lieu of a cake, I purchased a variety of breads, berries, candies, chocolates, fruit, and tarts to decorate with (and later eat!). Every book we used was from our library and chosen not only for color, but for the story it told or the story of how we found it. I stamped our names onto the pages of old encyclopedias that once belonged to my grandparents, and then bound them together with lace. We filled one of our old suitcases with hand-painted wooden flowers from Company Forty Two, who also crafted the custom drink stirrers and wooden banner for us. As a gift, I gave Aaron a bottle of Glenmorangie Ealanta Private Edition Highland Single Malt Scotch to enjoy after the ceremony. We incorporated it into the vignette with the help of some pretty glasses and a small wooden trunk. Small details like a found wooden letter 'L', lace ribbon, engraved wooden buttons and vintage Christmas ornaments (that I've been collecting since my teens) helped complete the look.
The flowers, as I suspected, turned out to be the real show stopper. Beth Leon Guerrero of Wildflowers, Inc. immediately understood my vision and executed the floral design perfectly. I wanted flowers and foliage that looked natural, were very loosely structured, and had lots of different textures. And, since flower crowns (or wreaths) have long been associated with ancient celebrations, I knew I needed to wear one. As with the other arrangements, Beth surely didn't disappoint. At one point, I remember her telling me that she did everything 'big'. I didn't quite fully understand what she meant until I had to hold my massive bouquet up for a few hours! The combination of the astilbe, chocolate lace, hanging amaranth, roses, and seeded eucalyptus was simply divine. I had never seen a more stunning arrangement of flowers in my life.
Other than the fact that I got to marry my sweet and wonderful husband that day, there are a number of other memories we will always hold dear. Having Rachel and Billy Hyer of Hyer Images there with us, not only as photographers but as cheerleaders and friends, was a wonderful experience. Having a close friend of Aaron's preside over the ceremony made it that much more personal, every word really resonating as it was spoken. And having the luxury of relaxing together before, during, and after the ceremony (thanks to our veritable "dream team" of amazing friends and vendors) made this the most wonderful experience ever. It was laid-back, otherworldly, and romantic - all wrapped up in one tiny little package and tied with jute! There isn't a single thing we would have changed and love being married to one another!
Photography | Hyer Images, Altar Styling & Vintage Rentals | 428 Main Vintage Rentals, Florals | WildFlowers, Inc., Venue | The Inn at Middleton Place, Hair & Makeup | Paperdolls, Gown | Candela NYC, Shoes | Jeffrey Campbell + Free People, Necklace | The Scarlet Poppy, Bracelet | LucyInspired, Pastries | Whole Foods Market, Drink Stirrers, Wooden Banner, Wooden Flowers | Company Forty Two