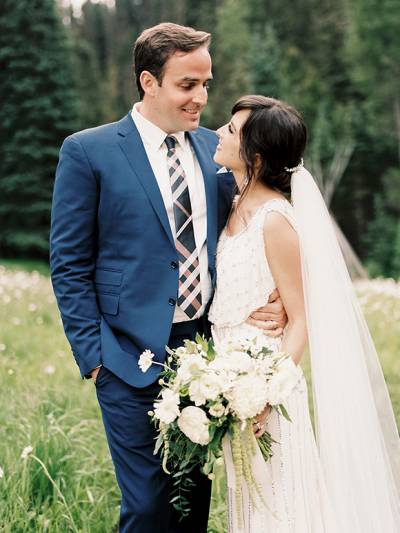 Christeleny & Michael wanted to treat their guests to an amazing experience for their destination wedding. They opted to have their wedding at DUNTON HOT SPRINGS, an old ghost town turn all inclusive Luxury Resort in Colorado. RACHEL HAVEL'S beautiful images of their day capture the breathtaking views and surroundings which provided the perfect backdrop for this adventurous couple.
The bride tells us, We really just wanted to focus on creating a wonderful weekend for our family and friends. Michael and I love the outdoors so we began by searching for a wilderness resort that offered a lot of activities like hiking, fishing, and mountain biking. Dunton was the first and only venue we visited. You're transported into another world as soon as you step foot on the resort. Individual cabins for all of our guests, a hot spring bath house, amazing food and drinks, and fire works to celebrate the fourth of July provided for an epic wedging weekend to remember.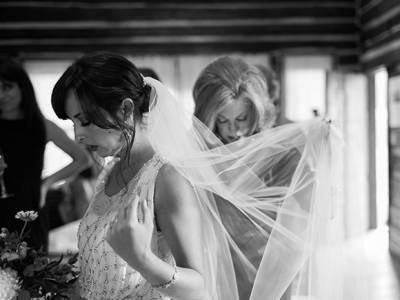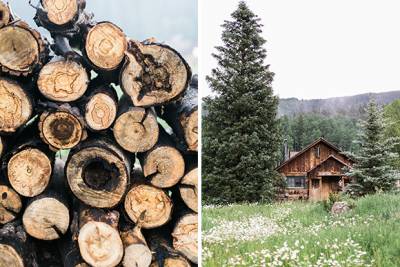 HOW DID YOU MEET? Michael and I met on a blind date. We have more in common than anyone we've ever known and yet the person who set us up had no idea. So, basically, we just won the dating lottery.
TELL US ABOUT YOUR PROPOSAL: Michael had just moved to San Francisco for a new job while I was still living in New York finishing up a project. I came to visit him for a weekend and we spent the day wandering around different neighborhoods in an effort to get to know the city. He'd heard of this great spot called Baker Beach and had planned to propose that evening. He had two friends of ours hide on the beach to take photographs and meet us with champagne. What he didn't realize is that Baker Beach is one of the most popular destinations in the city and when we arrived to take a walk on the beach there were hundreds of people around. He couldn't change the plan since our friends were waiting a few feet away so he basically had to do this very public proposal which is so unlike him. Needless to say, I was NOT expecting it at that moment. But, we have gorgeous pictures and a great story!
ANY DIY ELEMENTS? Dunton is so special that we didn't feel the need to add many details. My mom knit me a beautiful angora sweater to wear in the evening over my dress. It's one of the most special things I own. We also had many of our friends and family participate in the weekend. My mom created drawings for the welcome packages, Michael's dad played the guitar as we walked down the aisle and various friends fulfilled the roles of yoga teacher, DJ, and officiant.
TELL US ABOUT FINDING YOUR WEDDING DRESS: I had never thought of my wedding dress before Michael proposed so I had no preconceptions of what it should be. I just wanted to find something that was comfortable and didn't feel like I was wearing a costume. Jenny Packham was exactly that for me. There were at least 5 of her dresses that I could have been perfectly happy with.
DESCRIBE YOUR WEDDING FLOWERS: Very organic looking arrangements with white flowers and greens.
FAVOURITE DETAIL OF THE DAY: Fireworks after the reception were very special. Not only was it July 4th but it was a wonderful culmination to a very special weekend.
WHAT ADVICE WOULD YOU GIVE OUT TO A COUPLE PLANNING THEIR WEDDING? Ignore expectations and have exactly the wedding you and your SO want to have. It's not about anyone else but the two of you. Also don't make unnecessary work for yourself. Everyone is there to celebrate you. They're not there for the favors or the customized details. Whatever sets you up for the easiest most stress-free day is the best.
MOST MEMORABLE MOMENT: The vows were the most special moment that I never expected to enjoy. It was as if the whole weekend happened in fast forward and that was the one moment when everything slowed down. When we were at the altar, more than any other time, I was really touched by the presence of our friends and family all standing in silence to witness this very important moment in our lives and we could really feel their excitement and love for us.