Photographer SONYA KHEGAY is lucky enough to reside in the spectacular mountainous country of Montenegro and gets to capture stunning weddings in this most picturesque of spots. And before you look at this and think it's an editorial - think again! Tanya & Kolya are indeed a real couple and really did get married in this magical place with beautiful bride Tanya wearing an incredible gown by CRYSTAL COUTURE DESIGN. They each give us their thoughts on the day.
From the groom, "The best birthday present I've ever received was this year when Tanya said "yes" to my proposal. It was one of the most exciting moments in my life and six months later we got married in Montenegro. Before our planning began I thought that our presence was almost the only thing that was needed for a wedding. I could not even imagine how many things we needed to cover to make our ceremony so special. Preparation for it was kind of adventure for us and yet another reason to spend more time together. Tanya was so happy during this time and I wanted to give her the best holiday of her life, even if that meant shopping every day. In the end, everything was unforgettable - in a very beautiful place near the sea and amongst our loved ones. A huge thanks to everyone who helped and supported us!"
The bride tells us, "Our wedding day was the most beautiful and touching day in our lives. In a picturesque summerhouse between the sea and mountains, we said the most important words to each other amongst our families and close ones. Like every bride, I was anxious in the morning, but it all disappeared when I saw Kolya in his wedding suit for the first time. His eyes were full of tenderness and love, I have never seen him so happy and emotional before. We were delighted that Sonya captured all of the important moments of our day. We will keep the memories of our ceremony close to our hearts. It is hard to explain how I felt that day. It seemed like everything around us was from a beautiful fairytale."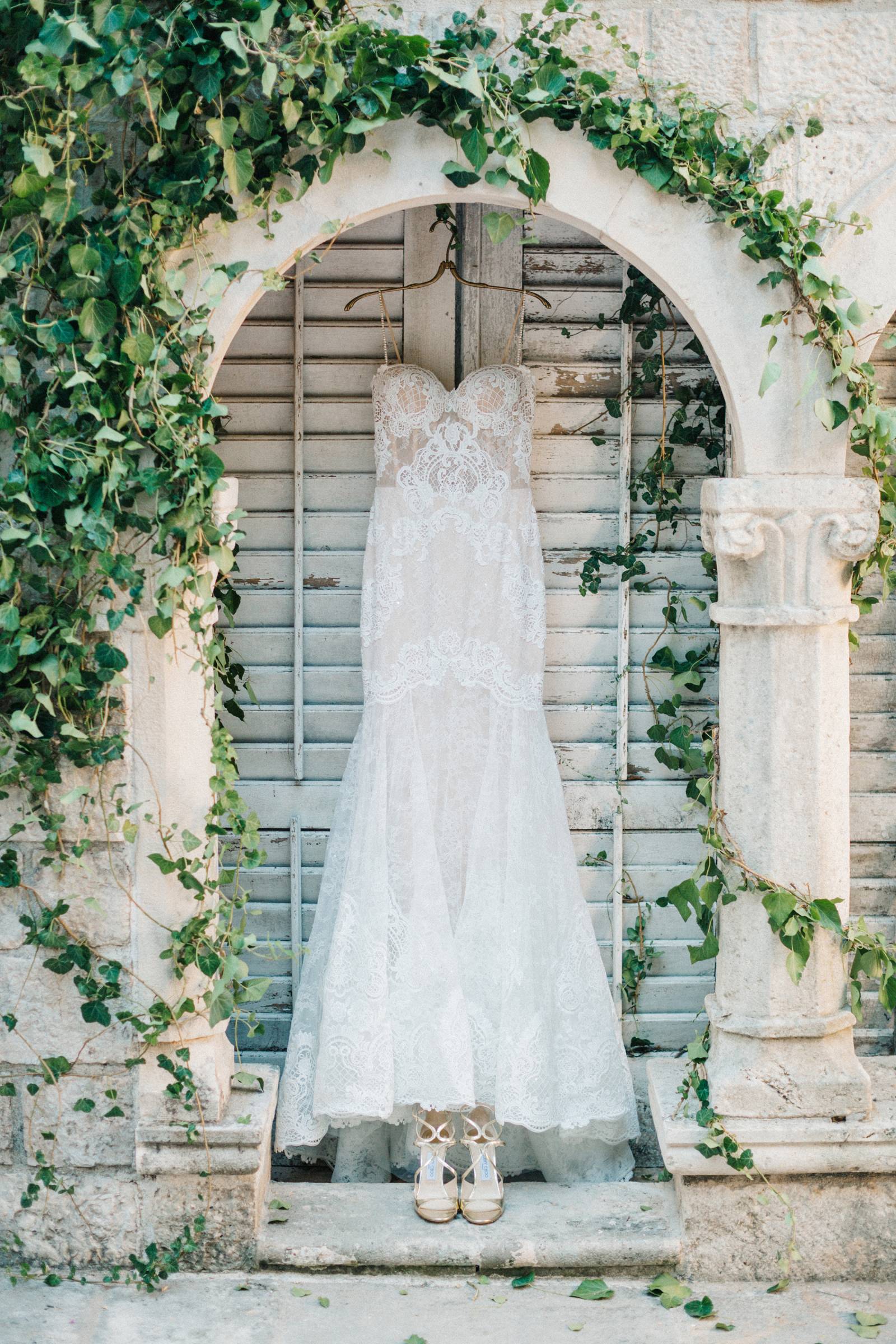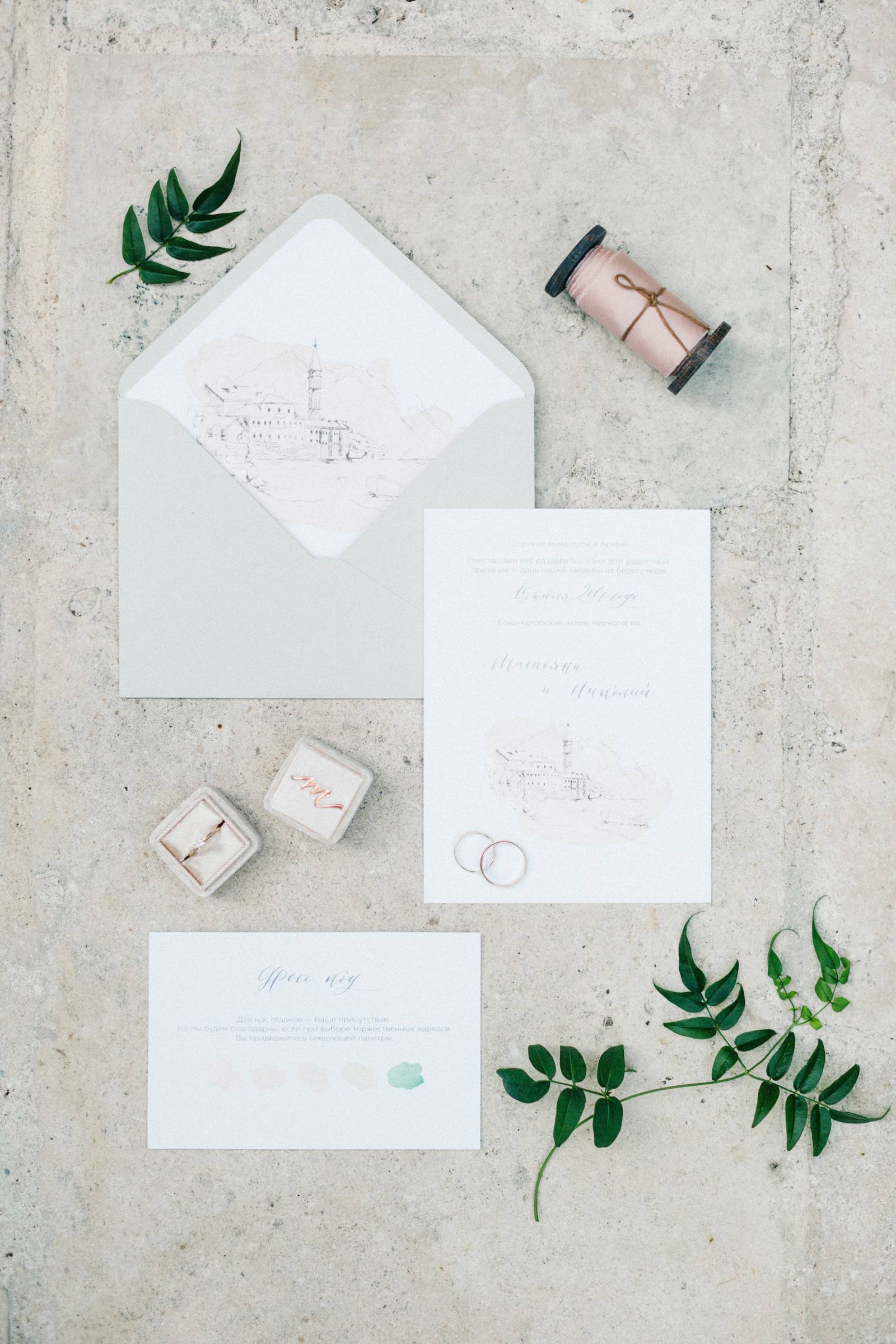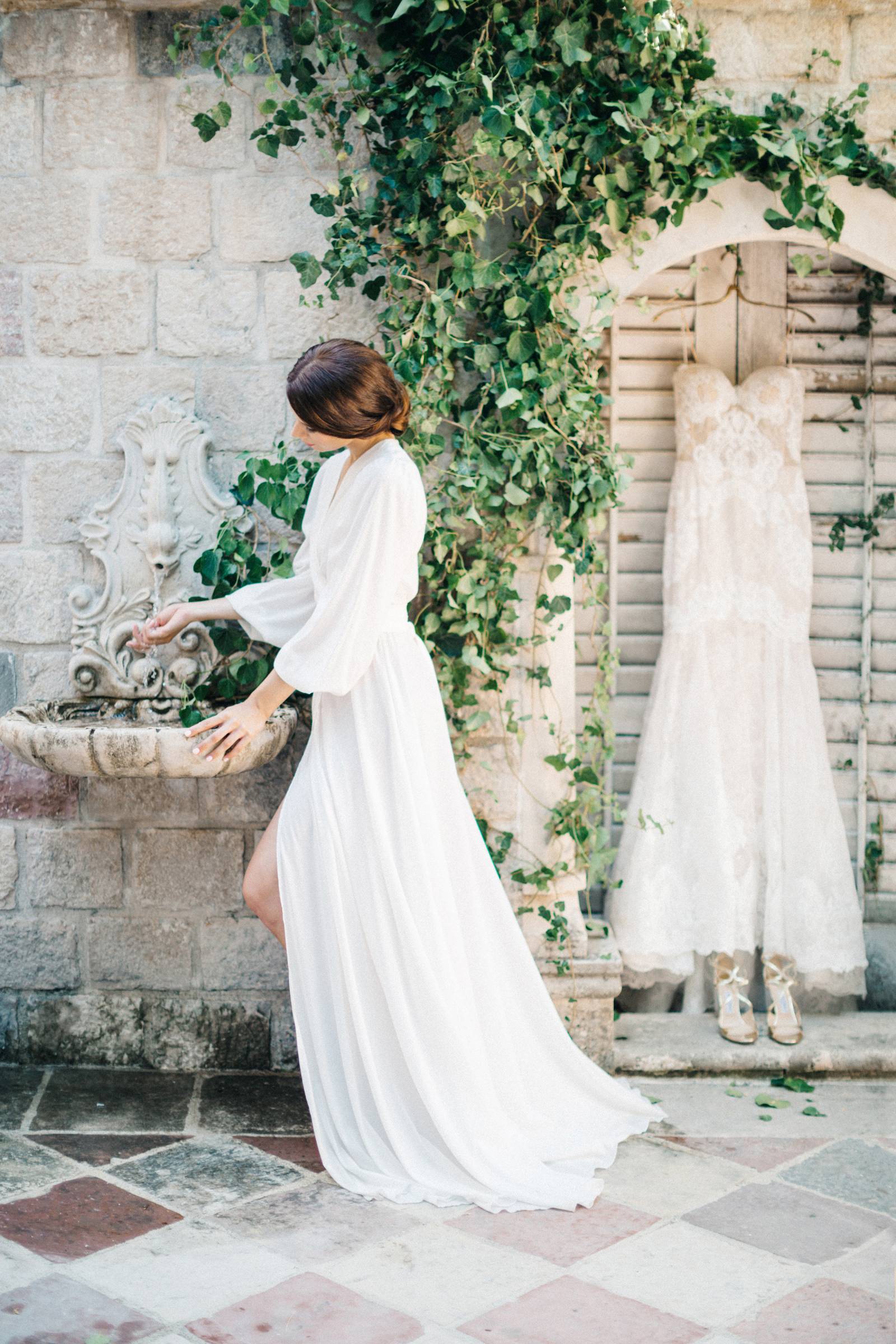 WHY DID YOU CHOOSE THIS LOCATION? We decided a long time ago that our wedding would be in the Bay of Kotor, Montenegro. When we first saw photos of it we were charmed by the beautiful images of sea and mountains. It's amazing how nature creates such places! We searched for the best place for our ceremony for a long time and we have found it only a few days before the wedding day (it was not easy). And our ceremony took place in the most beautiful location in the world - on the pier of the old villa surrounded by the sea and the mountains.
DID YOU HAVE ANY DIY ELEMENTS? My mother enchanted all the guests by her pastry cooking talent: she baked macarons and croissants, also she prepared delicious biscuits and marshmallows, all by herself. We are very happy that she found time for that. Thanks to her, our candy bar was very tasty and beautiful at the same time.
DESCRIBE YOUR WEDDING FLOWERS: We wanted to emphasise the beauty of Montenegro, but not to go too far with it. Jasmine greens and delicate flowers of my favourite colours became a very elegant part of our wedding. I was in love with my wedding bouquet, it was exactly like I dreamed: delicate, summery and fragrant. My sister caught this bouquet and I hope that it will bring her happiness.
FAVOURITE DETAIL OF THE DAY: I fell in love with saxophone music that was playing that day. Its intriguing sound accompanied our ceremony and created a unique atmosphere. Music can do magic!
WHAT ADVICE WOULD YOU GIVE OUT TO A COUPLE PLANNING THEIR WEDDING? The most important advice - try to enjoy preparing for your wedding. You should not get upset with small (or even big) issues. You will remember this day for the rest of your life and you shouldn't let difficulties spoil it.
HOW DID YOU MEET? I met Kolya in a fitness-club. I couldn't even imagine that he would become my husband at that moment. As far as I remember, we didn't give our phone numbers to each other during our first workout. It was a lucky coincidence that were visiting the fitness-club on the same days and time. We had an opportunity to get to know each other better and soon we understood that we were soul mates and we had many things in common.
TELL US ABOUT YOUR PROPOSAL: from Nikolay: I was ready to marry Tanya after our first date, but I understood that some time should pass. I proposed to Tanya on my birthday and her "yes" became the best present ever. It was indeed very exciting and romantic moment for both of us.
TELL US ABOUT FINDING YOUR WEDDING DRESS: When I was a child I dreamed of getting married in a very lush wedding dress with lush sleeves and long train. The Ideal bridal image for me was Princess Diana. During our wedding planning I tried many dresses of different colours and styles and couldn't imagine how my one and only dress should look like. That was a pleasant adventure for me. But when I saw my dress, I understood at the same moment: "this is it!"
WHAT WAS THE INSPIRATION BEHIND YOUR WEDDING STYLE? We spent a lot of time thinking about what style would match us. But after I have found my "the one and only" dress, everything became clear. I dreamed to see our wedding in a classic style. And our wedding ceremony place and a yard for bride's morning photo session were the perfect match for that.
MOST MEMORABLE MOMENT? The most memorable moment during wedding (and also my life) for me was to look in the eyes of my loving husband near the sea shore and beautiful arch covered with flowers, to feel his hand, that was cold because of excitement, and to know exactly, that we would have bright and happy life together. It's very difficult to explain those unforgettable feelings.
ANY OTHER DETAILS THAT HELP TELL THE STORY OF YOUR DAY? I was very touched when I first saw Kolya as a groom. He put on a classic suit for the second time in his life (first time was on his school graduation party) and I was very surprised by how elegant he looked.
TELL US A LITTLE ABOUT YOUR HONEYMOON: We decided not to spend time on additional flights and roads, but to enjoy our honeymoon in Montenegro. We traveled across all the country and couldn't stop admiring its beauty and history; Lovcen national park, Skadar Lake, and the medieval city of Kotor. We particularly enjoyed the Adriatic food - some dishes of which we now prepare at home.
But the most unforgettable moment was our paraglider flight, which happened to be not scary at all. We soared in the sky admiring unbelievable landscapes and finally we landed on a beautiful sea shore.
IS THERE ANYTHING YOU WOULD CHANGE OR DO DIFFERENTLY? Our wedding was the most beautiful day in ours and our parents's lives. We dreamt of a small and homely ceremony amongst our family members and close ones and everything happened exactly like that. Of course there were moments of stress on the day and a few problems in the planning, but it was the most important celebration for us and we wouldn't change anything at all.