Looking at this stunning Tuscan wedding by JULIE MICHAELSEN I'm convinced I need to find myself some friends who are getting married in this beautiful part of the world! Surely that's not too much to ask? It was their love of Italian food and wine combined with wanting a small intimate wedding that had Grace & Barry choosing a destination wedding in Tuscany.
Following a trip to Italy when they discovered CASTELLO DI VICARELLO, Barry proposed on the plane to Miami. "We booked flights to back Italy right away and went back to VICARELLO to meet Aurora and book the wedding there. We never even looked at another property, nor did we even consider it."
The gorgeous bride tells us, "I actually saw the venue in Porter magazine way before I met Barry, they interviewed Roland Mouret when he released his wedding dress collection and asked if ever he got married where would it be and he mentioned Castello Di Vicarello. I was never into the idea of marriage before I met Barry, but when I saw Vicarello in the article I just felt this strong connection to it and thought if ever I do get married this is where it will be. I met Barry about five years after this.
During a trip to Italy and getting lost in the Tuscany countryside it turned out Castello di Vicarello was on our route back to Cortona where we were staying. We turned up at the gates, no idea what to say as we realised that it wasn't like a hotel where you can walk in and have lunch as there is no restaurant. Simo - the butler - greeted us and we explained we were thinking of getting married there. As it was winter and the hotel was empty, Simo gave us a full tour of the whole venue and the rooms, followed by opening a bottle of their wine and telling us Aurora & Carlo's story on how they came across and started Vicarello. We fell in LOVE and Barry said to me, 'this is it, this is where we getting married.'"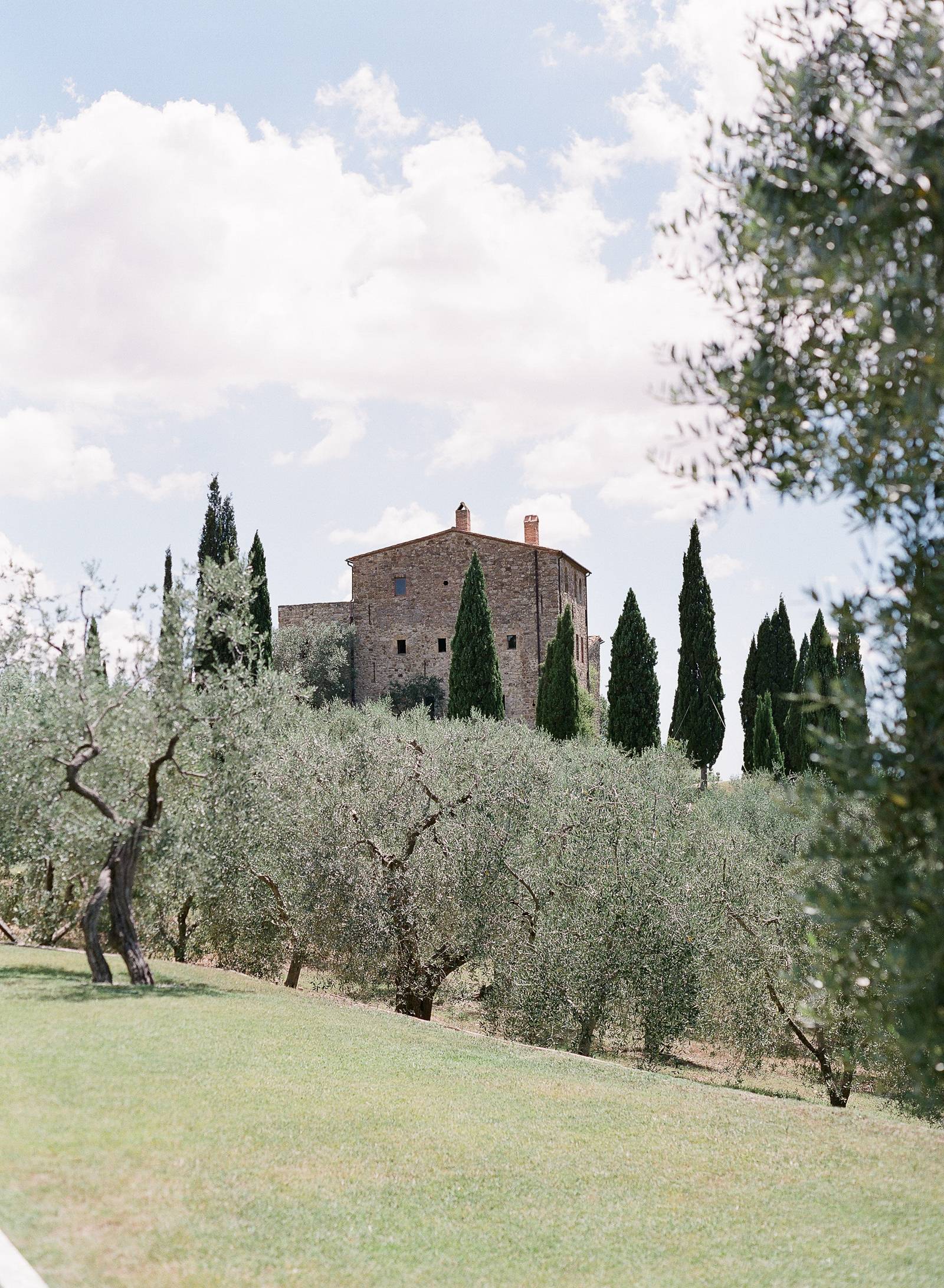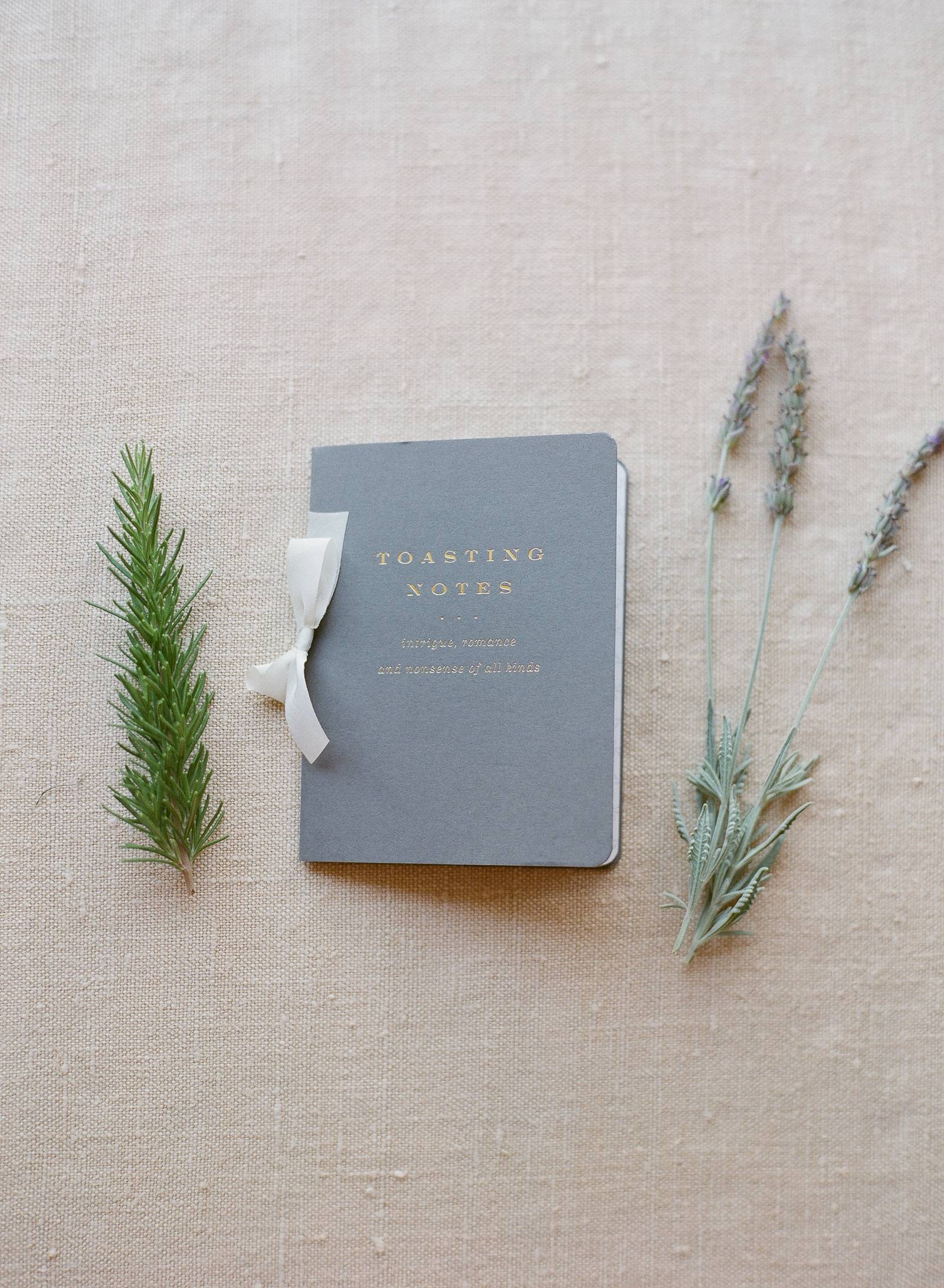 DID YOU HAVE ANY DIY ELEMENTS? Everything was DIY! We didn't have a wedding planner, the decorations we collected from various online sites and took them over from London. The table decorations were from Ikea in Florence which we went too after we landed, the plants were from a local garden center. All of our bridal party put these together the day before the wedding.
Our wedding invites were the cookery books made by Aurora - the owner of Vicarello - which includes all her recipes and photos of her cooking and the venue. The idea was so that everyone could see the venue and make the recipes to get excited about the wedding for the year leading up to it. Its also a great keepsake.
DESCRIBE YOUR WEDDING FLOWERS: We didn't feel there was a huge need for flowers when getting married in a beautiful garden, therefore we took fake flowers from London and made them into bouquets. We were a tiny bit worried about this but honestly we don't regret it, we saved so much money and didn't effect our day in the slightest… and still looked beautiful!
WHAT ADVICE WOULD YOU GIVE OUT TO A COUPLE PLANNING THEIR WEDDING? Make every decision based on what you want and don't feel obliged to do something because its tradition. It's your wedding so make it all about what you both want for it. We did this and just felt so comfortable all day and enjoyed every second. There's not a single thing we regret and our guests really felt it and enjoyed it too.
MOST MEMORABLE MOMENT? The ceremony was beautiful, for Barry it was seeing Grace walk down the aisle. The ceremony wasn't without hiccups, the video camera overheated and Grace had to repeat her vows! But it didn't matter, it was perfect to us!
For both though, the most memorable was the evening on the dance-floor, we were all together, every single guest dancing together through to the early hours under the Tuscan stars.
ANY OTHER DETAILS THAT HELP TELL THE STORY OF YOUR DAY? We have both been to a lot of weddings and we just really wanted ours to feel like us. We wanted our guests to always have a drink in hand and have great food all day and for the music to be playing constantly and of course a big party in the evening. That's exactly what we did, we even managed to have a lip sync rap battle between Barry & I!
Food was also important, we wanted to make sure that everyone always had enough food so had a buffet brunch set up for after the ceremony. It was beautiful Italian food, followed by an ice cream cart around the pool, then a BBQ in the evening. We didn't want people having a long sit down dinner, we wanted it feel really causal and fun!
Music is super important to both of us and we started making playlists since we got engaged. Every time we would hear a song we would add it, we also had nights at home with a bottle of wine listening to music and watching old music videos on youtube. It took us over a year but everyone noticed and commented on it and even have asked to use it at their own wedding. We chose every song which again made it feel like US. We had love songs in the olive garden before the ceremony to build up emotion & love, followed by soul music at the brunch, more up tempo summer songs around the pool to build up the party atmosphere then we had our friend DJ in the evening all of our favourite songs.
We also kept people moving and discovering new parts of the property throughout the day so no one got bored, but stayed long enough that they can relax.
The cocktails were an idea I came up with to get guests to engage with each other and get up and mingle during the speeches and dinner. The idea was to make cocktails from the ingredients provided in the ice buckets on the tables, make them for other guests and trade with other tables. It was a great ice breaker for people sitting next to people they didn't know too well. But of course with Barry working in the drinks industry as were most of our guests we knew that cocktails needed to be a pivotal part of the day!
We asked all guests to wear pastel colours which was a theme for our wedding, it looked so beautiful in the photos! We also decided when planning the wedding that we didn't want to feel like we had to do or choose anything because that's just how its done. Like the vows, I did a seating plan for the ceremony, we got our friends to tell our guests how we met as part of the ceremony, Both the bridesmaids and I did speeches, I also didn't get a conventional dress as I just didn't feel like myself which I thought was so important and it made me so much more comfortable on the day. Barry wore more white than I did!
Our wedding invites were the cookery books made by Aurora the owner of Vicarello which includes all her recipes and photos of her cooking and the venue. The idea was that everyone could see the venue and make the recipes to get excited about the wedding for the year leading up to it. It was also a great keepsake.