It was love at first sight for sweethearts Colleen and Kris Kaufman who tied the knot in Santa Monica in 2012. The wedding planner and her designer husband wanted to celebrate their one year anniversary by conjuring up a few of the most cherished moments from their wedding day. For starters, the pair solicited the talent of their wedding photographer, Allie Lindsey Photography, to capture their love in Joshua Tree National Park. To prepare for the shoot, a homespun mini cake was baked by Colleen herself while Allie arranged for the two to prepare surprise 'gifts of love' for each other. Throw in a whimsy headpiece by Twigs and Honey and sparkly baubles by Jennifer Behr, both found at Two's Company, and the couple was set for a very romantic and gorgeous day.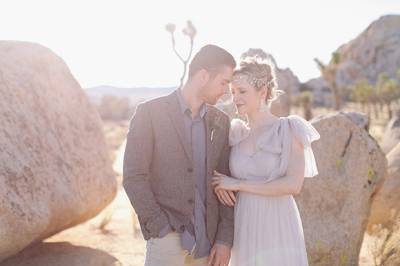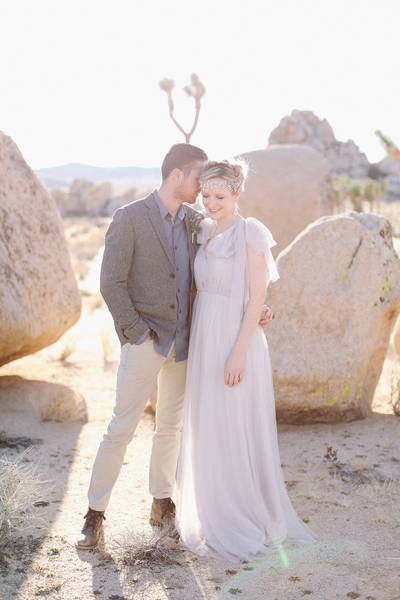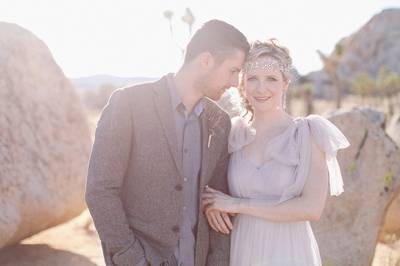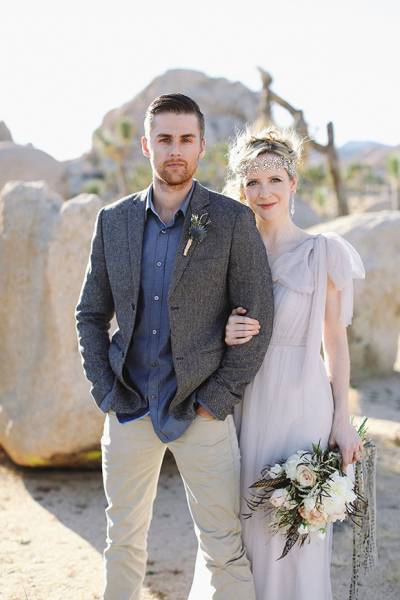 From the couple… When dreaming up ideas for our anniversary session, we sought inspiration from moments on our wedding day that left big impressions on us. And, thank goodness we had a wedding video to rely upon to stir up some of those memories. During our ceremony, our priest gave us a mission to, "Make the world a more beautiful place," which has encouraged us to celebrate our creativity and take care of people in need. Our first dance song was "Everlasting Light" by the Black Keys, a song about being the light that shine's in your partner's heart. Finally, our reception kicked off under an historic Moreton Bay Fig tree, symbolizing the foundation of our union and vow to grow in love every day. So, when Allie suggested Joshua Tree for our anniversary session we knew it was the perfect place. The desert provided a stunning backdrop where our love radiated and we felt like the only two people on the planet.

From Allie Lindsey Photography… Colleen and Kris are very special to me. The wedding day I documented for them solidified WHY I am a photographer who tells the story of love. I doubt a single person who attended that wedding left without crying tears of happiness. I think a love story should be told not just on the wedding day, but the continued chapters that happen long after the wedding day is over. For their anniversary session, I envisioned a place full of light so soft it would radiate with the story of their first year of marriage. I gave them some "homework" so that when the day of the session arrived they had endless surprises in store for one another and I was able to photograph a real experience of joy and remembrance on the first year of marriage they had shared. The most amazing team of people contributed to this session, but none of it would have been possible without the true stars, Colleen and Kris and the beautiful marriage they share.