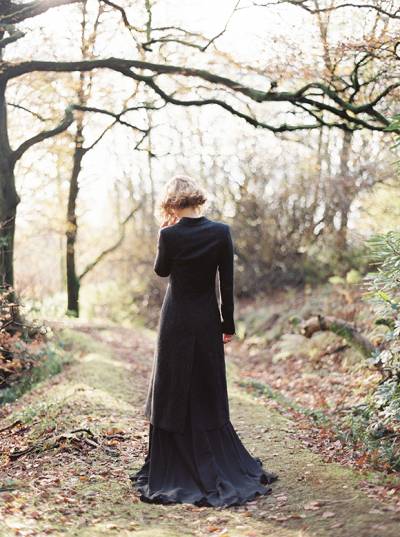 When Montana-based photographers Samantha and Reid of ORANGE PHOTOGRAPHIE reached out via social media for like-minded creatives to collaborate on a shoot during their trip through Scotland, a beautiful partnership was born between themselves and local floral talents, PYRUS. Hoping to show a new and unexpected side to Scotland - beyond the typical tartan and Highland scenery - the team took a conceptual approach, and chose the KELBURN ESTATE in Ayrshire as their location.
They were inspired by the Graffiti Project, an extraordinary piece of contemporary art which dominates the walls of Kelburn Castle, and both challenges and sits peacefully within the surrounding natural landscape. "We wanted to explore that maverick spirit, and bring a sense of something unexpected and surreal to the glen, taking bold, primary colours from the mural and incorporating land art and site-specific pieces into the shoot," Fiona and Natalya of Pyrus explain. They sourced unique, beautiful gowns from ROWANJOY in Edinburgh and added contemporary tweed pieces by WALKER SLATER to add an edge to the look while retaining a sense of the traditional, and showcasing local artisan techniques.
For the bouquet, they opted for a softer, more romantic feel, combining garden blooms with foraged woodland treasures and taxidermy wings for an unconventional touch. "We are influenced by nature in its entirety," they explain, "and often use materials such as wings or seaweed, or found objects like skulls in our work - we find the complexity more interesting and contemporary than flowers alone."