Bring a regular visitor to DEVIL'S THUMB RANCH growing up, Jessica had long known she wanted to get married there so a merely days after Andrew proposed to her she didn't hesitate to get it booked in. Thankfully he was on board! Captured by Colorado Wedding photographer CARRIE KING, the wedding blends the grooms southern roots with the brides Colorado mountain vibe with the end result an elegant mountain wedding. With most of the guests traveling from out of state, they wanted to create a classic Colorado mountain weekend experience and this really anchored the theme from food to welcome bags to activities. GATHER & GRACE EVENTS helped them to pull it all together..
The planner tells us, "in terms of the planning and design, Jessica and Andrew put a lot of intention around their decisions. The venue was a no brainer, as Jessica and her family spend a lot of time in the Winter Park area, and at Devil's Thumb Ranch specifically. They wanted to keep things classic, timeless and a bit elegant in this refined rustic space.
Jessica's dad painted a watercolour of the Devil's Thumb Ranch view, which Pier 9 Design turned into envelope liners for their wedding invitation. It also became the background of Jessica & Andrew's welcome sign, which now hangs in their San Francisco home so they have a part of the mountains with them always
My favourite moment of the day was listening to Jessica's cousin, an incredible singer from New York City, sing La Vie En Rose with Radio Band for Jessica and Andrew's first dance. Guests were so focused on the dance and Andrew's beautiful voice – it was one of the most watched first dances I've witnessed in my career."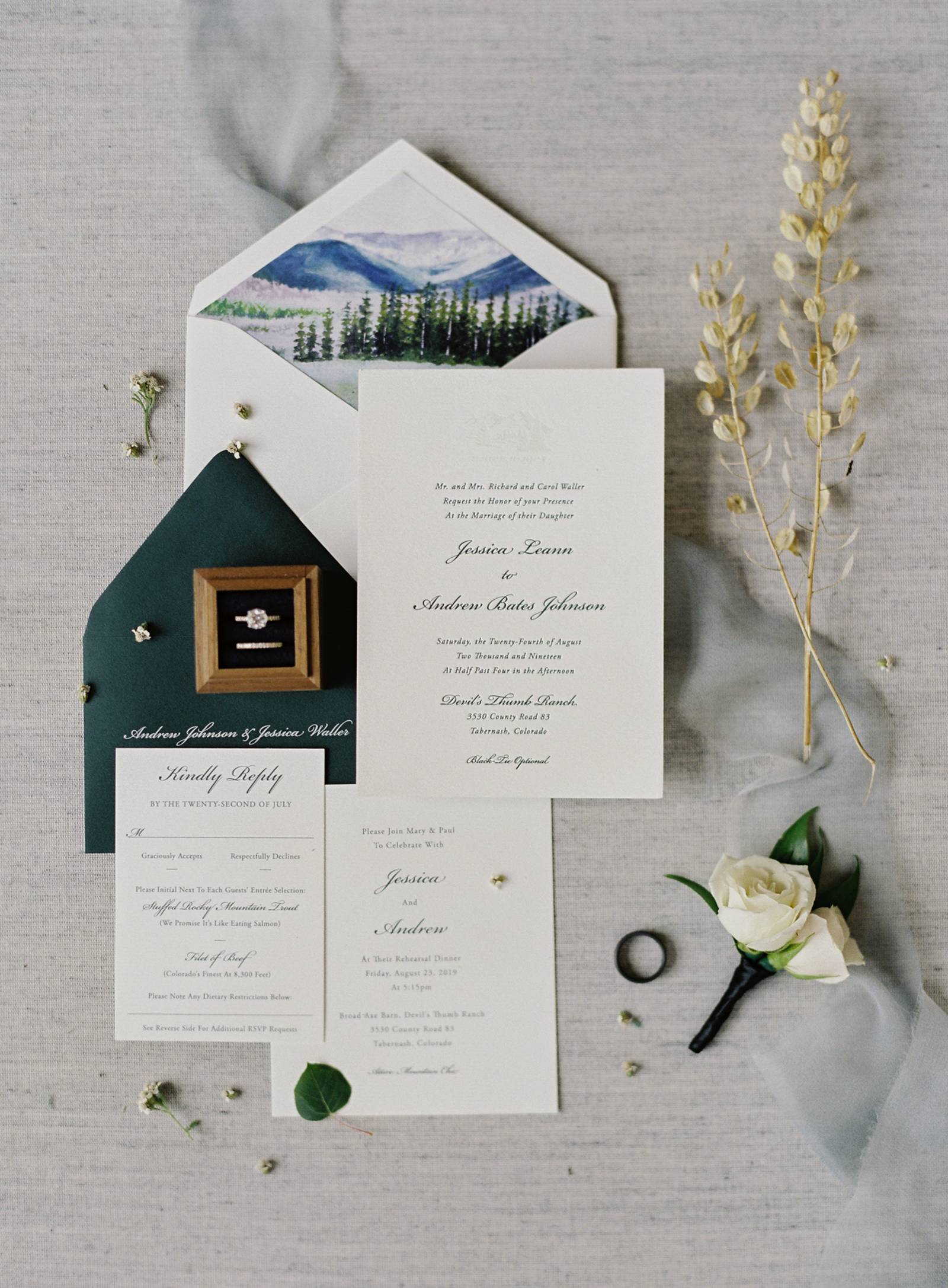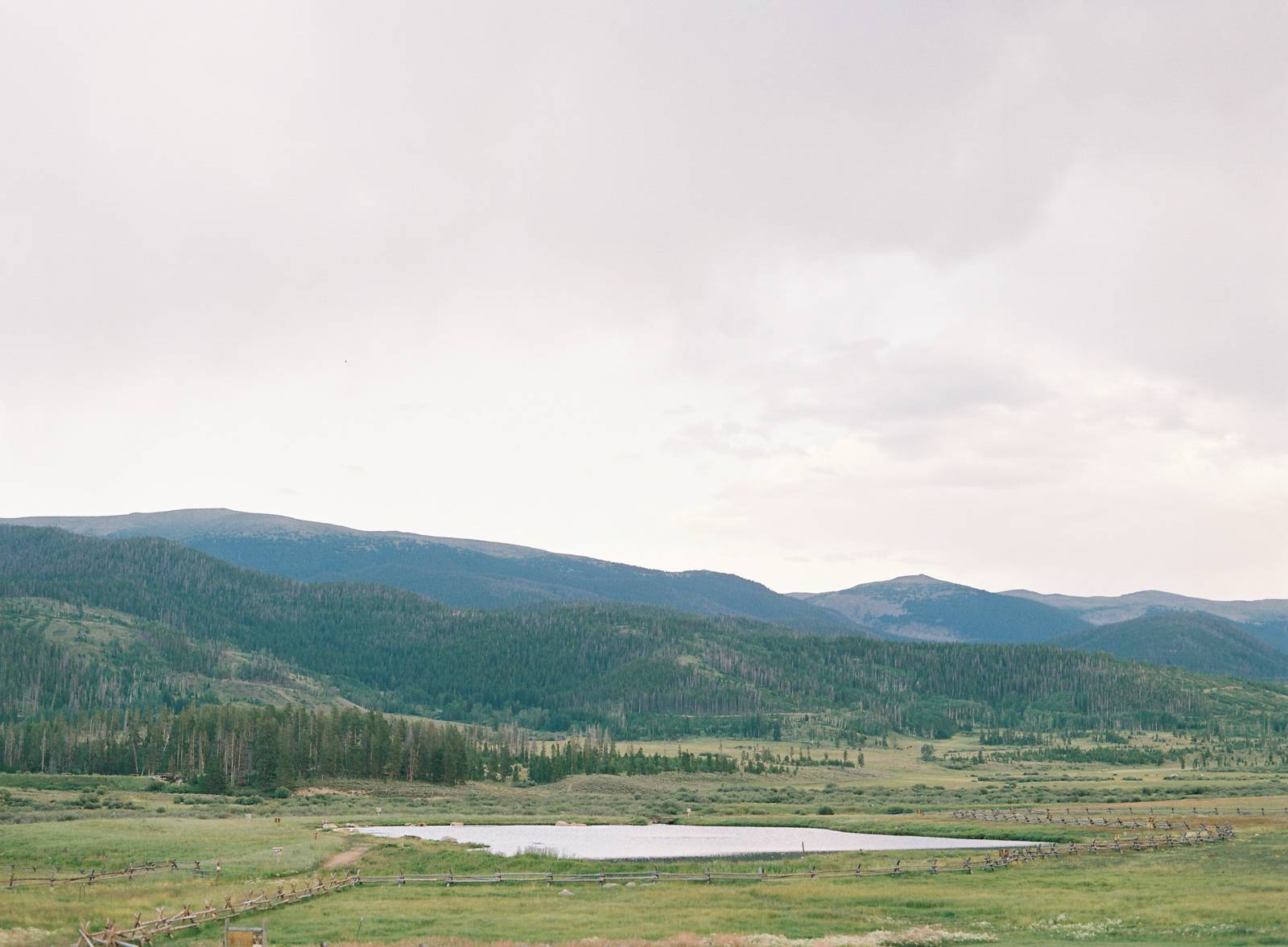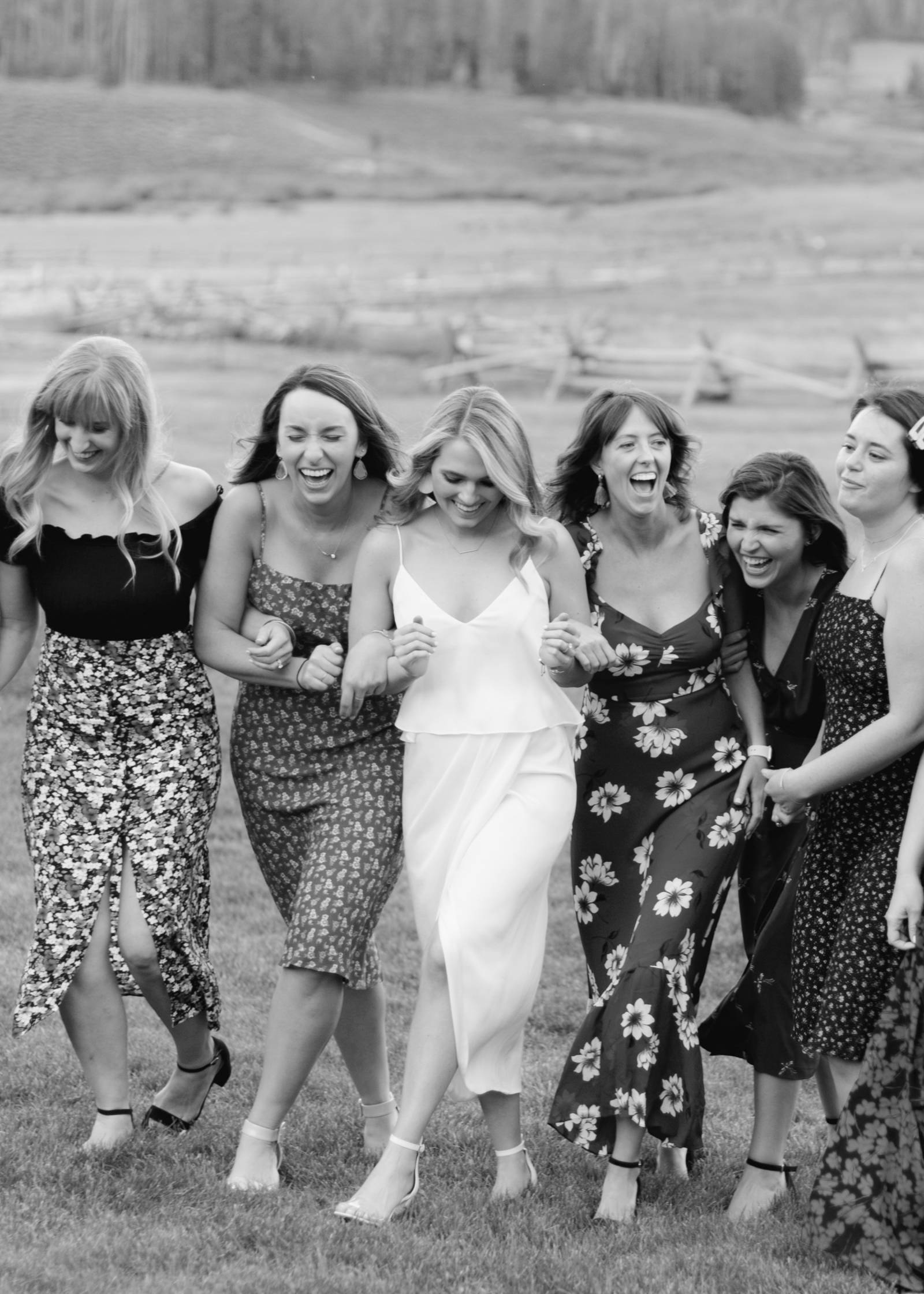 TELL US ABOUT HOW YOU MET? Andrew and I met out in San Francisco, one week after he moved there from business school. I thought, welp, this is not going anywhere since he is going to want to date around. I was very mistaken since he proposed a year later!
TELL US ABOUT THE PLANNING PROCESS: I had an amazing wedding planner who I gave my vision to at the beginning and she gave me option A, B, and C to choose from as decisions arose. I live in San Francisco and was starting a new job, so to have this option was amazing. We both wanted to keep the theme of mountain elegance with guest experience as priority number one and central to our decision making. We also wanted to add as many personal details as possible so we had my cousin sing our first dance and me walking down the aisle, my dad designed the wedding invitation envelope liner, we wrote our own vows, and we had my favourite spicy tequila cocktail as a signature cocktail.
WHAT WAS YOUR FAVOURITE MOMENT OF THE DAY: I love Celine Dion, we went to Vegas to see her for my bachelorette. During the dancing portion of the evening, my friends and I did an ode to Celine dance, completely unplanned but very memorable.
FAVOURITE DETAIL OF THE DAY? I loved my dress. It was something I never pictured wearing, in fact it was the "just try this on as a joke" dress. It was a very large ballgown and my mom was not enthusiastic. I continued to try on dress after dress but I kept thinking about this massive ball gown that I loved. In the end I bought and never looked back.
A big thank you to Colorado Wedding photographer CARRIE KING for sharing this beautiful mountain wedding with us. Carrie has been photographing couples all over the world since 2009. Her style captures the balance between a fine art editorial aesthetic, and the real life moments of a wedding day. Bringing sophistication and attention to detail to a wedding day, combined with a true emotional connection to her clients. Carrie is a seasoned photographer that truly understands not only the process of a wedding day, but the love and real moments that make it so special. You can see more of her portfolio in our vendor guide.