Gorgeous bride Amy had always hoped that she would end up marrying someone who loved the idea of a Montana wedding, so all her dreams came true the day she married Ben at O'HAIR LODGE in Paradise Valley, Montana. "The O'Hair family own such an incredible piece of property and they were kind enough to let us get married at their guesthouse. It was more beautiful that I had ever dreamed."
After a proposal on the Yellowstone River they went about planning a simple wedding that was true to the bride's relaxed style. Not fond of the idea of being in the spotlight with so many people's eyes on them, she at least wanted to be comfortable doing so. "The setting of the wedding provided such a stunning backdrop that I wanted to feel natural and understated."
With a perfectly rustic, yet classic reception, the tent was filled with candelabras, whimsical florals and greenery, all placed beneath antler chandeliers, it was the perfect scene and KACIE Q PHOTOGRAPHY captured it beautifully.
HOW DID YOU MEET? We were set up on a blind date by a mutual friend. We went for drinks on a Monday night, conversation lasted 3 hours.
TELL US ABOUT YOUR PROPOSAL: My family goes to Montana every summer for a weeklong vacation. Ben orchestrated my entire family's involvement in the proposal to take place on the day we arrived. While my siblings, niece and nephew worked to distract me, my dad handed me a letter Ben had written. My family was crying while I read this incredibly sweet letter explaining why he wants to marry me. Ben was waiting for me outside the house by the river. After the note, I quickly went to him so he could get down on one knee.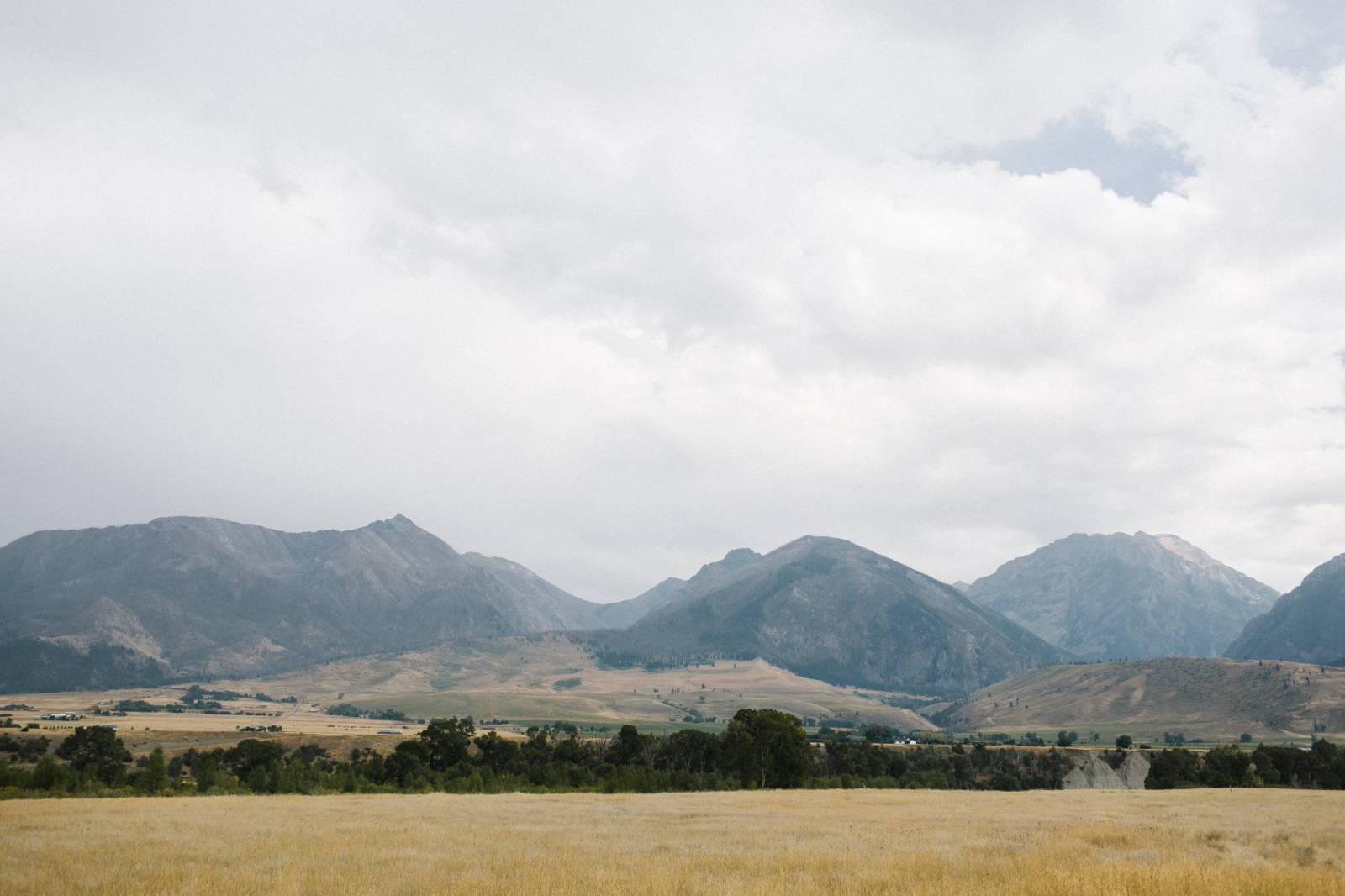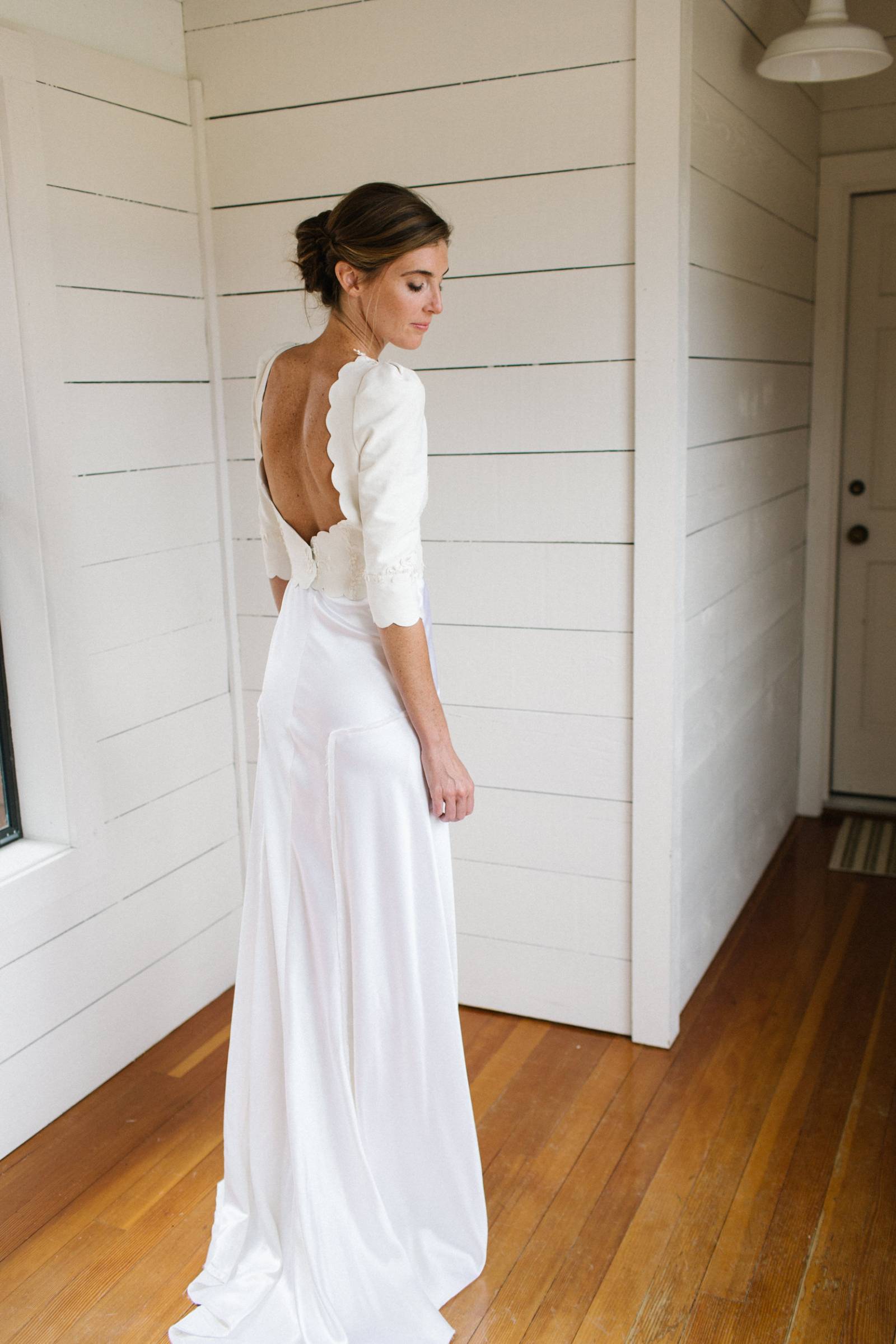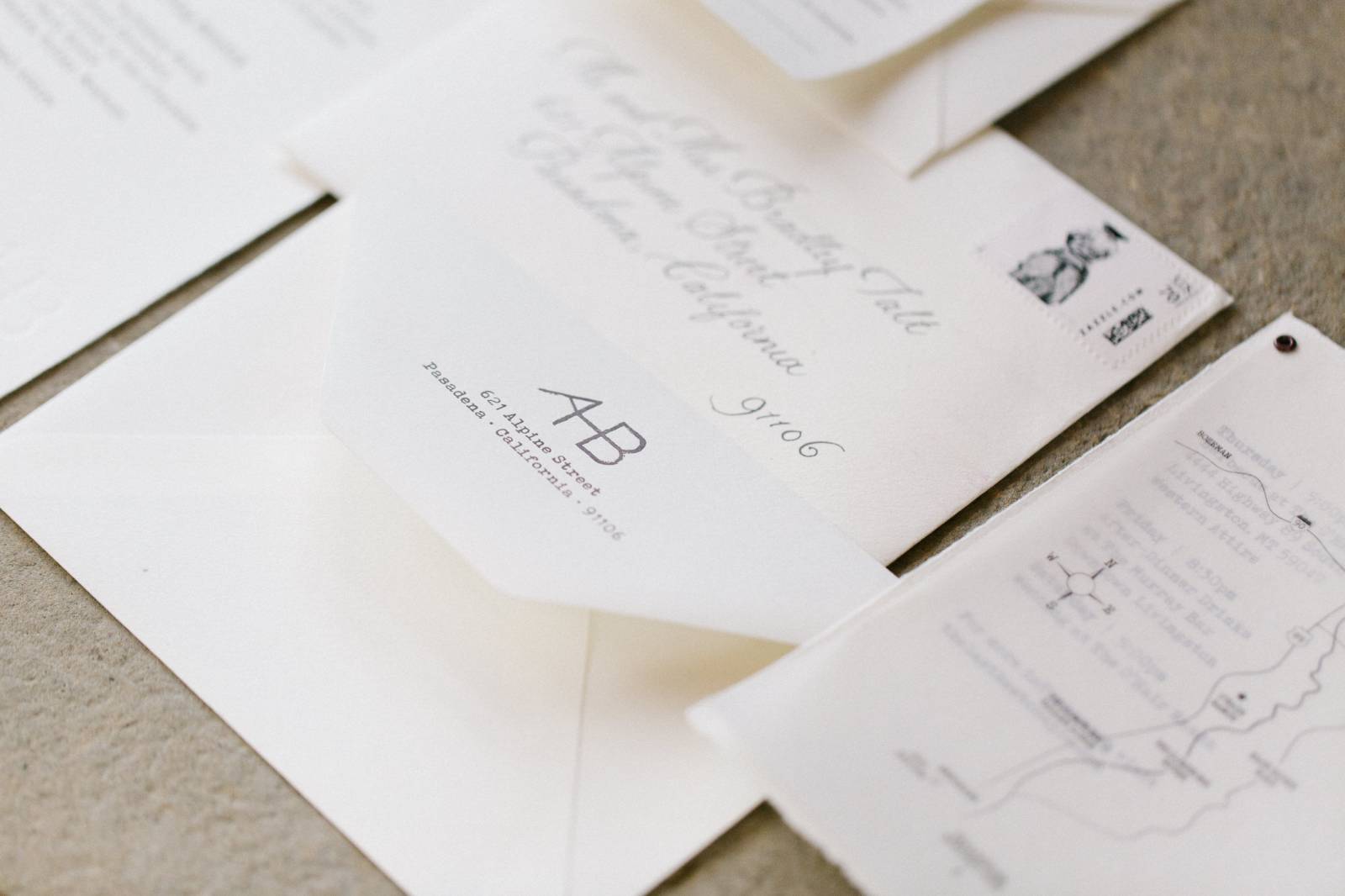 TELL US ABOUT FINDING YOUR WEDDING DRESS: My friend, Cynthia Cook Smith is an incredibly talented wedding stylist. She worked in New York at Vogue for years and introduced me to a great designer friend, Bill Bull, who was able to help me create my dream dress.
DID YOU HAVE ANY DIY ELEMENTS? My mom and I were a DIY team. I would paint a picture of what I wanted and she and I spent a lot of time driving around LA, where I am from, making the pictures come to life. In addition, our bartender for the wedding was the O'Hair's son in law, John Payne - who owns a bar in town. He spent the entire week leading up to the wedding making my vision come to life. I wanted a firewood pile to hold the Table Assignment cards, so he chopped the wood and we built it together. The table number cards that sat in the center of each table were an image of a cowboy and horse I had drawn. My sister-in-law and I glued a mossy stick (provided by our florist) to each name card for the place settings. My favourite touch was the sign my mom made for property. She found a piece of reclaimed wood in LA and had a friend burn an "A H B" (for Amy and Ben Herrick) brand into the wood. She and John affixed the branded sign to the entrance of the property. The wedding week was all hands on deck, each member of my family stepped up and helped create the vision.
DESCRIBE YOUR WEDDING FLOWERS: Organic and chic with a romantic Montana vibe. In shades of white, green, hunter green, very textural while incorporating local elements local greens, herbs, grasses, white wax, white scabiosa, scabiosa pods, thistle, and local flowers more like wild blooms. The matron of honour, flower girl and men's boutonnieres were all simple white wax flowers.

FAVOURITE DETAIL OF THE DAY: I loved the tablescape that our day-of-coordinators and florist design. Instead of typical white candles, I had bought these cool olive green tapers for the candelabras. It looked perfectly rustic yet still classic. I also loved the antler chandeliers, and those were a labor of love to get into the tent. I had convinced an antler designer to let us borrow two of his chandeliers for the event. The only problem was the antler shop was a 3-hour round trip drive. That's where my dad stepped up again to do the job no one wanted.
WHAT ADVICE WOULD YOU GIVE OUT TO A COUPLE PLANNING THEIR WEDDING? Stay true to yourself. I am almost too self-aware, but that worked in my favour in planning the wedding because every detail of the day was very specific to our personalities. People have expectations of you as a bride and groom, but only do what you feel comfortable with. I knew certain things would make for a very unnatural moment, like the cake cutting, so I just cut those things out of the agenda. It's about you, do what you want!
MOST MEMORABLE MOMENT? I thought we both would be weepy the entire ceremony, but we both kept it together and didn't cry. About an hour into the reception we did our first dance (which I was dreading a la "unnatural moment"), and Ben and I just broke down in tears as we danced to our song. It was a very emotional moment where both of us collapsed into each other.
ANY OTHER DETAILS THAT HELP TELL THE STORY OF YOUR DAY? A couple months after Ben proposed, we were discussing who would "marry us". I am really close to my two brothers and I just loved the idea of my dad giving me away and my brothers "marry me" off. So at a family dinner in LA Ben and I got down on one knee in front of my brothers and asked them to "marry us". I'll never forget rounding the corner to walk down the aisle on my father's arm, and seeing my future husband and my two brothers awaiting me. It was really cool.
TELL US A LITTLE ABOUT YOUR HONEYMOON: Our honeymoon was INSANE. I will take a lot of credit in the planning of the wedding but Ben planned the entire honeymoon. We flew directly from Montana to Paris where we stayed for three nights. This was our time for "relaxation" before the real adventure began. From Paris we spent nearly two weeks in Rwanda and the Democratic Republic of Congo. Trekking to see the mountain gorillas was on my bucket list and Ben made my dreams come true. It was truly and exhausting and magical honeymoon, the best trip of my life!
IS THERE ANYTHING YOU WOULD CHANGE OR DO DIFFERENTLY? Ha! Ben gets so annoyed with my fixation on how bright the antler chandeliers were once the sun went down. That is literally the only thing I'd change, dimmer bulbs. The day was perfect!