Gorgeous bride Sarah had her dream wedding all planned out. She was to marry Caleb by the lake on a friend's wooded farm - a place where all their friends would meet and catch up when everyone was in town. They'd enjoy a fire down by the lake and camp out and as a place they had shared many special memories, The SEVEN PINES QUAIL FARM in Danielsville, Georgia turned out to be a beautiful backdrop for the wedding. They wanted their wedding to be simple, elegant and most importantly, fun! They let the beauty of the location do most of the talking when it came to their styling. CHRISTINA DAVIS PHOTOGRAPHY had this to say about it: "The day was incredibly peaceful as love flowed through the air. I could sense the sparks between Sarah & Caleb as they prepped for their wedding. The moment Caleb captured the first glimpse of his bride was truly magical."
HOW DID YOU MEET? Caleb and I met online when my Tinder app malfunctioned and matched me to a guy 2,000 miles away while I was living in CA and he was living in GA.
TELL US ABOUT YOUR PROPOSAL: Caleb proposed to me in the bedroom of our apartment. We had been discussing marriage a lot and I didn't know he had bought a ring and was planning a big proposal out by our friend's lake next to a bonfire. I was telling him how if we got married how I wanted it to be out by our friend's lake and that afterward we could have a bonfire and he was so excited that my ideal wedding was basically the proposal he was planning that he just got up and left the room and came back with the ring.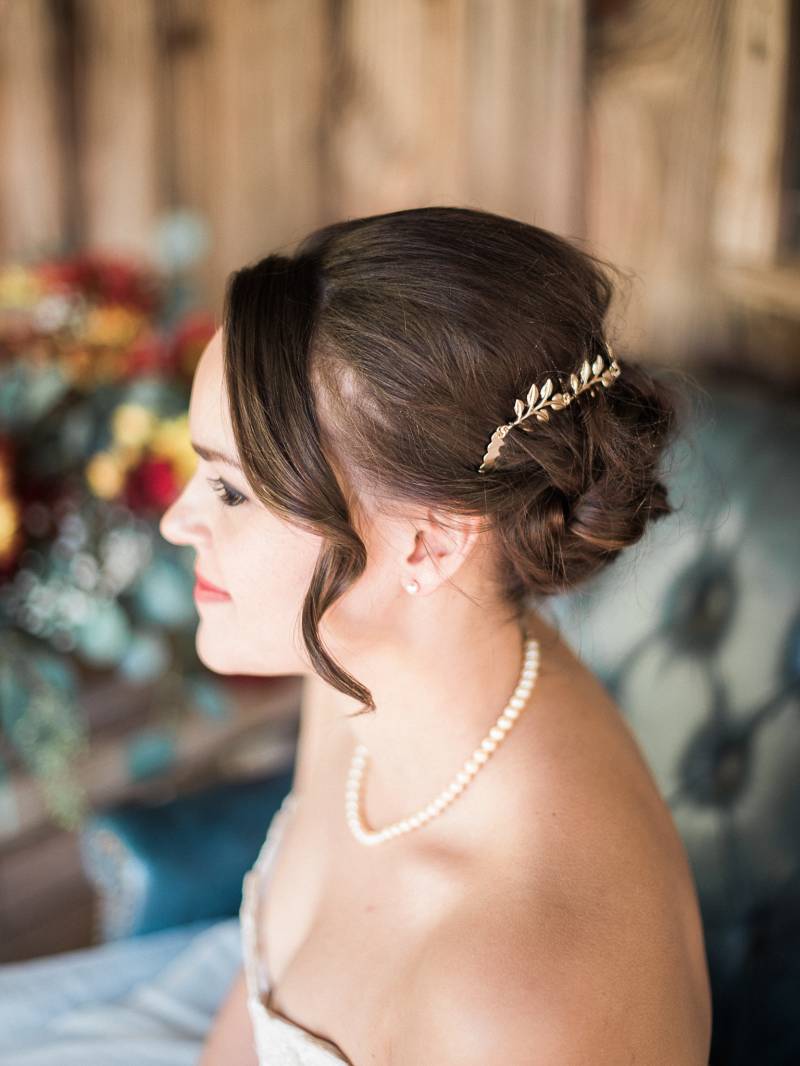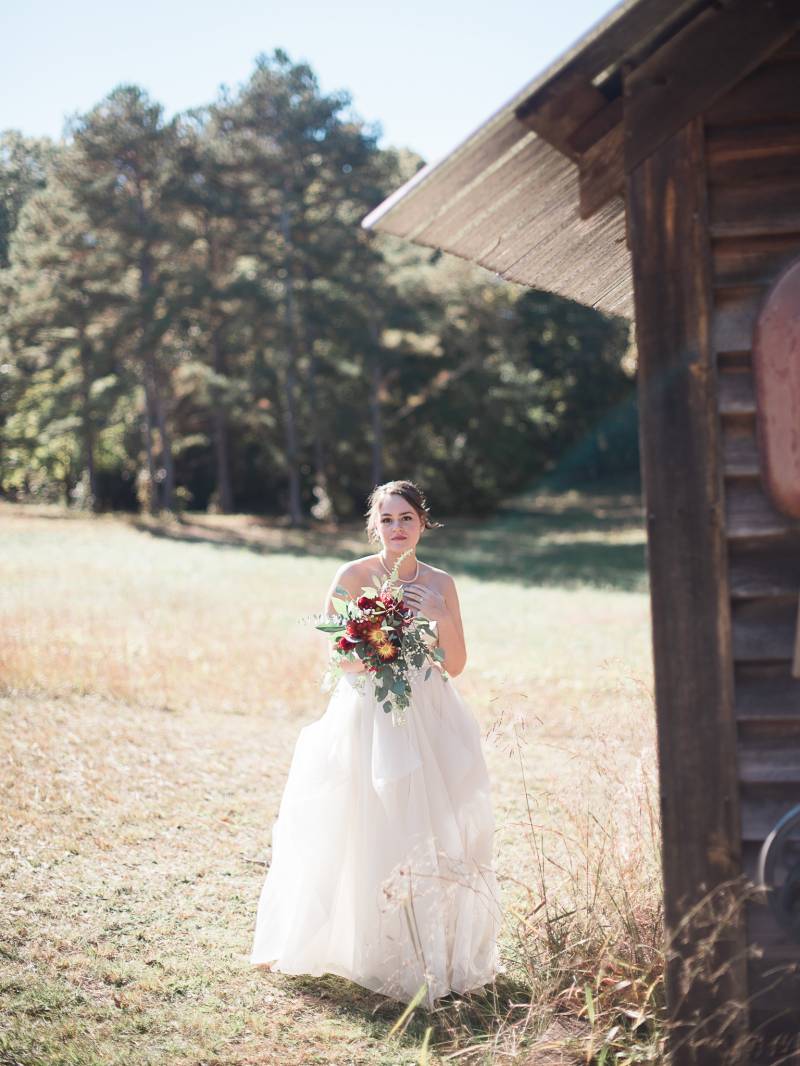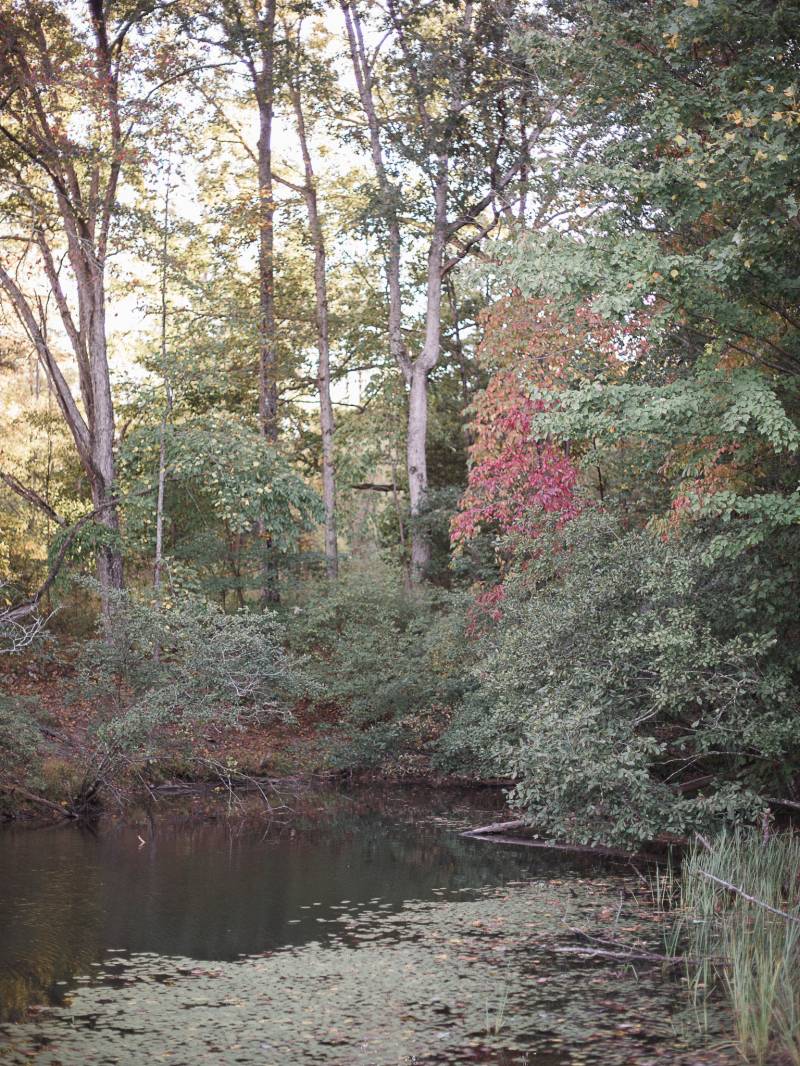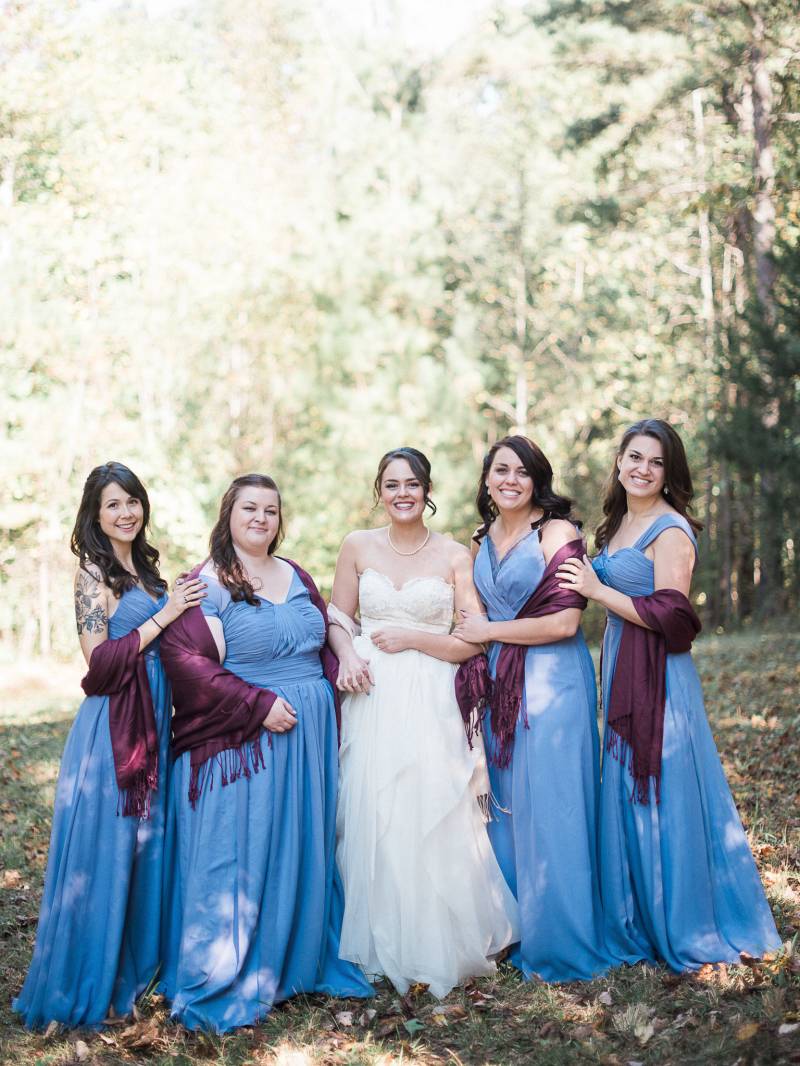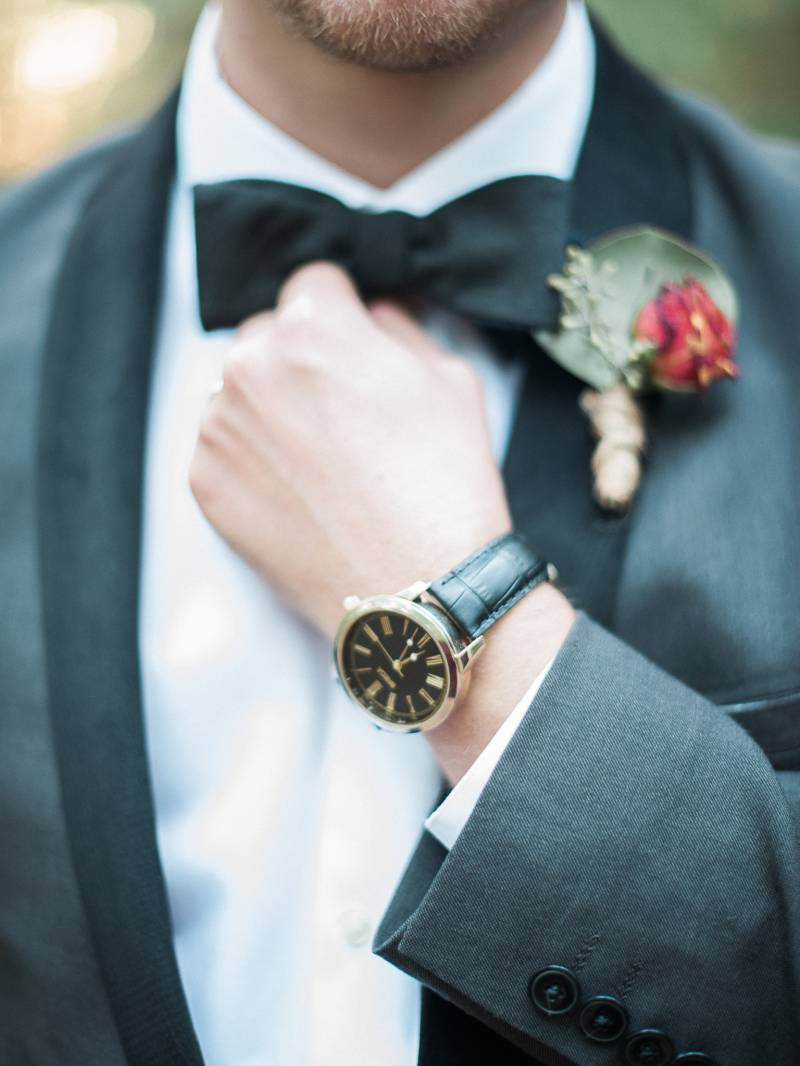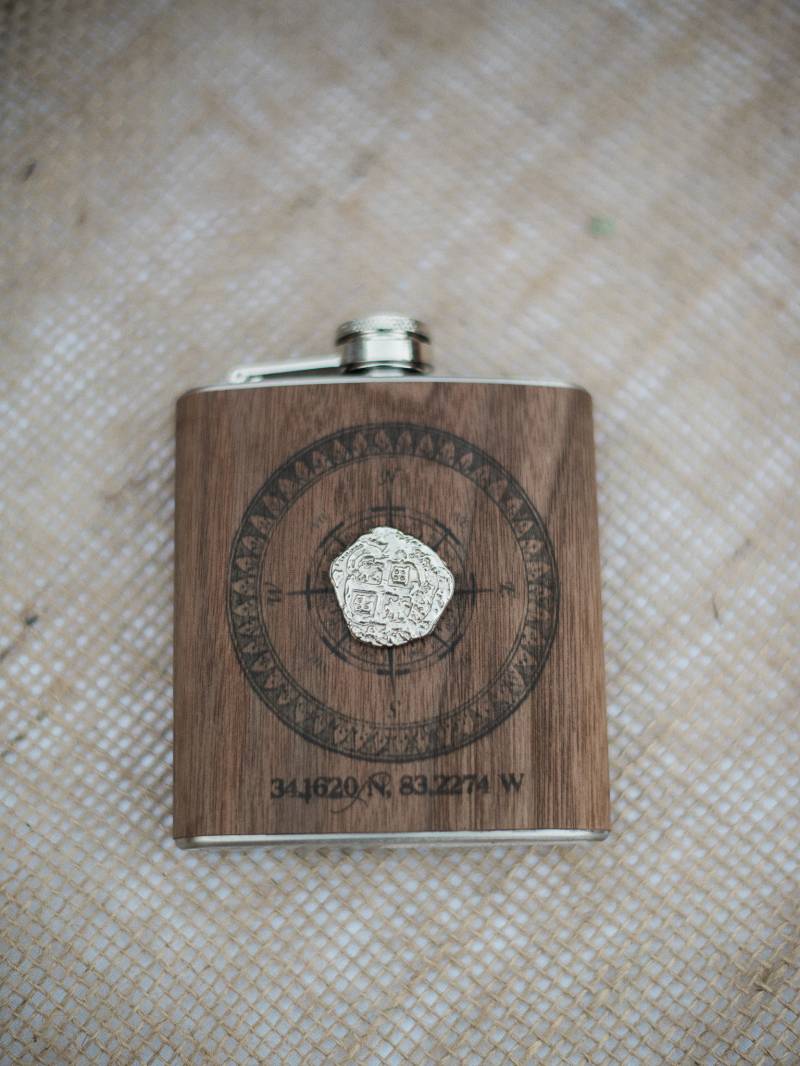 TELL US ABOUT FINDING YOUR WEDDING DRESS: I wore two wedding dresses. My ceremony dress I bought at a small boutique in Atlanta that has the beautiful contemporary takes on vintage classics. I found them online and loved that all of their dresses were made in America and made with all natural products. I couldn't afford much but they were very nice and only showed me dresses that were in my budget and ultimately landed my with my dress which would normally have been way out of my budget but I tried on the sample and it fit like a glove so they sold it to me. My reception dress was one thatI got because I was having second thoughts that my first dress would be hard for me to really have fun and move around the way I wanted to at my wedding, so I got it off of ModCloth.com and it was the perfect length for me to be able to move and dance at my reception without stepping on my dress or getting it torn up by the grass in our rural setting.
ANY DIY ELEMENTS? We had a ton of DIY elements. All of the Flowers were done by myself and one of my bridesmaids the night before the rehearsal and our centerpieces were Trader Joe's wine bottles wrapped in twine and grouped together. We really put a lot of the setting together with things we had and we did not really have a planner or stylist so it was all really my mom and myself thinking things up. All of our drinks we put in a boat that we actually found a week or so before the wedding in the woods near the lake on our friends' property. We rented the tent but bought and put up all of the lights ourselves.
DESCRIBE YOUR WEDDING FLOWERS: I really wanted to use a lot of eucalyptus in my wedding flowers. I wanted the flowers and the colours of the bridesmaids dresses to compliment each other. I loved how the warmth of the fall colours complemented the cool steel blue of the dresses and the blue tones in theEucalyptus. We went the night before the rehearsal and bought every fall flower and bunch of eucalyptus filler that Trader Joe's had.Everything that didn't go into bouquets my Wedding Coordinator and cousin Ericca Whitley used for touches of colour around the wedding.

FAVOURITE DETAIL OF THE DAY: My absolute favourite detail of the day was our "Wedding Table" .Caleb's Best Man Mark Bailey designs and builds furniture and he made us a beautiful reclaimed wood coffee table that he had "Love isPatient, Love is Kind" burnt into the bottom of the table.He left the underside unvarnished so that our guest could sign it in lieu of a guest book. Its something that we can use forever but is still functional which we like.
WHAT ADVICE WOULD YOU GIVE OUT TO A COUPLE PLANNING THEIR WEDDING? Don't forget the fun. Some people plan so much into the pomp and circumstance and focus so much on the ritual that they forget that it is supposed to be a joyous celebration. At the end of the day you are planning a party and it doesn't have to be perfect to be incredibly fun and memorable.
MOST MEMORABLE MOMENT? The most memorable moment for both of us was probably the first look. That was the moment where we finally felt like we could let goof all of the nerves and stress of planning completely and just starting having a blast.
ANY OTHER DETAILS THAT HELP TELL THE STORY OF YOUR DAY? For our Unity Ceremony instead of sand or candles we wanted to something different and that was special to us. So instead of combining flames or water or sand we decided to combine our stories. Since, for the first part of our relationship we dated long distance, we hand wrote each other letters. Both of us saved every letter and note we had ever received from the other. So for our wedding day we had bought a trunk and we took our letters and combined them into our trunk so that both sides of the story were together as one. Then we each wrote the other a letter that was sealed and put in the box to be opened on our 1 year anniversary and we will continue to do that every year as a reminder that our story is one story that we are writing together.
Another thing that made our day so special was that our wedding was a labour of love allover. Friends and family brought almost every element of our wedding together.The cake was made by one of our groomsmen's sister, another groomsman was in the band that played the reception and most of the band works with Caleb. Our caterer was also a close friend. An amazingly talented artist friend of mine from college designed our invitations. Our wedding was officiated by Caleb's best friend. My cousin who used to do event planning for a living, planned out the schedule and did all of the coordinating and set up for me so that on the day of I wouldn't have to worry about anything. So it made us feel so blessed and happy that it all came together the way it did and because of that it made our day even more memorable and made it even more relaxed and fun.
IS THERE ANYTHINGYOU WOULD CHANGE OR DO DIFFERENTLY? Not everything went right at our wedding but I can't really think of anything I would want to change. The only thing I can think ofis that I wish we would had more time with each person since I had a lot of myclosest friends and family coming in from out of town I wish we could havespent more time with all of them.