It goes without saying that we all love a beautiful wedding but when you're witness to what appears to be the most genuine of love connections between two people it really elevates the celebration to a whole new level. This was the case for TRACY BURCH when she witnessed Anna & Josh's Kentucky wedding. She says, "I could have stood on the lawn at the Loudoun House and took photos of this couple for the rest of the evening, but we had a reception to get back to! The LOUDOUN HOUSE is an exquisite art gallery located in downtown Lexington, Kentucky." The bride wanted her wedding to be beautiful, elegant and and simple which reflected her own style. The art museum offered them a venue which was a little different to the norm and the fact that it looked like a castle was a fun bonus.
HOW DID YOU MEET? We met in high school - I was photographing a basketball game for the yearbook. I took a picture of my husband and some of his friends and tagged them in it on Facebook. He messaged me a few days later and we started talking.
TELL US ABOUT YOUR PROPOSAL: We live in NYC now, but we had flown back to Kentucky for a weekend to see our friends and family. I was hanging out with my mom and she told me that my dad had walked to a park and wanted us to pick him up before dinner (weird, but I believed it). We got to the park (it was one I had always loved when I lived in Kentucky), and my dad told me someone in my family was volunteering a little further into the park, so we went to go talk to her (another weird story that I somehow believed). We started walking into this little wooded area, and I suddenly saw Josh's mom crouched behind a tree. Then Josh walked out of the woods with a ring.
TELL US ABOUT FINDING YOUR WEDDING DRESS: My mom came to visit me for my birthday in NYC for a weekend and we went to tons of different bridal stores. I thought I had found one I really liked, but we went into Lovely Bride and I tried on these two beautiful pieces I fell in love with. I tried them on twice, and I couldn't help but cry the second time I tried them on. That's when I knew!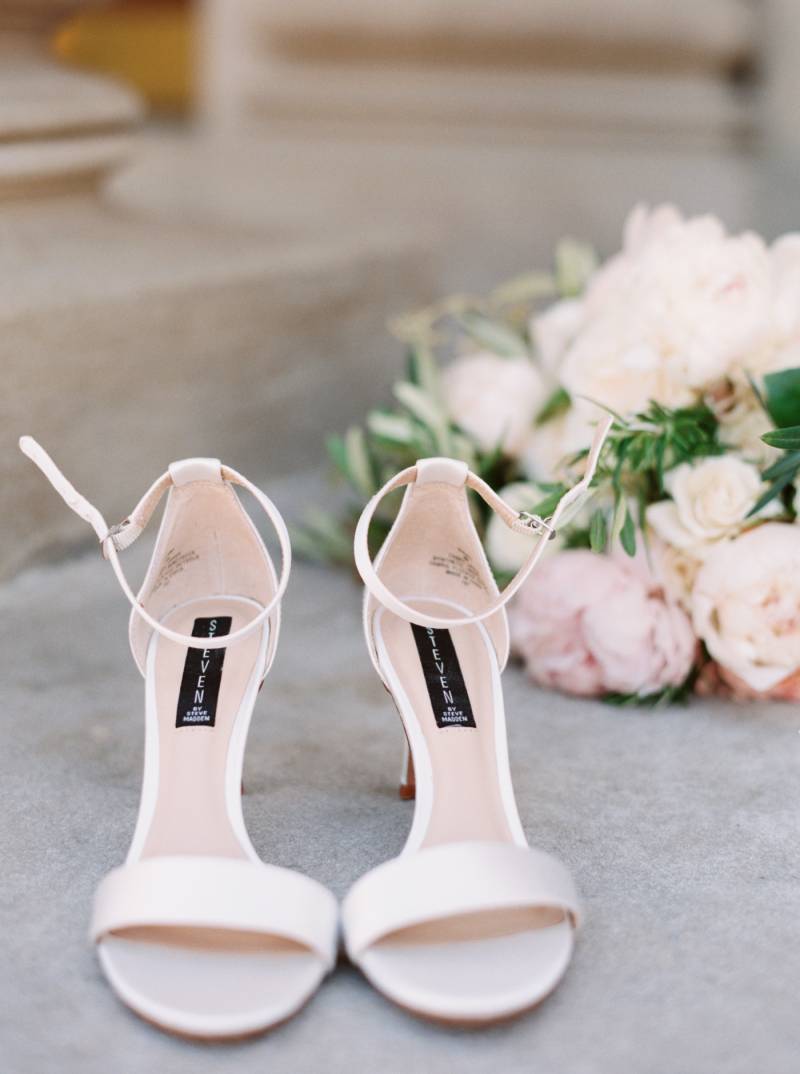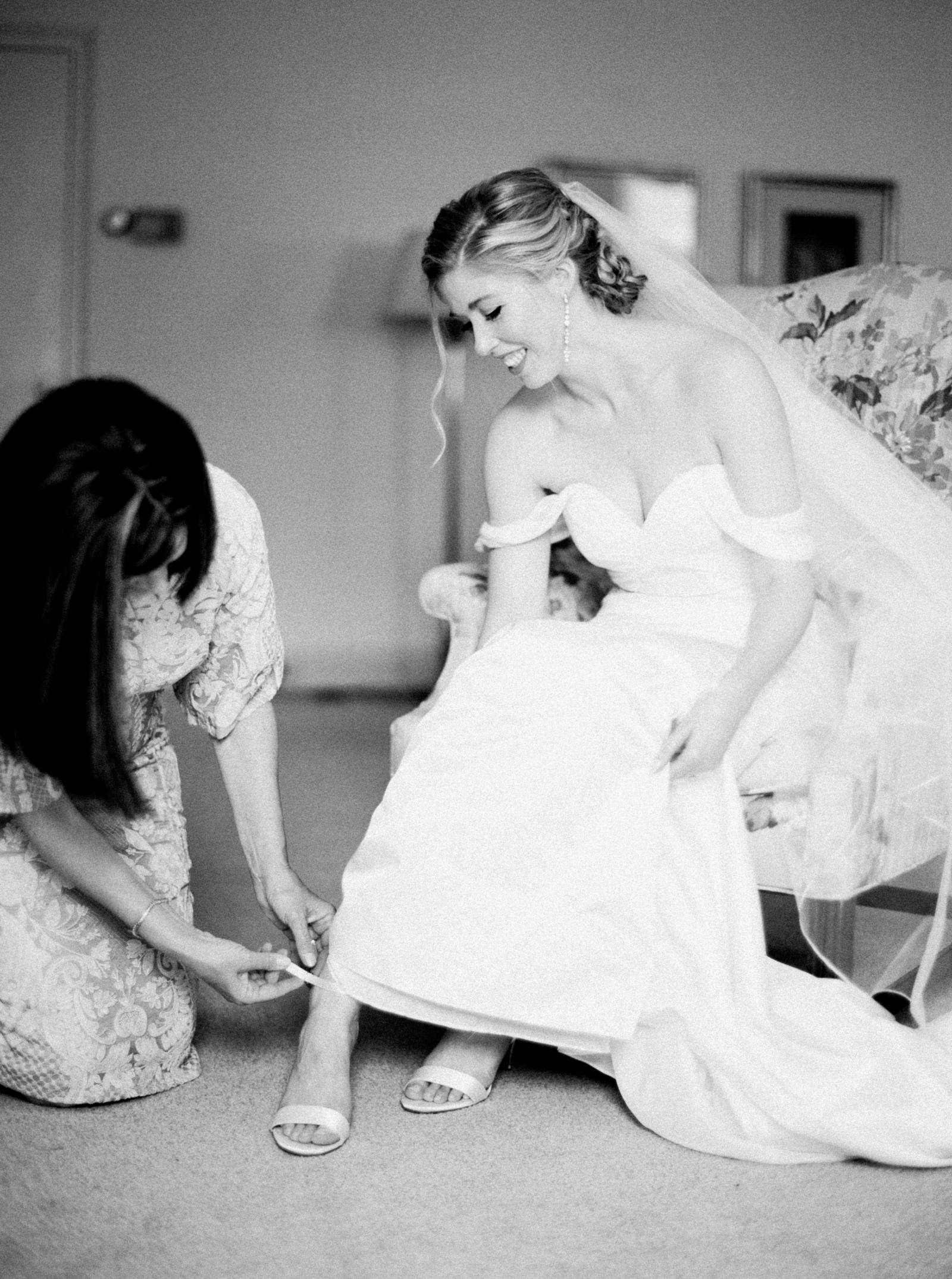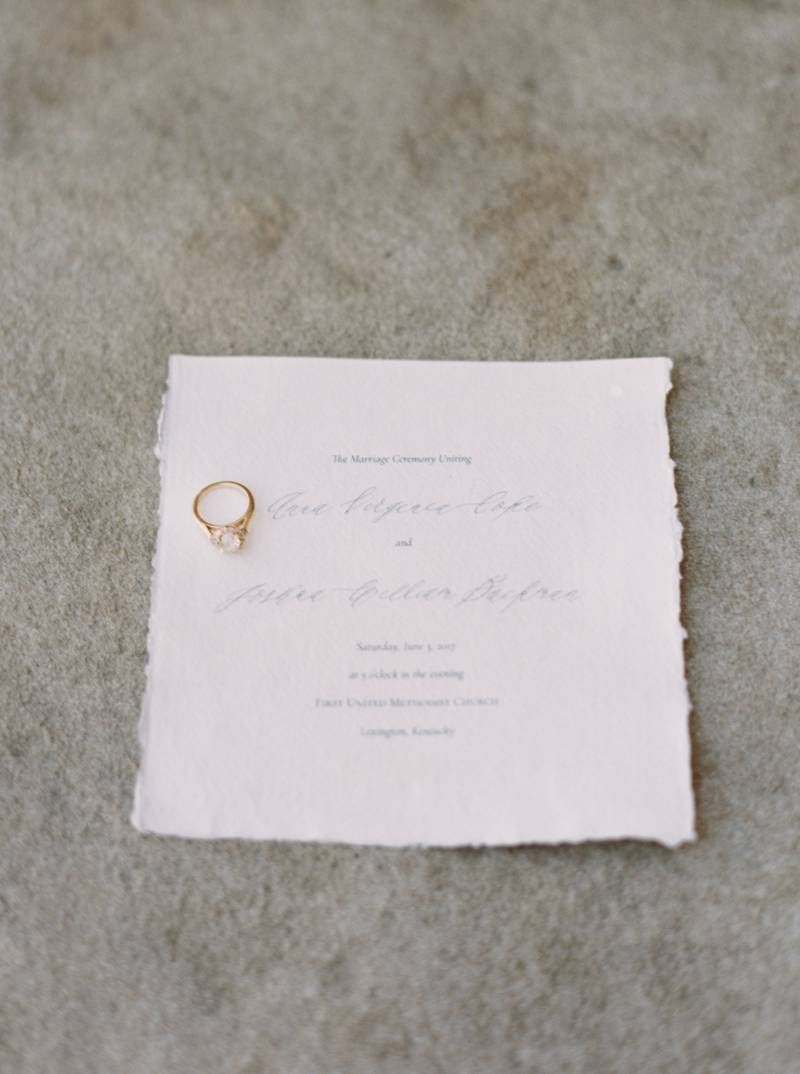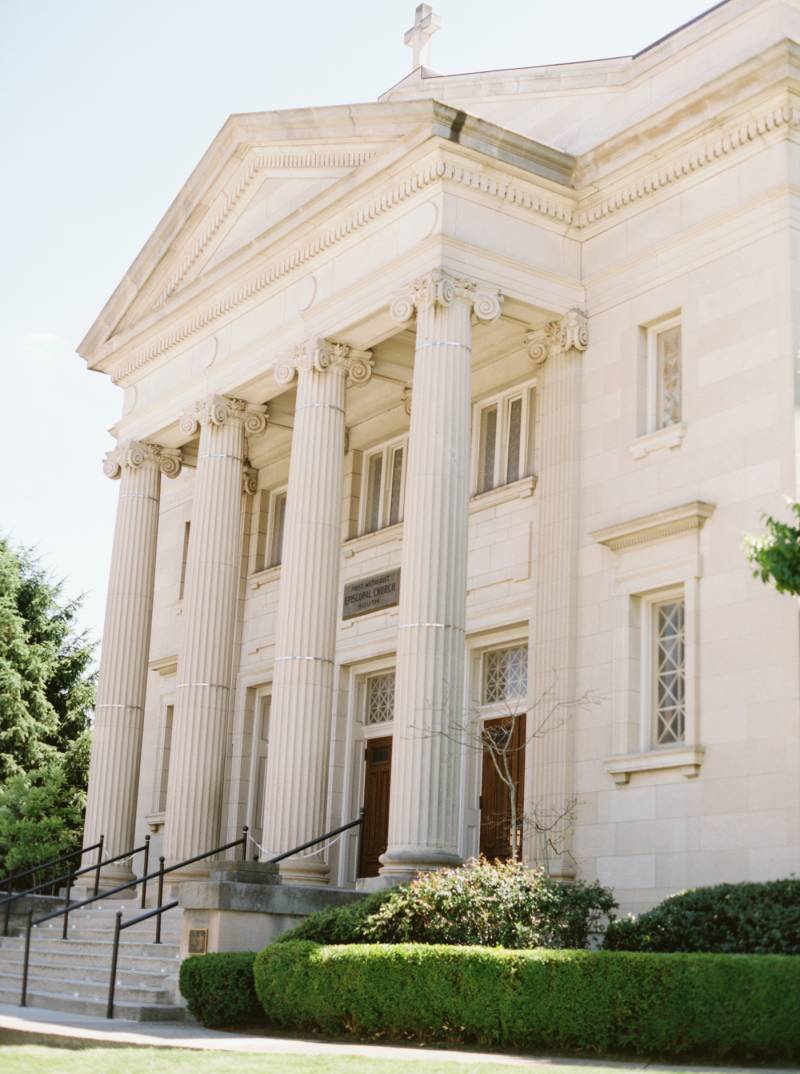 How adorable is this image below?
DID YOU HAVE ANY DIY ELEMENTS? I actually made my own invitations and wedding programs.
DESCRIBE YOUR WEDDING FLOWERS: I loved my wedding flowers so much. I remember discovering English roses a few years ago and thinking that I wanted them in my bouquet--they've always seemed so unusual and beautiful to me. I also wanted a ton of greenery, and I think olive branches are so simple and sophisticated. I thought they paired so beautifully with my flowers.

FAVOURITE DETAIL OF THE DAY: I thought our church was stunning--the lighting that was streaming in was a detail I'll never forget. I also loved the dance floor--I've never had so much fun dancing! And the ribbon wands at the end of the night were so perfect--I'll never forget running through those to our car at the end of the night. Sorry that was three--I couldn't pick just one!
WHAT ADVICE WOULD YOU GIVE OUT TO A COUPLE PLANNING THEIR WEDDING? My wedding was the happiest day of my life, so I would tell couples to plan as much fun into the day as possible. Whatever makes you happy, make that the most important part of your planning. You should be smiling all day long!
MOST MEMORABLE MOMENT? Walking out of the church with my new husband.
TELL US A LITTLE ABOUT YOUR HONEYMOON: A few weeks after the wedding, we flew to Santorini, Greece. We stayed on the beach in a beautiful hotel with a view of the ocean. We just wandered around the island and laughed with the bartender at our pool most of the week. It was magical.
IS THERE ANYTHING YOU WOULD CHANGE OR DO DIFFERENTLY? I would have loved to have time to get a slight tan before the wedding! And I wish it hadn't ended at midnight - that was too soon for me. But otherwise, no. It was the most perfect, joyous day of my entire life.