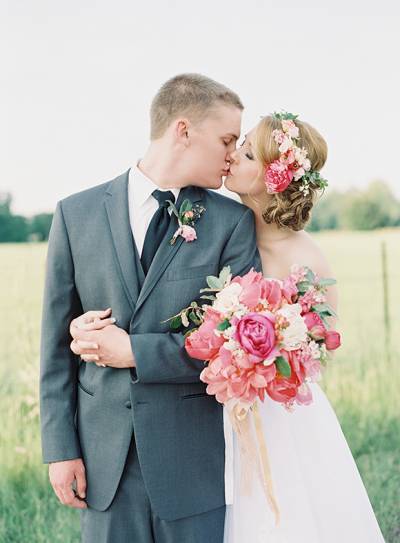 What's better than envisioning your wedding as a charming southern garden party? That's what Lauren & Cody set out to accomplish when planning their big day, which was featured in Magnolia Rouge Magazine – The Romantic Issue. Lauren wanted "a venue with character and history, and I wanted to fill it with amazing, vibrant flowers."
When engineer Cody proposed to designer Lauren during a trip to one of her favourite cities, Charleston, he was able to incorporate her love of fine art, history and family by getting down on one knee in an emotional moment outside the French Huguenot Church. These same loves drove the couple's wedding design, as they combined their talents to pull off a romantic and creative reception at the historical South Carolina State Museum, which once housed the world's first electric-run mill. Guests were able to tour the exhibits during cocktail hour, before enjoying a charming reception filled with peonies and hand-drawn chalkboard details.
The incredibly talented Landon Jacob was on hand to capture all the prettiness.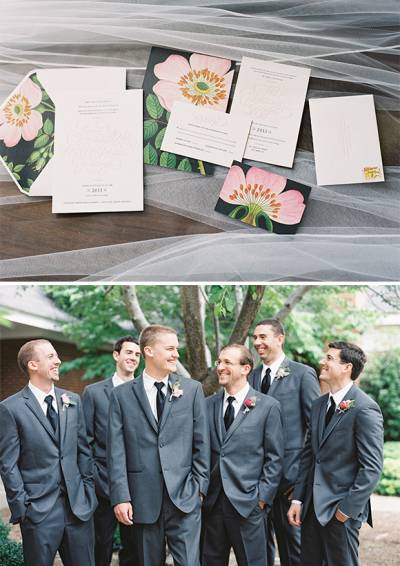 "We had the most beautiful flowers I have ever seen! I told our florist, Sarah of Fern Studio, that I love peonies, and wanted a variety of shades of pink, peach and coral. She did the rest. We had coral charm peonies that were the size of my head - I couldn't believe it! Cody and his dad built a wall that we coated in chalkboard paint and I used as my canvas for our largest chalkboard sign, and our wonderful florist covered it with a garland of peonies. We also had several smaller chalkboard signs, also drenched with exquisite flowers.
I purchased a letterpress a few years ago, and have been printing ever since, so I knew I would design and print our wedding invitations. I drew custom typography for each piece, and used a vintage botanical illustration from the 1950s as an envelope liner and to back two of the pieces (the third we backed with a walnut wood veneer). The cards were then tied together with a thin pink satin ribbon. I addressed each invitation with my own style of calligraphy, and sent them off. I was so happy with the way they turned out."