After planning their wedding what felt like a dozen times and realising it was becoming all about other people, Rachael & Matthias finally made the decision to get married on a weekend away to New England with just the two of them. They enlisted the services of Vermont Wedding photographer CHRISTINA BERNALES to capture their intimate snowy celebration.
Rachael tells us, "Matthias and I had been raising my son together for over three years, engaged for two, and our daughter was about to turn one by the time we finally married. We had set out to start planning our wedding practically a dozen times, but every time we stopped when it started becoming more about other people, silly details, and money, than about him and I becoming husband and wife. We had thrown the idea of going to the courthouse around, but despite not wanting to plan a traditional wedding, felt we still wanted something more special and intimate to celebrate our life together. Approaching our daughter's first birthday we were able to get his parents to agree to watch her for a couple days so that we could go out of town. We knew we wanted to go somewhere cold (it was the middle of winter and we live in Florida, but both grew up in the Northeast). We booked our trip to a sleepy little town in southern Vermont and got the cutest airBNB to hole up in for the weekend. One night it occurred to us - we should get married while we are there! re there! Neither of us hesitated, and from the moment we made the decision to elope - just him and I - every detail fell into place perfectly. The Grafton Inn, which was walking distance to our home for the weekend, was the most perfect quintessential New England inn, with gorgeous little parlours to host an intimate ceremony for two. It was so important to us not to get caught up in stressing over the details. We knew the room would be perfect, and we really just wanted to create a space that was as intimate and romantic as possible - lots of candlelight and a roaring fireplace was our only request!"
HOW DID YOU MEET? We met through friends about 9 years ago and briefly dated, but neither of us were ready for something serious at that point in our lives. Over the next 5 years, we always maintained our friendship and stayed in contact with one another. About 4 years ago, after 6 months of persistence from Matthias, we got together to catch up, and we have been together ever since!
TELL US ABOUT YOUR PROPOSAL: We have a lighthouse in the town where we live, and leading up to our engagement had been talking about how we had never been to tour the grounds, or made a trip to the top. After a particularly difficult day at work, Matthias suggested we go visit to take my mind off of it. We raced over and made what I thought was the "last tour of the day", but was actually a pre-arranged private tour for our proposal. We walked the grounds, then made our way to the top of the lighthouse. Him and I went out on to the platform at the top - I was taking in the unbelievable views, and when I turned around, Matthias was down on one knee! After we made our way back down, everyone from our guide to all the women working in the gift shop were congratulating us and so excited to see the ring - every person there was in on it and I had no idea!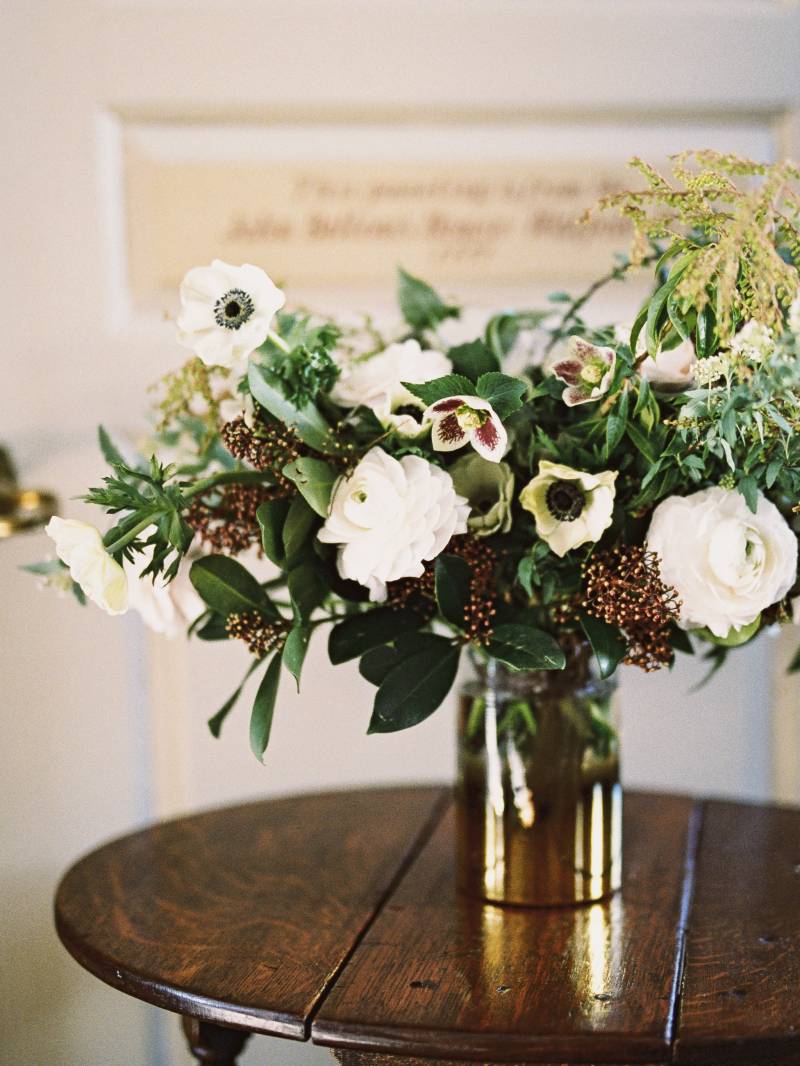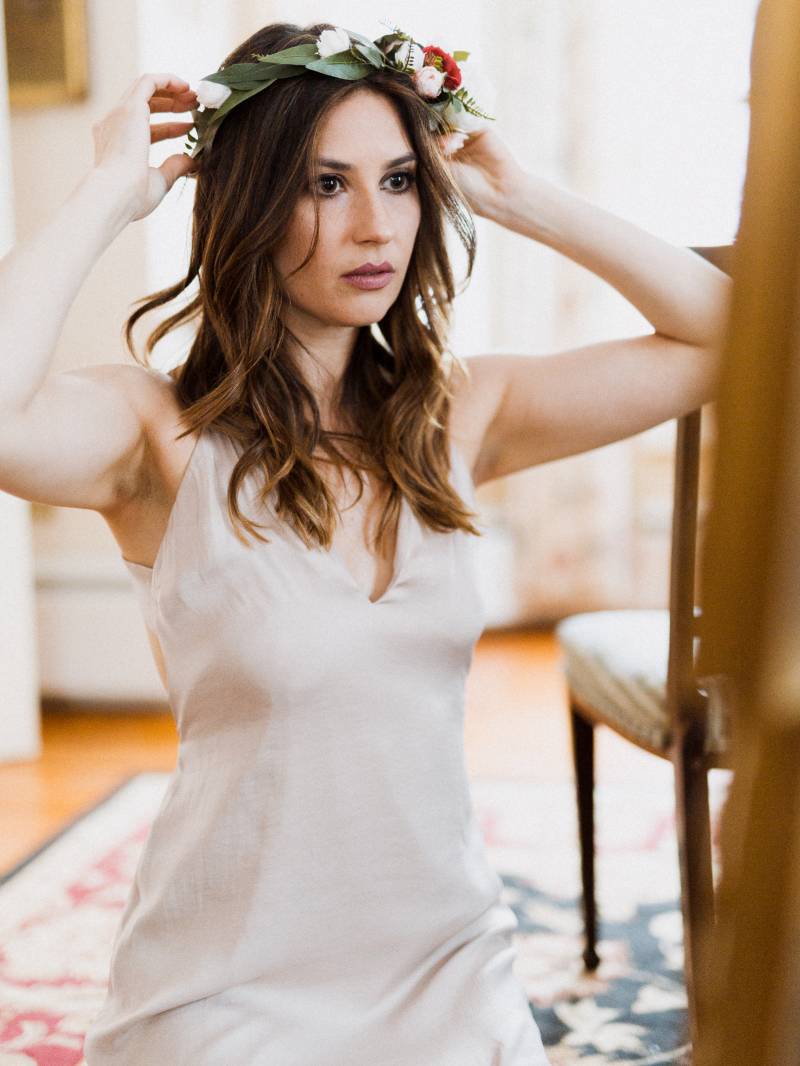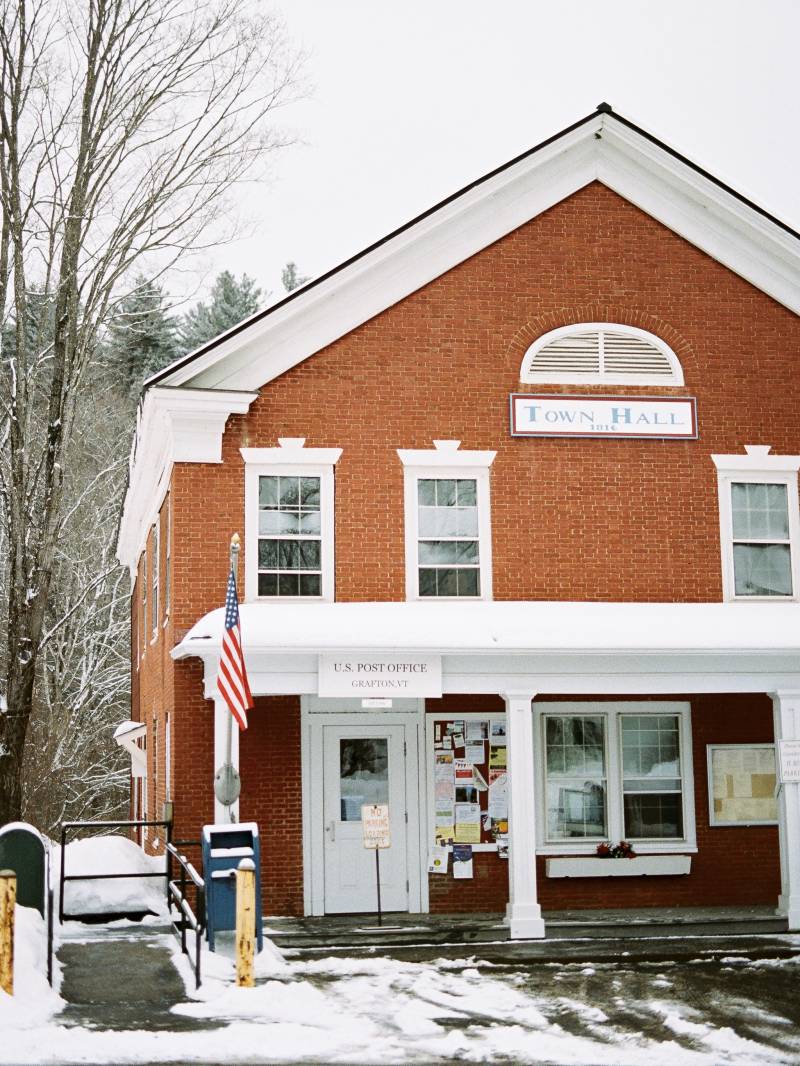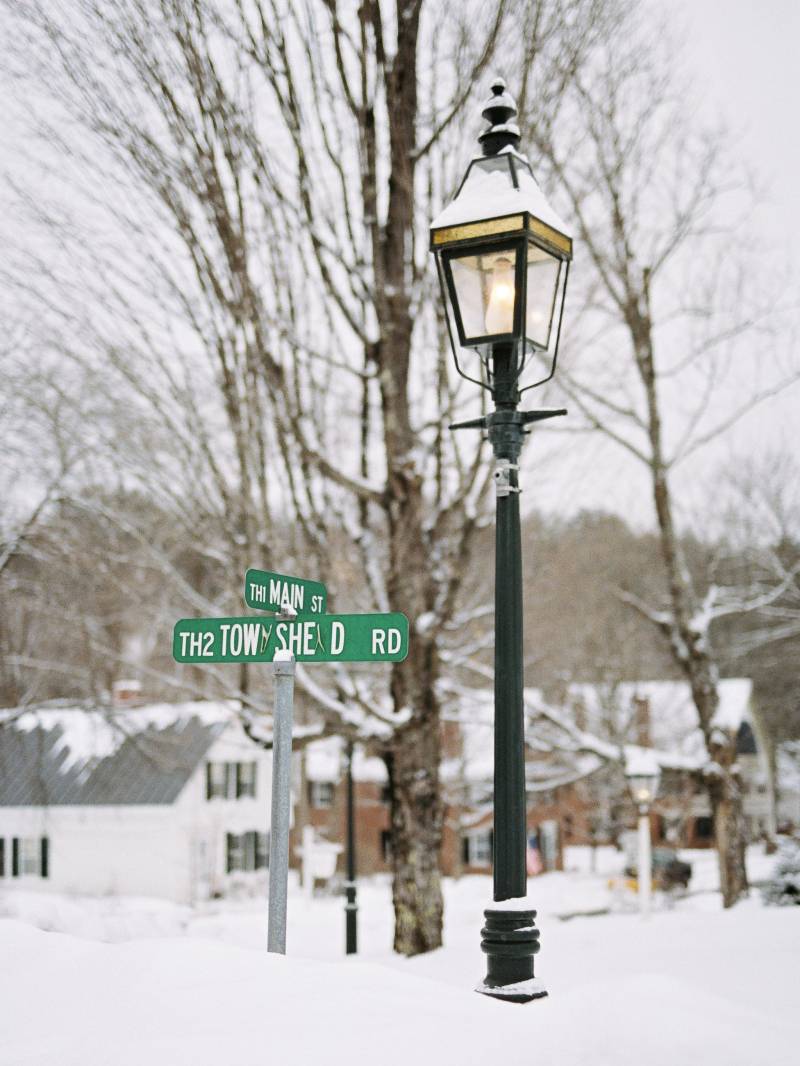 TELL US ABOUT FINDING YOUR WEDDING DRESS: I chose my wedding dress online in about a half hour. I wanted selecting my dress to be just as easy and stress-free as I had set the day out to be. It was a simple, nude, satin slip that cost me under $200, including alterations!
ANY DIY ELEMENTS? I made my flower crown ahead of time using silks because I was nervous about the flowers surviving the extreme cold outside for the photos that day. I sent pictures of them back and forth with Erin, from Nectar & Root who did our florals, to ensure we were on the same page. I also did my hair and makeup myself and was dressed and ready in under a half hour!
DESCRIBE YOUR WEDDING FLOWERS: I really love flowers. Arranging them, playing with them - I always have fresh flowers in our home, so having a large beautiful bouquet was something I knew I wanted. Researching florists in Vermont from Florida was tough, and I spent a decent amount of time on that since it was one of the elements that was important to me. I would search through local photographers' wedding photos, then find who did the florals in the vendor credits of ones I loved, and every single time it was Erin, from Nectar & Root. I had full trust and confidence in Erin from the minute we first spoke over the phone. Because I respected her work so much, I really wanted to give her the creative freedom to do her thing - my only requests were to keep it fairly neutral with colours, and that it be whimsical and romantic to reflect the easy, but love-filled vibe of the day. Some greenery on the fireplace mantle and LOTS of candles surrounding us, perfectly created the exact feel we wanted.
FAVOURITE DETAIL OF THE DAY: The smell and warmth of the roaring fireplace during our ceremony.
WHAT ADVICE WOULD YOU GIVE OUT TO A COUPLE PLANNING THEIR WEDDING? Always remember through the whole planning process that the day is about making a commitment with your partner to share the rest of your lives together. It doesn't matter what linens you choose, the shoes you wear, or trying to appease everyone involved. At the end of the day, your lives will be joined together forever, and that is what matters.
MOST MEMORABLE MOMENT? There were so many, but looking around and seeing the photographs of our children surrounding us during the ceremony, brings tears to my eyes every time I think about it. It was in that moment the true magnitude of solidifying our family and officially committing our lives to one another other really hit us.
ANY OTHER DETAILS THAT HELP TELL THE STORY OF YOUR DAY? One of the things that we really wanted when we chose Vermont as our location, was to get some amazing outdoor photos surrounded by the gorgeous winter landscape. We got it! There was about 2 feet of freshly fallen snow, and it was FREEZING that day! The temperature was reading 16℉, but the report said "feels like 9℉". The photos were so important to us, and looking around we knew how incredible they would be, so we happily pushed through every second of that 45 minutes we were out there without jackets, gloves, hats, etc. It could not have been more worth it. Christina and Josh got the most amazing shots and we will cherish those photos forever.
IS THERE ANYTHING YOU WOULD CHANGE OR DO DIFFERENTLY? Not one thing! The day was perfect in every way, and surpassed anything we could have imagined. From the moment we got on the plane that morning, to the incredible private meal we shared in the restaurant of the Inn that evening following our ceremony, every single detail fell into place exactly the way we had envisioned it. The day could not have been more relaxed or full of love. So much of that is of credit to Christina and Josh, our photographers, Erin, who did our flowers and set the room, and the wonderful staff at the Grafton Inn.