My goodness what I'd give to be a guest at this delicious looking tropical wedding! Captured by Hawaii wedding photographers DMITRI & SANDRA it's a veritable feast for the senses! Sinta & Gabriel chose to get married at CALASA GULCH OLIVE TREE FARM on Maui as it was the perfect 'mash-up' between two of their favourite vacation spots - Italy & Hawaii. In addition "the outdoor pizza oven is such a beautiful piece! And we love pizza!" Sinta jokingly tells us. Planned by MOANA BELLE EVENTS the couple tell us why the venue appealed: "The Villa actually reminded us a lot of our home in LA – we live in a bright yellow house and have a big garden, too. I wanted big pops of colour in our florals to give the feel of our garden at home. We also just wanted our reception to just feel like one giant dinner party because our favourite way to spend time with our friends & family is always over good food & drinks!" The florals by MANDY GRACE DESIGNS are just an exotic masterpiece!
HOW DID YOU MEET? We met at San Francisco State University in a Filipino American Psychology course. We were assigned in the same group and became friends in that class. The following semester another group member gave Gabe a Mickey Mouse shot glass to Gabe as a present while we were out. Gabe didn't have anywhere to hold it so he asked me to keep it in my purse for the evening but we both forgot about it. Later that week, I found the shot glass in my purse and asked if he wanted to grab lunch so I could return it. We started having lunch on Thursdays as a regular thing.
TELL US ABOUT YOUR PROPOSAL: Gabe proposed after watching the sunrise at Haleakala in September 2016. He knew I wanted a private proposal so he waited until all of the big crowds disappeared.
TELL US ABOUT FINDING YOUR WEDDING DRESS: Finding my wedding dress was easy! I knew I wanted something form fitting and had a low back to show off my back tattoo since it is a piece that honours my late grandmother. When I saw the Lewis gown by Alexandra Grecco on Instagram I had an instant feeling that it was the one. At the time only 2 boutiques in California carried Alexandra Grecco - one in San Francisco and the other in San Diego. Luckily we had a trip planned for San Francisco. During this trip I was able to try on other Alexandra Grecco gowns that had a similar silhouette but were not the Lewis gown so a couple weeks later I made a weekend trip to San Diego with one of my bridesmaids to The Dress Theory. I tried it in on and instantly fell in love! I also love that its name is Lewis because that is Gabe's middle name.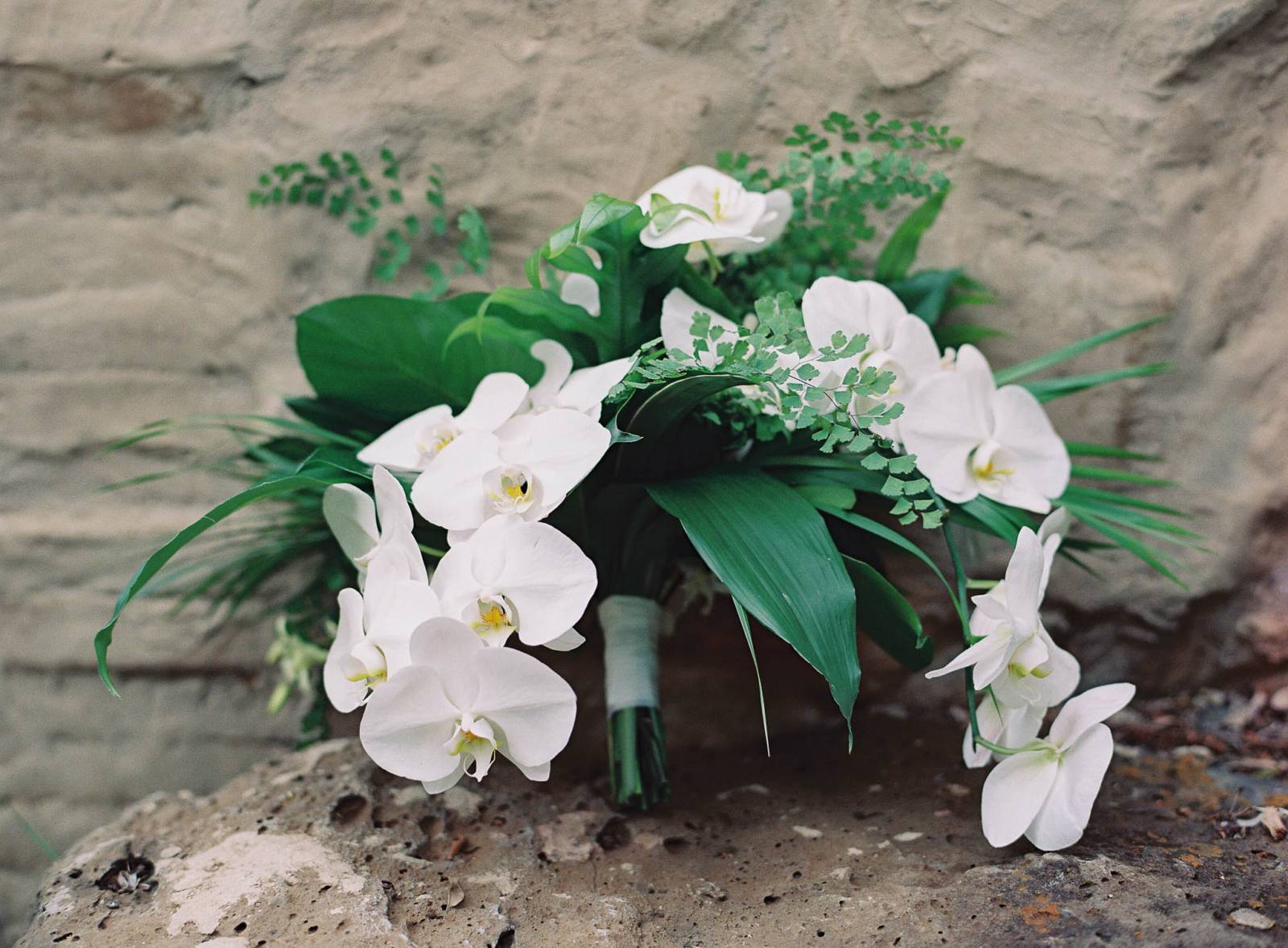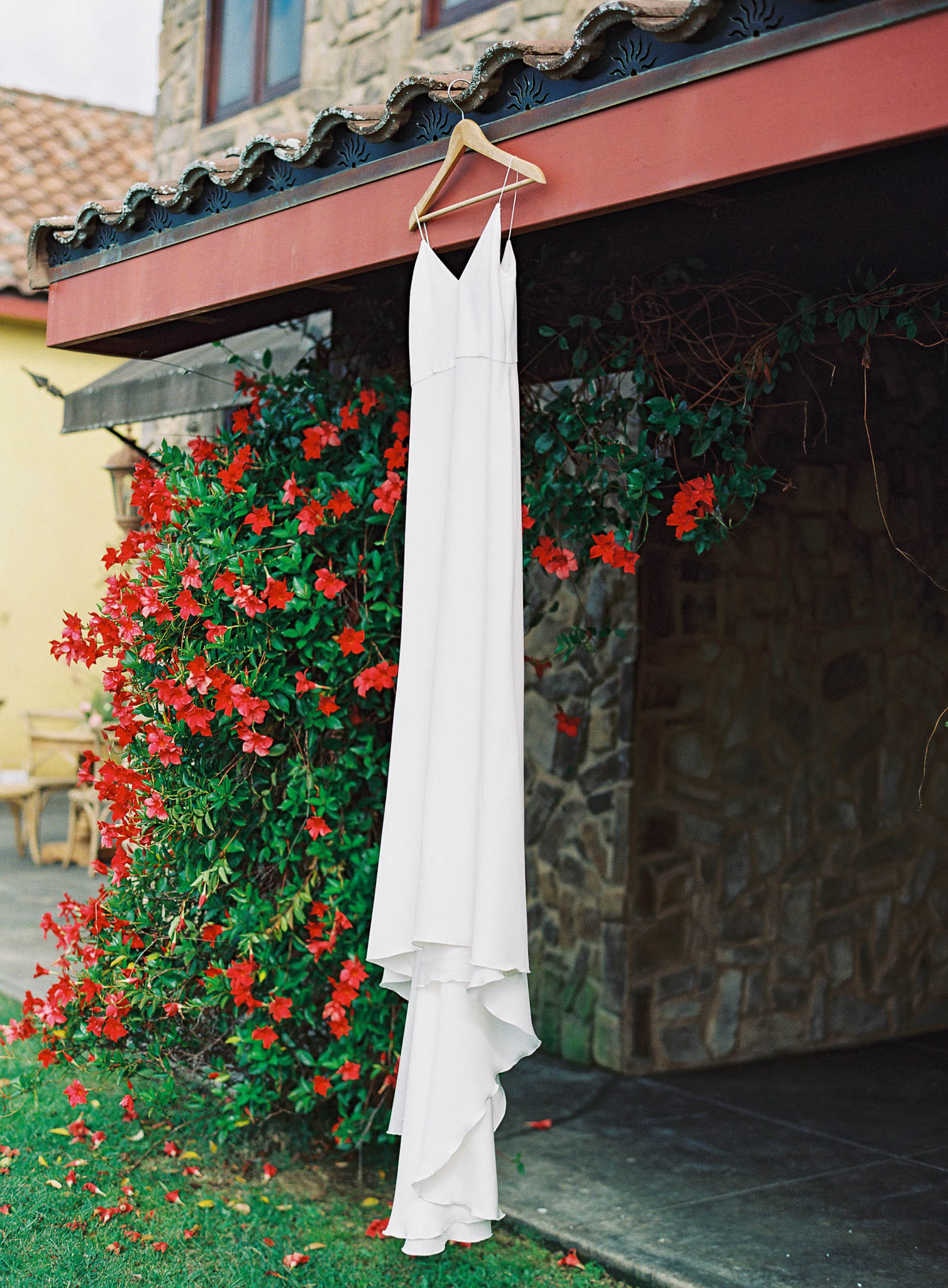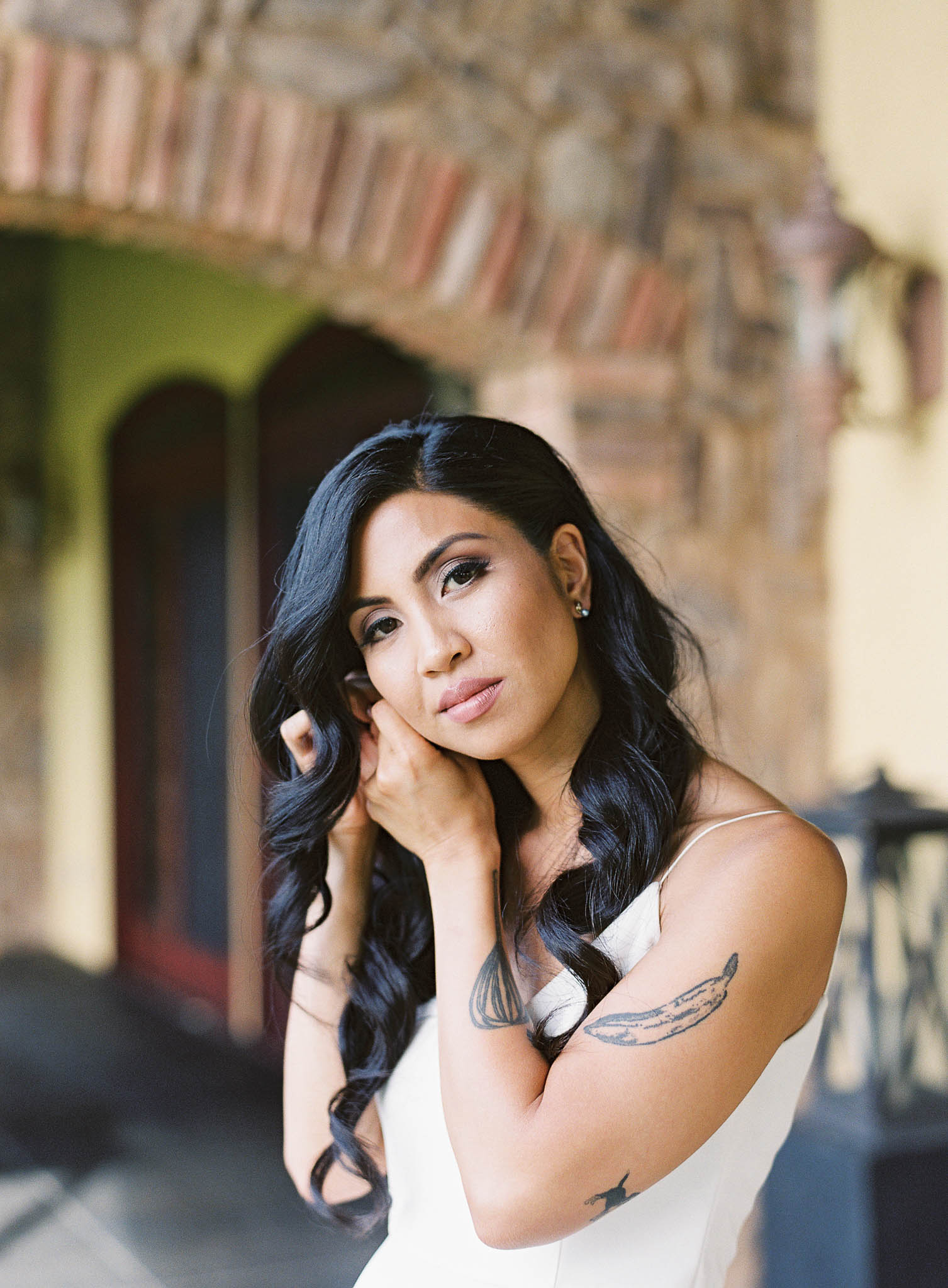 DESCRIBE YOUR WEDDING FLOWERS: I described this a bit in our inspiration. But also, I loved having a variety of orchids and other tropical types of flowers. I loved having pops of colour for our center pieces, and the hakus made for my bridesmaids and our moms. But for myself I wanted all white florals. I had white cymbidiums for my hair piece, white orchids for my bouquet, and a white dendrobium arch for our ceremony. Gabriel also had white orchids in his maile lei – can't remember which varietal they were!

FAVOURITE DETAIL OF THE DAY: Our vows! They were ridiculously long but so personal. Gabe's vows made me cry and laugh so much at the same time. Also our long dinner table that gave the feel of one big dinner party.
WHAT ADVICE WOULD YOU GIVE OUT TO A COUPLE PLANNING THEIR WEDDING? Three pieces of advice that stuck with me throughout our planning process were:
- Don't forget that that your wedding should represent you two as a couple
- Pick your battles when it comes to your family's input
- HAVE FUN!
Gabe and I had a very low stress planning process because we took our time and from the moment we got engaged we decided that we would focus on having fun and not let stress take over. We would always hear about people saying that they just wish their wedding as over or that they wouldn't do it all over again, but we believe that planning is stressful if you expect for it to be stressful. Where focus goes, energy flows! So we always focused on having fun with it.
Another piece of advice that was given to me closer to our wedding date was to make sure to steal a moment together in the midst of the rush of things as the wedding got closer. We arrived on island a few days before the wedding, which was mostly spent making signage and having food & drinks with our family members. One morning we had to drive to Lahaina from Kula to have brunch with Gabe's family and during the long drive we decided to take our time, stop by a fruit stand, and even stop by a beach to just be alone for a little while. It was nice to take that time to just be together before everything got crazy!
MOST MEMORABLE MOMENT? We did a hula dance together to one of our favourite island reggae songs – Honestly by Ekolu.
ANY OTHER DETAILS THAT HELP TELL THE STORY OF YOUR DAY? Our entire wedding way was perfect – even when I was getting ready with my bridesmaids in the morning. I am a health nut so I made sure we were all fed throughout the day even though we got hair and makeup done early, but we weren't hungry like a lot of people say they tend to be during their wedding day! My girls & I had a relaxing time getting ready. Gabe and I decided to not do a first look and I believe it really made our ceremony & saying our vows to each other that much more special. I surprised my dad with my father-daughter dance song choice. He thought it was going to be "It Had To Be You" by Tony Bennett, but I last minute changed it to "Ngayon at Kailanman" by Basil Valdez which is the song where my parents got my name from! My dad actually cried during our dance which was a huge surprise because he's such a funny-guy, always joking! Even my mom was surprised he cried!
TELL US A LITTLE ABOUT YOUR HONEYMOON: We spent two nights at the Andaz Maui at Wailea then hopped over to the Big Island for a minimoon. We still plan on doing a big "honeymoon" mashed up with our 10 year dating anniversary next year in Japan!
IS THERE ANYTHING YOU WOULD CHANGE OR DO DIFFERENTLY? We would just pay for our signs to be made. Even though it was fun to make signs with our bridal party, it took up so much time and we would've much rather been outside enjoying the island. We thought we could cut back on expenses by making our own signs but in the end we wish we just spent the money. We wouldn't change anything else!