Caitlin & Benn held their beautiful wedding at OAK HILL COUNTRY CLUB in Rochester, New York. Growing up in the area, the bride had always envisioned returning to get married and with the beautiful surroundings and vistas the golf course offered, it was an easy decision. It also meant they could have the tent reception she's always wanted. Thanks to ALEXANDRA ELISE for sending us this beautiful wedding!
Caitlin tells us, "I am not sure there was any one inspiration for my style. I wanted to mix traditional elegance with a more personal, unique and modern touches. I loved the idea of gold but then wanted to mix in more contemporary glass. My vision really evolved over the planning process and must give a lot of credit to our wedding planner for listening and executing on it."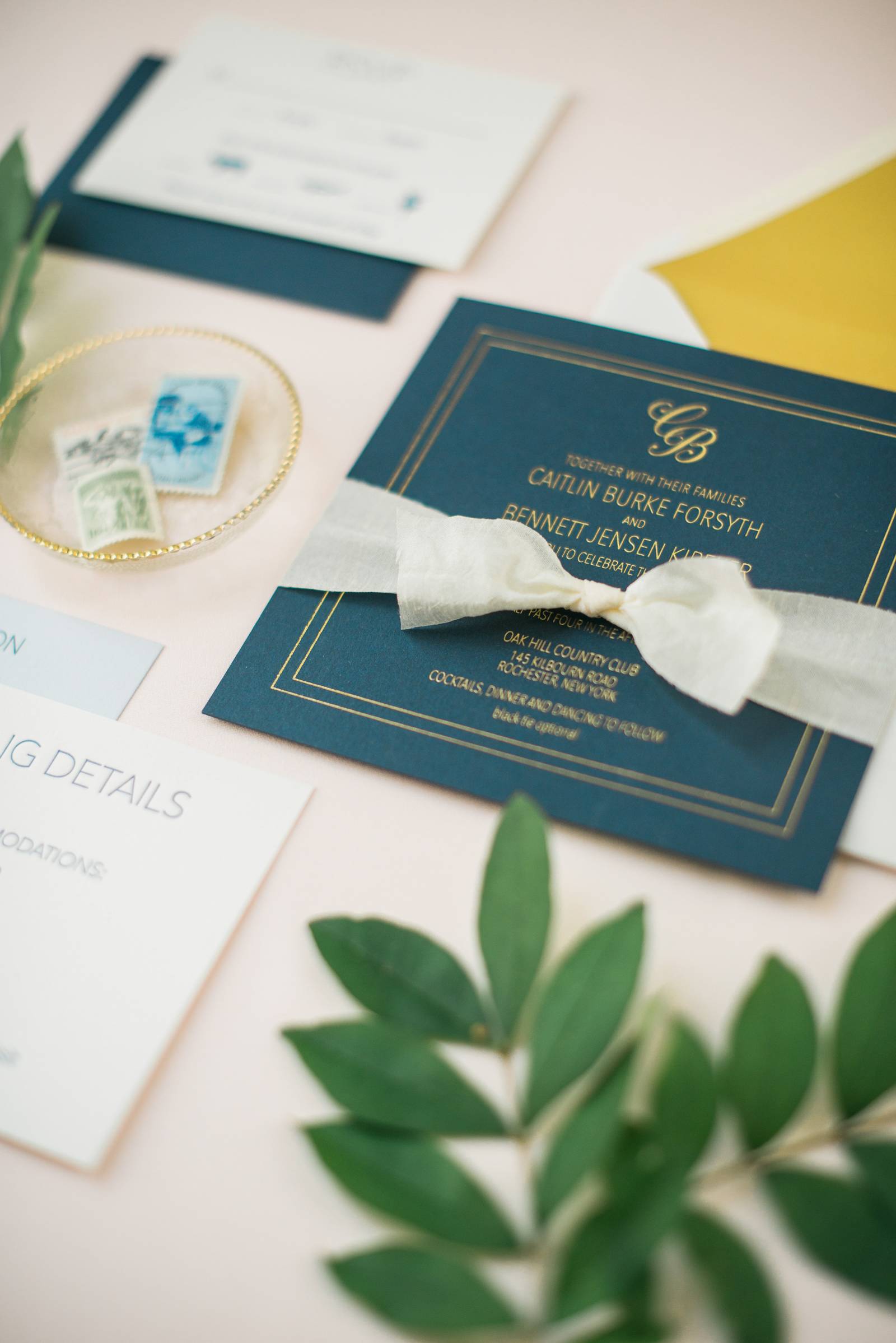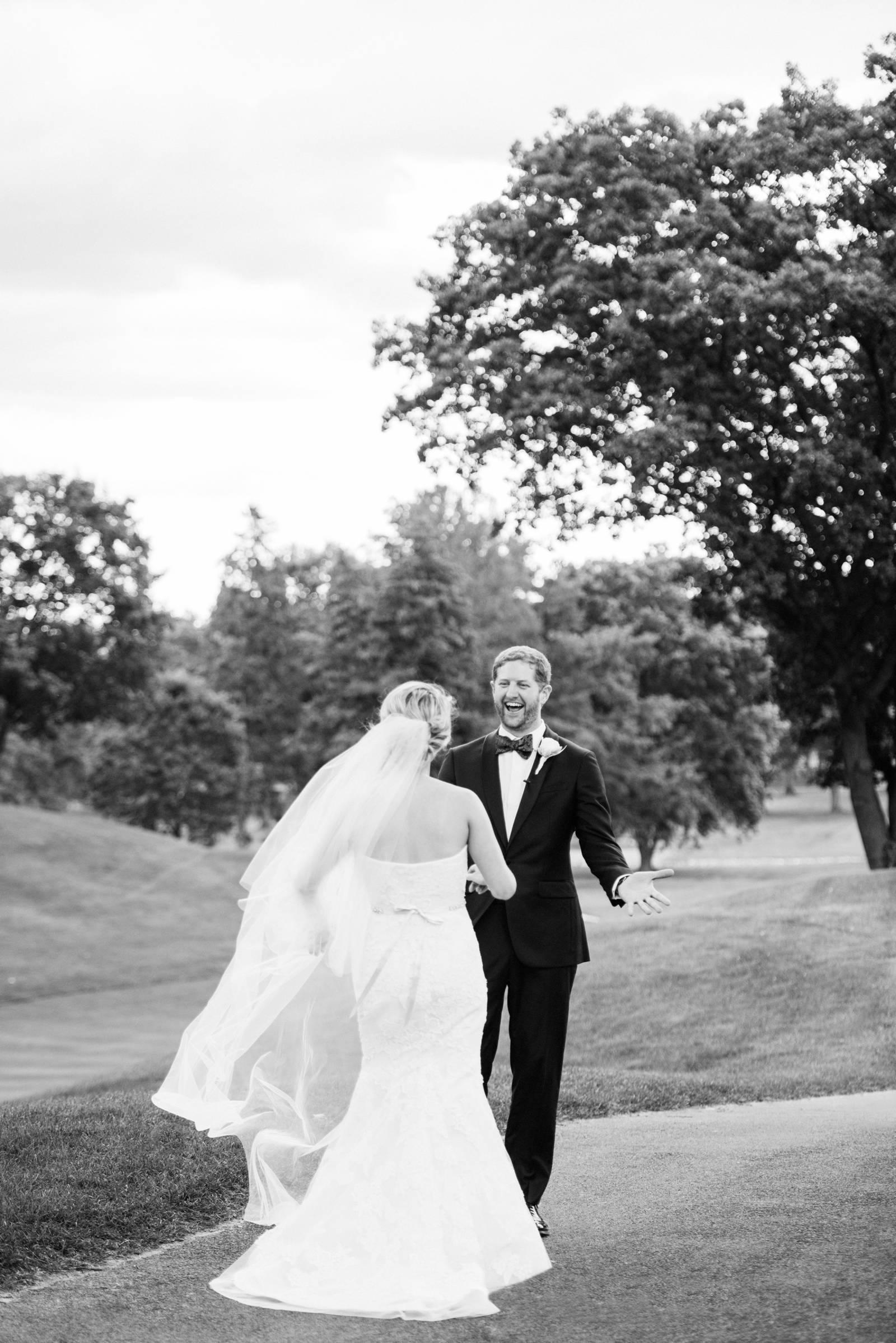 HOW DID YOU MEET? Benn and I were set up on a group "blind" date by a family friend. The friend was a close friend of my mother's and the mom of Benn's close friend from college. She came to New York City one Spring and she got a few of us together for dinner. It was nice that it was in a group setting as it took the pressure off of Benn and I meeting for the first time.
TELL US ABOUT YOUR PROPOSAL: Benn proposed to me on Christmas morning in front of my family which was really special because I know how appreciative they were to be included. I probably should have been suspicious when Benn kept asking me if I wanted to shower before presents or put on clothes but I was clueless.
TELL US ABOUT FINDING YOUR WEDDING DRESS: I invited a small group of women close to me to come to New York to shop for my wedding dress. This included my Mom, Maid of Honour, close family friend and then Benn's mom and aunt. It was important to me to include Benn's mom because she is only a mom to boys and so would not get to have this experience otherwise. We packed four appointments into one Saturday, which in hindsight is a bit much. We went to Vera Wang second and that's where I found my "Hilary" dress. It's funny how before I found the dress I was convinced I didn't want lace, despite loving lace for many years. But then I put on the dress and loved the silhouette and the off-white ivory colour. But I didn't say yes to the dress on the spot. It actually took me a few weeks to really commit. I went back once more and brought a bridesmaid with me to help me make the final choice.
DESCRIBE YOUR WEDDING FLOWERS: Our wedding flowers were stunning. Arena's florists really knocked it out of the park. My bouquet was a classic ivory & blush mix of flowers. Our reception flowers mixed a number of beautiful white and ivory flowers in large trumpet vases. For our ceremony they created a beautiful garland arch with flowers incorporated within. That arch then got repurposed after the ceremony and draped across the main wedding bar. Interspersed between our table arrangements were beautiful glass candle holders of varying shapes and sizes.
WHAT ADVICE WOULD YOU GIVE OUT TO A COUPLE PLANNING THEIR WEDDING? Try to not sweat the small things, although this is much easier said than done.
MOST MEMORABLE MOMENT? Our first dance. I just remember walking in with my husband and feeling so overwhelmed with happiness, love and joy. I wish I could have frozen that moment in time.
ANY OTHER DETAILS THAT HELP TELL THE STORY OF YOUR DAY? Music was such an important part of our day. We wanted our guests dancing until they couldn't dance anymore. After our band ended at 11:00 pm we brought on a DJ who played until 1:30 am. We literally danced until we couldn't dance anymore.
TELL US A LITTLE ABOUT YOUR HONEYMOON: We did a short minimoon to Anguilla right after our wedding but waited to do our honeymoon 8 months later in Australia. I personally was so exhausted after our wedding that the brief getaway to Anguilla was perfect. Then we had a fantastic trip planned that I got to savour even more. No one prepares you for how sad you are that your wedding is over so I would definitely recommend you do something if you are planning to wait on doing your honeymoon at a later date.
IS THERE ANYTHING YOU WOULD CHANGE OR DO DIFFERENTLY? The only advice I ever give anyone is that the day will come and go so quickly. If you are at all able to slow down and take it all in, try! There isn't anything I would do differently other than I wish I took a few moments to just stop, look around, and soak in all of the excitement.