Charleston wedding photographers JUSTIN LEON BROWN had the the honour of heading up to NYC this past spring to photograph Colin and Andrew. They celebrated their wedding last month in Charleston, South Carolina however as the two live in NYC they wanted to capture some of their love story in the Big Apple with some iconic backdrops.
TELL US HOW YOU MET? We met at a mutual friend's birthday party at a gay bar back in 2013. One of us felt a spark but respected the fact that the other was taken at the time. We both worked in the arts (Colin at Carnegie Hall, Andrew at Juilliard) and would run into each other often at work events and happy hours over the next three years. After several years of being friends through friends, we reconnected while Colin was listening to J.K. Rowling's seminal classic "Harry Potter and the Sorcerer's Stone" on audiobook in Central Park and Andrew happened to join in on a small group hang out that afternoon. Colin complimented Andrew's eyes, bought him frozen yogurt, and asked him on a coffee date at 8am on a workday that next week because they were both working late nights. Andrew was so nervous that he woke up at 5am and had an entire pot of coffee before their first date at Joe Coffee on the Upper West Side.
TELL US ABOUT YOUR PROPOSAL: Family is so important to both of us -- so from our earliest conversations about getting engaged, we both knew we wanted to do it around the holidays so that we could be with our loved ones and share this special moment in our lives with them. We also knew that we'd both be *very* opinionated about our engagement/wedding rings, as neither of us are used to wearing jewellery and both of us are pretty "type A." One of us (Andrew) had a million questions to ask about every ring at every store, and one of us (Colin) knew he would get "the feeling" when he found the right ring. We quickly learned that surprising one another was out of the picture! Instead, we decided to purchase our rings together and keep it a secret, so that we could surprise our families and friends later on. After months of research and shopping -- going from up and down 5th Avenue to the frenzy of the Diamond District to small boutiques in Brooklyn -- we found "the one" while at Cartier. Their team could not have been more supportive of us as a same-sex couple looking for the engagement bands that we would use to propose to one another, then give back to each other on our wedding day, and then wear every day for the rest of our lives. Our rings are the same style -- the D'Amour platinum wedding band -- but slightly different widths. (So we could still tell them apart at home!)
COVID threatened to throw a wrench into our holiday travel plans, but after lots of testing we decided to make the trip home to the Midwest to spend Thanksgiving with Andrew's family in the northern Chicago suburbs. We spent a night up at Lake Geneva, WI, where Andrew had spent his summers growing up - as had his father before him, and his grandfather before that - and is a special place for him and his family. Lake Geneva also became Colin's "happy place" during our years together, and our visits every summer are the best days of our year. On the cold, clear morning of November 22, 2020, we left to walk the lake path with our ring boxes in tow. We reflected on our four years together, and we talked about our shared values for our future. At the side of the lake, we each took turns getting down on one knee and proposing to one another. We then walked back up to Andrew's family's lake house and asked his parents to come outside, where we surprised them with the news of our engagement. We spent the day calling our family and friends to share the news, and we went back to the lake path to recreate "the moment" together and take photos. If we couldn't surprise one another, we wanted to be able to surprise everyone else - and we did!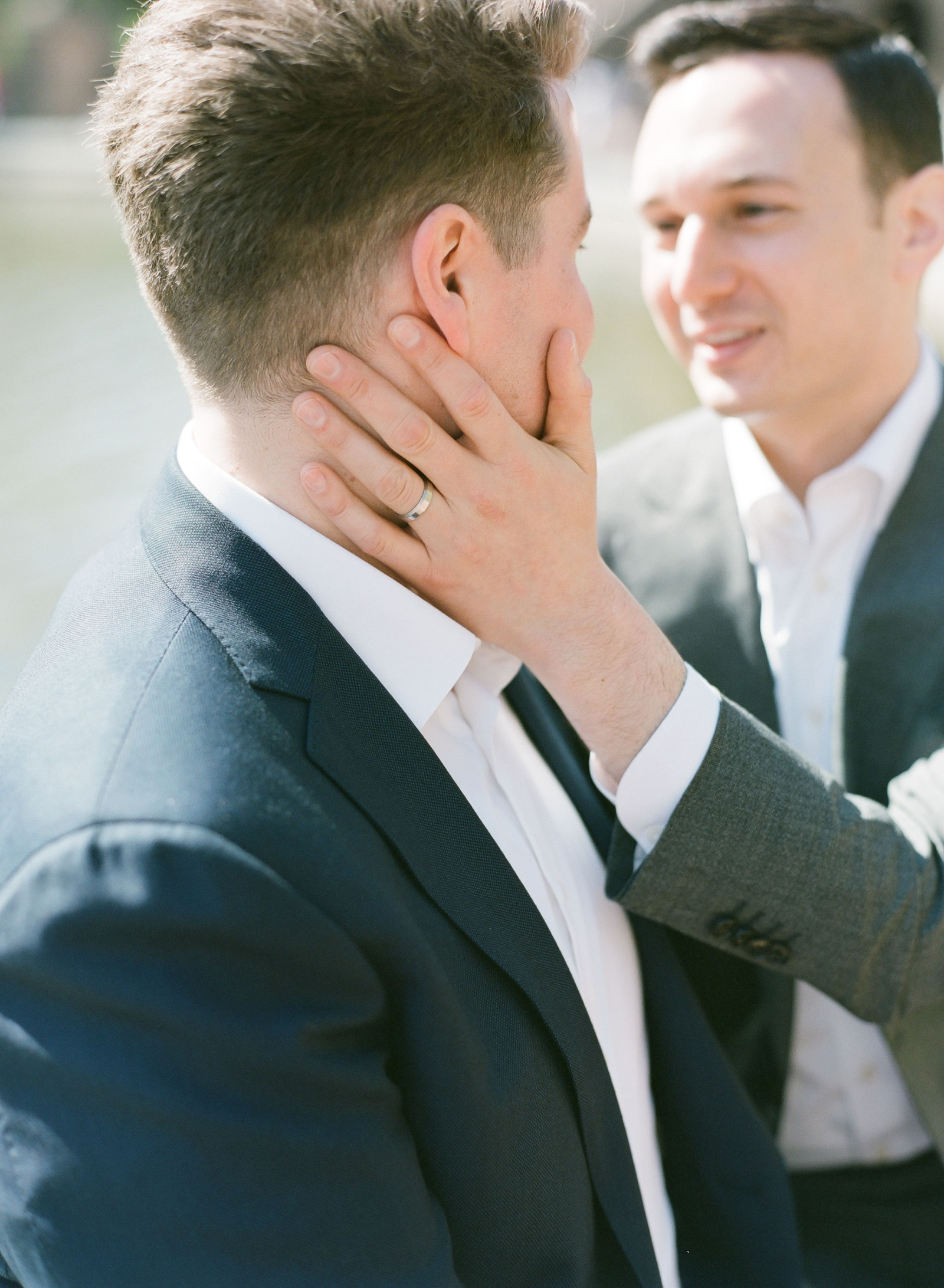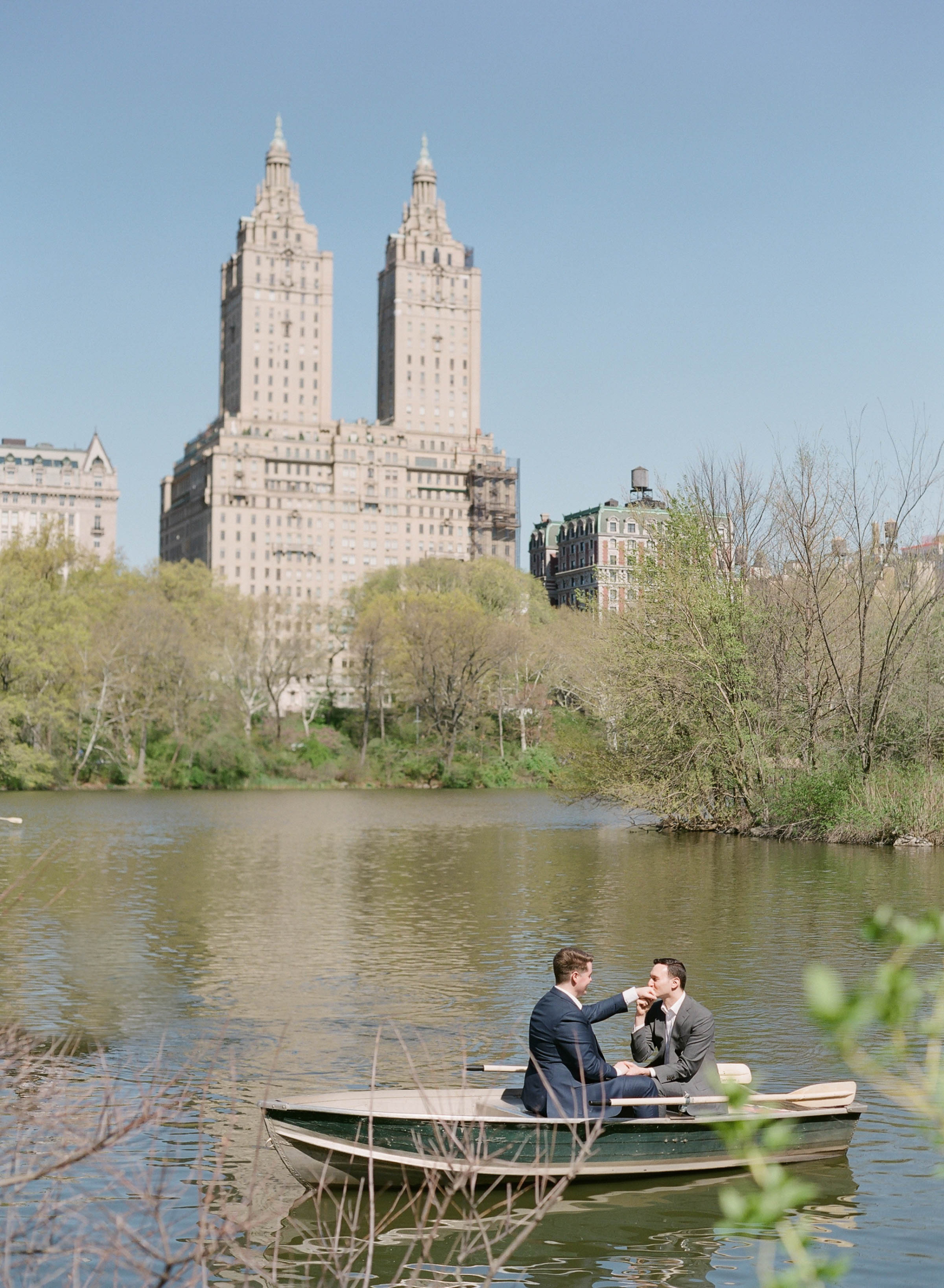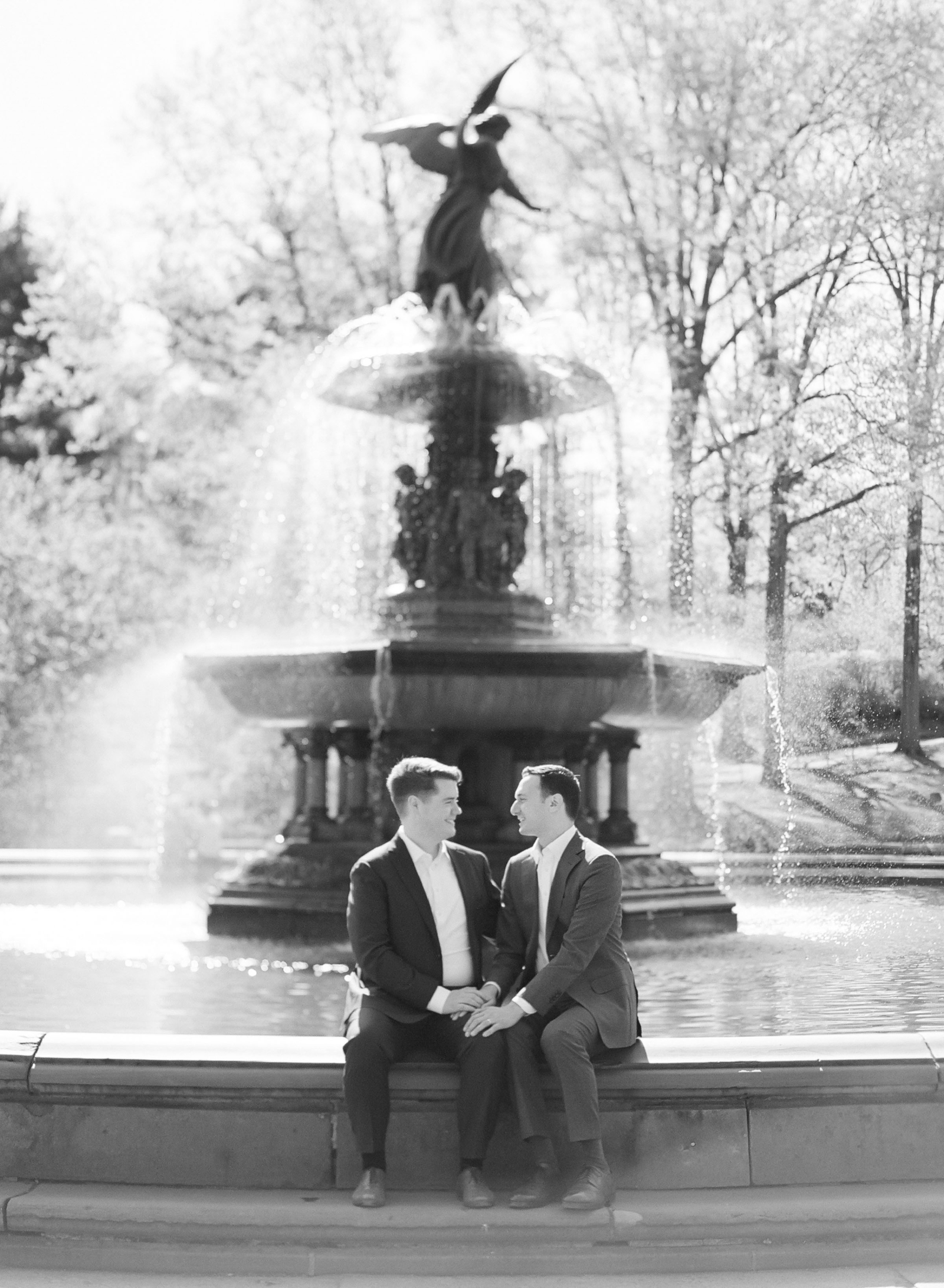 WHAT'S THE VISION FOR YOUR WEDDING? We are so excited to be getting married at Lowndes Grove in Charleston, South Carolina. Colin is from the Carolinas and Charleston holds a special place in our hearts, as we've been there every year that we have been together. We are honoured that so many family members and friends will be there with us to celebrate this special day in our lives. All of our vendors have been overwhelmingly supportive of us as we plan a same-sex wedding, led by our incredible wedding planner, Haley Kelly. It has been a journey for us and our families, as we encounter new questions like, "What do we call your bridesmaids if there's no bride?" (Best Women and Groomswomen!) and "Who walks down the aisle first?" (We're walking down the aisle together!) Lowndes Grove is a gorgeous venue situated right on the Ashley River, and it has been Colin's dream venue long before we even started dating. We will have our wedding ceremony on the main lawn overlooking the river, officiated by our mutual friend Jonathan, and our cocktail hour will take place on the waterfront (rocking chairs are a must!) and inside the historic house. Most of our guests will never have been to Charleston before, so we are choosing to feature the locale front and center through our food and decor, with Southern-inspired hors d'oeuvres, florals and greenery that are unique to the low country. The reception will take place under a clear tent with thousands of twinkle lights hanging above.
We met while working in the arts, so good music that gets our guests on their feet was important to us. We are excited to be working with a string quartet from Charleston Entertainment for our ceremony and cocktail hour, and with the band Right To Party for our reception. Colin is Taylor Swift's biggest fan, and we will be walking down the aisle to a string quartet arrangement of "Wildest Dreams," with "Love Story" as our recessional. Our first dance will be to Ben Rector's "When I'm With You," which Colin played for Andrew to celebrate after their first month of dating. Andrew has a huge sweet tooth and follows the PPHG baking Instagram religiously - he couldn't be more excited for the cake tasting! - so we expect to have plenty of desserts.
After Lowndes Grove, we will continue the party at a Parcel32 on upper King Street with some music, drinks, and late night bites. (Sweet tea boozy pops and chicken biscuit sandwiches, anyone?!)
Even with all of the decisions to be made and the many details to plan, we know that the best part of any wedding is the love in the room. We feel blessed that friends and family from near and far will be making the trip to Charleston to celebrate this special day in our lives - when we become husbands!
IN THIS MOMENT, WHAT DO YOU GUYS LOVE THE MOST ABOUT EACH OTHER? Our relationship is built on the solid foundation of our friendship - we are one another's best friends - and one of the things we love most about one another is our shared commitment to growing together, both as individuals and as a couple. We recognise that we can - and should! - only continue to grow and change throughout the course of our lives. We love and deeply respect one another, and as we honor that commitment on our wedding day in front of our friends and family, we also commit to loving and supporting the versions of ourselves who we will grow to become in the years that follow. Wedding planning can be at times exuberant and joyful, stressful and serious, and invigorating while also being exhausting at the same time. We love that we can turn to one another for limitless support and compassion, and that the values with which we approach our wedding planning are also the values that we hope to embody in our marriage.
A big thank you to Charleston wedding photographers JUSTIN LEON BROWN for sharing this beautiful wedding with us. Husband and wife team Justin & Amanda specialise in fine art wedding photography with a Southern heartbeat. All of the soft dreamy film goodness - with a small Charleston twist. They focus on images that put emotion and happiness at the forefront. "We want to capture you in your happiest, natural moments from beginning to end! Our goal is to photograph a wedding with authentic intention and genuine emotion." You can see more of their work in their portfolio here.