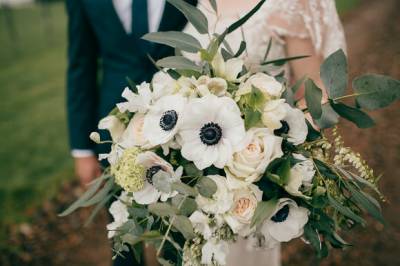 Ashley and Dan came over to New Zealand from Australia for their destination Waiheke Island wedding and in spite of the inclement weather it was truly stunning! Full of love, laughter and some serious style, CHASEWILD were there to capture all the festivities. After some wonderful moments with a first look before the ceremony, they dodged a bit of rain and the sun came out right on cue as the couple were married in front of some epic Waiheke vistas. For several of the guests this was their first visit to New Zealand, and I can think of no better way to be impressed that with a trip to this gem in Auckland's harbour.
The gorgeous couple tell us, "We searched far and wide for a venue that felt like us, wanting a celebration that brought all our nearest and dearest together over a delicious meal and sensational wine. Waiheke Island really is made for moments, and we're so lucky that our wedding became a five day celebration with all our favorite people.
We were so lucky that after days of constant of rain the sun came out fifteen minutes before the ceremony, thankfully all the boys jumped into action to help move everything from the cellar to the rooftop so we could enjoy the view."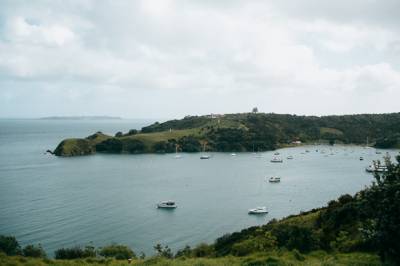 HOW DID YOU MEET? We met working in the coal mines in Central Queensland. Not sure how either of us ended up in the 'oasis of the coalfields' but so glad we did.
TELL US ABOUT YOUR PROPOSAL: Dan proposed while we were scootering on Vis, an island just off the coast of Croatia. First day into our European adventure it made for a pretty spectacular holiday, and I was lucky enough that we finished our trip in Antwerp where I got to pick the ring.
TELL US ABOUT FINDING YOUR WEDDING DRESS: There were actually a few dramas with the dress - it was initially pink! - luckily all came through in the end. I loved that it was a little different and the vintage hand beaded French lace felt pretty special.
ANY DIY ELEMENTS? There were a few elements we didn't have just for the sake of tradition, like a cake - every wedding we'd been to people were too busy enjoying the dancefloor to really appreciate the red velvet anyway.
DESCRIBE YOUR WEDDING FLOWERS: As an Aussie, I wanted softer florals with a touch of Australian natives - Vicki's mix of anemones, jasmine, roses and eucalyptus was just perfect (and smelt divine).
WHAT ADVICE WOULD YOU GIVE OUT TO A COUPLE PLANNING THEIR WEDDING? The day really is just about the two of you, so just focus on what you both love.
MOST MEMORABLE MOMENT? Ash - we wrote our own vows, Dan really surprised me with how thoughtful, personal and funny his were; brought tears to my ( & everyone's) eyes and made me laugh out loud. Dan - Ash walking down the aisle. Even though we'd seen each other in a first look, seeing her with her Dad was so powerful, and she was so beautiful.