Knowing she wanted to incorporate a lot of natural elements into their wedding Carly took a lot of walks in the lead up to her wedding to Douglas, collecting acorns, pine cones, dried seed pods, branches, and anything else a plant makes in preparation for winter. Added to this was an abundance of warm candlelight and greenery and the result was a welcoming, cosy autumn celebration captured by LEAH BARRY PHOTOGRAPHY in the groom's family home.
I love that they intentionally chose to spend the reception together visiting their guests – as opposed to doing their own thing. Carly tells us, "I have a tendency to be like a butterfly in social settings and doing so may have led us to finish the evening with two different experiences. We didn't want that. The sweet encouragement from being surrounded by those that love you most and the joy of celebrating a good thing like marriage was greater because we shared it."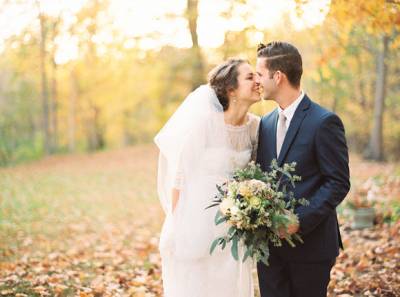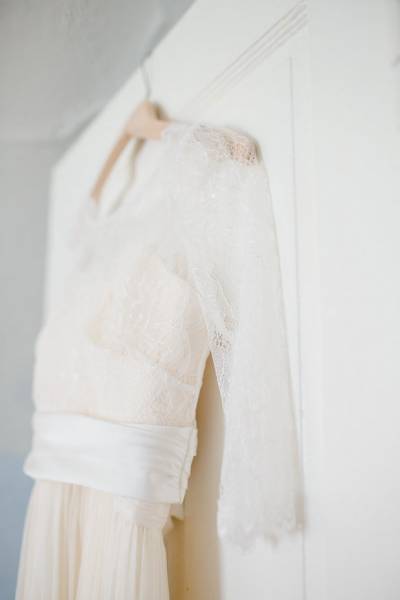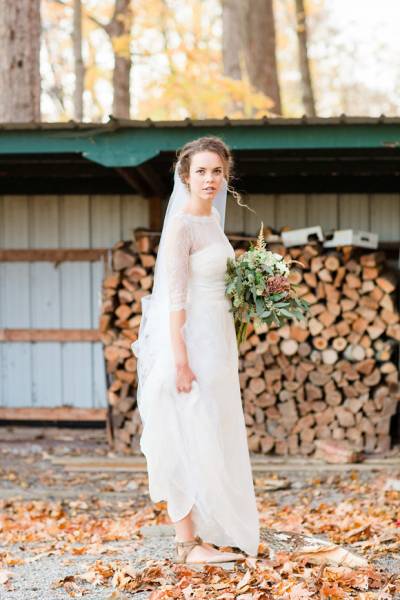 TELL US ABOUT YOUR PROPOSAL: We were on vacation in Michigan with all of his family. After dinner one night, he asked me to walk out to the lake to take pictures of the sunset. It was gray and windy and I questioned his reasoning – but he hoisted his tripod on his shoulder and we set off. Only when he was setting up the picture with me in the frame, did I realize what was about to happen. He set up the shot, pressed record, and walked towards me. He was slightly breathless as he got down on one knee, opened a small black box, and told me for the first time that he loved me. He then asked me to marry him. I'll never forget the flood of joy and excitement; how surprised I was by the beauty of the ring; and the way the wind blew as we hugged and laughed together.
TELL US ABOUT FINDING YOUR WEDDING DRESS: I had tried on a few dresses at different boutiques and felt like I was wearing a costume. I didn't want to spend much on the dress but I did want to feel pretty. I ended up purchasing a lace topper from BHLDN and paired it with a simple chiffon dress made by JCrew. The dress was purchased from eBay for $150 and fit perfectly!
ANY DIY ELEMENTS? Having the reception at my in-laws home made much of the wedding budget-friendly. We put a tent in the backyard and moved all of the furniture from inside the house to the tent. We had oriental rugs, floor lamps, leather couches, ottomans, and side tables. It was a simple way to make the tent feel intimate and comfortable without the added cost of additional tables and chairs – or added effort of hiding all the furniture. We did have to sacrifice a sit-down dinner (3 food stations with seating for guests in various locations) but we gained a quaint atmosphere that lent to guests enjoying one another.
FAVOURITE DETAIL OF THE DAY: I could choose twenty. To start, it didn't rain. The weeks leading up to the wedding were cold and rainy. We were prepared to handle it but knew that it would make things tight. On the day of, it was warm and sunny, the leaves were multicolored, and the river sparkled. Our guests were able to move around comfortably from the house to the tent and sit in chairs on the hillside overlooking the Ohio River.
We were away taking pictures as our guests were served drinks and appetizers. When we arrived, I had person after person approach me to rave about the band. Apparently, they had left their mics in the living room and meandered through the party with accordion, washboard, and trombone in tow. It was unexpected and welcome entertainment.
Last one – near the end of the reception, Doug's mom came out with a stack of paper lanterns. I had always loved the idea of lanterns floating in the sky like they do at the end of the movie, Tangled. Even so, I hadn't said that to anyone much less planned it! She's thoughtful and had enough for everyone to participate. At the same time, there were people doing the exact same thing on the other side of the river. It was so special.
MOST MEMORABLE MOMENT? My aunt has a tradition of giving a toast, which ends up being more like a skit, at each family wedding. For ours, she had 5 or 6 of my family members acting out the story of our years since meeting in 2009, complete with curly wigs. She's a master of storytelling and had us all rolling with laughter.