Set in a beautiful Spokane winery with castle-esqe archways, a cliff house, and gardens as far as the eye can see, Garrett and Kari's wedding day was the picture of perfection and these images by KATLYN MARIE PHOTOART showcase it beautifully. Kari was the most stunning bride in her HAYLEY PAIGE gown and her and Garrett were showered with love from their family and friends (whom ALL traveled to Spokane from different parts of the world for their wedding!). Garrett is a firefighter and actually set up a special proposal for Kari a year ago complete with a fireboat in the bay as he got down on one knee. So, it was so fitting to have a vintage fire engine be the highlight of their wedding decor! Katlyn tells us, "I absolutely adore how their love story was so evident on their wedding day! From the forest ceremony, to the fire engine, to the cliff house reception this wedding day was perfect from beginning to end!"
WHAT WAS THE INSPIRATION BEHIND YOUR WEDDING STYLE? Garrett is always telling me to "keep love in your heart and leave your love light on." The saying came from his grandfather and it ended up being somewhat of a tagline for our wedding. We knew we wanted everything to be light, airy and simple. We didn't want full place settings or oversized centerpieces. More importantly we wanted our guests to walk away saying "that celebration was SO them and they are SO in love."
WHY DID YOU CHOOSE THIS LOCATION? We looked at five venues in Spokane in one day. On our way home it was so obvious to Garrett that this was the venue for us. I wanted to get married in the trees and he explained that if we kept vetoing venues without trees we were going to have to plant one in the backyard and get married there. The space had such a progression element to it. We could already see guests mingling from the ceremony space to the cocktail hour bar to the reception. The views of the city and river were fantastic, and as a bonus, it was already decorated with flowers and trees!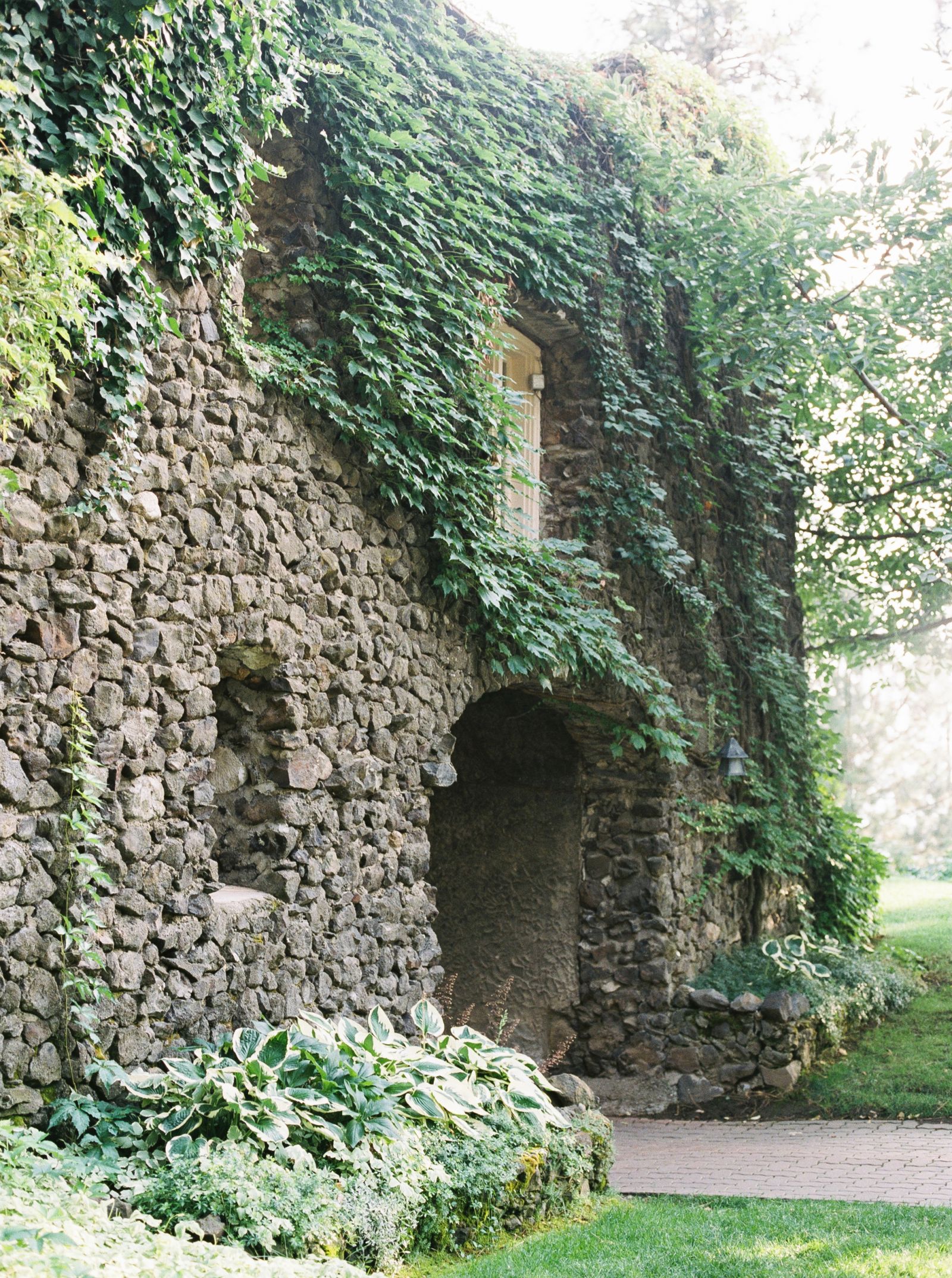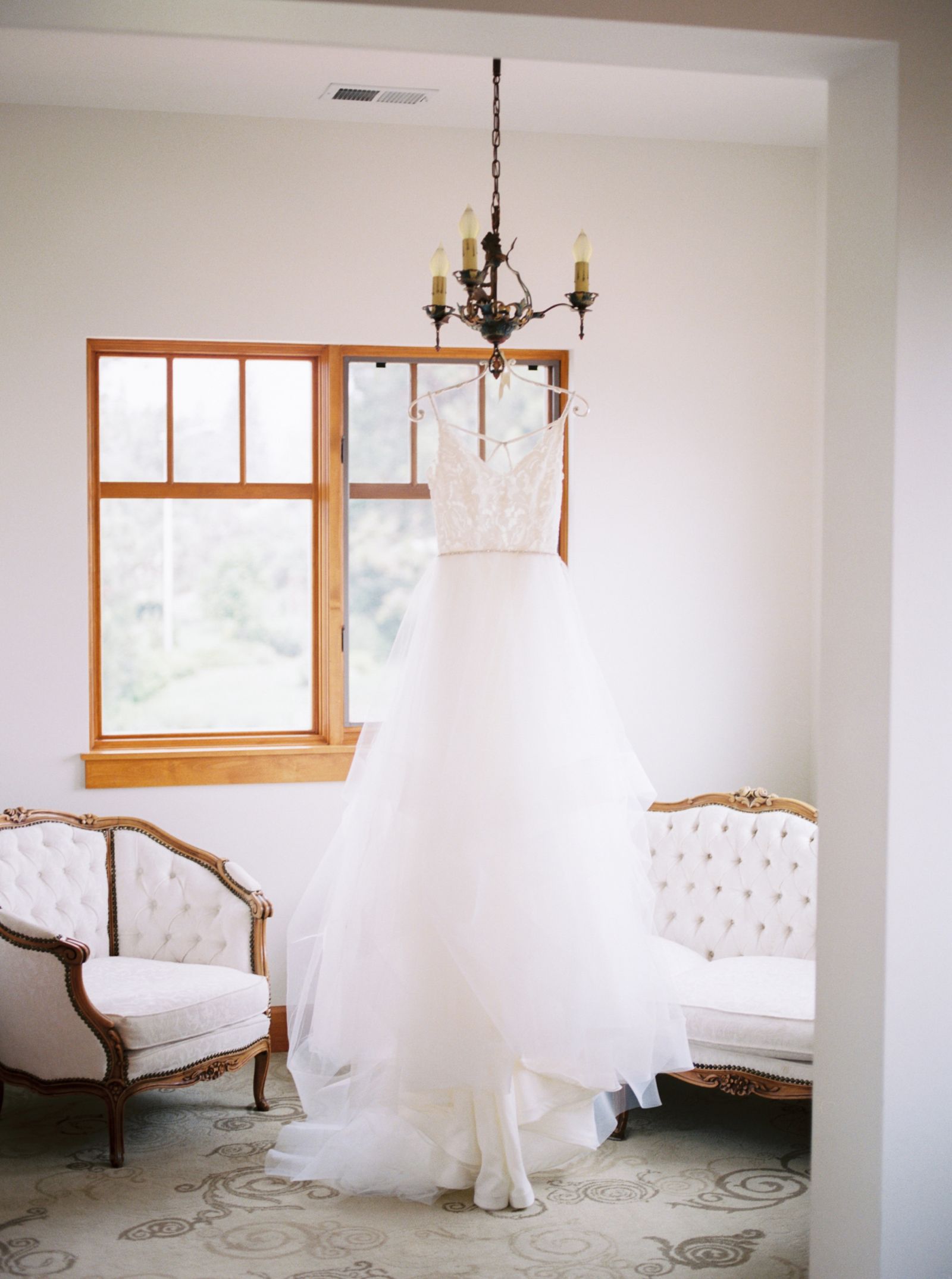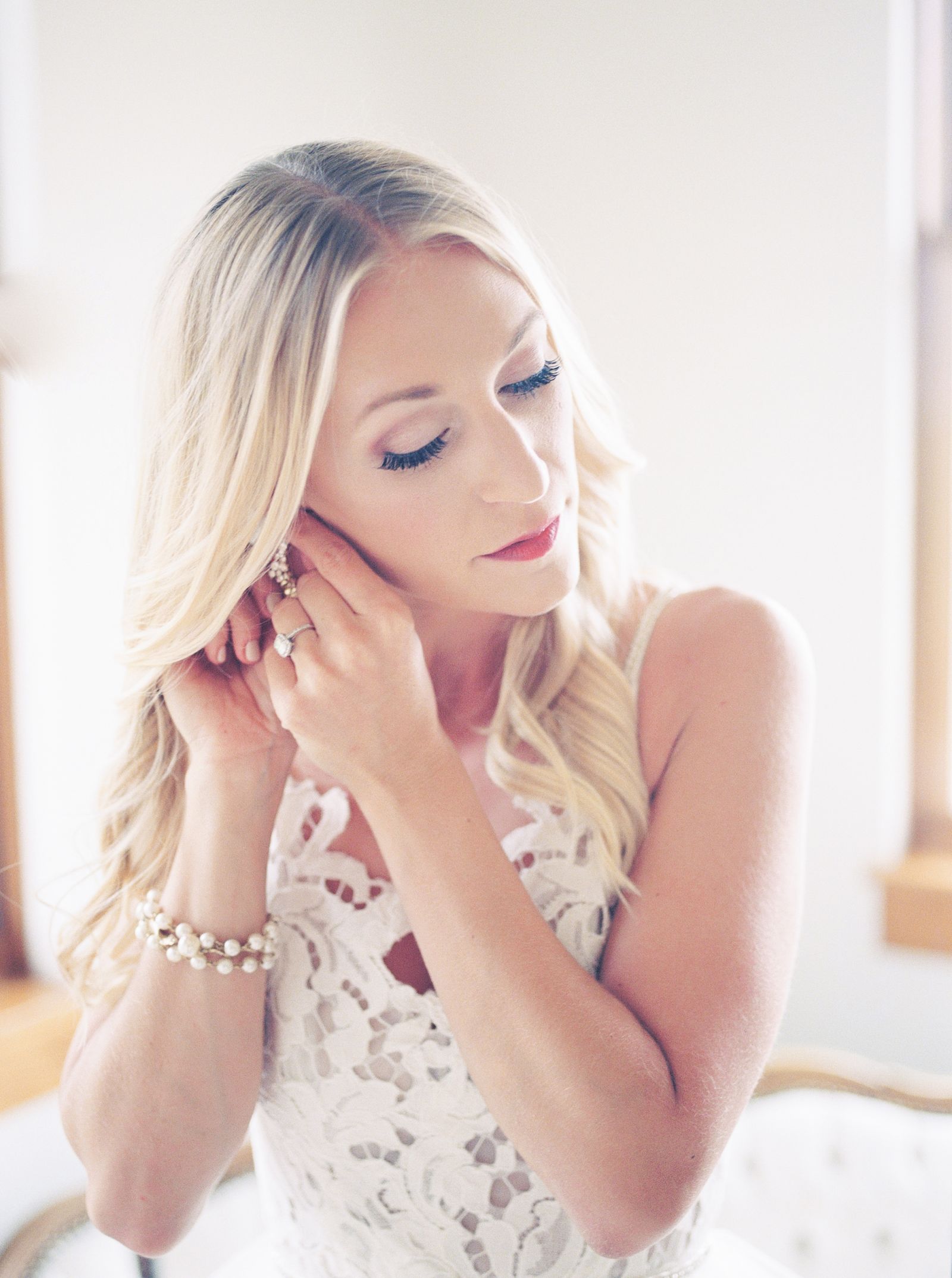 TELL US ABOUT YOUR PROPOSAL: We were on a trip to San Francisco for Garret's birthday weekend. Because he's a firefighter, his interest in walking to the fire station under the Bay Bridge wasn't out of the ordinary. As his sweaty palms were practically dragging me down the Embarcadero, he drew my attention to my left where there was a fireboat cruising out in the bay. He then pointed to my right where 3 people were walking towards us holding a sign that said "Marry Him". By the time I realised the three messengers were my best friends from Los Angeles, San Francisco, & NYC, Garrett was down on one knee. When he asked me to be his wife, I said the only word that came to mind, "Absolutely," and as he slipped the ring on my finger, the fireboat began spouting water.
TELL US ABOUT FINDING YOUR WEDDING DRESS: I had seen a Hayley Paige dress online and it just so happened there was a trunk show in LA the weekend both my MOH from NYC & I would be there visiting my other MOH. We get to the bridal shop and they have confused us, Kari & Karlie with another bride/MOH duo, Carrie and Carly (not kidding). They overbooked and had no room for me to try on dresses. Furthermore, the dress I had seen online wasn't there. They made a makeshift dressing room, let me try on a dress four times my budget and I left with nothing but a champagne buzz and tears in my eyes. The months following I tried on so many dresses searching for one to give me the same magical feeling as my million dollar dress experience, but none of them felt special. I found another Hayley Paige trunk show and confirmed the original dress I had seen online would be there. I showed up, by myself, tried it on and bawled like a baby. I hadn't cried in any other dress, not even the million dollar one (at least until I saw the price tag). The dress was beyond perfect and it was very serene to find it on my own without anyone else's opinion in the mix.
DID YOU HAVE ANY DIY ELEMENTS? We were very selective about what we would and wouldn't DIY. It can get more expensive to purchase the supplies than it is to buy the item outright. We DIY'd the table numbers, signage, Save the Dates and invitation suite. I also made my garter using the lace from my mom's veil.
DESCRIBE YOUR WEDDING FLOWERS: I didn't have a hard time choosing a bouquet because I knew I wanted it to be on the smaller side. I had just found the most beautiful dress, I wasn't about to cover it up with flowers! The 'bridesbabes' had similar florals in their bouquets but smaller. We skipped the boutonnieres and gave the guys mismatched pocket squares instead. The flower girls carried oversized white and blush balloons and had flower crowns made of greenery. I'm obsessed with balloons and was trying to find a fun way to incorporate them into the day without becoming tacky.


FAVOURITE DETAIL OF THE DAY: Definitely the vintage fire engine! The fire department Garrett was working for was kind enough to haul their vintage engine 150 miles to serve as a display at our wedding. It was definitely a "wow" factor. Also, the chairs at the head table were from our dining set and the rug we were married on was from our living room. I loved having familiar pieces of our home incorporated throughout the day. It made it more personal.
WHAT ADVICE WOULD YOU GIVE OUT TO A COUPLE PLANNING THEIR WEDDING? If it's not about the two of you or if you won't get to enjoy it, leave it out. We would also recommend talking to the guests who traveled the furthest, first. You can go to coffee with your BFF next week, prioritise the people who made an effort to travel so far.
MOST MEMORABLE MOMENT? The day of our wedding, the sky was hazy from all the wildland fires in Washington & Oregon. Our friends said they hadn't seen the sun in about three weeks. The wedding coordinators told us it was supposed to storm and we needed to decide if we wanted to relocate everything inside. I was strongly against anything indoors for our wedding and hated this idea. I called Garrett and he said, let's roll with it, if anything it would be a story for the grandkids. Roll with it we did! About 30 minutes before the ceremony, the sky began to clear and as we were saying our vows the sun peeked out from behind a cloud and stayed until sunset. We couldn't have asked for a better day!
ANY OTHER DETAILS THAT HELP TELL THE STORY OF YOUR DAY? There was one person at our wedding who was local, but everyone else came from out of town. It was a weekend long, destination vacation for everyone! We rented a lake house and had our guests stop by at their leisure to hang out for dinner or take a boat ride. We have family all over the country and beyond, so it was nice to see them for more than four hours at our reception.
TELL US A LITTLE ABOUT YOUR HONEYMOON: We will when we get back! Due to Garrett's work schedule we can't take it until 2019.
IS THERE ANYTHING YOU WOULD CHANGE OR DO DIFFERENTLY? Do it all over again and experience it as guests!