As lovers of the outdoors Courtney & Kyle were smitten with CALAMIGOS RANCH the moment they walked in to view it. "Its beauty is breathtaking and it had both the ceremony and reception outside which was very important to me. Plus it was the perfect size for our small wedding." Being in the industry herself - Courtney is a calligrapher - and being a crafty type, she put together most of the details herself. She created all the signage and paper goods herself. The florals by CATALINA NEAL are some of the prettiest we've seen in a while, and work beautifully with the bridesmaids palette of navy and warm dusky mauve. Thanks to California Wedding Photographer BRANDON KIDD PHOTOGRAPHY this gorgeous couple have these beautiful memories of their day.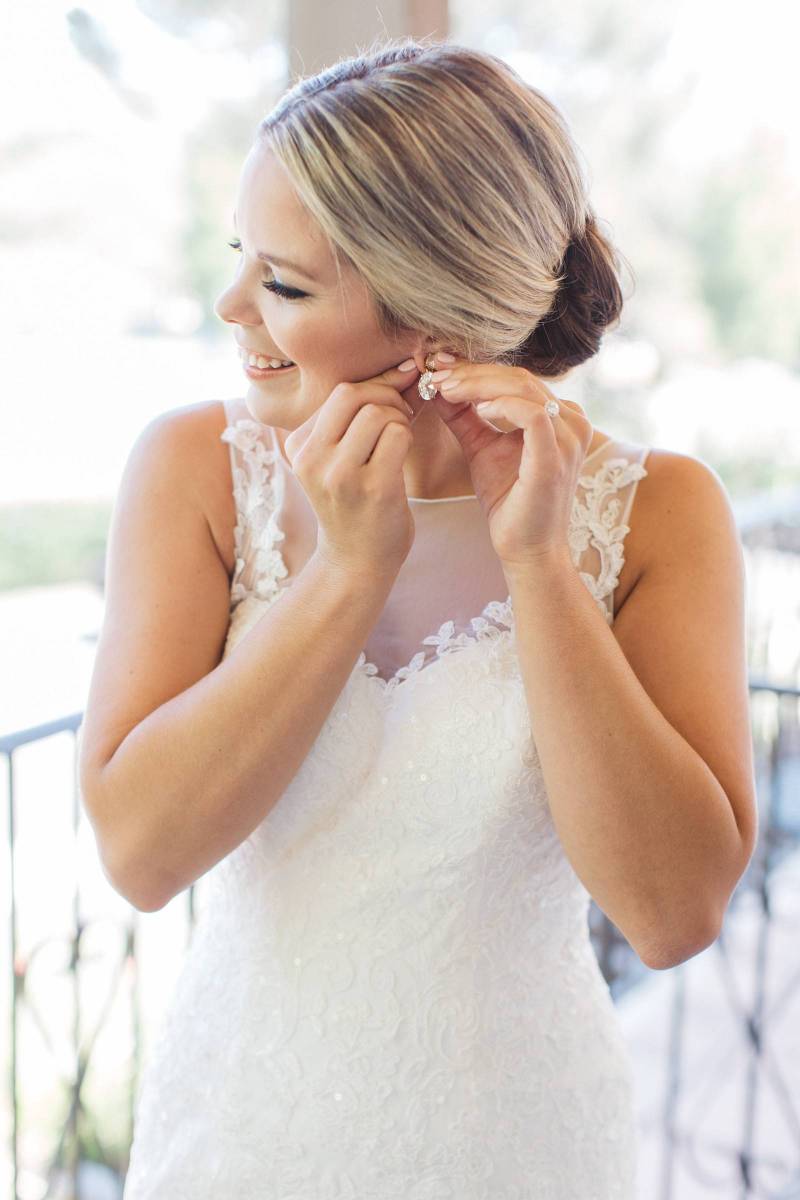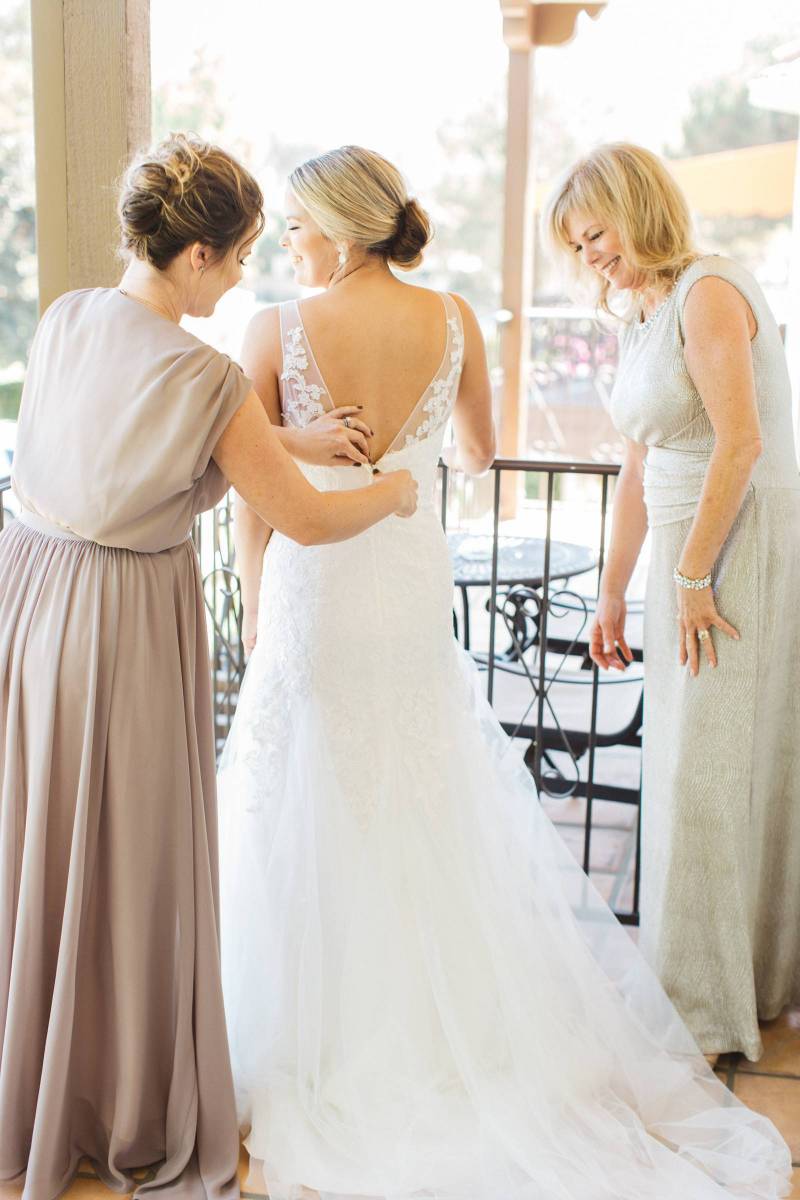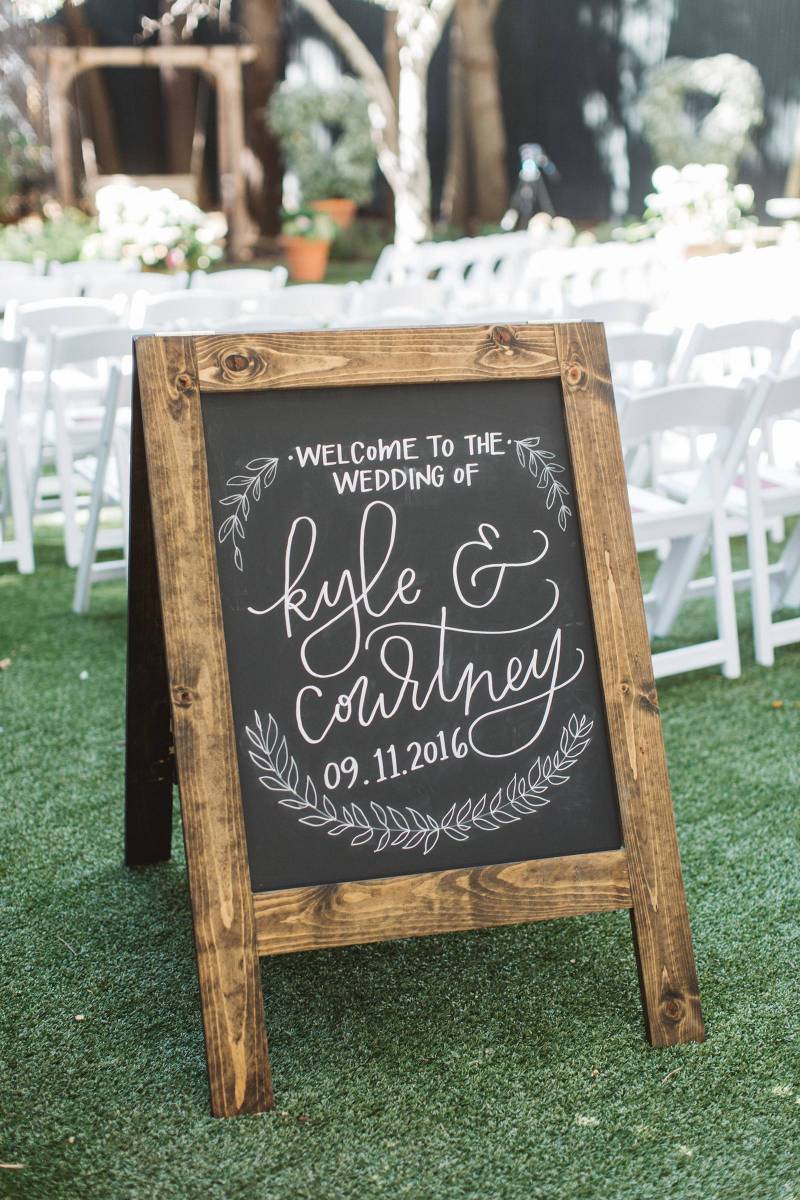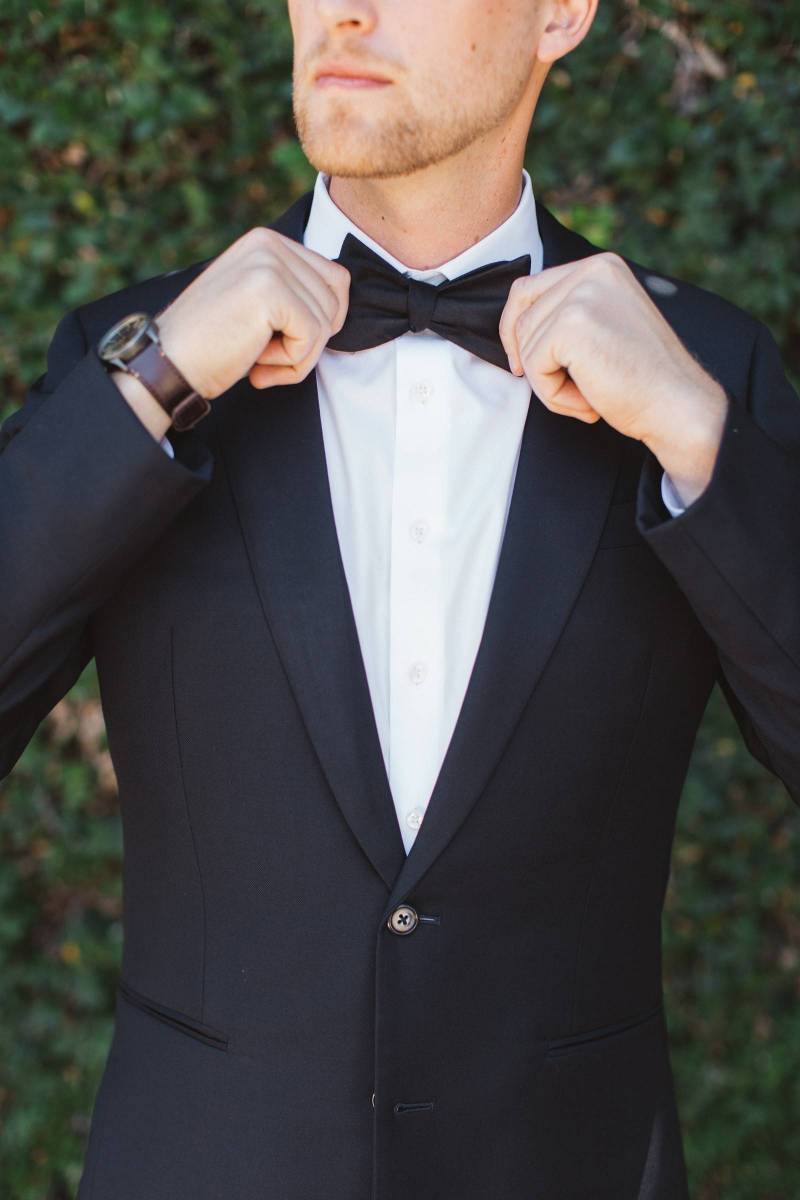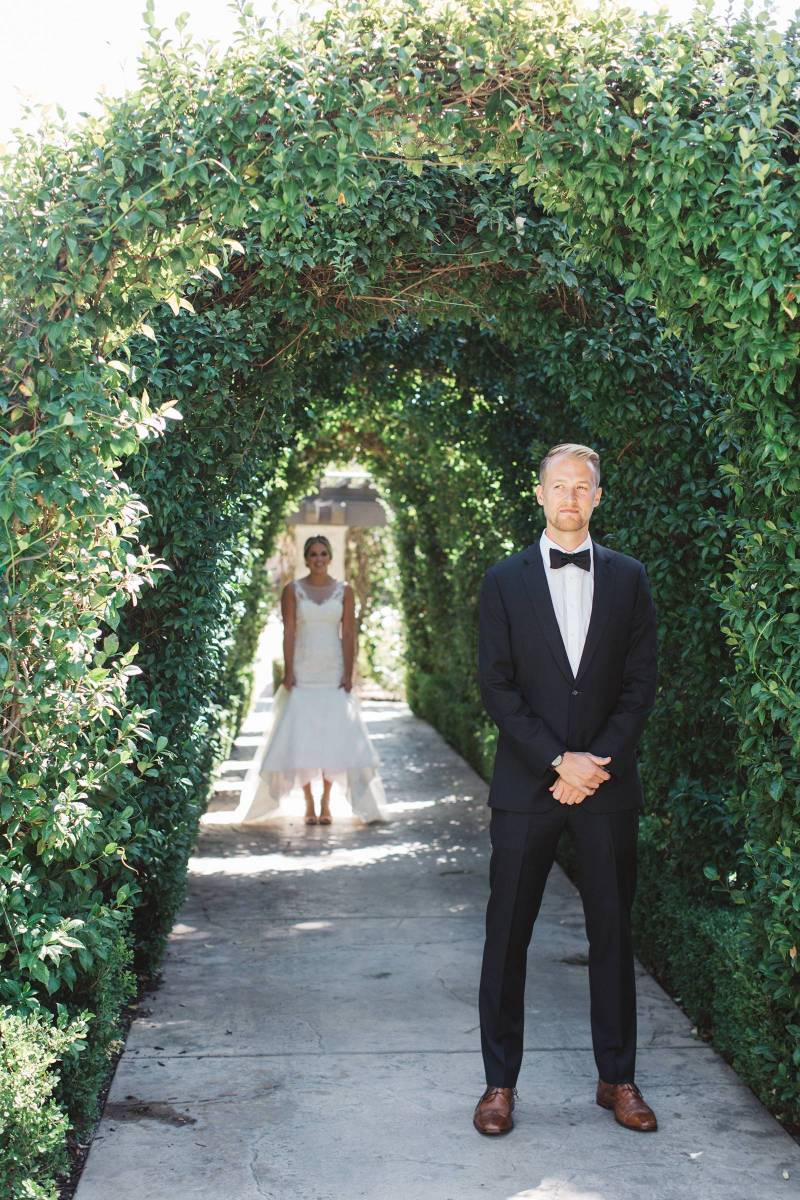 HOW DID YOU MEET? Kyle is from Minnesota and I am from California. When my sister and brother-in-law moved to Minneapolis, they quickly became friends with Kyle through the church they were attending. A few years later, after they had moved back to California, my brother-in-law went back to Minnesota to visit and stayed with Kyle. Kyle, now single (which he wasn't when we first met), began to ask him about me and if he would mind if he got to know me better. After his approval, Kyle began our relationship by sending me a letter in the mail. We started our relationship essentially as pen pals, writing each other back and forth getting to know each other better. We finally had our first date when I flew out to Minnesota to spend the weekend a couple of weeks in. From that weekend on, we knew it was something special! We did long distance for about 6 months and then Kyle moved out to California to "find out about a girl".
TELL US ABOUT YOUR PROPOSAL: We had been dating just over three years and had been talking engagement for a while. Needless to say I was on "high alert" but poor Kyle was still trying his best to make it all a surprise. He planned out a beautiful picnic at one of our favourite spots in Manhattan Beach until the forecast showed a 95% chance of rain (so rare in So Cal!). He quickly called Megan Welker (who was all set to take photos of the proposal) and my sister and they all changed plans last minute. He managed to pull off the surprise on that Friday night in Newport Harbour just before we got on a rented yacht to watch the Newport Boat Parade. On the dock he got down on one knee and I said yes! We set sail with our friends looking at all the Christmas lights with my new sparkly accessory!
TELL US ABOUT FINDING YOUR WEDDING DRESS: My dress was one of the first ones I tried on! I went into my first appointment telling my sister and mom that I was just looking and didn't want to buy anything that day. It was the first store and I knew I wanted to try on lots of styles to see what looked best on me. I ended up falling in love with a dress that was exactly what I would have described to you prior to the appointment as my ideal style - I had no idea it would be that easy!
DESCRIBE YOUR WEDDING FLOWERS: Sarah from Catalina Neal made all of my flower dreams come true! I met with her after stalking her Instagram relentlessly and falling in love with her whimsical and organic style. Instead of giving her specific flowers I wanted (because I knew she would know the perfect ones to use), I gave her the color palette I loved and told her a few flowers I definitely did not want. From there she created magic! They were a beautiful mix of all different types of ferns with creamy whites, soft pinks and some hints of burgundy. She used beautiful ranunculus, roses, dahlias and the perfect hint of fall leaves. My bridal bouquet was draped with Tono & Co ribbon and I still look back and think of how happy I was when I saw it all for the first time.
FAVOURITE DETAIL OF THE DAY: I loved doing a first look with Kyle at the hotel where we got ready (Westlake Village Inn). We found a beautiful archway and those photos are some of my favourite from the day. He looked so handsome in his suit and I will never forget the look on his face when he turned around and saw me for the first time. I hadn't been nervous at all the whole morning until right before I saw him. Then immediately I was put at ease and I was so ready to get the day started and to finally be his wife!
WHAT ADVICE WOULD YOU GIVE OUT TO A COUPLE PLANNING THEIR WEDDING? Set aside a day of the week to talk about the wedding...and that's it. Since I was doing most of it myself, I was pretty consumed with the details and creating the perfect timeline, organising everything and not forgetting any details. I loved thinking about it and planning it but I knew that Kyle got overwhelmed with everything much faster than I did. Once we got all of our big decisions made (venue, vendors, etc), we tried our best to stick to the one day a week rule where I saved all of my questions and we talked it all out at once. Then it didn't feel like it was taking over our whole life!
Also... go to pre-marital counselling! Focus on the marriage more than the wedding. The wedding is so fun and a great celebration, but your marriage is forever. We worked through so many things in pre-marital counselling that helped us feel more prepared to enter into a healthy marriage.
MOST MEMORABLE MOMENT? Saying our vows. We both wrote personal vows and I knew that Kyle's would be amazing...and they were. He is so thoughtful with his words and I knew that he meant what he said just as I did.That was the moment I really felt the "realness" that we were about to be husband and wife!
ANY OTHER DETAILS THAT HELP TELL THE STORY OF YOUR DAY? Both Kyle and I LOVE to dance at weddings so we knew we wanted the reception to be a big party. All of our friends got out on the dance floor and danced with us until the second we had to leave. At various points during the night, I completely ate it and fell while busting a move on the dance floor and Kyle was hoisted into the air by his friends while belting out Backstreet Boys on the microphone. That is definitely something I will never forget!
IS THERE ANYTHING YOU WOULD CHANGE OR DO DIFFERENTLY? Break my shoes in better - ha! I was in so much pain by the end of photos in between the ceremony and reception that Kyle was carrying me from place to place. I was so happy that I brought flats to change into after our first dance.