As Colorado natives, gorgeous bride Lauren and her husband Caeleon were on the search for a venue that had a 'true Colorado feel' to it. SPRUCE MOUNTAIN RANCH ticked all the boxes and they went ahead planning their 'Colorado Glamour' wedding with chandeliers, soft and dreamy colours and metallic aspects. With planning & styling by GRACE & GATHER EVENTS these images by TAMARA GRUNER showcase all the beauty of the day.
Lauren shares with us, "My husband Caeleon and I met at a previous workplace. My husband has a very unique first name and his last name is "Work", when I met him literally at work and was looking at the roster of employees for that cute guy I met-- I literally thought people didn't want to ask his last name because his first name is so unusual. It took me a while to realize his last name was just "Work"! When we met, it truly was love at first sight and we love to reminisce about that moment.

Finding my dress for our big day was one of the most enjoyable parts of the planning process! I knew I wanted something glamorous and a little sexy, and the brand that immediately comes to mind with those two descriptors is definitely GALIA LAHAV! My mom, my sister and I went to a trunk show at a local boutique in Denver (Little White Dress Shoppe), and the moment I put on my gown-- I knew that was it! The details on the gown and how it made me feel in it... it was absolutely perfect!

Planning the wedding was a complete blast. My husband and I spent the first 6 months of our engagement just being engaged and enjoying that time. The best and first thing we did was... hire a wedding planner. Our wedding planner was easily the best money we spent, and she truly was the reason our dream day was just that, a dream! Both my husband and I were actively involved in the wedding planning, and each vendor was the perfect fit. From flowers to catering, every vendor was amazing. Seeing all the pieces come together on our wedding day was most certainly something special."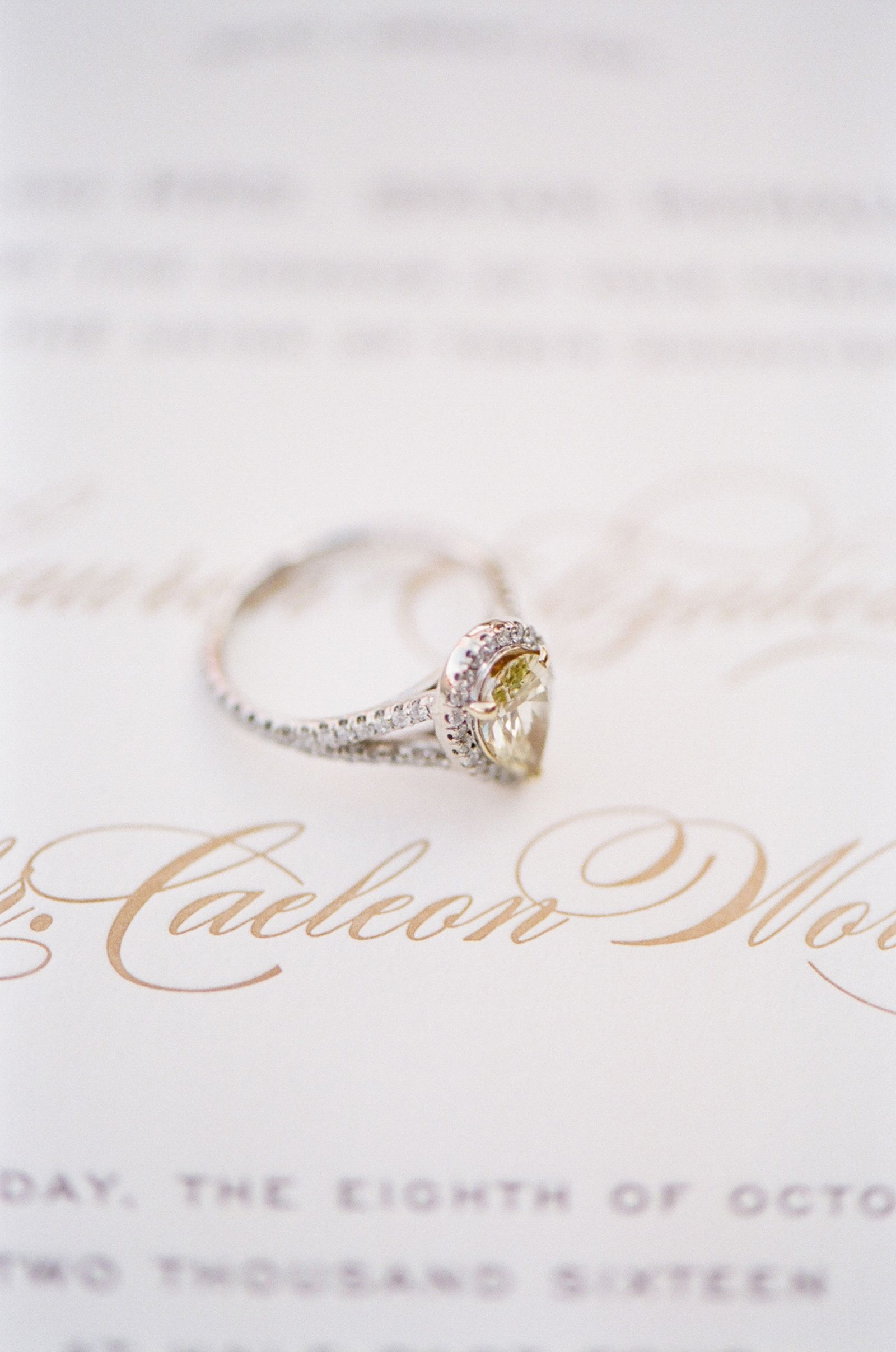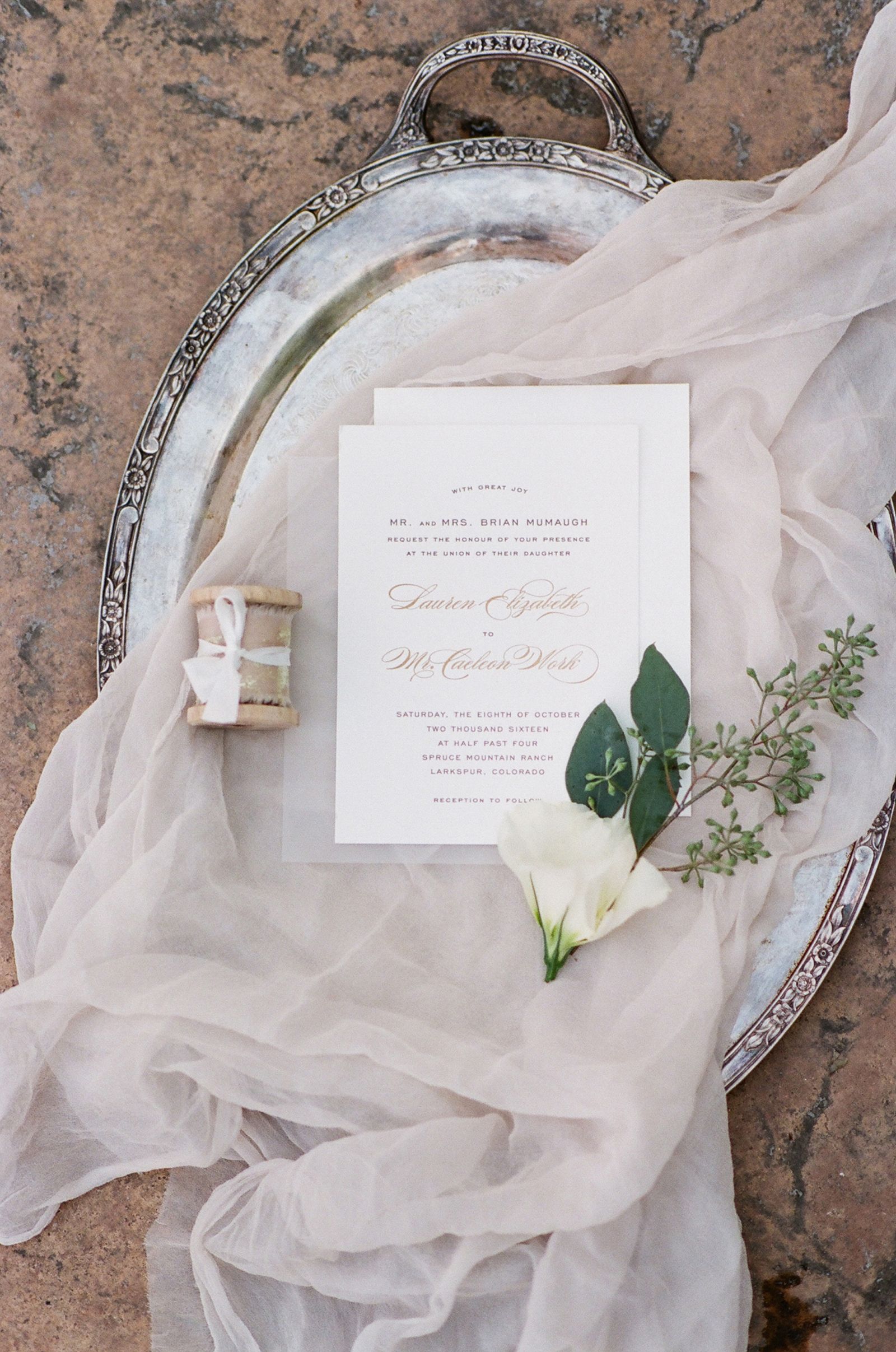 From Nicole of GRACE & GATHER EVENTS, "When Lauren and Caeleon and I first met over brunch with Lauren's parents, we immediately started bonding over how the Broncos were playing that afternoon and we all were so excited for the big game. I believe they were playing the Cowboys, so it was a really important game for the hometown team we both loved.

At that time, Lauren and Caeleon really wanted me to see a very special place to the two of them to see if we could make it work to host the wedding there. I love when couples choose a location that is so near-and-dear to their hearts with so many fond memories, and creating an elegant wedding out of nothing is one of my favourite challenges. When we went up to visit the space with its grand views of the Rocky Mountains and very rustic surroundings, a massive thunderstorm blew in, that ended up creating a tornado just a few miles from where we were. As we were running for cover through the rain and hail, I knew that memory would be one of the many already created in that space.

Lauren and Caeleon's number one priority for their wedding day was to create a convenient, welcoming and celebratory experience for their guests. So, we worked all the angles, analysed all the spreadsheets and dreamed up every scenario to create this experience for their guests at the original sentimental location. In the end, we all agreed that we should look at what established venues there were in Colorado that would align with Lauren and Caeleon's wedding day priority and match their style. As soon as they saw Spruce Mountain Ranch, they knew that was the place for their wedding. It had all of the rustic charm that their original location had, plus an additional level of elegance and ease for their guests that the original location did not necessarily have available.

I really admire that whilst Lauren and Caeleon had their hearts set on the original location, they recognised that by keeping an open mind and staying flexible, they were able to stay true to their number one wedding day priority and find a venue they loved."