This Scottsdale, Arizona wedding by RYANN LINDSEY PHOTOGRAPHY combined the eclectic, bohemian style of the bride with the more reserved English nature of the groom. They worked together to create a fusion of both of their styles which involved some romantic, bohemian inspired aspects such as the aztec tablecloths, greenery in the florals, and candlelight - that were mixed with more elegant components - the golds and marble that were scattered throughout our decor.
Five years ago, the paths of Addi & Howard's lives intertwined in a situation that can only be described as beshert (meant to be in Hebrew). They were only living in the same city for a couple of months, but they were introduced and began dating immediately. Howard's British chivalry and charm were unparalleled - exceeded only by his love of America and rap. Their time in Scottsdale together was brief, but they made the most of it before Addi moved across country to New York. It was crunch time, as they packed in as many trips and dates into those months - making countless memories and falling in love along the way.
For a year, they made trips across the country to each other as well as meeting in states in between. After a year of long distance and spending more time looking at each other on Skype than in person, they made the crazy choice to move into a one bedroom apartment together in New York City. The following year was packed with incredible NYC experiences, but eventually they realised that they missed their family, friends, and community in Arizona (not to mention the constant sunshine) so made the move back.
WHY DID YOU CHOOSE THIS LOCATION? We wanted to find a venue that showcased the incredible Arizona mountains and our outdoor lifestyle, but also was elegant. When touring venues, we found indoor ballrooms to be too classic and often had elements we wanted to cover. When we found the Country Club at DC Ranch, we were wowed. We had wanted to bring in a component of our first date, which was at a restaurant that is inspired by the mediterranean. The Country Club at DC Ranch was gorgeous and every part felt like a Italian Villa with a gorgeous mountain backdrop for our ceremony and mediterranean decor. Our entire wedding was outdoors and the reception allowed for guests to dance under the stars.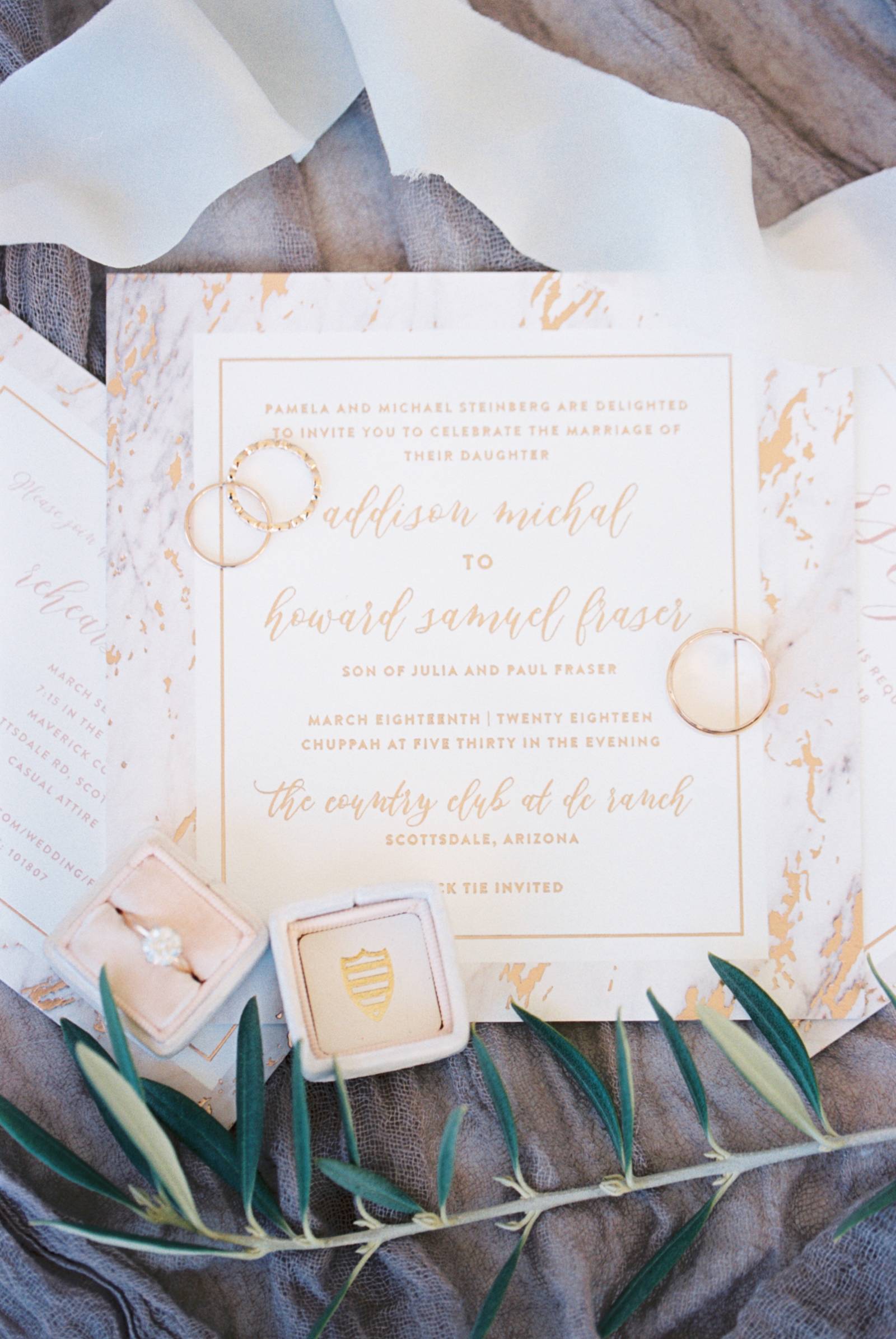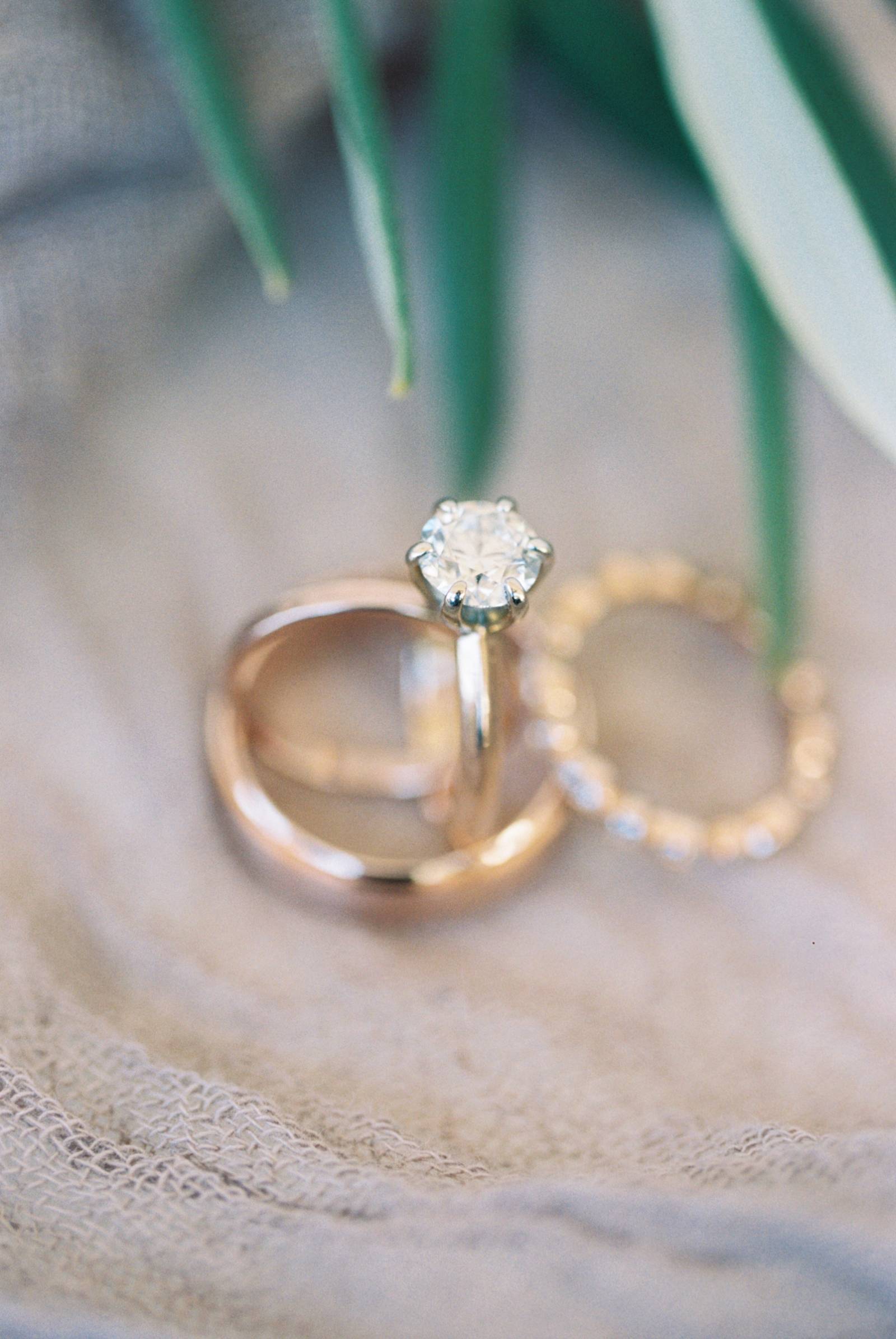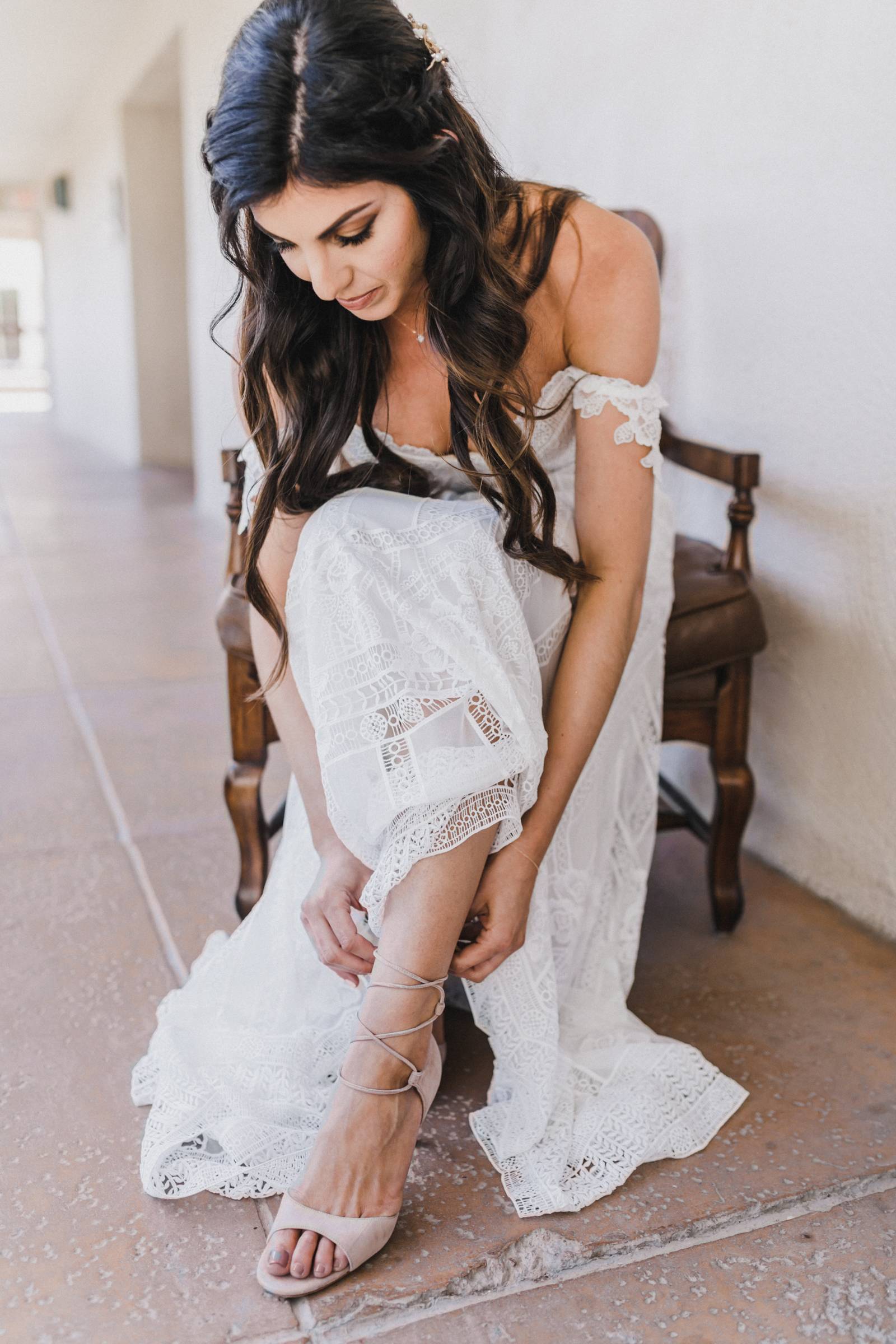 HOW DID YOU MEET? Although Howard is British and everyone expects an incredible story about how we met while I was travelling through Europe, we actually met through mutual friends in Arizona. There was an immediate spark and I felt like I knew him my entire life - oh, and his British accent didn't hurt either! We had to figure things out quickly because I had already committed to a job in NYC that would begin in a few months. We started a whirlwind romance that was mostly long distance and filled with countless face-time calls, but it was always the highlight of our day to see each other.
TELL US ABOUT YOUR PROPOSAL: Howard asked me the day I graduated from my masters program! There were so many signs that I totally missed. After dinner with our families to celebrate my graduation, he walked me to "dessert" and along the way everyone else fell back. We ended up in front of a fountain behind the restaurant we had our first date. I heard music - it was our favourite song- and I instantly knew something was happening. I was surrounded by seven easels that each held a picture from a memorable moment in our relationship. Then I noticed he was wearing a microphone (turns out there was a photographer and videographer hiding in a tree nearby!) He got down and asked that very important question. I didn't even hesitate with my answer. I thought the surprises were over, but I was wrong! We then really headed to dessert - or so I thought. It turned out it was actually a surprise graduation party with my friends and family. Now I got a chance to surprise them when I walked in and flashed my left hand! It was an unforgettable night to say the least.
TELL US ABOUT FINDING YOUR WEDDING DRESS: I had my eye on that dress for years and loved the brand Rue de Seine. I had always imagined myself in a very bohemian style, but tried on many other more classic styles that just didn't feel like me before finally trying on "the dress" I had thought I would love. I couldn't believe it fit so perfectly. The search was over. To me, it was perfectly unique, feminine, figure-flattering, and sexy.
DESCRIBE YOUR WEDDING FLOWERS: They were romantic, organic, and eclectic. My florist suggested we add these long ribbons to the bouquets that blew in the wind and it was the most gorgeous detail that contributed to the bohemian feel of the day. Our chuppah was a showstopper and totally blew people away. The mixture of the greenery and pillowy flowers reinforced the bohemian elegance we were trying to portray.
FAVOURITE DETAIL OF THE DAY: Really?! Choose one? My favourite detail was my gold aztec print tablecloths - I chose those before anything else! I knew that they would be stunning when guests would walk into the reception and would really show our unique style. I had never seen anything like them and they represented our aesthetic for the day perfectly.
WHAT ADVICE WOULD YOU GIVE OUT TO A COUPLE PLANNING THEIR WEDDING? Take dance lessons and practice often! It was such a stress release for us during those crazy times when your conversations turn to seating charts, family opinions, or the worst - budget. Our fun booty-poppin dance always brought on smiles, laughs, and all around a good time.
MOST MEMORABLE MOMENT? Bride's answer: We did a choreographed first dance that started with a romantic waltz that broke into hip hop. It was such a fun way to get the party started and lead others in letting loose. It felt so incredible to finally share our hard work. The best moment was when we did a lift in the dance when we got to look into each other's' eyes. I was in complete bliss as we nailed the risky move and got a moment of connection that was truly fairytale moment.
Groom's answer: During the ceremony, when Addi walked towards me and I looked up at the sky - and saw the sunlight pouring in through the clouds shining in on us. In the Jewish religion, the wedding day is a very religious day and I felt God was with us and the true holiness of the day at that moment.
ANY OTHER DETAILS THAT HELP TELL THE STORY OF YOUR DAY? We wanted the combining of our families as the focus of the day and made sure they were included throughout the wedding. They stood with us under the chuppah and sat with us at the head table. Our bridal party was also extremely important to us, but family is everything and wanted to show that our families had now become one.
We are both Jewish and had a Modern Orthodox Jewish wedding. It was very important to us to carry on our religion and participate in traditions our ancestors have done at weddings for many generations. We had a table that read "l'dor v'dor" - from generation to generation - and had parents, grandparents, and some great grandparents' wedding portraits to show the importance of family and carrying on Judaism. We had many Jewish traditions which included a spirited Ketubah signing, circling of the groom by myself and my mother seven times, breaking of the glass, the Hora (of course), and signing at the Israeli National Anthem - Hatikvah. Including these special traditions into our day helped us to honour all those who couldn't be there to join us that day, but were with us in spirit.
TELL US A LITTLE ABOUT YOUR HONEYMOON: We haven't planned one yet (I am a teacher and had to get back to my Kindergarteners) but plan to go to Australia or New Zealand!
IS THERE ANYTHING YOU WOULD CHANGE OR DO DIFFERENTLY? We were on cloud nine for weeks after our wedding. It's easy to go back and pinpoint little details that we wish would have been different, but our guests danced the night away and could feel our love for each other throughout the night. We had so many guests tell us it was a magical night and they left inspired by the wedding. We just want to do it all over again.