When gorgeous bride Jessie's mother showed her pictures of SAN YSIDRO RANCH online, she knew she'd found her dream wedding venue. Only problem was she wasn't actually officially engaged to Juan at this point. However they happened to be heading to Santa Barbara to celebrate her birthday so took it upon themselves to check it out, and seeing it in person solidified the decision that this was the place for them. Bringing family together from all over the country they celebrated with an intimate soiree captured beautifully as you can see here by ASHLEIGH & ERIK FINE ART WEDDING PHOTOGRAPHY.
Ashleigh & Erik share with us, "Most of Jessie's family came in from the East Coast while Juan's father came up from Mexico City. Jessie and Juan were introduced in high school and over years and through schooling they drew closer together to eventually lead to their seemingly destined wedding day. Even though the wedding was intimate, it was still jammed packed with laughter and non stop dancing. The family told stories of watching Jessie and Juan grow closer together through the years and enjoyed the food and wonderful details that made this wedding so perfect. San Ysidro itself is one of the most perfect backdrops to any wedding, with unforgettable views set up in the Santa Barbara mountain side, and its very own Lavender field which has made it one of the most breathtaking venues in California."
LA FETE WEDDINGS worked with the couple to pull together the style of the day, which ultimately was very in keeping with the venue. COCO ROSE DESIGN put together some romantic arrangements in an array of muted pastel shades.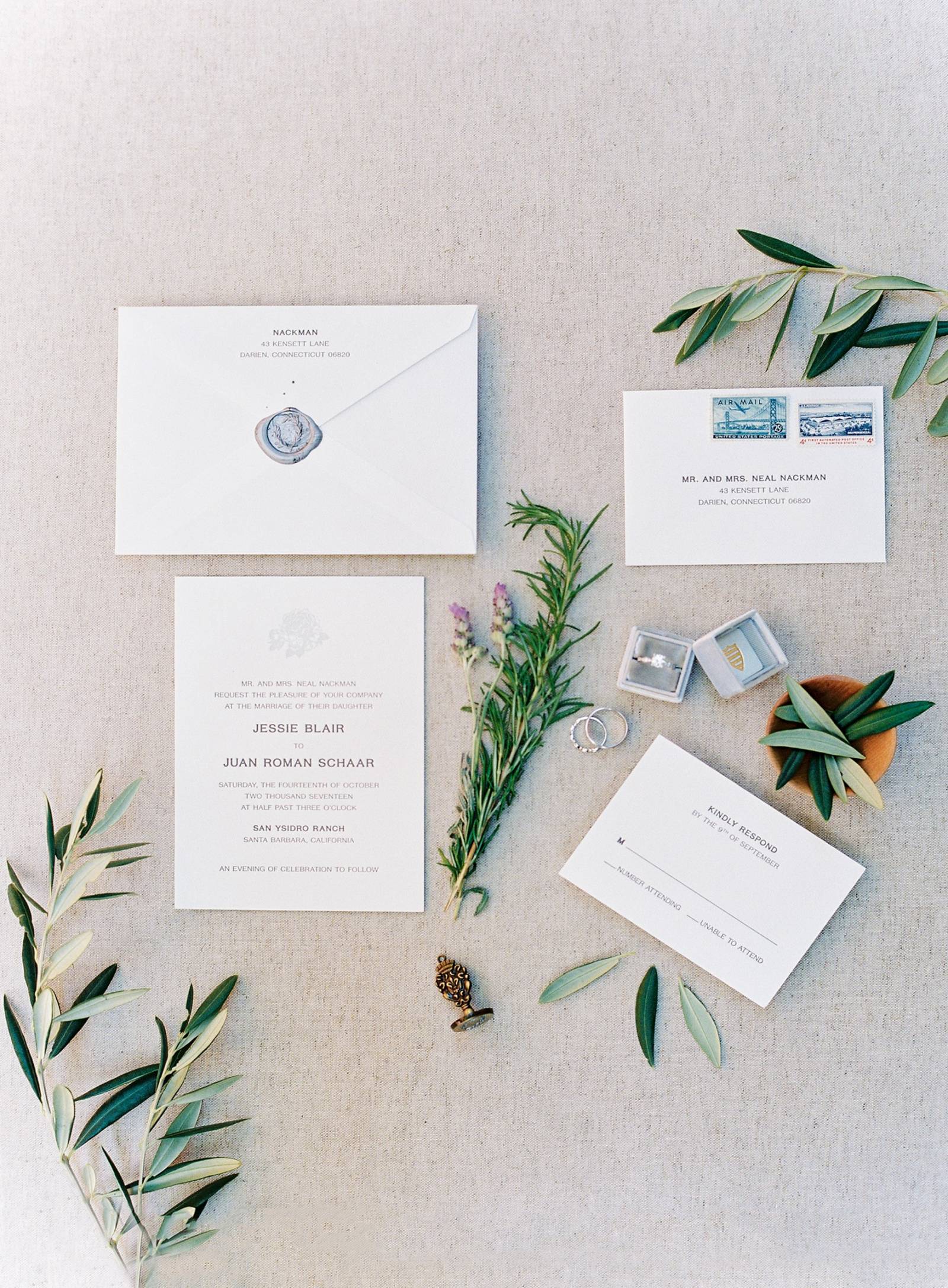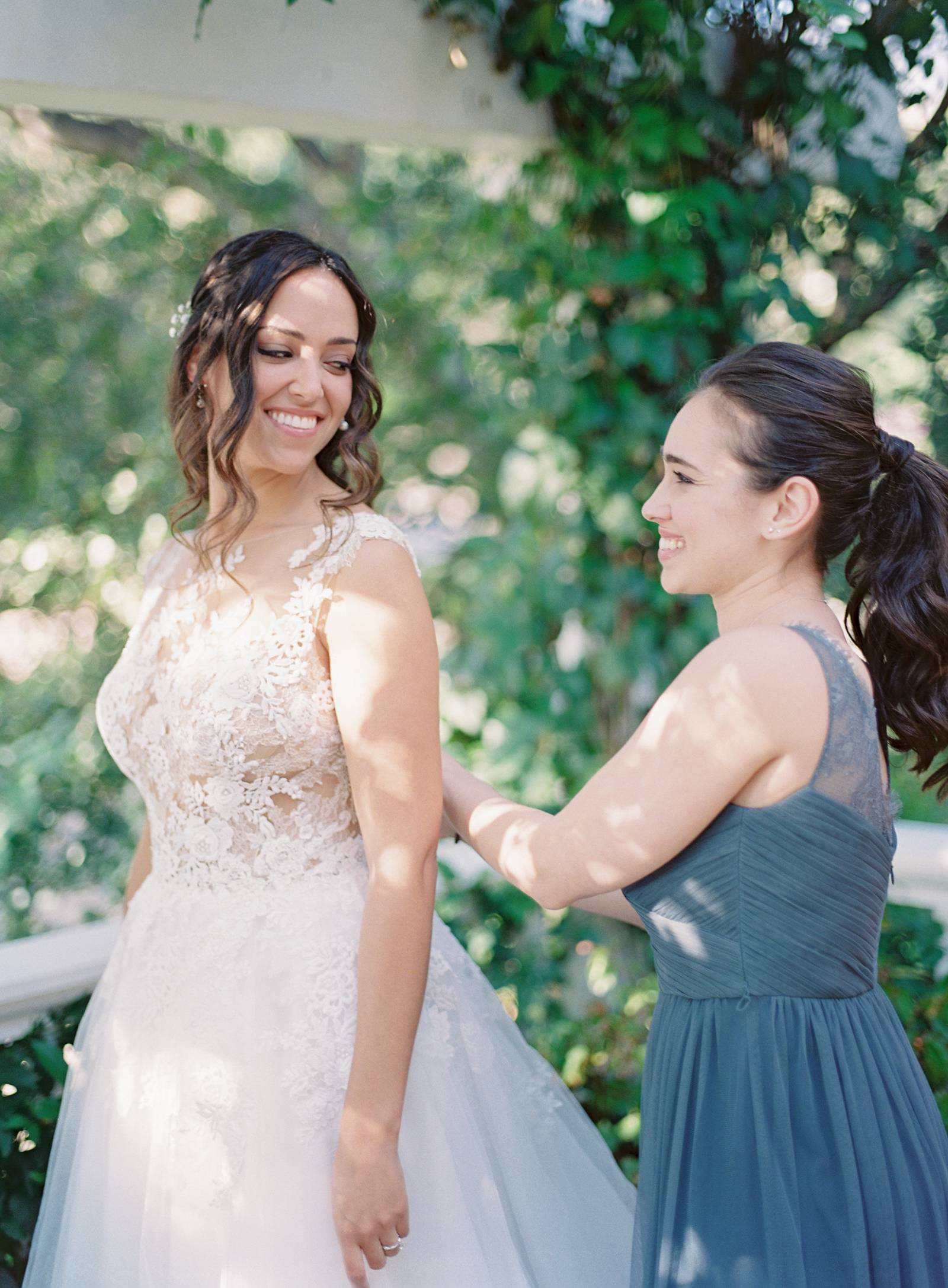 HOW DID YOU MEET? We met in high school, and then reconnected on facebook seven years later. High school wasn't our time but as soon as we reconnected it was pretty much a done deal from day one. We did long distance (NY to DC) for the first year then moved into together as soon as I finished grad school.
TELL US ABOUT YOUR PROPOSAL: The proposal was a bit of a hot mess. We've known we wanted to get married for a while, and we were considering doing it in the very near future. The timing was unconventional as the opportunity to have our dream venue came sooner than expected, so we jumped on it and long story short had a venue and a wedding date 6 months away before I had a ring on my finger.
This situation created a very small window for Juan to propose, two weeks to be exact, given that wedding dress shopping needed to start asap and one can't go dress shopping without a ring. To make things more challenging, Juan wanted it to be a surprise, so he orchestrated an elaborate plan to fool me by making me think that he was going to ask for my hand, in person on his coming trip to NY, two weeks after I got back from a Europe trip. So the man had two weeks to do the proposal, while totally surprising me.
The ring was purchased while I was in Europe so all he had to do was pop the question. His plan was to take me to a very romantic restaurant with a magnificent view of Orange County and the ocean. However, given I had no idea he was going to propose, I shut that down very fast because I didn't think the food there was all that good. So, he then had to quickly find a place that wouldn't arise suspicion, was proposal worthy, and most importantly a place that a picky foodie like myself happened to be craving that day. Something else you should know, Juan does not care about food or where we eat at all, so any push by him to go to a specific restaurant would have been a dead giveaway. So he played it cool and let me pick a place the same day, with only hours to plan the big event. He called Javiers in Crystal Cove and asked for their most romantic, private table they had, this is where things went downhill.
When we got to Javiers it was clear that they did not communicate his intentions to the staff, the hostess seemed to see a note under our reservation that made her smile but then the waiter came and asked "Would you like a table or a booth?" and before Juan could react I answered "a booth is perfect". These were not your regular super awkward restaurant booths, these were about a foot taller and very tight making wiggling out of it and going down on one knee not a very smooth process.
Juan thought very hard and decided to abort the mission and take his chances on the last weekend he had to surprise me. We ordered our food and he sat next to me. While waiting I said "I wish I had a ring on my hand" which seemed to give Juan the extra push he needed to overlook the less than desirable situation. He then started wiggling out of the booth awkwardly and told me "its happening". He got down on one knee and began saying a bunch of words that I could not register as I went blank the moment I realised what was happening. He didn't even look like he was on one knee because the booth was so much higher than the ground. The man finished professing his love for me holding the ring in his hand and without saying a word I just took the ring and put it in my own finger. I then tried to kiss him and we banged heads. All the while he's waiting for an answer to which I finally said YES. Not one person in the restaurant lifted their heads from their dinners to notice what was going on or smile or clap or anything. The only people to acknowledge us and smile were reality celebs Dr. Terry Dubrow and his wife Heather from Real Housewives who happened to be in the booth next to us.
I asked the waiter to take a pic of us, but it came out so dark and blurry you could barely see us. I ended up taking a selfie of us just to send to my family but despite having full bars, nothing would go through. I still found it hilarious that no one had congratulated us, not even the waiter taking the photo. Finally two waiters came to the table and I thought here it comes, free dessert or congrats or something. Instead the waiter was just informing us his shift was ending and the other guy was going to take over. All in all, it was a bit of a bust but absolutely hilarious and we love our story.
TELL US ABOUT FINDING YOUR WEDDING DRESS: I only had four days because my family was in from out of town (they live on the east coast and wouldn't be able to come back before wedding). We had a ton of appointments and I tried on easily 50+ dresses. What I had looked forward to my whole life and thought would be so much fun turned out to be really stressful when we were nearing the end of the search and nothing seemed to be "the one". We ended up canceling our appointment at this one place the day of because I remember thinking it had a small collection and I had already seen so many of the same dresses, but we had time to kill so stopped by anyways. We explained the venue to the women who worked there, and they said I had to try on this one dress. I actually refused to try it on because I had tried so many at that point and knew that I didn't like illusion necklines on me, I had to have a dress with some bling, and it was too big a skirt for me. They told me I had to try it though, and I didn't want to be rude. Once I put it on and left the dressing room, we finally had our moment and my mom and sister started to cry. That dress found me for sure, it was so not what I expected but ended up being perfect.
DID YOU HAVE ANY DIY ELEMENTS? Not entirely, but the venue reminded me of one of my favourite childhood movies "The Secret Garden", so I really wanted to incorporate these antique looking keys I found online into the wedding. We used them as party favours and place settings.
DESCRIBE YOUR WEDDING FLOWERS: I knew I wanted the bridesmaids to have dresses with different colours, so I wanted their flowers to be very simple, all white garden roses with a pop of lavender. I wanted my bouquet to have some white but to bring in the soft pretty colours of the theme without competing with the natural beauty all around us at the venue. With help of the florist we picked out the specific types of flowers (garden roses, ranunculus, dahlias and sweet peas).
FAVOURITE DETAIL OF THE DAY: I actually really loved how the table settings turned out. We had these adorable antique glass pieces for salt and pepper and the candles and beautiful flowers made the already intimate and romantic space feel even more magical.
WHAT ADVICE WOULD YOU GIVE OUT TO A COUPLE PLANNING THEIR WEDDING? I would recommend getting a really good wedding planner if you can. Our wedding planners (La Fete) were seasoned professionals and it was so comforting knowing everything was under control and would turn out beautiful. They made everything so easy, and it was so relaxing the day of the wedding having them there.
MOST MEMORABLE MOMENT? It was all such a blur, honestly that I more so just remember a feeling. I loved sharing our vows in front of everyone and hearing everyone else's heartfelt speeches as well. My husband said his most memorable moment was seeing me walk down the aisle for the first time, which I'm glad because I made a big deal about not wanting to do a first look.
ANY OTHER DETAILS THAT HELP TELL THE STORY OF YOUR DAY? As always, there are things that will go differently than expected and you got to roll with the punches. One of the groomsmen who was also our officiant left his dress pants at home so we had to scramble to find a suit that would fit him and kind of match. The bridesmaids flowers were wrong, two of my best friends couldn't make it and I realised how much I really couldn't handle being the center of attention. However, I am so glad I didn't stress out too much over the little details because all that mattered at the end of the day was that I was married to my person and all of our loved ones got to be a part of the moment.
TELL US A LITTLE ABOUT YOUR HONEYMOON: We did a road trip to Big Sur and northern California for a few days before heading to Hawaii. We stayed in two different parts of Maui. One of our favourite days was taking the road to Hana, driving all around the beautiful island. We stayed at Hotel Wailea with the perfect Hawaiian view and romantic relaxing vibes.
IS THERE ANYTHING YOU WOULD CHANGE OR DO DIFFERENTLY? I would try to eat more beforehand (but I was just so nervous!). During the ceremony and afterwards when taking photos, I was so uncomfortably hungry and dizzy it was a little difficult to savour, enjoy and be in the moment. We also didn't get to taste our cake, which was a bummer because we surprised my husband with his favourite type of dessert and he didn't even get to have any.