"Romantic yet sensible, warm yet modern" is how Carrie described her wedding to Derek. Having postponed the wedding by a year the couple chose to have an intimate micro-wedding, with the extra year giving them more time to ultimately create a beautiful and personal day with the help of Los Angeles wedding planner MILK EVENTS who shares with us, "Carrie & Derek had the most beautiful sunset ceremony amongst the San Gabriel Mountains. The mountain landscape turns pink at an exact moment when the sun is setting and made for the perfect backdrop. SANTA ANITA PARK, famous for its thoroughbred horse racing, is such a wondrous place. It feels like a wonderland, with stunning views and delightful vignettes in every corner. Carrie & Derek's toured many venues and immediately fell in love with Santa Anita Park. The view is something you won't find anywhere else in Southern California."
Their venue SANTA ANITA PARK is located in the bride's hometown of Arcadia, California. Carrie tells us, "I didn't really think much of it growing up other than it serving as the scene of my highschool graduation and other local events. Coming to see the venue as a possible wedding location gave me fresh eyes for the historic Art Deco details and wide open spaces throughout the property. The major factor that pushed me to go with this venue were the stunning San Gabriel Mountains that would serve as the backdrop for our wedding ceremony." ELAINE CHANG PHOTOGRAPHY was there to capture their beautiful day.
HOW DID YOU MEET? Derek and I met on Hinge in February 2019 and had our first date with yummy Cuban pastries at Porto's Bakery.
TELL US ABOUT YOUR PROPOSAL: I had planned a Christmas surprise to take Derek to watch a modern, interactive rendition of the Nutcracker ballet in Downtown LA, where he was living at the time. After the ballet, we went back to his place and as we walked through the door, he stated "it's time". I was confused as to what he meant by that as he began to share reflections and sweet words to me. When he got down on one knee, it all made sense! The proposal was an intimate surprise and was exactly what I wanted.
TELL US ABOUT FINDING YOUR WEDDING DRESS/ATTIRE: After choosing to go with Santa Anita Park for the venue, I was ready to go wedding dress shopping. My mom and sister really understand my style and what's flattering on me, so they were the perfect shopping companions. The Pronovias Melva gown was one of the options the stylist pulled for me. The moment I put it on, I felt different than I did trying on the previous gowns. To me, it was like the white T-shirt of wedding gowns in the best way possible. There was still the dramatic touch with the long train, feminine details with beading and keyhole back, and it all was very "me". I knew I had to go with white ankle boots on my big day as a nod to my wardrobe staple, so the sleek Jcrew pair were perfect.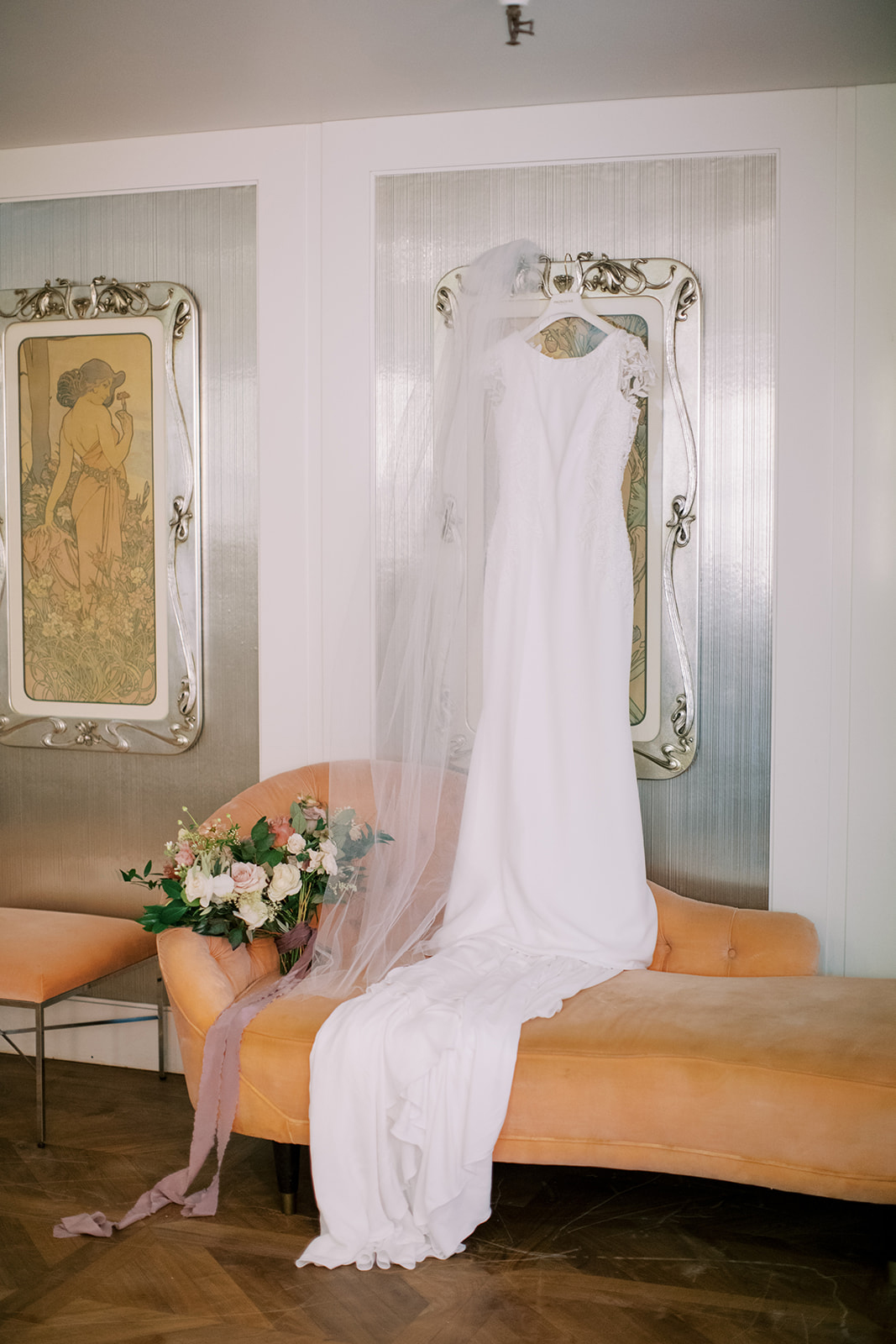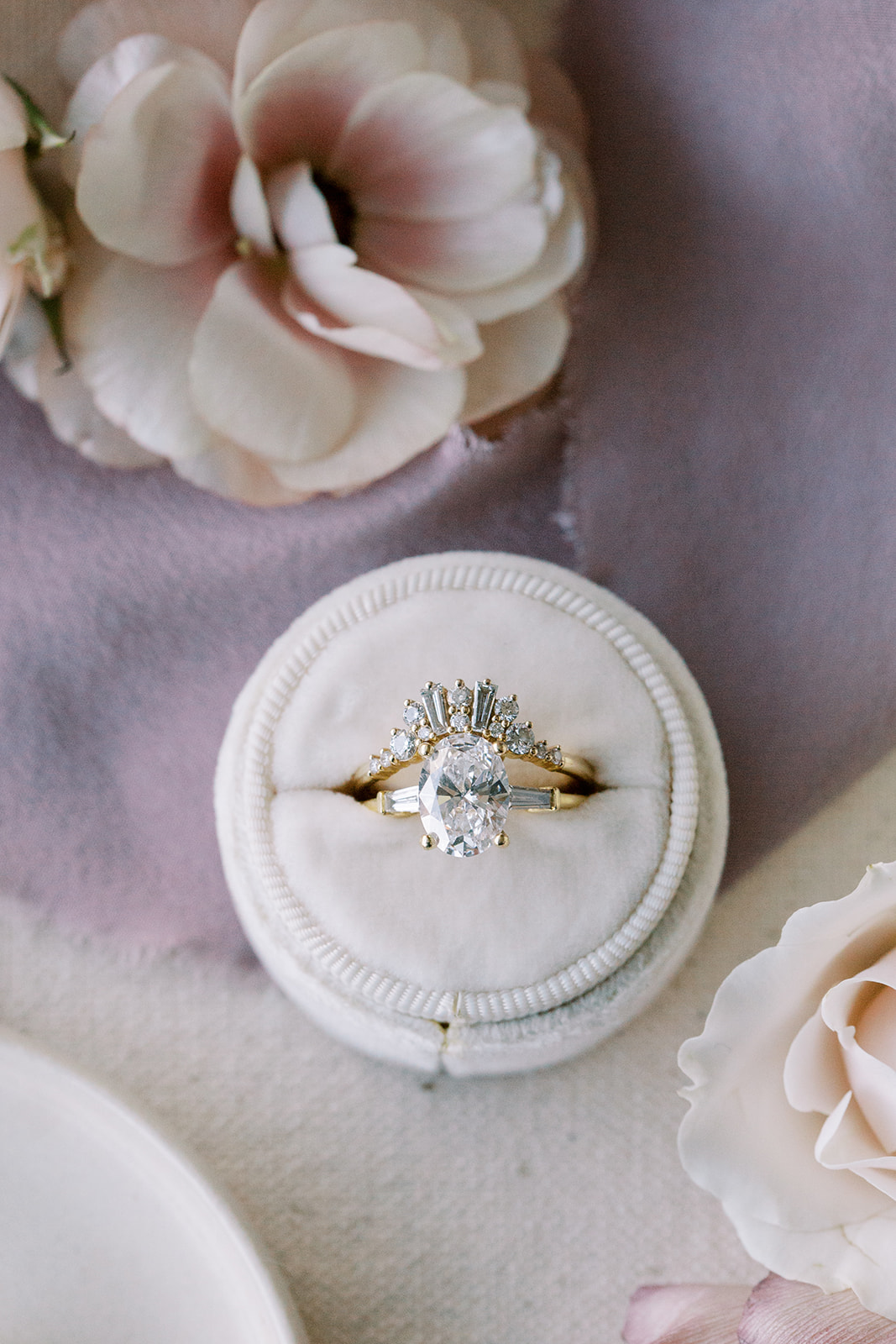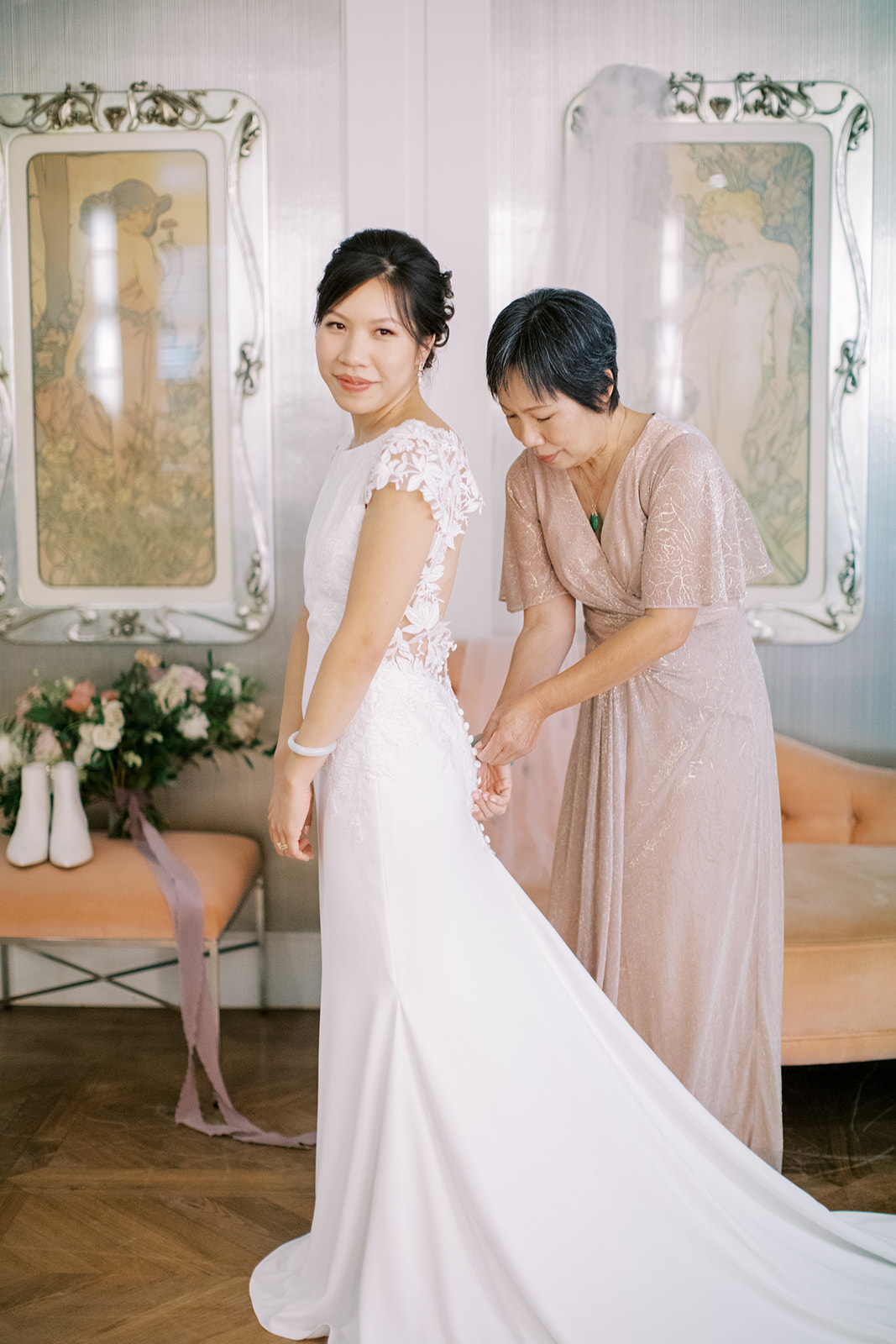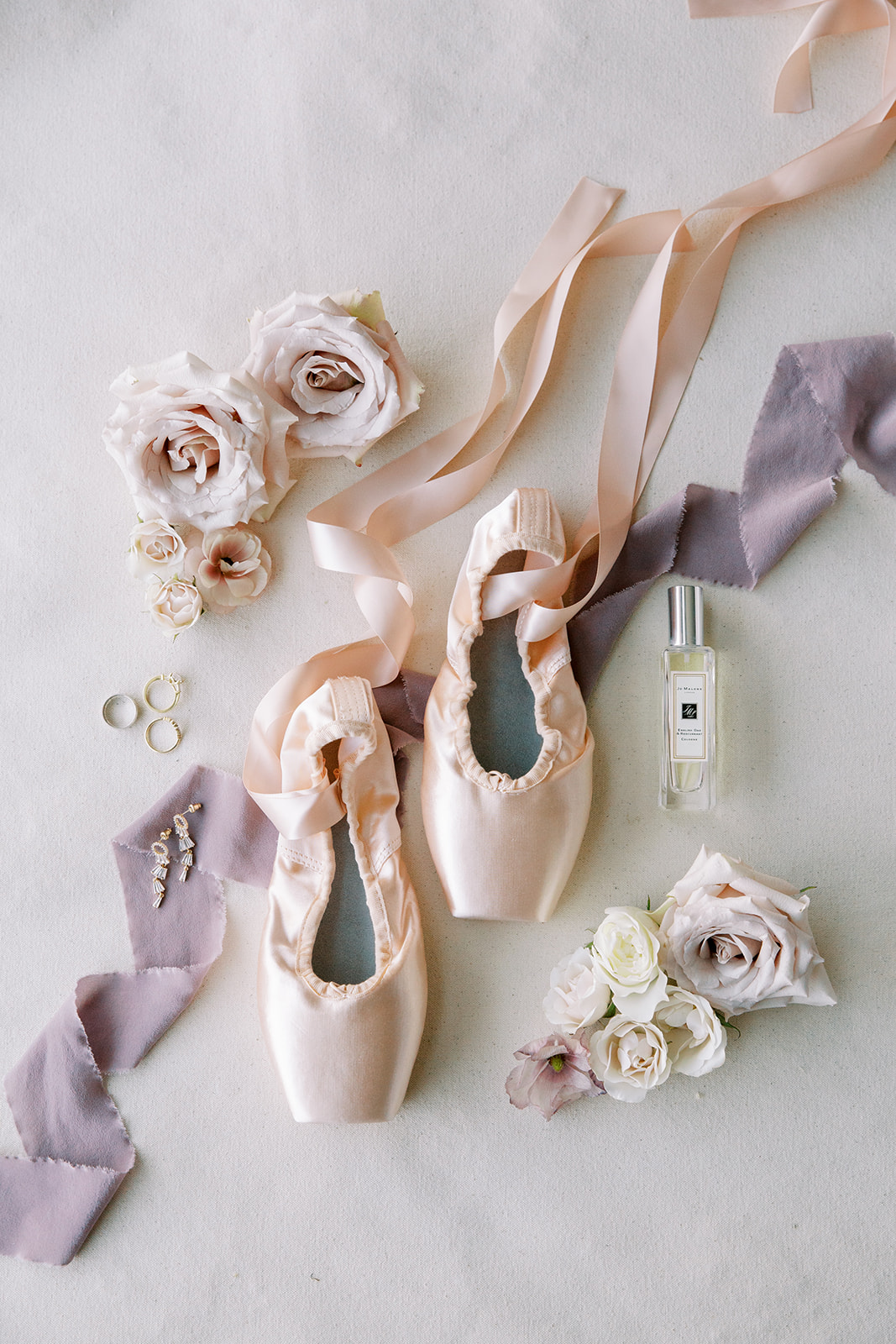 DID YOU HAVE ANY DIY ELEMENTS? All the paper products were self printed on paper embedded with wildflower seeds. I loved the natural texture of the paper and how guests could grow new life if they chose to plant them.
DESCRIBE YOUR WEDDING FLOWERS: The way I described what I wanted to my florist were muted watercolours and the colour story Amne put together were neutral florals, dusty lavenders, champagne, apricot, light mauve, soft whites, warm honey tones with accents of greenery foliages. I trusted her to create a bouquet that felt natural and intentional.

FAVOURITE DETAIL OF THE DAY: Our reception tent had to be a favourite! Before the pandemic, the reception was going to be held in the historic ballroom but pretty close to the big day we made the switch to go outdoors. My planner, Candice, helped me pull off executing a plan to build a beautifully draped tent on another part of the property and it turned out better than expected. I loved how glowy and romantic it all was with the chandeliers, lighting and centerpieces.
WHAT ADVICE WOULD YOU GIVE OUT TO A COUPLE PLANNING THEIR WEDDING? Hire vendors that you can trust to execute your vision. The team that we put together gave us peace of mind and freed us up to enjoy the days leading up to and ultimately the wedding. Each vendor cared about making the experience as smooth and personal to us.
MOST MEMORABLE MOMENT? One of my favourite moments was being able to share our personal vows in front of our family and friends.. It felt different than our micro wedding because we were able to invite our community into our relationship. Having experienced a year of marriage and reading our vows again reinforced to me why I wanted to marry Derek in the first place.
WHAT ASPECT OF THE WEDDING WAS THE MOST IMPORTANT TO YOU BOTH? The intention of our wedding was to create a celebration that honoured our relationship and loved ones. When planning the day, the word "together"served as a reminder as to what the wedding day represented to us. From the warm smiles during the ceremony, quick hugs during happy hour and dancing freely, it truly was better being together.
ANY OTHER DETAILS THAT HELP TELL THE STORY OF YOUR DAY? Since our wedding was held at a horse race track, that brought on unique elements to the day. There was a race named after us (Carrie and Derek's Race to the Altar), guests got to see races go on before we walked down the aisle and we had signature cocktails that were on theme with the venue.
TELL US A LITTLE ABOUT YOUR HONEYMOON: We went on a few road trips around California to Cambria, Palm Springs, and Santa Barbara. We hope to take a bigger trip after we have our son in July.
IS THERE ANYTHING YOU WOULD CHANGE OR DO DIFFERENTLY? I don't think there's anything I would do differently. However, a piece of advice I would give to those using a multi-event venue like I did, would be to consider what else will be happening on site before or during your wedding. There were things going on around the property that created challenges for our vendors and required extra planning and considerations.
A big thank you to Los Angeles wedding planner MILK EVENTS for sharing this beautiful wedding with us. Milk Events top priority is ensuring that each and every client gets professional and hands-on services for all their celebrations and that everything is done with intention. "We specialise in tailored and timeless events with creative and unique touches. Check out more of their work in their portfolio here.