Honouring their Chinese & Vietnamese roots, Tiffany & Michael wanted the overall look of their wedding to have a touch of classic elegance with modern romance. They began with a traditional tea ceremony but put their own stamp on it and gave some modern flair with a contemporary twist. Working with planner BELLA DIA WEDDINGS they included floral arrangements that were absolutely exquisite, making the overall ambiance incredibly captivating. It was a beautiful blend of timeless elegance with an enhanced modern look. "From the cascading flowers to the romantic lanterns to the lush greenery, everything came together to create the style that we wanted. Every little detail contributed to the overall magic of the day!"
Captured by Southern California wedding photographer XO & FETTI PHOTOGRAPHY, the couple chose an outdoor garden wedding in order to embrace the natural beauty that Southern California has to offer. "Our goal was to create a serene and relaxed atmosphere for our guests, away from the typical ballroom setting. The garden at HARTLEY BOTANICA provided a beautiful backdrop without needing too much additional decor. Despite being in Southern California, we wanted our wedding venue to feel like a destination experience. After careful consideration, we found the perfect venue surrounded by lush greenery, ornate trees, beautiful flowers, and even palm trees! It had a magical and exclusive setting. And while we loved the natural beauty of the garden, we also wanted to add a touch of glamor and sophistication. We transformed the garden into a luxurious space with chandeliers, up-lights, and fairy lights. By blending the natural and upscale elements, we were able to create a perfect balance for a refined yet down-to- earth wedding experience."
HOW DID YOU MEET? Our love story began just like any other modern love story! Back in 2017, Michael and I swiped right on each other. Despite being in different countries, we hit it off through text messages, wondering if we'd ever meet. But guess what? Fate had our backs' all along. Michael asked me out to Jazz Cat for our first date - and surprisingly it went better than expected. He kept pursuing me with his thoughtfulness, compassion, and romantic gestures week after week. We instantly bonded over our shared family values, our love for sushi, and our passion for travel and adventure. It was incredible how the simplest things made us so happy! Time flew by and five years disappeared in a flash. We grew closer, going on adventures and enjoying delicious food together. I saw in Michael his positive outlook on life, his deep love for family and friends, and a person who would make for an amazing future dad. It was clear to me that I wanted to build a life filled with love and joy alongside him. Our love story is a unique one - full of laughter, adventures, and endless affection.
TELL US ABOUT YOUR PROPOSAL: On January 7, 2022, Michael mustered up all his courage, knelt down on one knee, and proposed! It was a moment filled with romance and extravagance as he arranged a private firework show just for me. The night sky exploded with colours and sparkles, creating a breathtaking backdrop. Time stood still as he delivered an adorable anime-themed speech, reflecting our shared passions and cherished memories. Overwhelmed with joy, I said a confident YES! Tears of happiness streamed down our faces as we embraced, knowing that our future was meant to be filled with love and endless adventures. This proposal story will forever hold a special place in my heart - a reminder of the magical surprises that love is able to bring.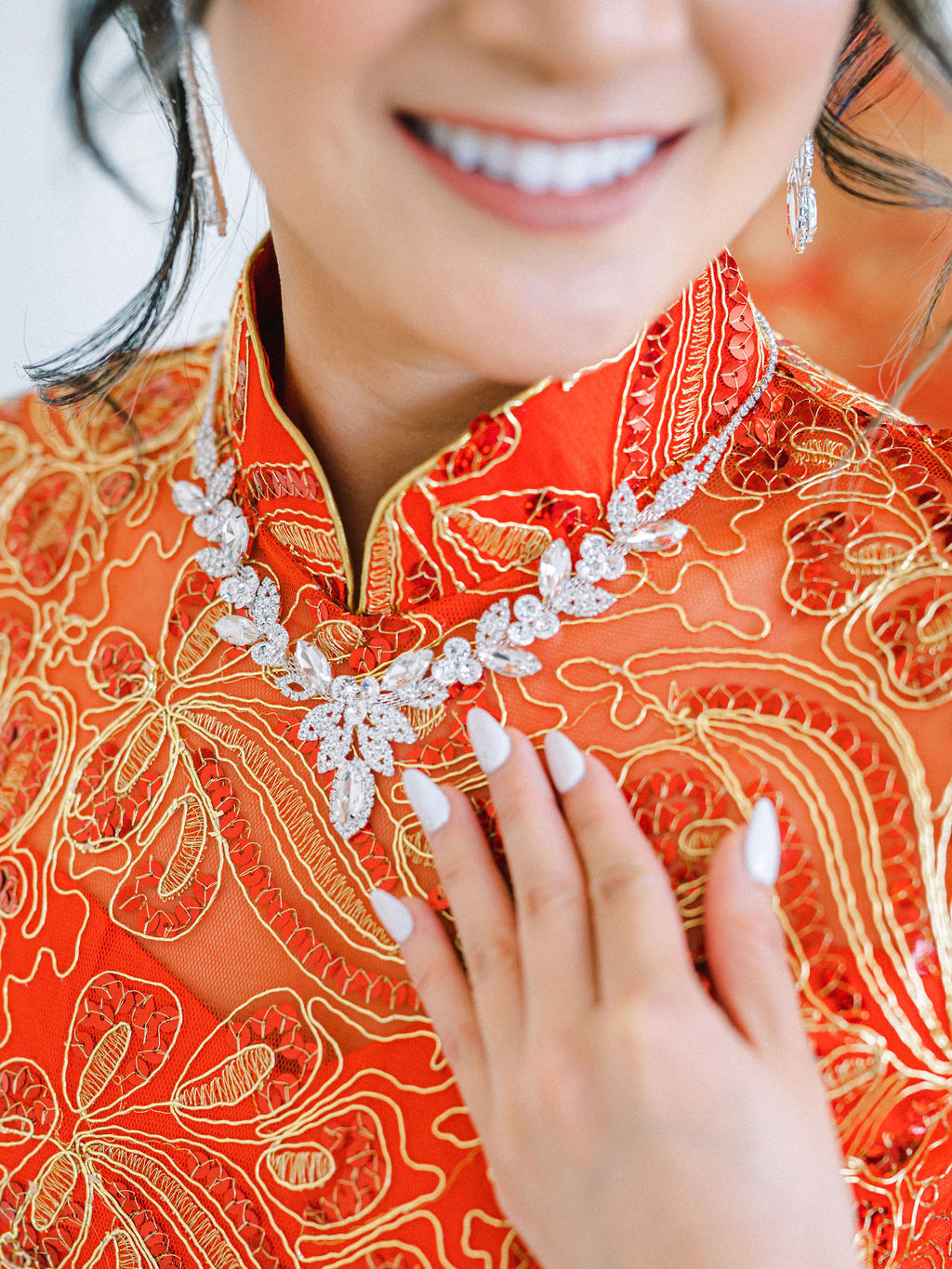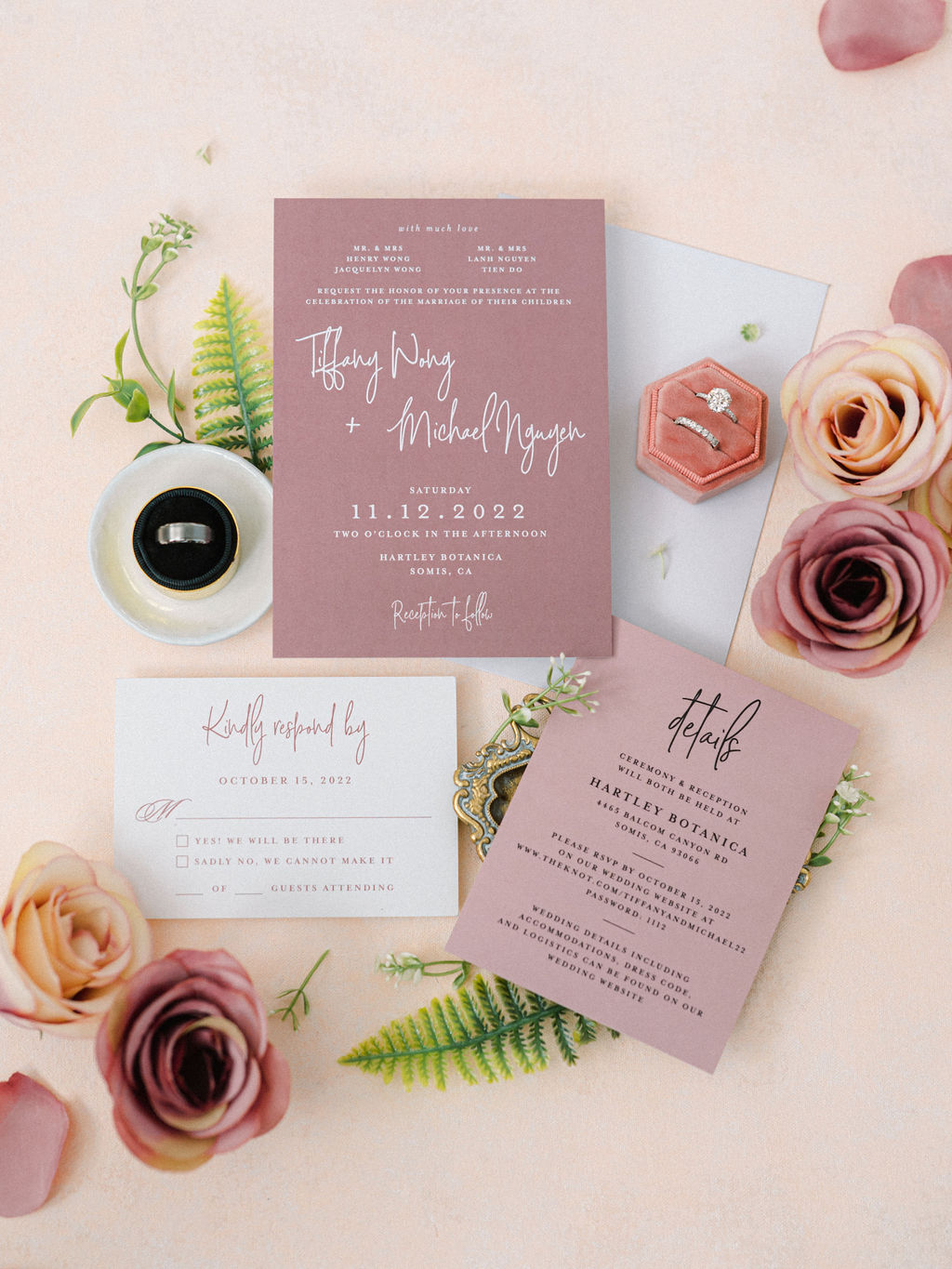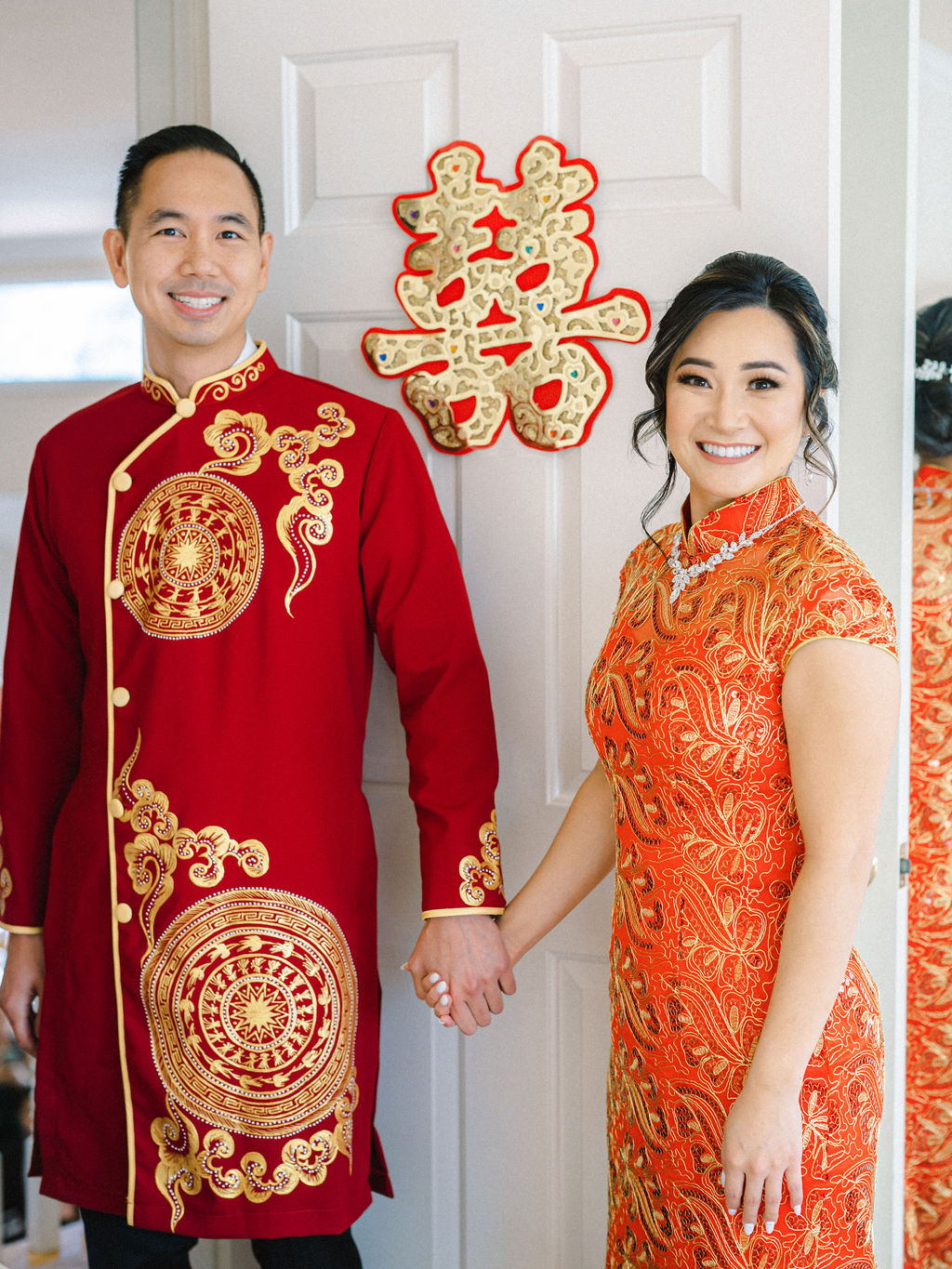 TELL US ABOUT FINDING YOUR WEDDING DRESS/ATTIRE: When I imagined my wedding dress, I envisioned a dress that was both modern and timeless. I wanted a sexy silhouette with a low V-line neckline that had a dramatic trumpet styled flair. And of course, I needed a fancy cathedral veil to complete the look! After trying on a bunch of dresses, I found 'the one' in the Pronovias collection. The lacy trumpet dress was love at first sight. It had that irresistible charm, elegance, and timeless beauty I was after. The intricate lace allowed the dress to have a mesmerizing vibe while the delicate buttons added a hint of sophistication. So I said yes to the dress! It wasn't just about the look of the dress, but also about feeling confident and radiant in the dress as well. The moment I put it on, I knew that this dress was meant to be a part of my unforgettable day.
DID YOU HAVE ANY DIY ELEMENTS? Our wedding was a labour of love, with personalised DIY touches that made it uniquely ours. From the moment our guests arrived, they were greeted by a charming array of handmade creations. My mom took DIY to the next level with her incredible craftsmanship on the centerpieces, lanterns, candles and fairy lights for our wedding. Her creative touch added both a magical yet personalised touch to the celebration. We took the time to make name cards, a heartfelt welcome sign, and a guest seating chart, making our loved ones feel truly special. The highlight of the evening was the magnificent velvet wedding cake, customized by a talented baker who also happens to be a close friend. The cake's design was able to incorporate the DIY creations of our wedding with the floral accents, fairy lights, and invisible layers. Not only was it a sight to behold, but it tasted amazing as well. To express our gratitude, we gifted boba drinks with customised thank-you stickers, a small token of appreciation. Each detail, from the handmade centerpieces to the stunning cake, was carefully chosen to create an enchanting and unforgettable wedding celebration.
DESCRIBE YOUR WEDDING FLOWERS: When it came to picking my bridal bouquet, I had a specific vision in mind. I wanted a mix of glamor and romance that had a loose and natural style. The colour theme was mauve, so I wanted my flowers to be vibrant whites, pinks, greens, and blues to add a modern twist. I chose roses, peonies, gardenias, lisianthus, and anemones to create the perfect blend. Roses gave the bouquet a classic and timeless fairytale vibe. Lisianthus added a delicate touch, while peonies, my absolute favourite, symbolised love and happiness. And let's not forget the anemones! Those dark centers added a modern touch and made the bouquet even more captivating. With each carefully selected flower, my bridal bouquet turned into a masterpiece that captured romance, tradition, and contemporary charm.
FAVOURITE DETAIL OF THE DAY: Walking down the aisle with my dad, surrounded by breathtaking hanging wisterias, was an absolute highlight of my special day. It felt like stepping into a dream! The wisterias added a touch of grandeur and romance to the ceremony, infusing the atmosphere with a magical allure that was truly captivating. The wisterias' enchanting beauty have always held a special place in my heart. Besides the ambiance that the flowers brought to the wedding, the wisterias represent new beginnings. These flowers came from my parents' beloved floral shop, a business they have passionately nurtured for over 35 years. As Vietnamese immigrants, their unwavering determination to create a better life for our family has been their constant source of inspiration. As such, I wanted the flowers to be present - representing love, luck, and enduring happiness - to pay gratitude to my parents' remarkable journey as I began this new chapter of my life. The invaluable role my mother played on my wedding day cannot be overstated. Her dedication and artistry were evident in the exquisite centerpieces and the stunning floral arrangements for the tea ceremony. They were truly a testament to her boundless love and effort. I am forever grateful to my mom for her unwavering support and the profound impact she had on making this dream wedding a reality.
WHAT ADVICE WOULD YOU GIVE OUT TO A COUPLE PLANNING THEIR WEDDING? The advice I would offer to new couples planning their wedding is to simply embrace the journey and enjoy every moment. While the process of planning can be stressful, witnessing the magic unfold at the end makes it all worthwhile. It's a whirlwind experience that passes by quickly. It's a unique occasion where all your beloved family and friends gather in one place to celebrate your love, and it's truly touching and emotional! So, make sure to have fun throughout the planning process because it's a once-in-a-lifetime opportunity. Ultimately, remember that your guests won't focus on every tiny detail; they'll be captivated by the sheer happiness radiating from you both!
MOST MEMORABLE MOMENT? Our unforgettable first dance was the pinnacle of enchantment on our wedding day. Guided by Lady Gaga's resounding masterpiece, 'Hold My Hand' we waltzed with drama and grandeur. The song resonated with us deeply, symbolising our intense love. The dance itself was a whirlwind of breathtaking lifts, spins, and dips, each step expressing our profound connection. But the real showstopper was our surprise grand flip as I soared onto my husband's shoulder, leaving our guests astounded. The thunderous applause and gasps of astonishment filled the reception area, making it an extraordinary moment. With fountain sparklers casting radiant sparks, our dance became an ethereal beauty, creating an epic atmosphere. It was a highlight of our wedding day that left everyone stunned and filled us with immense pride and fulfillment.
WHAT ASPECT OF THE WEDDING WAS THE MOST IMPORTANT TO YOU BOTH? Exchanging personalised vows was the highlight of our wedding ceremony. It held incredible significance as we made heartfelt promises to each other. As the shy one, Michael's vows, filled with beautiful words and touching sentiments, surprised me with his genuineness. And as the outgoing one, my vows added humour and a lightheartedness to reflect my vibrant personality. Reliving our unique love story and envisioning our future together made it truly magical. With our loved ones surrounding us, their presence made the moment even more special. They witnessed our heartfelt promises, and it meant the world to us.
ANY OTHER DETAILS THAT HELP TELL THE STORY OF YOUR DAY? Our wedding was a beautiful celebration of love, but it was also a chance for us to infuse our personalities into each and every detail. We wanted every aspect of the day to reflect who we are as individuals and as a couple. Because of my love for boba, we included a boba milk tea station. Partnering with Gong Cha, we offered a variety of boba milk teas and fruit teas for our guests to enjoy. Additionally, we created a vibrant candy table, showcasing my husband's sweet tooth with an assortment of candies, chocolates, and confections. These elements mirrored our interests and brought joy to both us and our guests!
TELL US A LITTLE ABOUT YOUR HONEYMOON: Our honeymoon to Japan was an incredible journey filled with our deep love for sushi and a passion for Japanese food and culture. From Kyoto to Tokyo to Hakone to Nara, and lastly to Osaka, we immersed ourselves in the delightful blend of relaxation and adventure that Japan offered. Our days were spent indulging in the exquisite flavours of sushi, savouring every bite of the freshest fish meticulously prepared by skilled hands! Alongside our culinary adventures, we explored ancient temples, serene gardens, and vibrant city streets, experiencing the rich traditions and captivating beauty of Japanese culture. Our trip was a celebration of the artistry, passion, and devotion that make Japanese cuisine and culture truly remarkable!
IS THERE ANYTHING YOU WOULD CHANGE OR DO DIFFERENTLY? Our wedding day was an absolute fairytale, a moment in time that I wouldn't change for anything in the world. Reflecting on the entire wedding planning journey, I can honestly say that I cherished every single moment leading up to that perfect day. From selecting the venue to choosing the intricate details, every decision was made with love and excitement. As the big day grew closer, my excitement grew bigger and I wasn't able to contain my enthusiasm . And on the day of my wedding, it was beyond anything I could have imagined. The love, the laughter, the joy that filled the air—it was pure magic. Looking back, I can't help but wish I could relive it all over again. Being a bride was an experience unlike any other, and I treasured every second of it. The joy, the love, the sense of being surrounded by our loved ones—it's a feeling I would love to experience again and again!
A big thank you to Southern California wedding photographer XO & FETTI PHOTOGRAPHY for sharing this stunning wedding with us. Owner Vanessa documents love for the wildly romantic, believers in magic, soulmates and true love. "Combining fine art styles with a documentary approach, we are dedicated to expertly capturing the unforgettable moments of your unique fairytale. XO & FETTI believes in building relaxed, comfortable photography sessions for every client so that each shot is authentic and natural. We do this by valuing the individuality of our clients, getting to know both their personalities and their story before the camera ever steps into the picture." Head over to their portfolio to see more of their work.