Amy & Eric both wanted to host their wedding at a historic venue loaded with southern charm. With manicured grounds filled with giant oak trees, spectacular water views, and incredible food. As if all of that wasn't demanding enough, they also placed the highest priority on the proximity of the venue to a city that could provide guests an opportunity to tailor their wedding weekend into their very own ultimate get-away. After extensive research they settled - site unseen - on LOWNDES GROVE in Charleston, South Carolina and had THE HAPPPY BLOOM capture their day.
Their wedding style was, in their own words, "Classic, timeless, romantic and southern elegance" with an emphasis on southern hospitality. The bride tells us, "We strived to combine these concepts in perfect harmony, to create an atmosphere dripping in southern grandeur and romance, whilst allowing our guests to feel as though they had stepped into the comforts of our own home. To help mesh the old with the new, our design embraced details inspired by the venue's charm and varied architecture through all the renovations of years past. To keep things light and romantic, while mirroring the multi-dimensional spirit of Lowndes Grove itself, we employed neutral colours, vintage and distressed textures, while sprinkling authentic antiques from each of Lowndes Grove's featured design eras. Because the reception and the wedding were outside, and with the recent arrival of spring, we mixed the modern and the vintage styles together to make it feel as though we were hosting a grand party in our own home and its surrounding blooming gardens."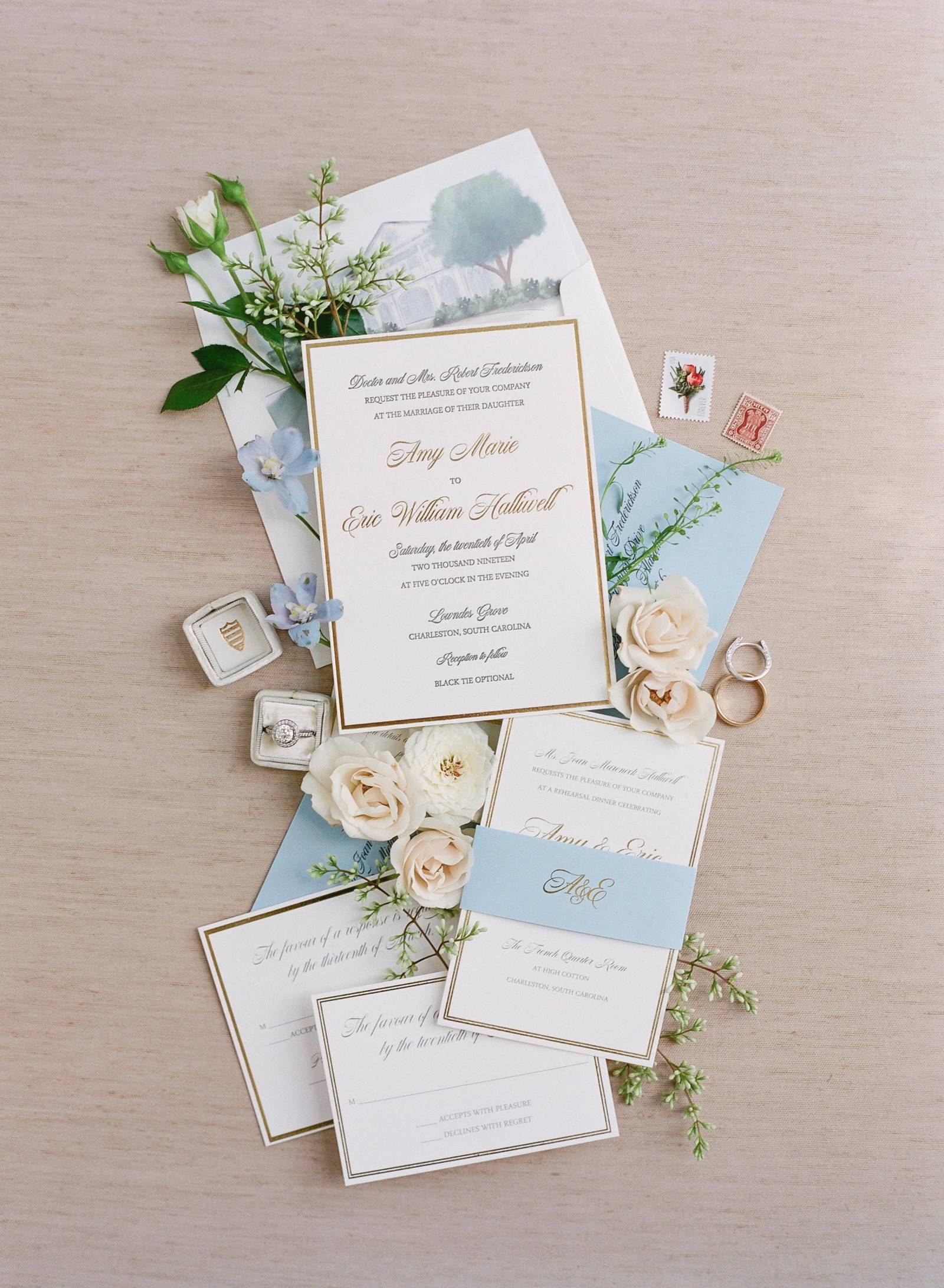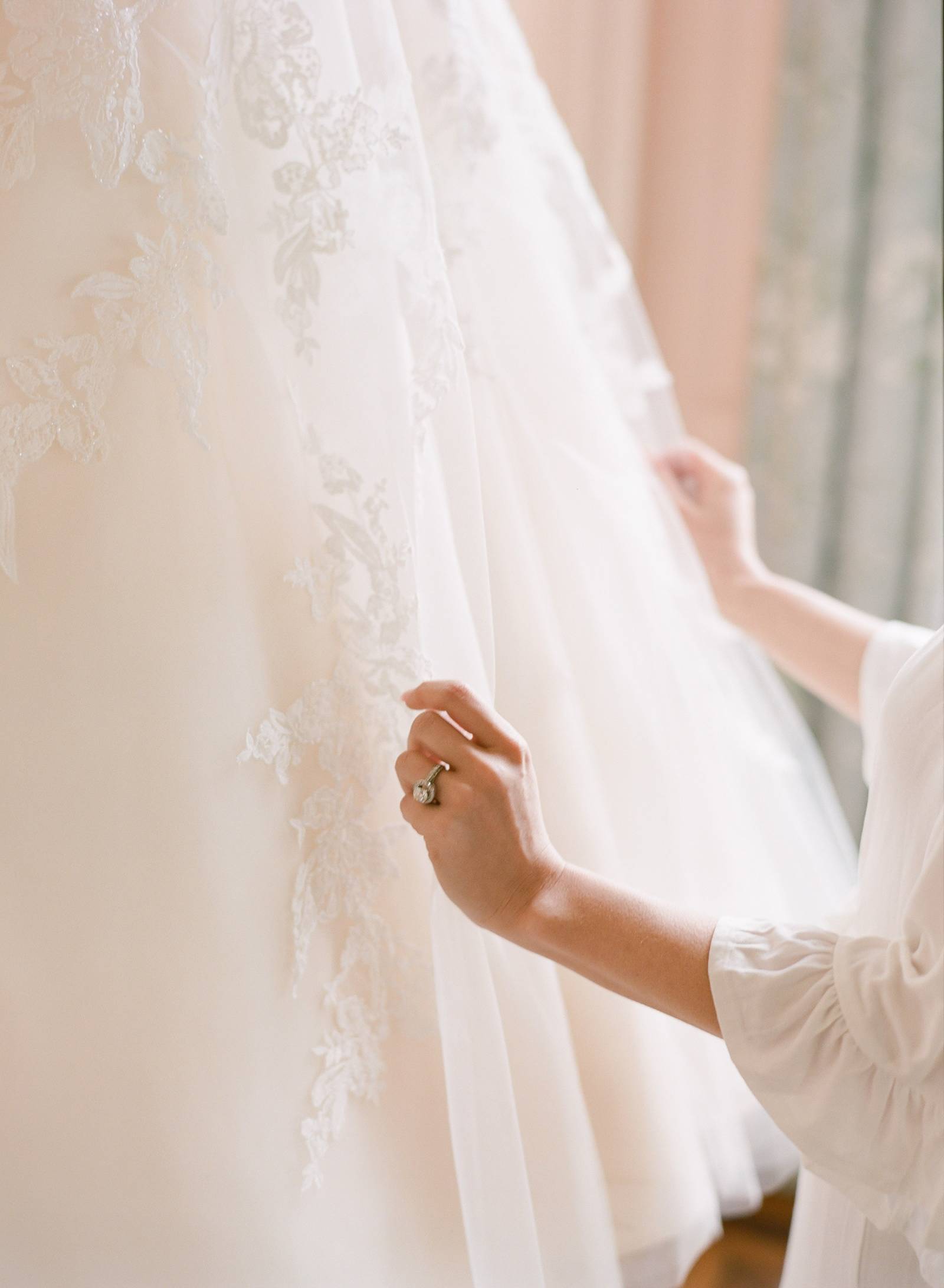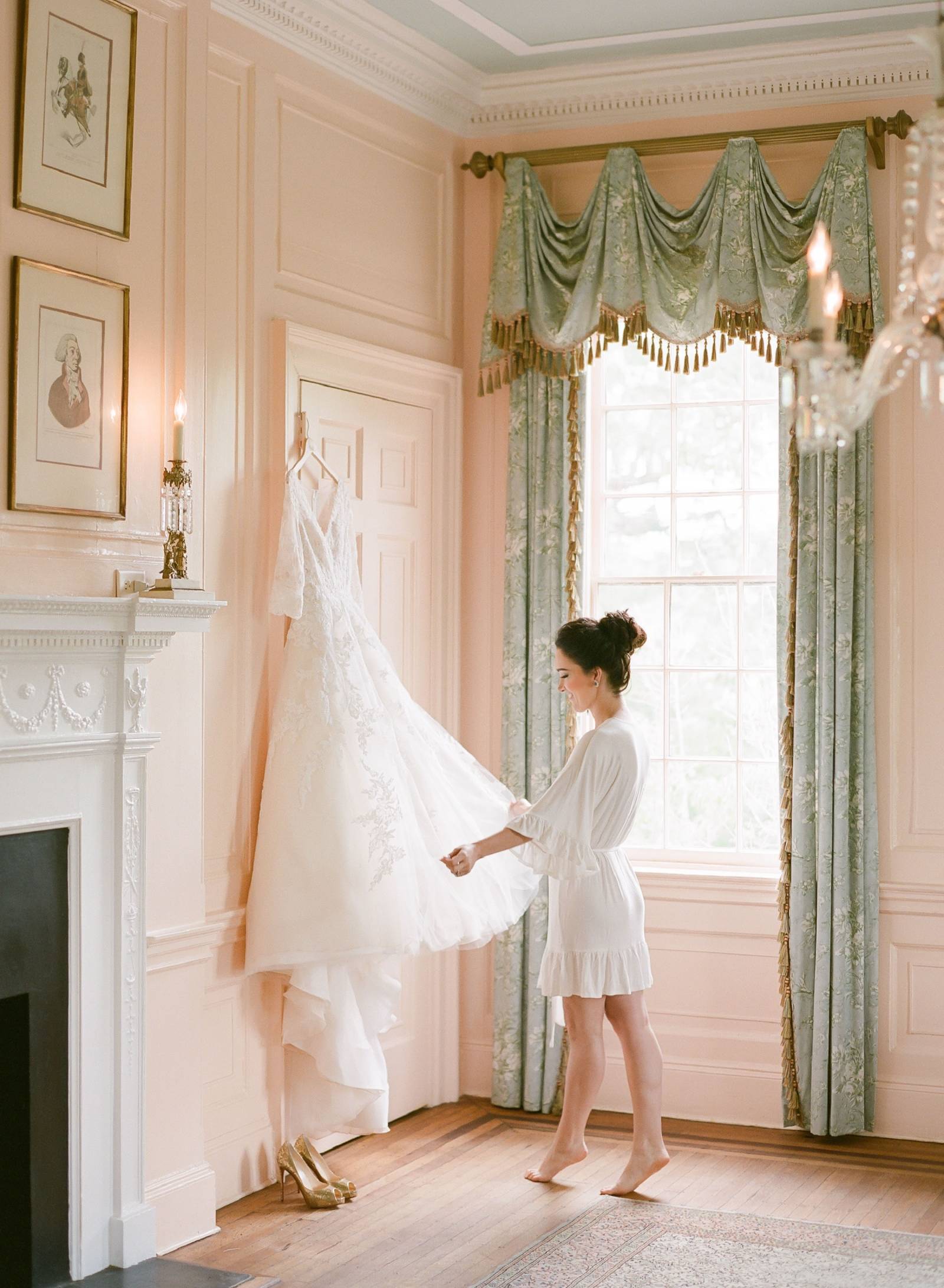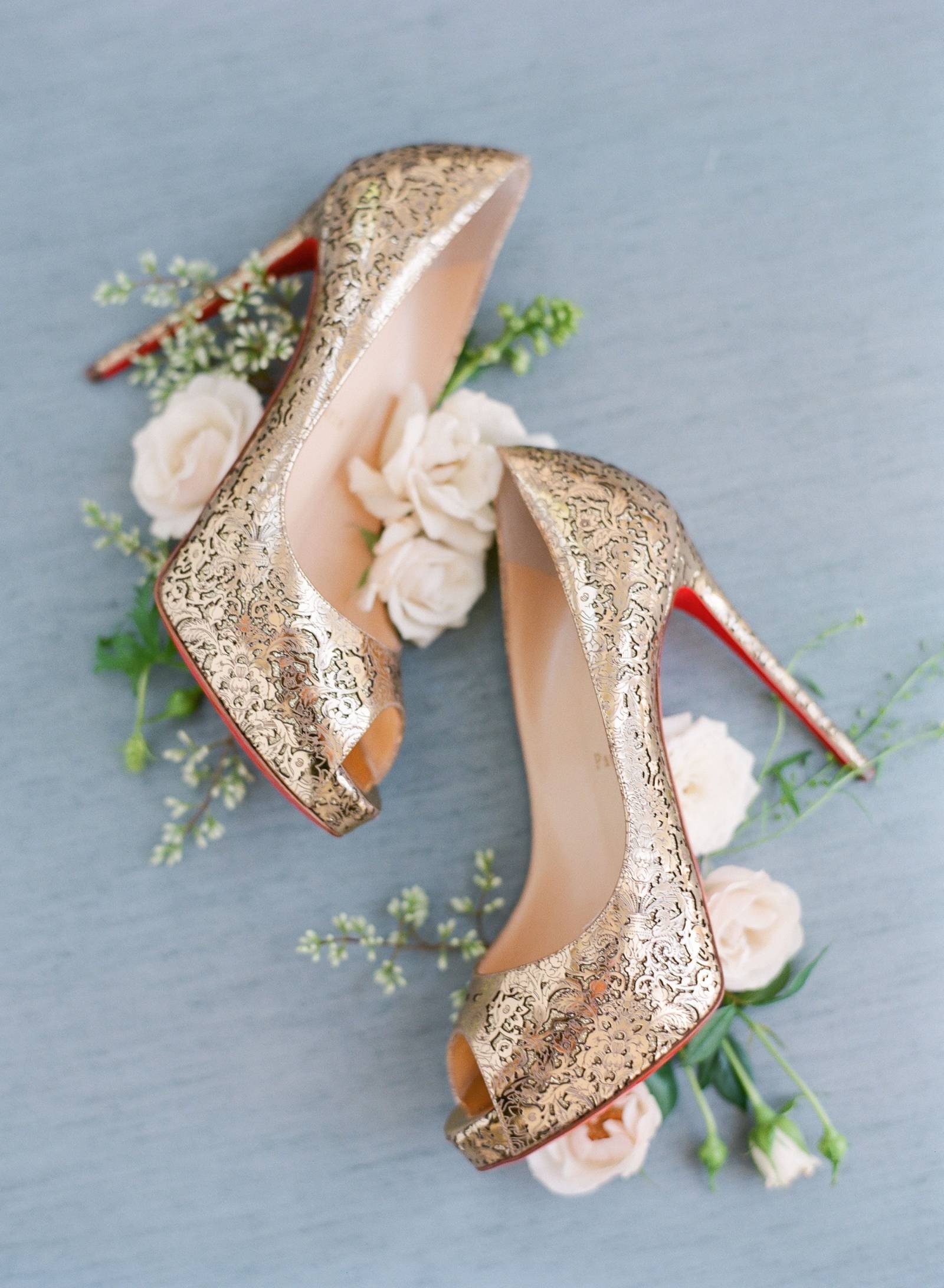 HOW DID YOU MEET? Eric and I met on Halloween in 2015, in the most seemingly unlikely of places. To set the stage, earlier that afternoon, my two best friends from college, whom I hadn't seen in years, had just arrived in town to celebrate Halloween with me. After countless hours of costuming and makeup application, we finally made it to Birmingham's Halloween Block Party.My girlfriends and I arrived downtown just before midnight, and found our way into a slow-moving line when suddenly, the most handsome man I've ever seen, Eric, walks up and stands in line right behind the three of us. Dressed as Clark Kent/Superman, and standing at 6 feet 8 inches tall, there was no missing him. Eric quickly struck up a conversation with the three of us. As we waited, he explained that he had only moved to Birmingham from Sarasota, Florida a few weeks prior for a basketball scholarship, and that he had reluctantly agreed to meet his teammates who were waiting for him inside. Our conversation continued, and all too quickly we found ourselves at the entrance. I welcomed Eric to Alabama, but was forced to waive a quick goodbye—my hand nearly yanked from my body by my friends as they pulled me through dense crowd. Eric's "Clark Kent" glasses and brilliant smile vanished behind the hoards of people.
After being bumped and shoved through a narrow corridor, my friends and I finally made it out to the outdoor area where we found a small bubble of personal space hidden behind a staircase. While my friends went to grab us drinks, I stood there awkwardly, dodging glances, as I attempted to hold our "spot.". It wasn't long before I felt a hand - intentionally - resting on my shoulder. Voicing my genuine surprise at how quickly my girls had returned, I spun around, only to find "Superman" himself standing there instead. Rather than meeting his teammates, Eric had fought through the crowd searching for me! We picked up our conversation where we had left off, and that's when something really special happened: it seemed as though we were the only people there—the deafening music just a faint white background noise. We talked for hours about anything and everything; openly and honestly revealing to each other our perspectives on life, what shaped us, even our deepest fears. It was as though we had known one another all of our lives, and then some. From that moment forward, we were inseparable.
Looking back, I can remember many a time when I dreamt of the day "Superman" would sweep me off my feet; little did I know, he would do just that!
TELL US ABOUT FINDING YOUR WEDDING DRESS: For me this was one of, if not, the easiest parts of the wedding planning process. I waited several months after securing our venue to give me enough time to discover how to meld my personal preference for a tailored look with the romantic and timeless elegance feel we wanted for our ceremony and reception space. With the amalgam of architecture offered by Lowndes Grove, and fuelled by the style and charm of southern classics such as "Gone With the Wind," I pulled from the delicate lace trimmings and rich textures found throughout the Georgian and Edwardian Eras, and the classic tailoring and modest necklines of the 1950s to create a very specific vision of what I was looking for in a wedding dress.
After trying on only three dresses, the wonderful ladies at The White Room Bridal Salon in Mountain Brook, Alabama, helped me conceptualise my vision by suggesting that we have Ms. Anne Barge customise her "Camelot" A-Line wedding gown—adding ¾ length sleeves with the same lace applique featured on the bodice and skirt, widening the neckline from a traditional "V" so it just clung to the tips of my shoulders and provided the modesty I was searching for, and creating depth and contrast within the neckline by extending the applique beyond the original seams.
I am eternally grateful to all of these ladies for their willingness and eagerness to help me realise my dream. Together, Ms. Anne Barge and The White Room brought to life the dress I once thought only existed in my imagination.
DID YOU HAVE ANY DIY ELEMENTS? While several elements of our overall design have aspects of DIY, the true "DIY-er" came out when curating and assembling the gifts, decorative gift boxes and wooden chests for the wedding party, for my father, and for our mothers. Because we wanted to get everyone in our wedding party keepsakes that were practical and personal, Eric and I worked long hours trying to find the perfect "goodies" for each member of our wedding party. Once found, I was so thrilled with the way the gifts turned out that my next challenge was to find a worthy way to wrap or box them together.
For the ladies of the bridal party I used large decorative storage boxes, wrapped them with lace and burlap ribbons trimmed in gold, and tucked hand-embossed gift tags with their names for easy identification. Nestled inside, I included everything the ladies would need for the big day. To help them feel pampered while getting our hair and makeup done, I included a pair of Lily Pulitzer pearl adorned t-strap sandals and Plum Pretty Sugar robes in each box. In each box, tucked alongside their morningwear, was everything they would need for the ceremony and reception: a pair of Christian Louboutin Simple Pumps in Nude, heel-stoppers (to protect their new red-soles from the wet grass outside), handmade blue opalescent crystal drop earrings, and my personal favourite: carefully selected 18 karat yellow gold antique brooches from 1805 through 1912 to be worn as hair pieces. Each brooch pulled from at least two of the colours in our wedding's palate (white, gold, pale blue, light peach) and complemented the interior design of Lowndes Grove itself. More meaningfully, however, each brooch was selected with one, and only one, of my bridesmaids in mind—by birthstone (beautiful aquamarines, and sparkling diamonds), by personal style (flirty and ornate crystal opal brooch, that doubles as incredible statement necklace pendant), or by symbol (for the collector of heart mementos, a heart-shaped brooch with blue-green crystal opals). I especially enjoyed searching for the "perfect" piece for each of my girls, in the hopes of finding a memento and heirloom for years to come.
For the gentlemen in the wedding party, I found a variety of shaped and sized wooden chests stained in a deep mahogany, and accented with tobacco leather and brushed brass grommets. Because the boxes were so beautiful, very little more was needed, but I did emboss the groomsmen's initials in black on a gift tag to make finding them a bit easier. Nestled inside these chests, for the groom and groomsmen, were yellow gold, rectangular cufflinks engraved with their initials, and for my father, yellow gold square cufflinks engraved with his initials. Additionally, every chest contained a matching yellow gold flask with engraved initials.
Taking the time to put these gift boxes together was worth every second and then some. We are so appreciative and grateful for all the love and support of our friends and family. They truly went above and beyond to make our wedding weekend one for the ages, and without each and every one of them it wouldn't have been the same.
DESCRIBE YOUR WEDDING FLOWERS: One word: Dreamy. To create a romantic garden feel, we incorporated pops of pale peach and soft blue to bring depth and warmth to the predominately white bouquets with lots of fresh greenery. Heidi, the owner of On A Limb Flower Studio, was wonderful to work with. We had the absolute pleasure of being able to watch her work on-site the morning of our wedding, as she created spectacularly intricate and romantic arrangements with our personal collection of antiques that we brought to Charleston. Her artistry breathed new life into my great-grandmother's candelabra and our gilded antique wrought iron etagere—wowing everyone that passed by. The trails of greenery carefully weaved around these pieces made them seem as though they had always been part of Lowndes Grove, and that they were slowly becoming part of an unseen majestic garden.
WHAT WAS YOUR FAVOURITE DETAIL OF THE DAY? Two things really stand out as our favourite "details" of the day; The first being that we were able to create different spaces for the guests to enjoy as they so desired, while maintaining continuity and flow. Both Eric and I tend to be more introverted, so we are especially attuned to the importance of having spaces that allowed guests to feel free to take a break from the action and enjoy their own moment, while also providing spaces for guests to congregate with varying levels of formality. Working with the natural layout of Lowndes Grove, we were able to accomplish this with seamless transitions, allowing for—and encouraging—our guests to move freely about, as though they were in our own home. For example, inside the house we created a coffee bar that offered my grandmother's locally-famous "lake cake." Additionally, to encourage guests meandering throughout the ornately decorated interior of Lowndes Grove, we placed ornately framed photographs of both, me and Eric, and of our families in every room, utilising the mantles, side tables, and book cases as we would in our own home. We took this as an opportunity to showcase our sense of humour as a couple, by adding candid, deadpan, and other awkward photos of the two of us for the few discerning eyes to enjoy. Outside, beyond the reception space and along the riverfront, we staged a "Gentlemen's lounge" featuring a cigar bar and roller, complete with a vintage leather sofa and complementary arm chairs centred around a sleek coffee table. Whether seated or standing, this semi-private lounge space offered the best of both worlds. The lounge was close enough to enjoy the musical stylings of the Emerald Empire Band, but remote enough to soak in the panoramic views of the Ashley River from shore or by pier. And last but not least, for those who wanted a secluded birds-eye-view of the festivities , we added several large rocking chairs and side tables to the incredibly beautiful second story veranda—accessible only by way of the most breathtakingly beautiful wooden spiral staircase.
WHAT ADVICE WOULD YOU GIVE TO A COUPLE PLANNING THEIR WEDDING? Four things...
(1) BEFORE PLANNING...EVALUATE! Before wedding planning begins, both the bride and groom to be should take time to really understand your own and your partner's style, and most importantly your style as a couple, then set your priorities and go from there.
(2) WORK TOGETHER - Work together as a team! It is YOUR wedding, and the day should reflect BOTH the bride and the groom! Eric and I worked together every step of the way to create our dream wedding. Many people expressed how genuinely surprised they were that Eric, the groom, took such an active role in designing and planning our wedding—and even more so when they discovered how much he enjoyed it. I cannot imagine planning our wedding without giving equal deference to Eric's likes, dislikes, creative ideas, and constructive feedback. Having him by side every step of the way, not only provided me with tremendous mental and emotional support, but made our wedding, and its memory, that much more special. Because our wedding was truly a team effort, when we reflect on our wedding weekend, we are able to share the sense of accomplishment and pride in the fruition of our labor. We now know not only how to work together, but also, how well we work together. Further, by having successfully interwoven our personal preferences and ideas into a cohesive design that was so much more spectacular than either one of us could have possibly contemplated on our own, we are reminded—in the most spectacular of ways—of the importance, and benefit, of working together in marriage.
(3) HIRE A WEDDING PLANNER - If you are contemplating a destination wedding, or even a grand local affair, hire a wedding planner—they are worth their weight in gold! And just as importantly, when selecting a wedding planner (or team of planners) take the time to meet in person, and choose the best personality fit for you. You will be spending countless hours communicating with your planner(s) in the months before the wedding, and on your wedding day not only will they be there to support you, but also to make sure things go smoothly. By building a solid relationship, you will be able to let go of the reigns and enjoy your moment, because, believe me, it will pass in the blink of an eye.
(4) CHOOSE WISELY - Choose your support team wisely. Like your wedding planners, choose your vendor dream team: be that photographers, videographers, etc., not only by their talent, or social media presence, but just as importantly, by how much you enjoy speaking with and spending time with them. On your wedding day you will probably spend more time with your photographer than your groom! Because of this, don't go straight for brass tacks, it is imperative that you take the time to chat so that you can get a feel of who you want to be there beside you and cheering for you on your big day. To illustrate this point, I'll admit that I am not a fan of lengthy phone conversations, nor small talk, and was a bit apprehensive when I received a follow-up phone call from our tremendously talented photographer, Justin with the Happy Bloom. From the moment I picked up the phone, it felt as though I was speaking to an old friend—absolutely effortless. As we said our goodbyes, I was shocked to find that we had been on the phone for almost an hour, especially when I knew within the first few minutes that The Happy Bloom was the perfect fit for us. This is the kind of relationship dynamic that you should look for. There is nothing better than to be surrounded by family and friends who love and support you on your wedding day—photographers and wedding planners included!
WHAT WAS YOUR MOST MEMORABLE MOMENT? I grew up in musical theatre, but dancing was not my strong suit (I was the child with two left feet). Eric has always been a better dancer than I, but neither of us have any experience when it came to choreographed ballroom dancing. After our first choreography session at Fred Astaire, we made a drastic decision to can our first song "Unforgettable, because the slow tempo and unimaginative steps felt like a letdown when compared to the grandeur of Lowndes Grove and painstaking attention to design detail. With ten weeks to go until our wedding day, we decided to take a risk! A really big risk!
We scoured through hundreds of videoed professional dance routines searching for the perfect song and style choreography. The moment we saw BBC's "Strictly Come Dancing" episode featuring Daniel O'Donnell and Kristina dancing the American Smooth to Frank Sinatra's "Fly Me to the Moon" we were captivated, and decided to recreate the dance, and—in another leap of faith—we decided to add to it by including a far more difficult lift!
We found a wonderful ballroom dance coach, Curt Johnson, who was willing to push the envelope and teach two amateurs how to pull of the seemingly extraordinary with only a handful of choreography sessions under our belt. On the afternoon of our wedding, we had planned to practice the dance on the dance floor before the guests arrived, but quickly ran out of time. The inability to practice left us frazzled, and we anxiously contemplated canning the dance over dinner. But, after several (desperately needed) pep-talks from the bridal party and from our wedding planners, we decided to take the plunge.
As initially planned, after cutting the cake, Eric and I ran upstairs for a moment to clear our heads (and calm our nerves), while I changed into my first dance dress—a last minute addition upon realising there was no way I could perform the steps and multiple lifts in my wedding gown. Waiting in the galley for our dance to be announced by the band, he squeezed my hand and we whispered with confidence, "we've got this!"
As we walked out into the centre of the dance floor our family and friends cheered in blind support, hushed only by Frank Sinatra's voice as it filled the room. Miraculously, in the blink of an eye, we were already halfway through the dance, hit our first lift perfectly, and we knew it! Our eyes met briefly as I spun back into his arms setting up for the next sequence, and in that glance we communicated that we knew we were delivering the performance of a lifetime. Seconds later, with perfect musicality and synchronicity, we nailed the final big lift! As we struck our final pose, soaking in the standing ovation from the unsuspecting crowd and impressed band members, we were beyond elated. We had pulled the unthinkable off, and had pulled it off better than we ever thought possible. It was truly a magical moment.