The best thing about destination weddings is that it feels like a vacation for everyone... in fact I'm kinda hanging out for someone I know to plan one as it's a great excuse to get away! It was this line of thinking that had Anna & Samer hold their wedding in Bamberg, a small town in Northern Bavaria. The California based couple wanted their wedding to feel romantic and whimsical, yet approachable and comfortable. And yes you may ask why a California couple is getting married in the middle of Germany but it made sense for them given the balance of their family is over in Europe, and with the groom being from Lebanon it made it more accessible for their families to unite. GRACE & BLUSH captured their beautiful day which was held at SCHLOSS EYRICHSHOF and planned by BEAUTIFUL OCCASIONS.
HOW DID YOU MEET? We met through an online dating app.
TELL US ABOUT YOUR PROPOSAL: It was a Tuesday morning at 6:30 am, on a work day, on our 3 year anniversary. It was his idea that we celebrate our anniversary by waking up early and watching the sunrise before work together at the highest point in San Francisco, Twin Peaks, to overlook the city where we met. After the sun rose he told me that we weren't going to work and then dropped down on one knee. He had secretly contacted my work a month before without me knowing to organise my day off. We then went to our favourite brunch spot, drove to Mount Tamalpais for a magical, rainy hike, followed by dinner at an elegant restaurant. He wanted it to be a total surprise…and he succeeded.
TELL US ABOUT FINDING YOUR WEDDING DRESS: I was with my mom trying dresses on for the first time at LOHO. It was a blast, and even my mom tried one on for fun! Haha.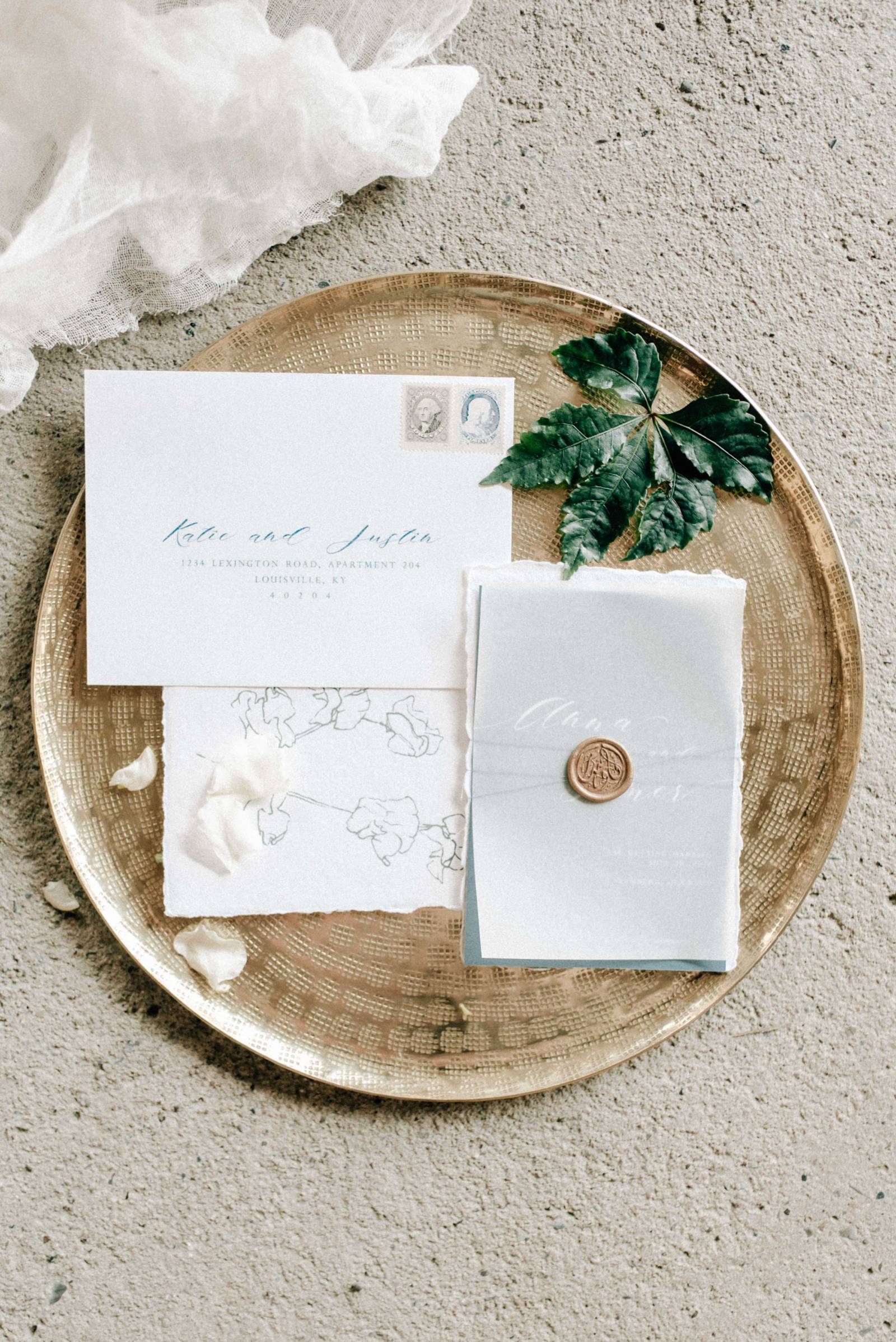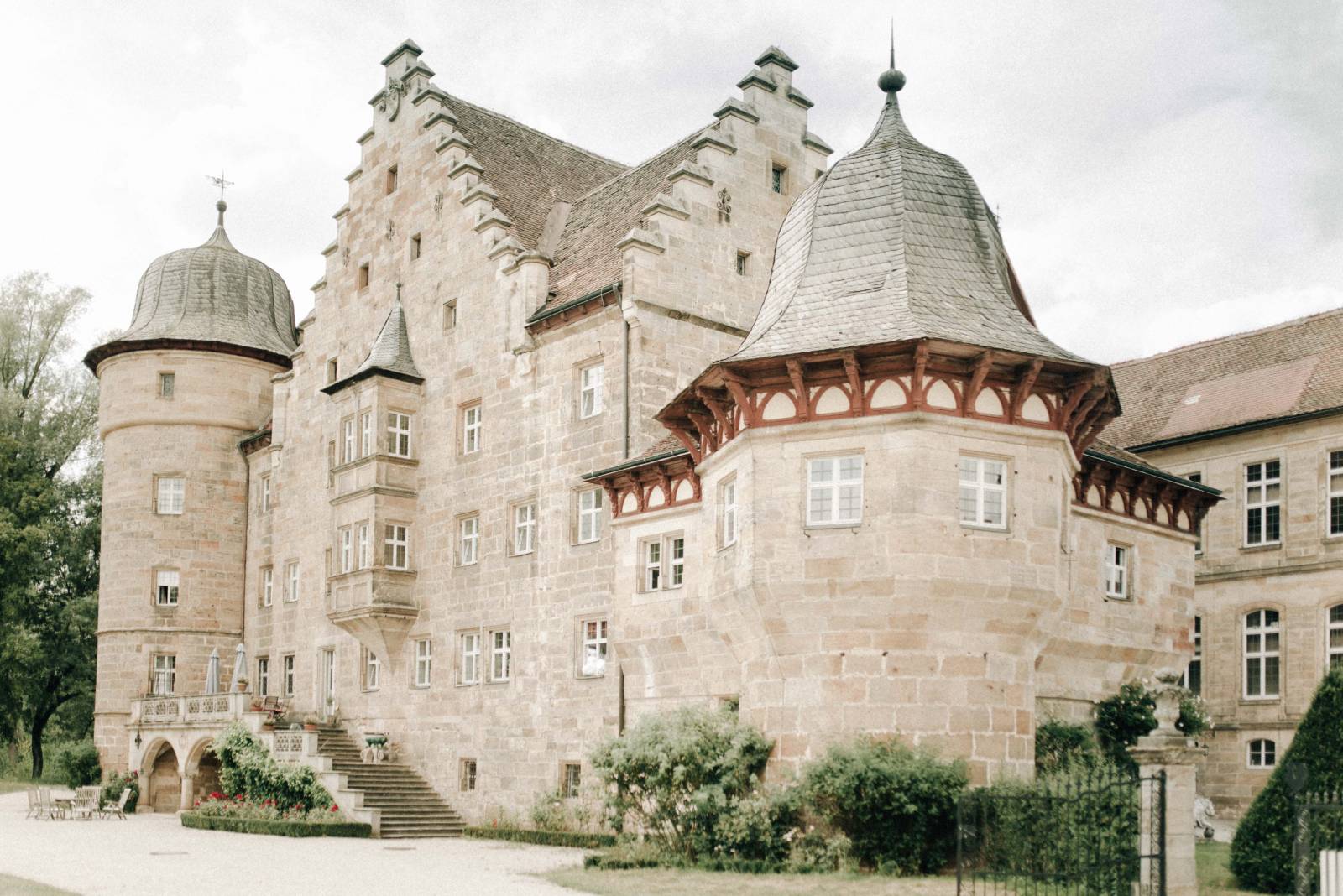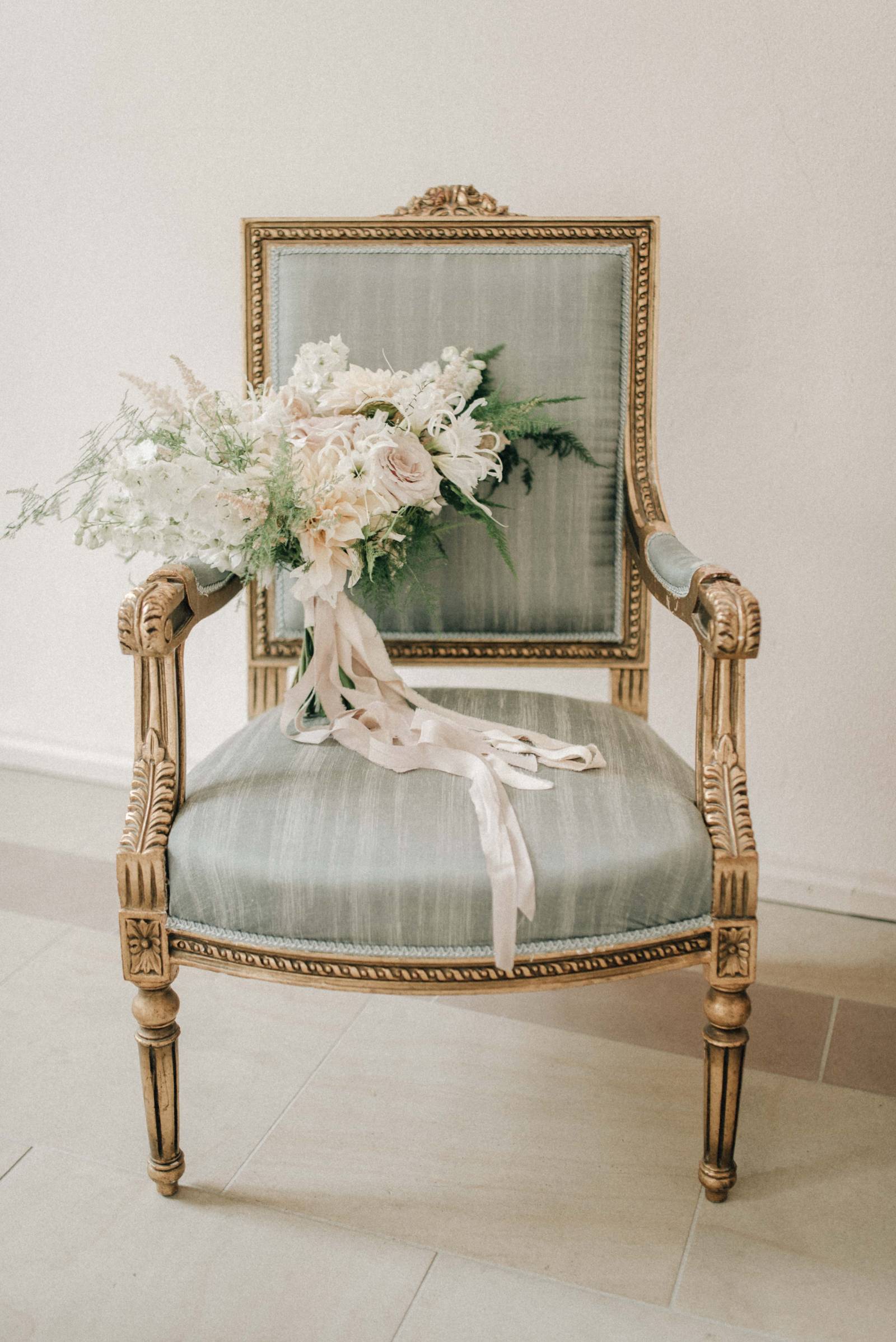 DID YOU HAVE ANY DIY ELEMENTS? I'm an interior designer, so I did everything from furniture plans, photoshopped renderings of how the table settings should look, 3D Sketchup models of the outdoor patio furniture arrangements, customised website and designing every detail of our save the date, invitation, menu and seating chart. It was so much work, but I had so much fun doing it and it was incredible to share the vision and experience with others.
DESCRIBE YOUR WEDDING FLOWERS: Florals were very important to me. They help bring the outdoors in and have the ability to effortlessly soften up a space. Since our venue was at a castle, there was a lot of stone everywhere. Flowers elevated the environment and made the space feel less rustic. Again, I wanted the floral arrangements to feel overgrown and hand picked. The bridal and bridesmaid bouquets were so romantic and felt like they were just plucked from a garden. One of my favourite arrangements was the installation hanging over the bridal table.
FAVOURITE DETAIL OF THE DAY: One of our favourite details of the day was when Samer and I woke up early on our wedding day to meet with our videographer to take a stroll through Bamberg. The weather was gorgeous, the streets were quiet, the birds were greeting our day with song and it felt like just the two of us. Having that special, meditative and romantic time together before the hustle of the day started was so special to both of us.
WHAT ADVICE WOULD YOU GIVE OUT TO A COUPLE PLANNING THEIR WEDDING? Remind yourself that no matter how much you don't want this incredible day to end, what is to come next is even more exciting. Also, we put a lot of energy into thinking about not only about ourselves but our guests as well while planning our wedding. We saw the success of that and the difference it made during the wedding day.
MOST MEMORABLE MOMENT? One of the most memorable moments for both of us was the energy from our guests and the dancing they brought to the dance floor. When Samer and I shared our first dance, we both waved other couples to join us for our song. By the time our song had ended, there were lots of couples on the dance floor and our band seized the opportunity and immediately switched to fun dance music. The energy from that second song and from our guests carried on strong throughout the rest of the night. I have never witnessed anything like that before. It was such a high. My dad and I also sang a duet to Ain't No Mountain High Enough. Singing a duet with my dad has been something I've wanted to do on my wedding day since I was young.
ANY OTHER DETAILS THAT HELP TELL THE STORY OF YOUR DAY? Our vendors are what made all the hard work planning come to life. Our photographer, Jasmin, had such a lovely, positive and creative energy to herself and she captured the details and people on our day so beautifully. Our wedding planner, Josephine, was so amazing, organised and on top of everything, we had full faith in her carrying out all our important details. Our videographer, Onn, had such a unique and creative style to capturing not only moments from our day but the emotions too. We were so happy with all of our vendors that we worked with.
TELL US A LITTLE ABOUT YOUR HONEYMOON: After the wedding, we traveled to Croatia exploring Hvar, island hopping and navigating the layers of architecture in Split. We then traveled to Lebanon for a second wedding reception, which some of my family members traveled to as well. We ended our honeymoon in Italy wondering through Venice and wine tasting our way through Tuscany.
IS THERE ANYTHING YOU WOULD CHANGE OR DO DIFFERENTLY? Only one thing. I wish I didn't wait to transfer my vows into written form the morning of. Even though, I thought it wouldn't take long, it made getting ready go by in a blink of an eye. I recommend not leaving a single thing till the day of and just give yourself all the time to soak in each and every moment.